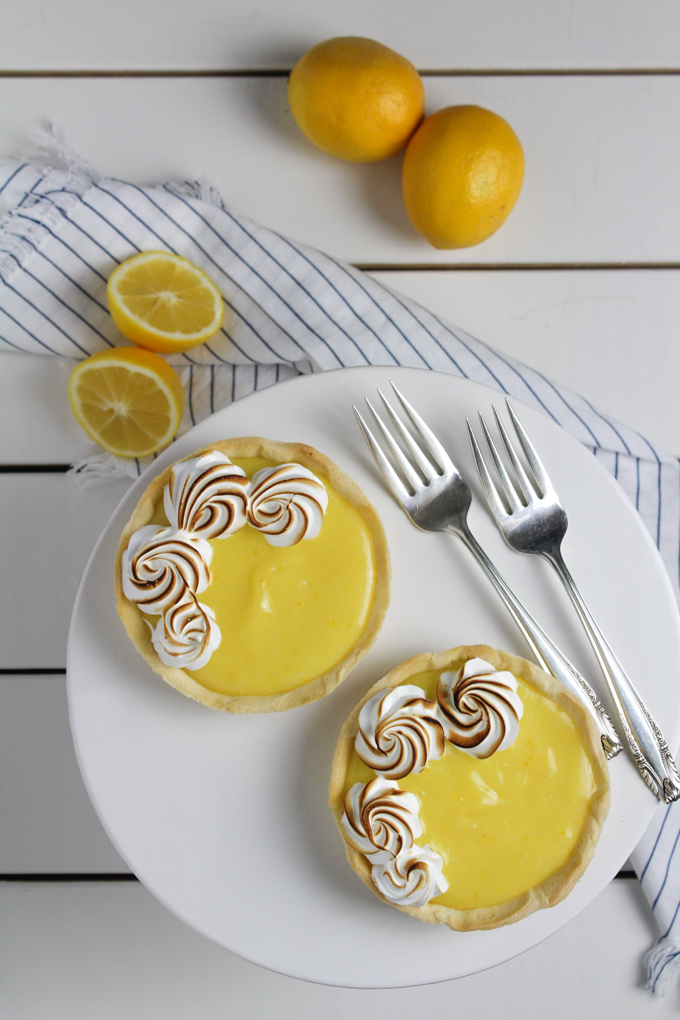 There is something magical about the combination of sweet and tart!  It makes for such a perfect dessert that has bursting flavors.  I absolutely love lemon desserts as they are ideal for this combination.  I especially love lemon tarts, the creaminess of the filling with the balance of a light crust and an airy meringue topping.  Sure, lemons are available year round, but I thought why not take advantage of Meyer lemons now in winter while they are in season.  So today I'm sharing with you my version of Meyer lemon tarts and I hope you enjoy them just as much as I do!
Meyer lemons are smaller and rounder than traditional lemons.  They are also slightly sweeter as they are a cross between a lemon and a mandarin orange.  They are beautifully rich in color and produce a vibrant filling for the tarts.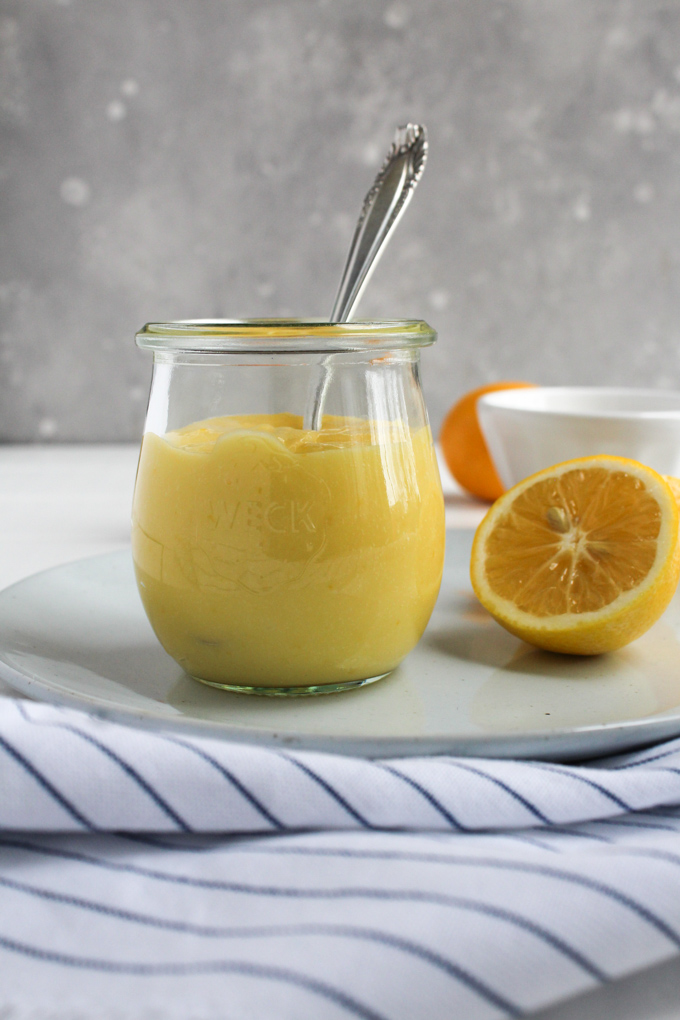 The filling for these tarts is a Meyer lemon curd which is incredibly easy to make!  It is also extremely versatile and you can use it for more than just filling tarts.  The curd can be used to fill a cake, spread on scones, sandwich cookies, layered in parfaits and so much more.  Because I am using Meyer lemons as oppose to typical lemons, I have reduced the amount of sugar to account for the sweet flavor of these winter lemons.
My recipe calls for 2 whole large eggs and 2 egg yolks (the thickening agents for the curd).  The yolks produce a richer, creamier and more yellow curd.  You can alternatively substitute 1 whole large egg for the 2 egg yolks if you prefer a slightly lighter curd in flavor and color.
Always be mindful when cooking the Meyer lemon curd.  You want to keep a close eye on it and continue to whisk it to prevent the eggs from cooking.  I always use a double boiler (a mixing bowl set over a pot of simmering water, not boiling) to cook my curd.  It takes about 10 minutes for the curd to thicken (reaching 170°F/75°C) and once it's ready you want to make sure you strain the mixture to ensure it is smooth and free of any cooked egg.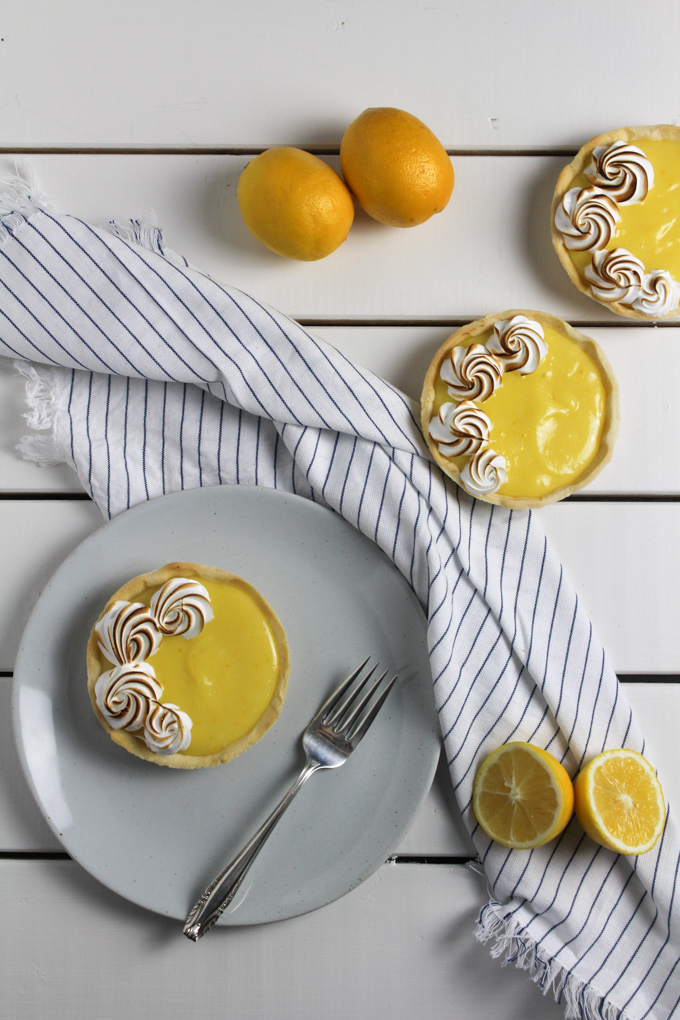 When making these tarts, I always begin with the Meyer lemon filling.  Once cooked, it requires at least 4 hours to cool in the refrigerator.  Typically I make it the day before (as well as the tart shells) so that all I am left with is making the meringue and assembling the tarts the day of serving them!  I especially find this to be the best option when serving to guests.
Love tarts?  Try these other recipes...
Print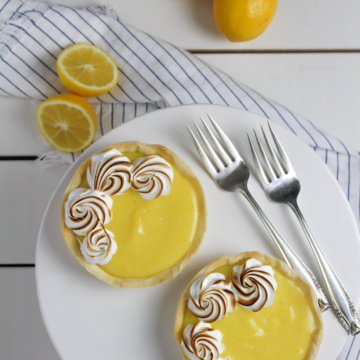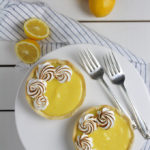 Meyer Lemon Tarts
---
Yield:

6

individual tarts

1

x
For the filling
2/3 cup

(155 g) fresh Meyer lemon juice (

5

-

6

Meyer lemons)
Zest from

2

Meyer lemons

3/4 cup

(

150 g

) granulated sugar

2

large (100 g) eggs + 2 large (

40 g

) egg yolks

1/4 teaspoon

(

1.4 g

) salt

1

stick (113 g) unsalted butter, diced and at room temperature
For the tart shells
For the meringue topping
2

large (80 grams) egg whites

1/3 cup

(

67 g

) granulated sugar
Pinch of salt
---
Instructions
For the filling:  Place Meyer lemon juice, zest, sugar, eggs, egg yolks and salt into a medium heatproof bowl set over a small saucepan filled with an inch of simmering water.  Whisk constantly until the mixture thickens, about 10 minutes.  The temperature should read 170°F/75°C and the mixture should coat the back of a wooden spoon.
Remove from heat and strain filling through a sieve into a small bowl.  Whisk in butter until completely melted and mixture is smooth.
Place a sheet of plastic wrap directly onto the surface of the filling to prevent a 'skin' from forming.  Refrigerate for at least 4 hours.
For the tart shells:  Remove the dough from the refrigerator and divide into eight equal pieces.  Roll each portion into a 1/4-inch thick circle and line eight 4-inch tart pans.  Use a sharp knife to cut any excess dough.  Using a fork, perforate the bottom of each tart shell.  Refrigerate uncovered for at least 1 hour.
Position oven rack to middle of the oven and preheat to 325°F/160°C.  Line the tart shells with parchment paper and fill with baking weights/dried beans/rice.  Bake tarts for 10 minutes then remove parchment with weights and continue to bake for an addition 8 to 10 minutes or until lightly golden brown.  Allow to cool completely.
For the meringue topping:  Just before serving prepare meringue topping.  Place egg whites, sugar and salt in a heatproof bowl of an electric mixer.  Set bowl over a small saucepan filled with an inch of simmering water.  Whisk constantly until sugar is dissolved and egg whites are warm to the touch, about 5 minutes.  Transfer the mixing bowl to an electric mixer fitted with a whisk attachment.  Beat on medium-high speed for 10-12 minutes until stiff, glossy peaks form.
To assemble the tarts:  Fill each tart shell with the Meyer lemon filling.  Fill a pastry bag with the meringue.  Pipe desired shape on top of each tart.  Using a kitchen torch, toast meringue.  Serve immediately.