This post may contain affiliate links, please read my full disclosure policy.
Key lime pie has a delicious graham cracker coconut crust, a creamy tart filling, and an airy meringue topping. It's the perfect year-round treat.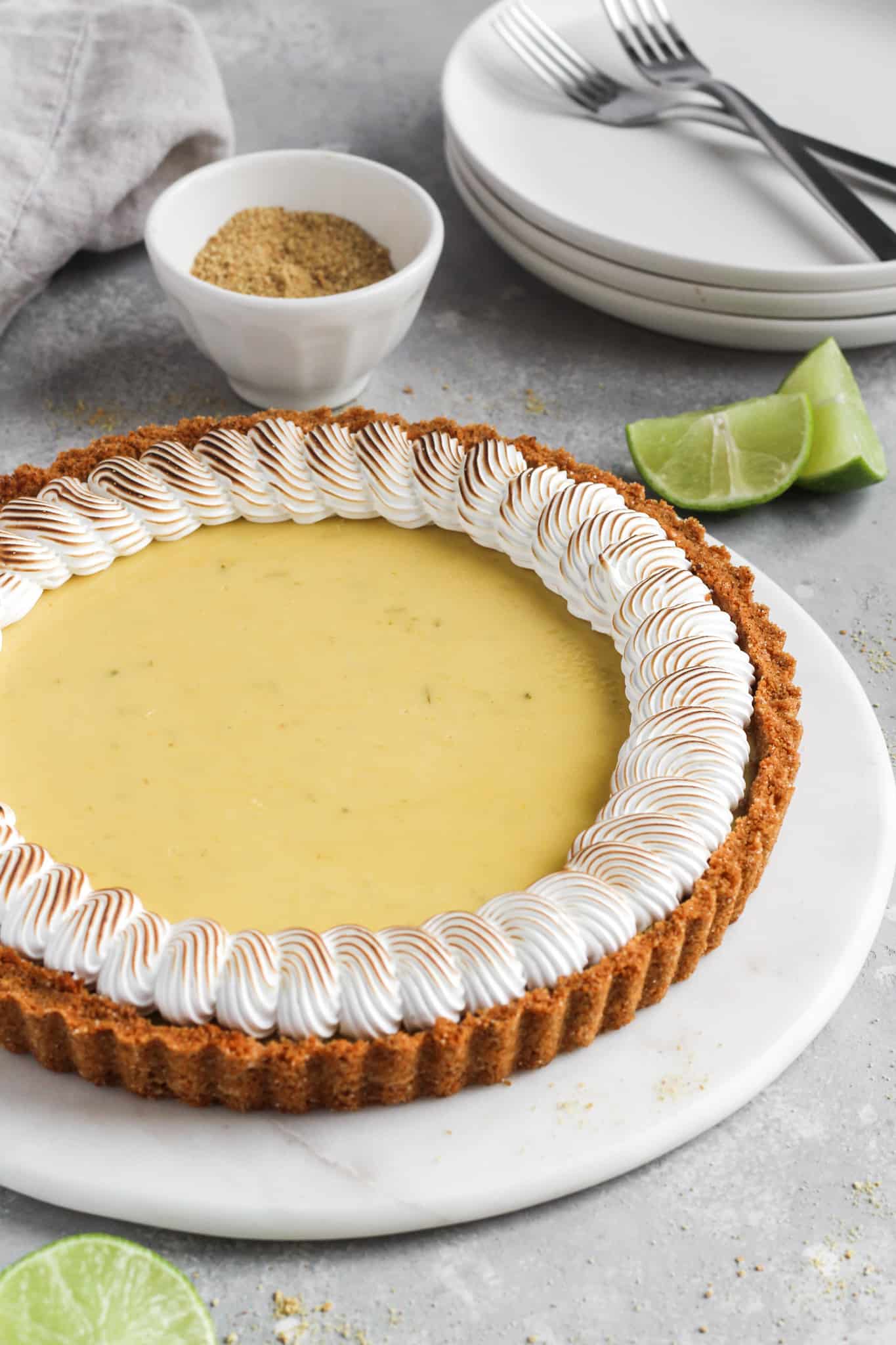 I've been to Key West once in my life. My family and I drove the very long distance from Michigan. Of course, we made stops along the way, but it certainly was a long drive. My family is famous for taking long driving trips throughout the United States, especially during my childhood, and I am so thankful for that (for both all the sites we were able to see and especially for those special family times together). Back then (as if it was forever ago), we did not have cell phones, so we happily kept ourselves entertained with games and music.
One of the highlights of the trip for my mom was sampling all the key lime pies (her favorite dessert!). While in Key West, we tried all the key lime pie that our hearts desired, and we even found local shops serving key lime pie on a stick dipped in chocolate! Now this recipe isn't submerged in chocolate, but I wanted to create a key lime pie that resembled the delicious key lime pies we tried on our trip. This version has a delicious graham cracker coconut crust, a creamy tart filling, and an airy toasted meringue topping. It's the perfect year-round treat for celebrations, BBQs, or an afternoon treat.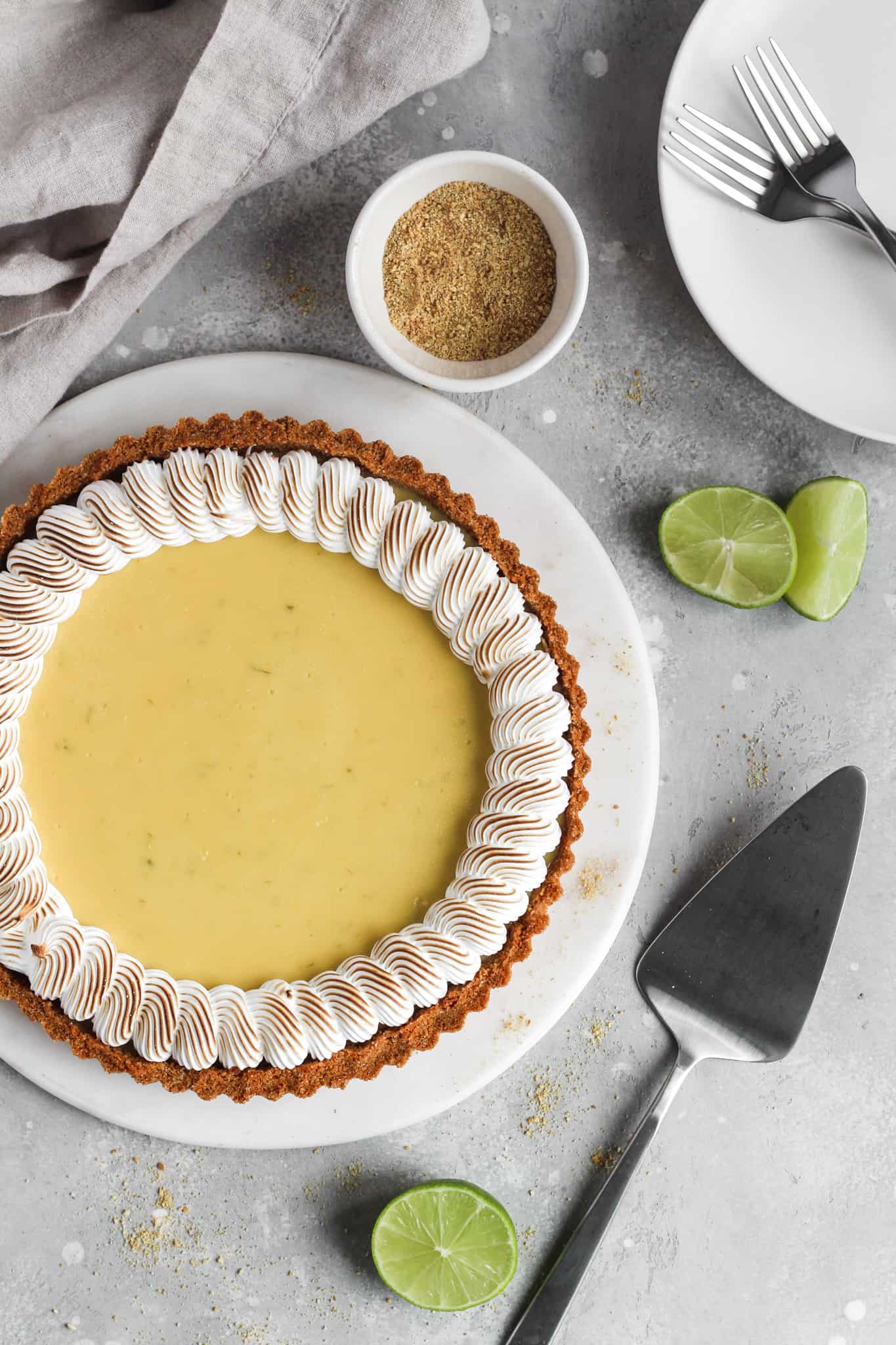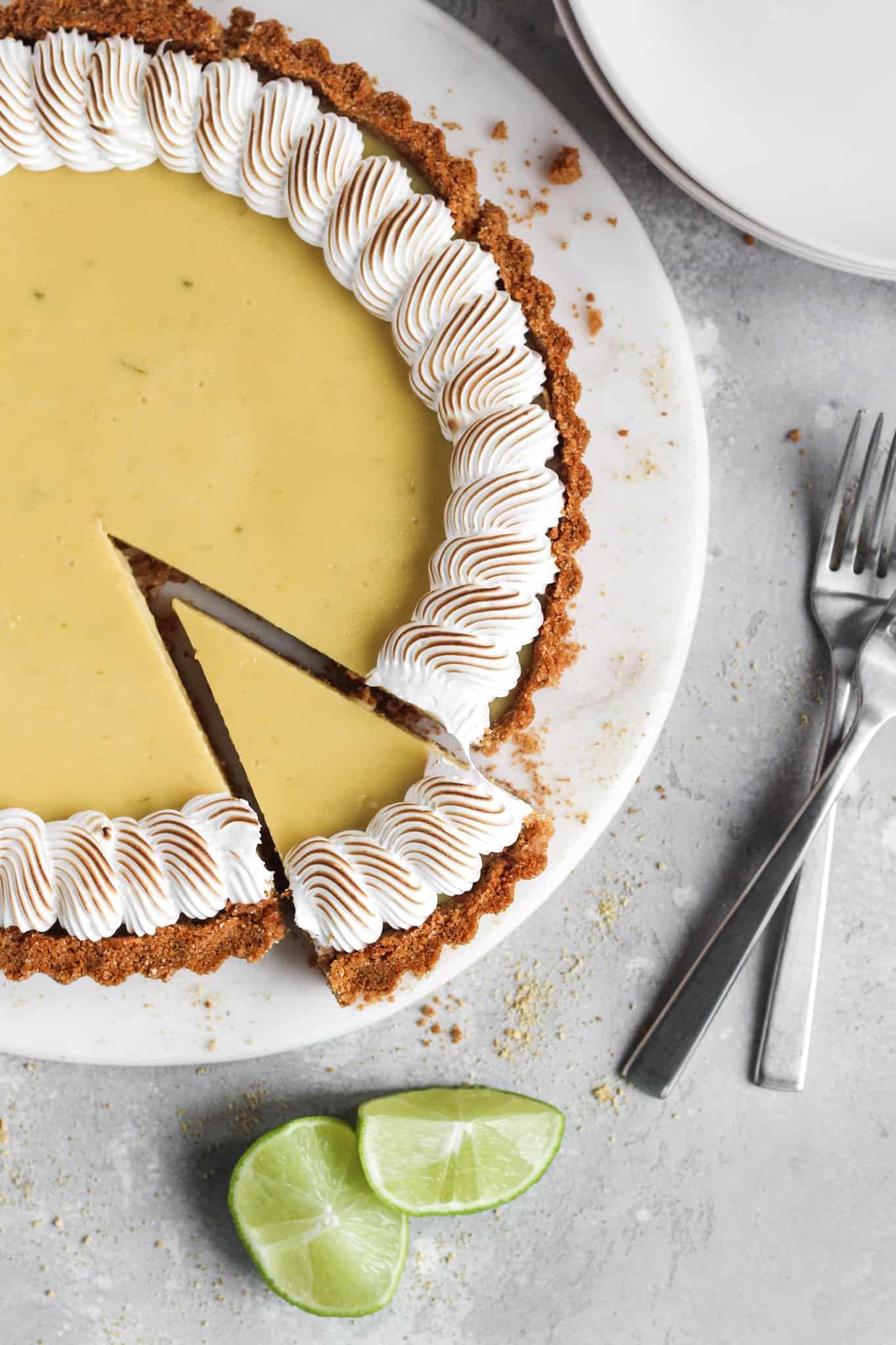 Before you begin
Take out the following baking equipment:
Digital kitchen scale
2 medium mixing bowls
1 silicone spatula
10-inch tart pan
1 whisk
Stand mixer bowl fitted with the whisk attachment
1 small saucepan
Pastry bag
Star pastry tip
Kitchen torch
Read the recipe through from start to finish.
Understanding Ingredients
Traditionally key lime pie has a graham cracker crust made with graham cracker crumbs, sugar, salt, and butter for binding. For this recipe, I have added coconut flakes to the mix for an added flavor component and texture. If you are not a fan of coconut, you can certainly omit this ingredient from the crust.
The filling is made with four simple ingredients, sweetened condensed milk, egg yolks, lime juice, and zest. It's important to use fresh lime juice for this filling. As limes are the star of the show in any key lime pie, selecting fresh juice will yield the best flavor! It will make a difference.
Meringue topping adds such a beautiful presentation to desserts. Unfortunately, if you try making meringue on a humid day or rainy day, your meringue is likely to 'weep' and not hold its beautiful shape. This occurs because meringue absorbs moisture. If you are stuck with making meringue on a rainy day, you can either omit it from the recipe or salvage it by decorating your pie with a more flat looking design. As bakers, we must get creative!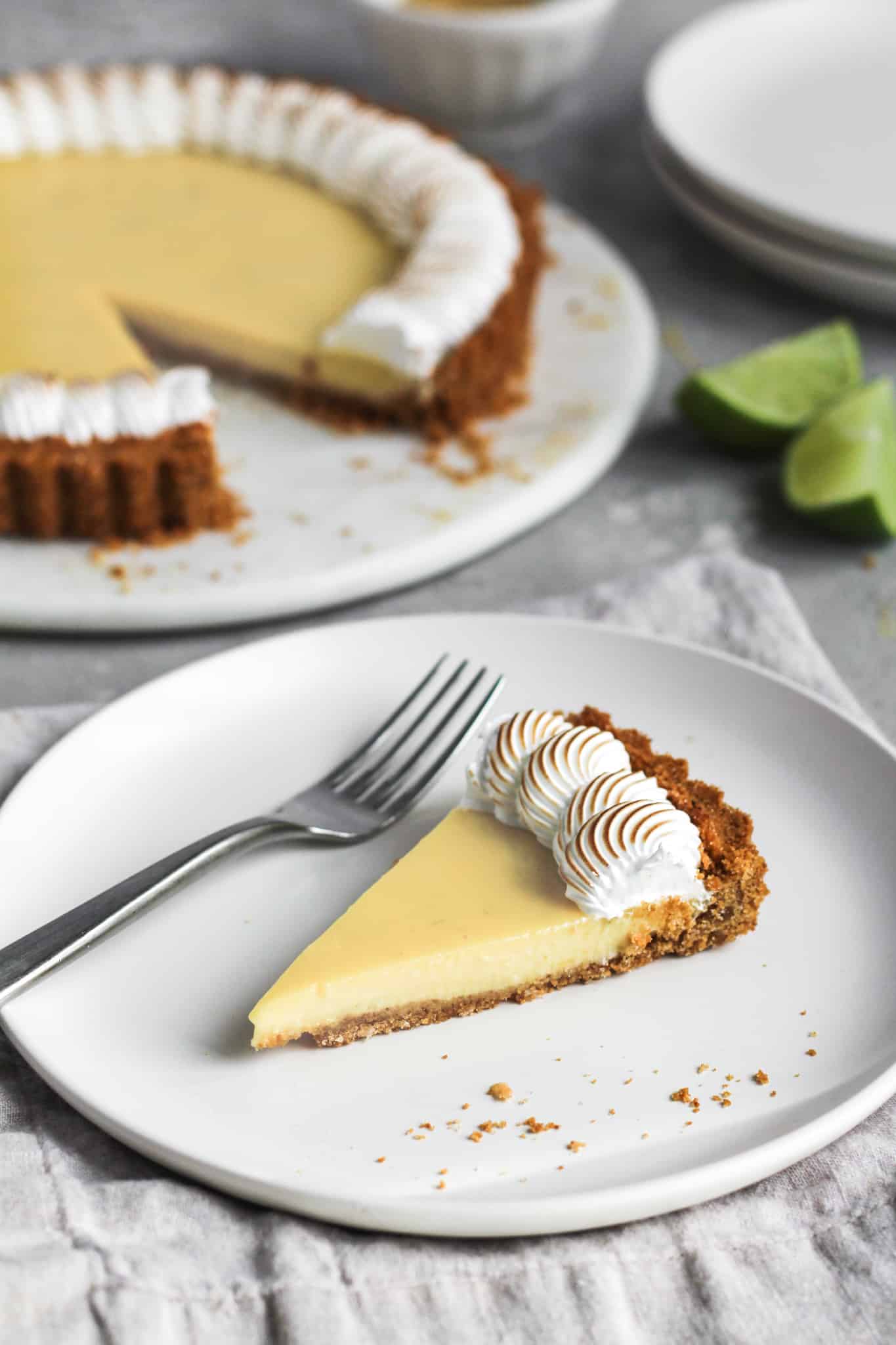 How to make key lime pie
Begin with making the crust. Combine the ingredient in a medium mixing bowl and mix until evenly combined. The butter should be well distributed so that all the graham cracker crumbs are coated and look 'wet.' Press the crumb mixture into a tart pan with a removable bottom and bake for 10 minutes.
Meanwhile, combine the condensed milk and the eggs yolks in a medium bowl. Add the lime juice and zest and whisk together until combined. Pour the filling into the cooled pie crust and bake for 15 minutes or until the center is just set. It's ok if the center is slightly jiggly as it will set up while cooling. If you overbake your pie, the filling will not have a creamy texture and it could crack.
For a beautiful toasted meringue topping, make just before serving. To do this, combine the egg whites and sugar in a heatproof bowl of your stand mixer. Set it over a small saucepan filled with an inch of simmering water and whisk continuously until the sugar has dissolved. The mixture will be warm to the touch and you will not feel any grittiness from the sugar. Transfer the mixing bowl to your stand mixer and using the whisk attachment, beat on medium-high for about 10 minutes. Once you have stiff, glossy peaks, your meringue is ready.
Topping key lime pie
Typically key lime pie has whipped cream for a garnish and, on occasion, a meringue topping. I prefer the meringue because of its texture, and aesthetically it makes for a beautiful presentation. I use a French star pastry tip to achieve the design, as displayed in the photographs. A traditional star tip can also be used.
It's easiest to use a kitchen torch to toast your meringue topping. However, if you do not own one, you can use your oven's broil setting. Just turn on your broiler and place your key lime pie approximately 6 inches from the heat for about 2-3 minutes or until you have golden brown spots (being careful not to brown the filling).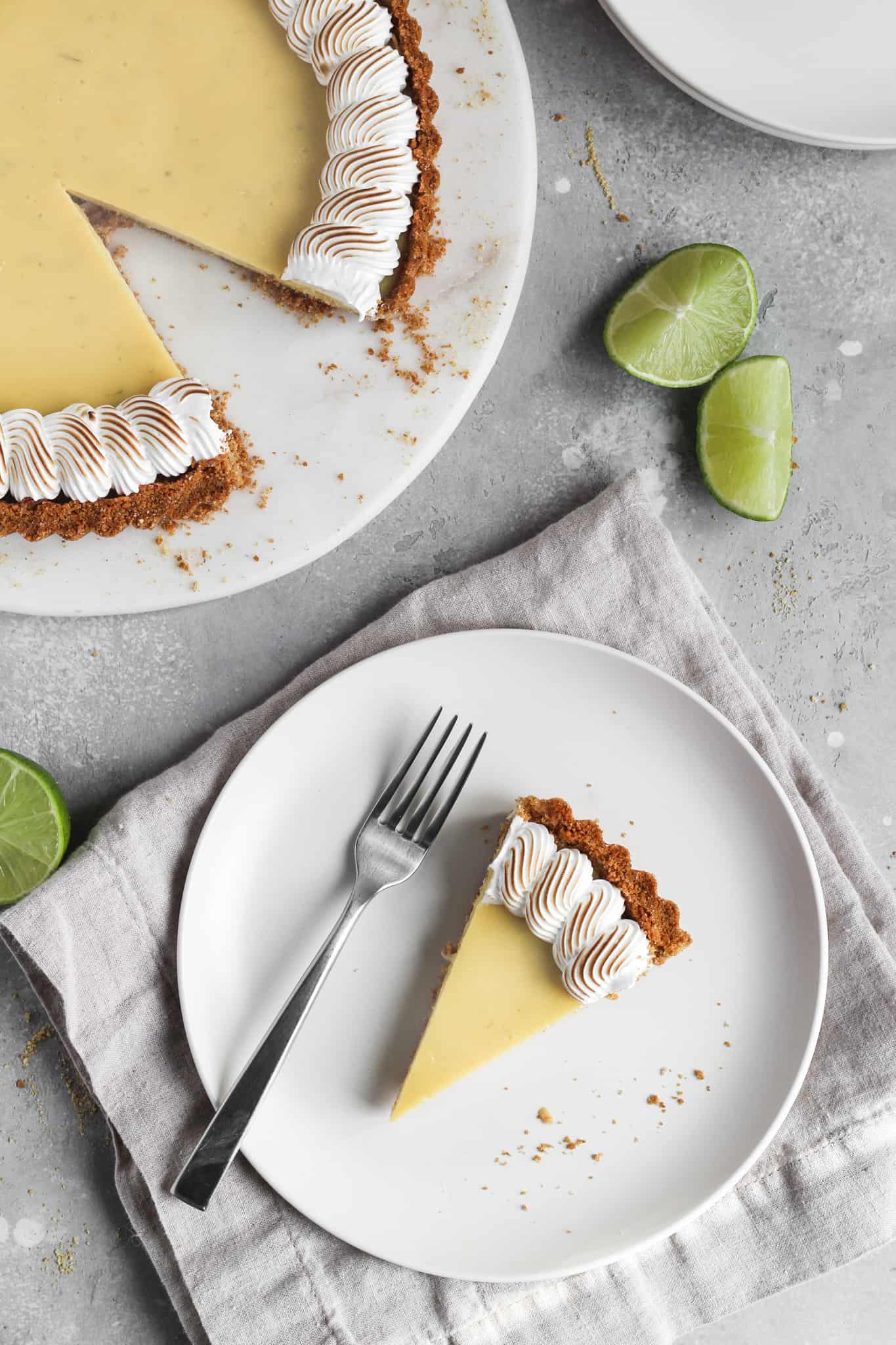 Tips and takeaways
To evenly press the graham cracker crust into the tart pan, I use the back of a measuring cup. It's easy to work with and I find it allows me to create an even crust layer every time.
Mixing your filling will often create many little air bubbles. When you pour the filling into your crust shell, the bubbles will float to the top and will leave tiny craters in your baked pie. To avoid this, pour your filling into the crust and use your kitchen torch to 'pop' the bubbles. Work quickly enough to just remove the bubbles and not overheat the filling.
It is fun to be creative and come up with your unique design. You can pipe meringue across the entire key lime pie so that you can only see the meringue for a fun design. There are so many options to experiment with.
When toasting your meringue with a kitchen torch, it is easy to burn the topping (I have learned this the hard way). Take your time and keep the torch at a distance that it takes you a couple of times of grazing the meringue with the flame to achieve the desired color.
More tart recipes
Make sure to tag me @thesweetoccasion on Instagram and leave me a review below if you make this Key Lime Pie. I'd love to see your creations and read your feedback. And if you would like to make this recipe later, be sure to pin this recipe using the button on any of these images. Let's make every occasion, a sweet occasion!
Print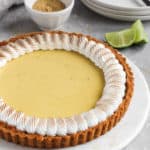 Key Lime Pie
---
Author:

Maria

Total Time:

40 minutes

Yield:

8

servings

1

x
For the Crust
150 g

(

1 1/4 cups

) graham cracker crumbs

20 g

(

1/4 cup

) unsweetened coconut flakes

55 g

(

1/4 cup

) granulated sugar

1.4 g

(

1/4 teaspoon

) salt

70 g

(

5 tablespoons

) unsalted butter, melted
For the Filling
396 g

(

14 oz

) sweetened condensed milk

100 g

(

5

large) egg yolks

160 g

(

2/3 cup

) fresh lime juice, 4-5 limes
Zest of

one

lime
For the Meringue Topping
60 g

(

2

large) egg whites

110 g

(

1/2 cup

) granulated sugar
---
Instructions
Preheat oven to 350°F/177°C.
For the crust.
In a medium mixing bowl combine graham cracker crumbs, coconut, sugar, salt and melted butter until evenly mixed.  Press crumb mixture evenly into a 10-inch tart pan with a removable bottom.  Bake crust for 10 minutes.  Allow to cool while preparing filling.
For the filling.
In a medium bowl, add condensed milk and the yolks. Whisk together until combined.  Add the lime juice and zest and mix well.  Pour mixture into pie crust.
Bake for 15 minutes or until center is just set.
Allow to cool to room temperature.
Place in refrigerator to chill for at least 2 hours.
For the Meringue Topping.
Just before serving, prepare the meringue topping.  Place egg whites and sugar in a heatproof bowl of a stand mixer.  Set bowl over a small saucepan filled with an inch of simmering water.  Whisk constantly until sugar is dissolved and egg whites are warm to the touch, about 5 minutes.  Transfer the mixing bowl to a stand mixer fitted with the whisk attachment.  Beat on medium-high speed for 10-12 minutes until stiff, glossy peaks form.
Fill a pastry bag fitted with a star pastry tip with the meringue.  Pipe desired design on top of the key lime pie.  Using a kitchen torch, toast meringue (careful not to over torch).  Serve immediately.
Prep Time:

15 minutes

Cook Time:

25 minutes