This post may contain affiliate links, please read my full disclosure policy.
All butter pie crust that is flaky, tender and delicious. It's perfect for any fruit, cream, or custard pie. It can even be used for breakfast recipes such as quiche. Easy to make and stores well in the freezer.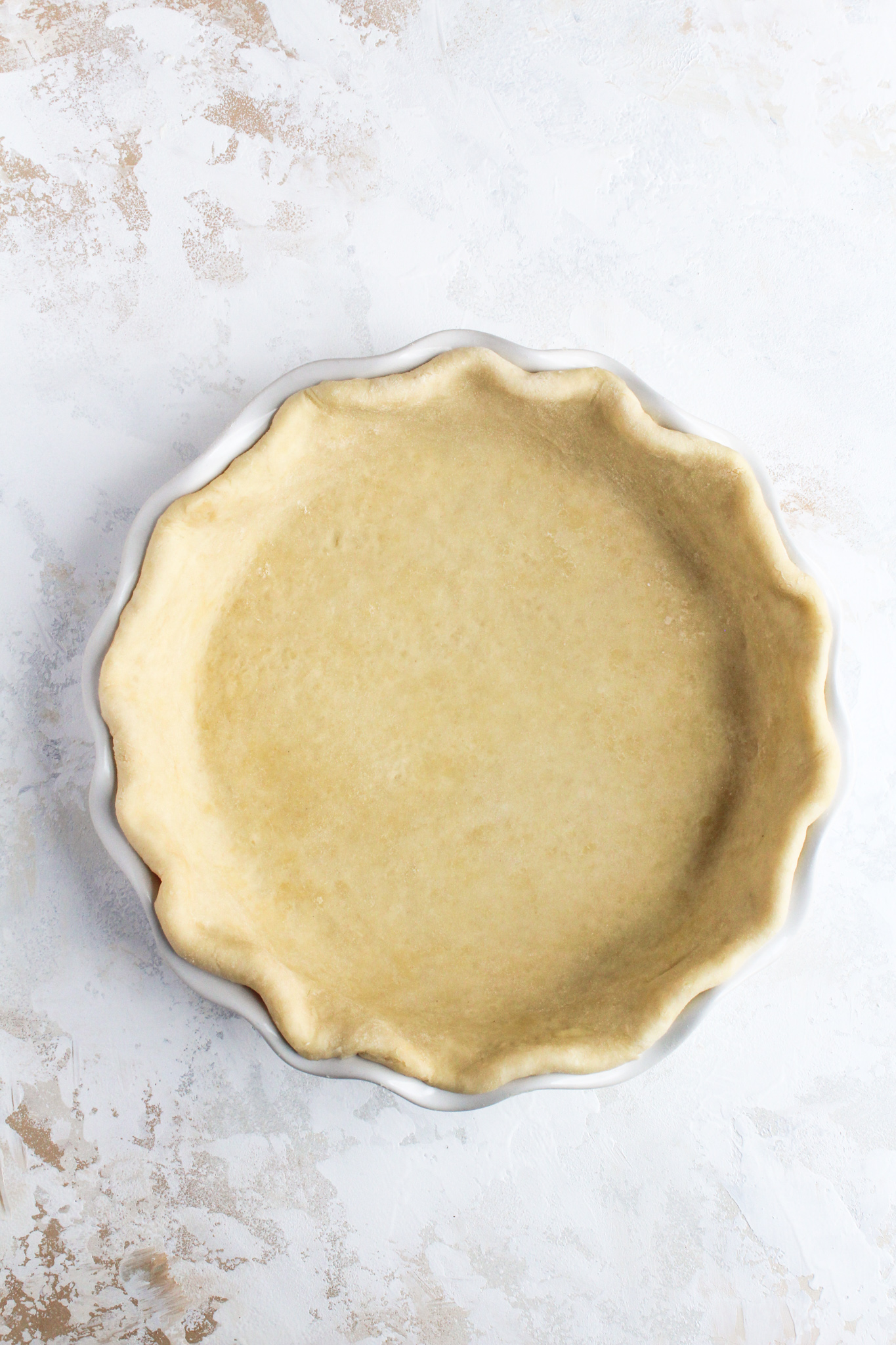 The flavor and texture of a pie crust can make or break your pie. The perfect crust is light, tender with flaky layers and is golden brown. It can be intimidating to tackle making pie crust but with a little patience and practice, anyone can achieve the ideal crust. And let me tell you, it is absolutely worth the practice and hands-on experience because a made from scratch pie dough cannot even begin to compare to store-bought. It is worth every ounce of effort and it will have your family and friends asking for more!
Pie crust only requires four ingredients, flour, butter, salt, and water, with the optional fifth ingredient being sugar. Some recipes will call for shortening instead of butter or a combination of the two. However, an all butter pie crust yields the best flavor. And when putting the effort into making the perfect crust, why not make one with the best flavor? Each ingredient plays a specific role and it's important to stick to using the best ingredients possible. Let me tell you a little more about the importance of all the ingredients.
The 5 Ingredients in All Butter Pie Crust
Flour. The key to making a great pie crust is finding the perfect balance between tenderness and strength. Consequently, all-purpose flour or pastry flour will produce the best tenderness for your crust. Using a low-protein flour like cake flour will give you a tender crust, but it will crumble easily. A high-protein flour like bread flour will give you the strength, but it will result in a tough and dense dough.
Butter. The key ingredient to creating those flaky layers of goodness and its temperature and quality are important factors to note. Butter should always be cold, straight out of the refrigerator, when added to the dough to prevent it from becoming too incorporated into the dough. Unsalted butter is ideal to better control the flavor of the crust. Additionally, the higher the fat content, the more flavorful and less soggy your crust will be once baked. European butter contains a slightly higher fat content as opposed to American style butter, but each will produce a delicious crust.
Salt. It's all about the flavor. Although you can eliminate salt from pie dough, it adds a depth of flavor to your crust for a nice balance. My preference is to use fine ground sea salt as opposed to table salt which is highly refined.
Sugar. Not all pie crusts call for sugar, but when added it enhances the flavor and aids in the coloring of the crust.
Water. The liquid is important to bring all your ingredients together. Water is ideal and it is crucial to ensure it is ice cold to keep the butter intact while mixing. Additionally, it is key not to over mix the dough once the water has been added. Otherwise too much gluten will develop resulting in a tough crust.
Mixing Butter Pie Crust
The ingredients of your all butter pie crust play an important role in the outcome of your crust. However, so does the method of mixing the dough. Under mixing will result in a crust that tears and crumbles easily. Over mixing the dough will develop too much gluten and therefore result in a tough crust that is difficult to roll out and eat.
Although a stand mixer fitted with the paddle attachment or a food process can be used to mix pie dough, it requires extremely close supervision because of the risk of easily over mixing the dough, which can happen quite quickly. Consequently, the best method to use is hand mixing. This allows you to easily feel the changes in the dough as you mix and will help set you up for success in producing a tender, flaky dough.
What went wrong?
If the crust requires only a little bit of water but results in being too fragile to roll, then the flour and butter have been mixed too much so that the flour has absorbed the butter.
If the crust requires a lot of water and results in being flaky but tough, then the butter and flour were not mixed enough and as a result, the water was quickly absorbed by the flour and developed too much gluten.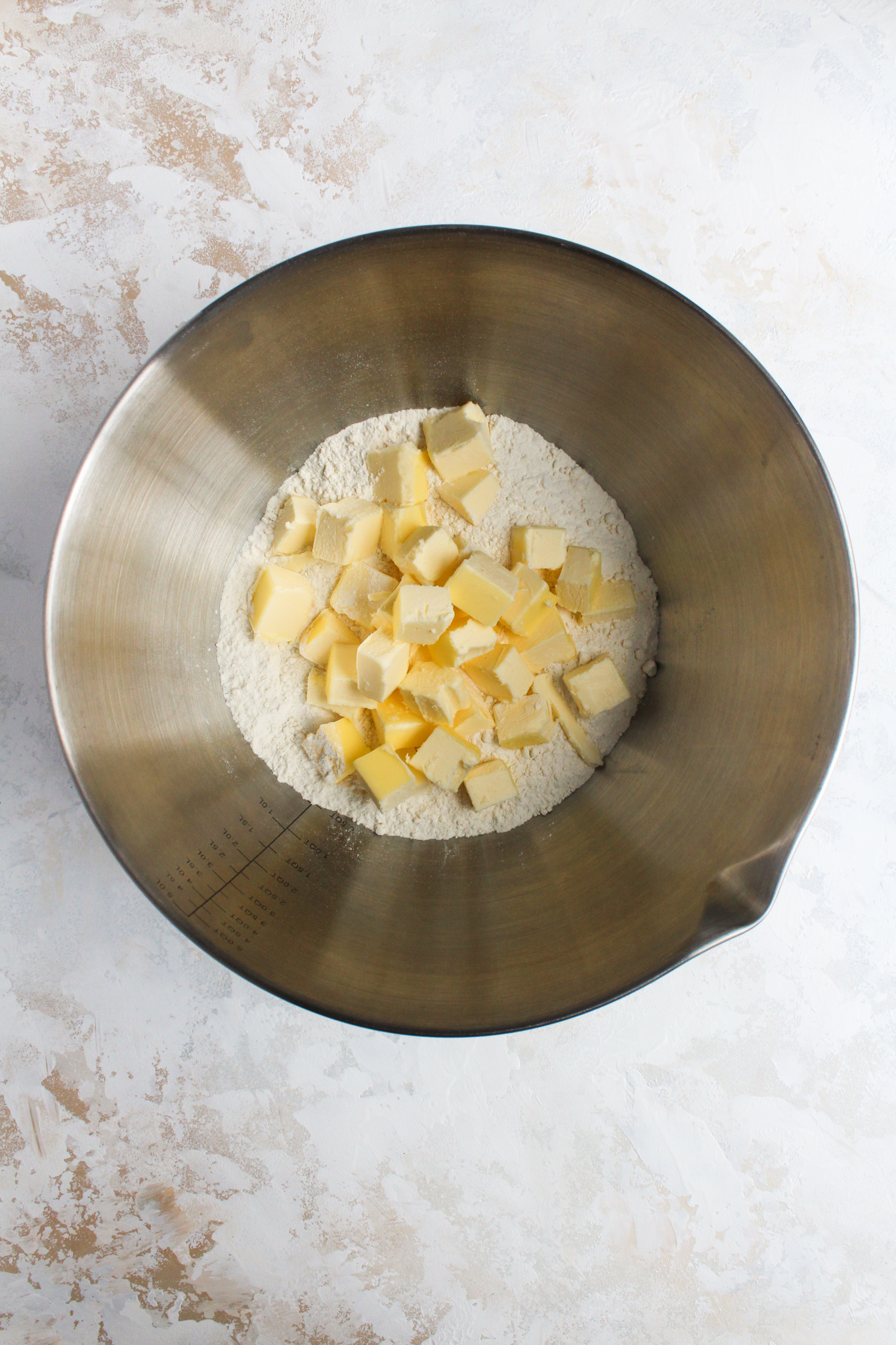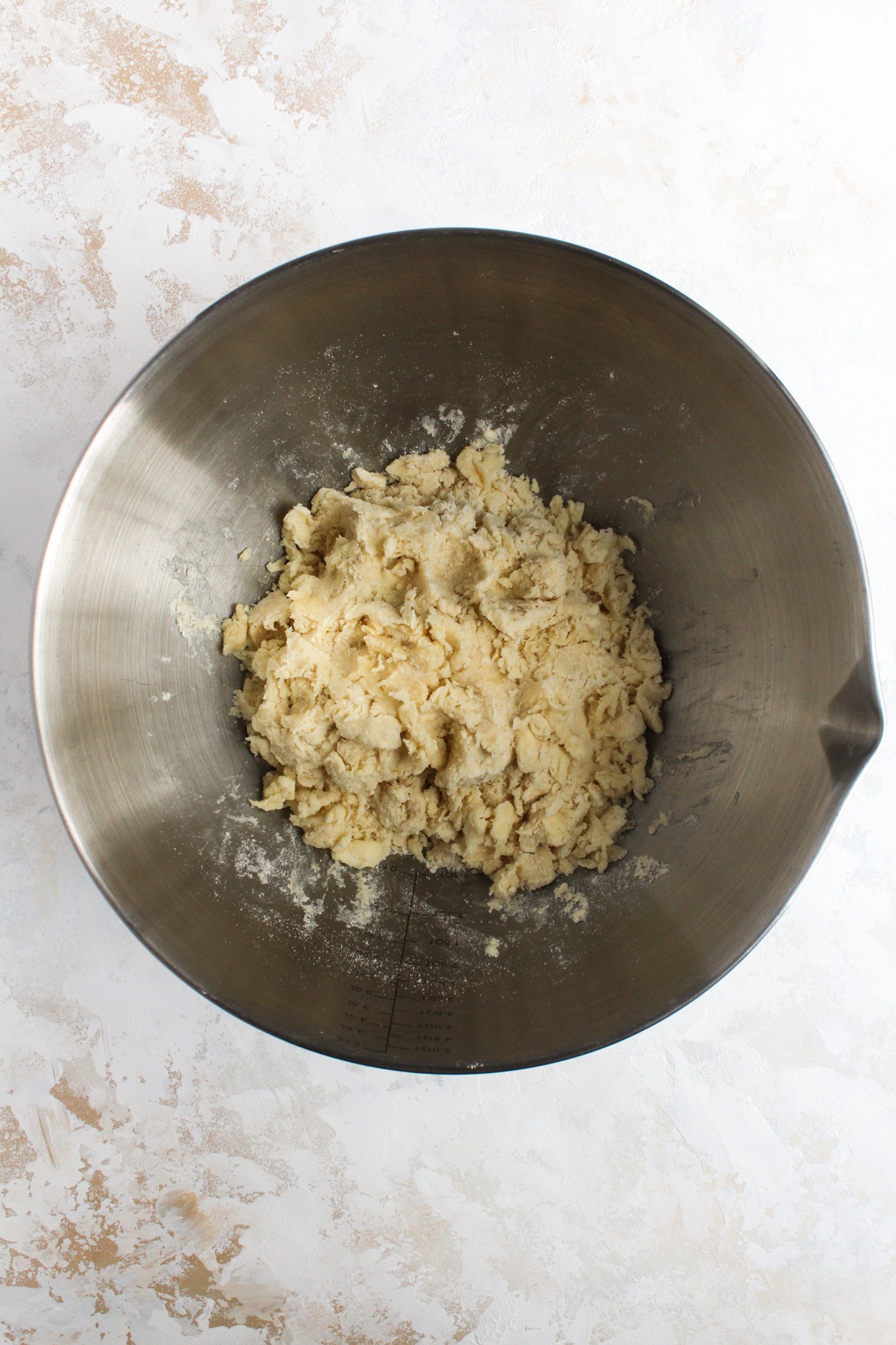 How to Roll Pie Dough
Marble or granite surfaces are the best for rolling out pie dough. They maintain a cool temperature which prevents the fat from being absorbed into the flour and therefore maintain the tenderness and flakiness of your pie crust. Lightly flour your work surface to prevent the pie dough from sticking.
Roll the dough from the center outward
Turn the dough 90° and repeat while maintaining an even thickness
Continue to roll out the dough until about 3" larger than your pie dish
Transfer pie dough to a baking dish by folding into quarters or rolling it onto a rolling pin
It is important to work quickly with your pie dough. If it becomes too warm, cover it and refrigerate it for about 5-10 minutes before resuming to maintain the integrity of your flaky crust.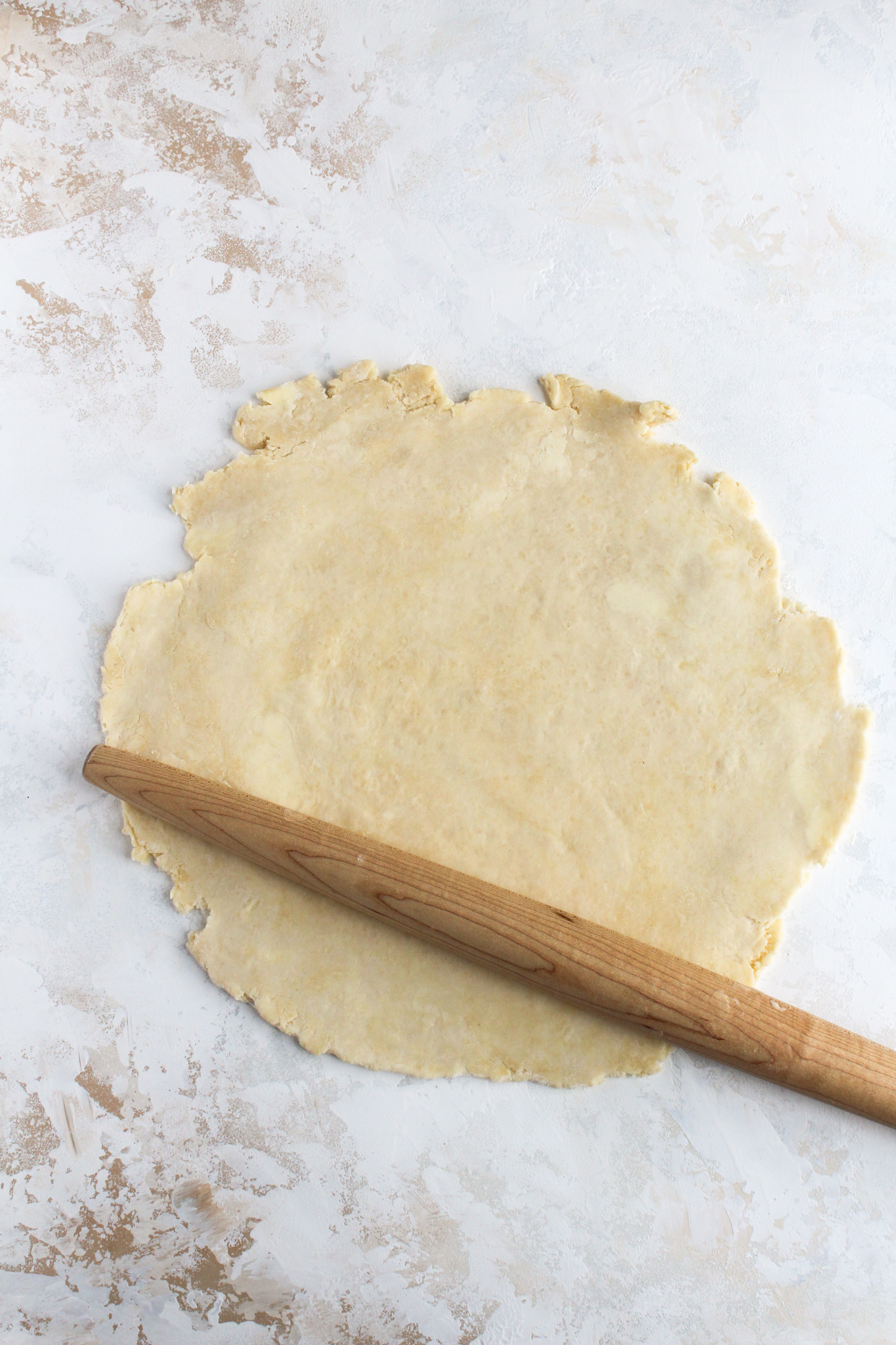 All Butter Pie Crust Tips
Always ensure your butter and water are well-chilled. Beginning with cold butter helps to ensure the fat does not get overworked into the flour and therefore helps create those flaky layers. The cold water will help to keep your butter cold while mixing the ingredients together.
Allow the dough to chill before rolling out. This will not only ensure you maintain the flaky layers, but it also allows the gluten in your dough to rest.
When lining the baking dish with your pie dough, carefully lower the dough into the dish and allow the dough to "fall" into place as opposed to forcing it.
If your pie recipe requires pre-baking the crust then use pie weights or dried beans to prevent the dough from puffing up and then shrinking. First, line your formed dough in your baking dish with aluminum foil and then fill with the weights or beans. Bake for about 15 minutes at 400°F/204°C or until the crust begins to brown.
Once your baking dish is lined with your pie dough, cover and chill before blind baking your crust or filling the pie. This will help prevent the pie from shrinking when it is baked.
Pie Crust Substitutions
Depending on the filling of a pie, this basic all butter pie crust can be enhanced with the addition of herbs, spices, cheese, and other flavors for a lovely compliment. The following can be used as a guideline for substitutions:
Up to 1/3 of the flour weight can be replaced with whole wheat flour
Up to 2 teaspoons (10 grams) of the water can be substituted with a flavored extract
Grated low-moisture cheese, finely chopped herbs, freshly ground pepper, ground nuts, or unsweetened cocoa powder can be mixed with the dry ingredients before incorporating the butter
Based on this recipe, I am suggesting approximate amounts of the above additions:
30-50 grams of grated low-moisture cheese or finely chopped herbs
6-10 grams of ground spices
Up to 50 grams of cocoa powder
Recipes using All Butter Pie crust
Print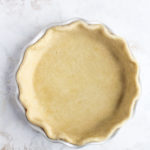 All Butter Pie Crust
---
350 g

(

2 1/2 cups

) all-purpose flour

9.5 g

(

1 tablespoon

) granulated sugar

4.6 g

(

1 teaspoon

) salt

226 g

(

1 cup

) very cold unsalted butter, cubed

120 g

(

1/2 cup

) ice water, more as needed
---
Instructions
In a large mixing bowl, mix together the flour, sugar and salt.
Cut the cold cubed butter into the dry ingredients using a pastry cutter or by hand, rubbing the pieces of butter between your thumb, index, and middle fingers.  Work the dough until your butter is pea-sized.  Do not overwork the butter or allow it to get too warm.
Slowly add the ice water to the dough, a couple tablespoons at a time, and stir using your hand after each addition.  Stop adding ice water once the dough begins to come together.  You should be able to squeeze some pieces together and they should hold their shape.  The dough should not feel sticky.  Careful not to over-mix the dough.
Divide the dough in half.  Flatten each piece into a 1-inch round disc.  Wrap each half in plastic wrap and refrigerate for at least 2 hours, or overnight.
To roll out dough, bring out one disc from the refrigerator and allow to sit for 10 minutes.  Lightly flour work surface and begin to roll the dough out from the center out.  After each roll rotate the dough 90°.  Lightly add flour as needed to prevent the dough from sticking.  Roll the dough until it is 1/4-inch thick.
Continue with the pie according to your recipe's directions.