This post may contain affiliate links, please read my full disclosure policy.
Blueberry hand pies are made with an all-butter pie crust that bakes to golden brown perfection.  The filling is bursting with fresh blueberries that have a hint of lemon.  These mini pies are the perfect portable summer treat!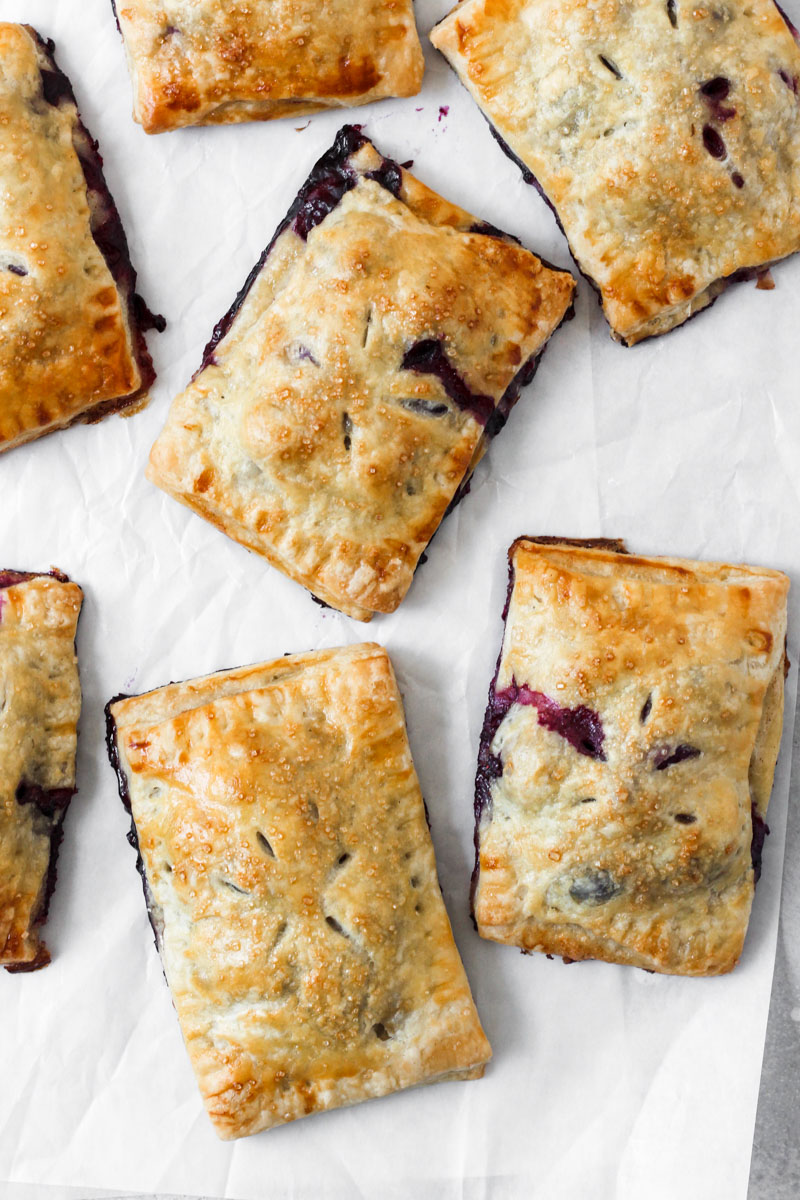 All summer long I love enjoying fresh, homemade fruit pies.  I think not only seasonal fruits make the best tasting desserts, but selecting local fruit.  If you too love fresh pies, then you will love this alternative to a classic blueberry pie.  These blueberry hand pies are just as good, but baked in only half the time!  It's the perfect portable treat for any picnic or BBQ and you can stuff these sweet pastries with your favorite seasonal fruit.
Before you begin
Take out the following baking equipment.
Digital kitchen scale
2 baking sheet pans
Parchment paper
Pizza dough cutter
Medium bowl
Small bowl
Fork
Pastry brush
Knife
Wire cooling rack
Read the recipe through from start to finish.
Understanding ingredients
Fresh blueberries work best in this recipe as the amount of berries and the thickening agent listed are based on recipe testing.  If you do not have any fresh berries on hand, you can substitute with frozen blueberries straight from the freezer.  Frozen berries have a higher moisture content and require extra cornstarch to prevent the juices from running.
Cornstarch is a thickening agent for these blueberry pies.  However, you can use all-purpose flour if you prefer.  To make the substitution, double the amount of cornstarch and substitute with the flour.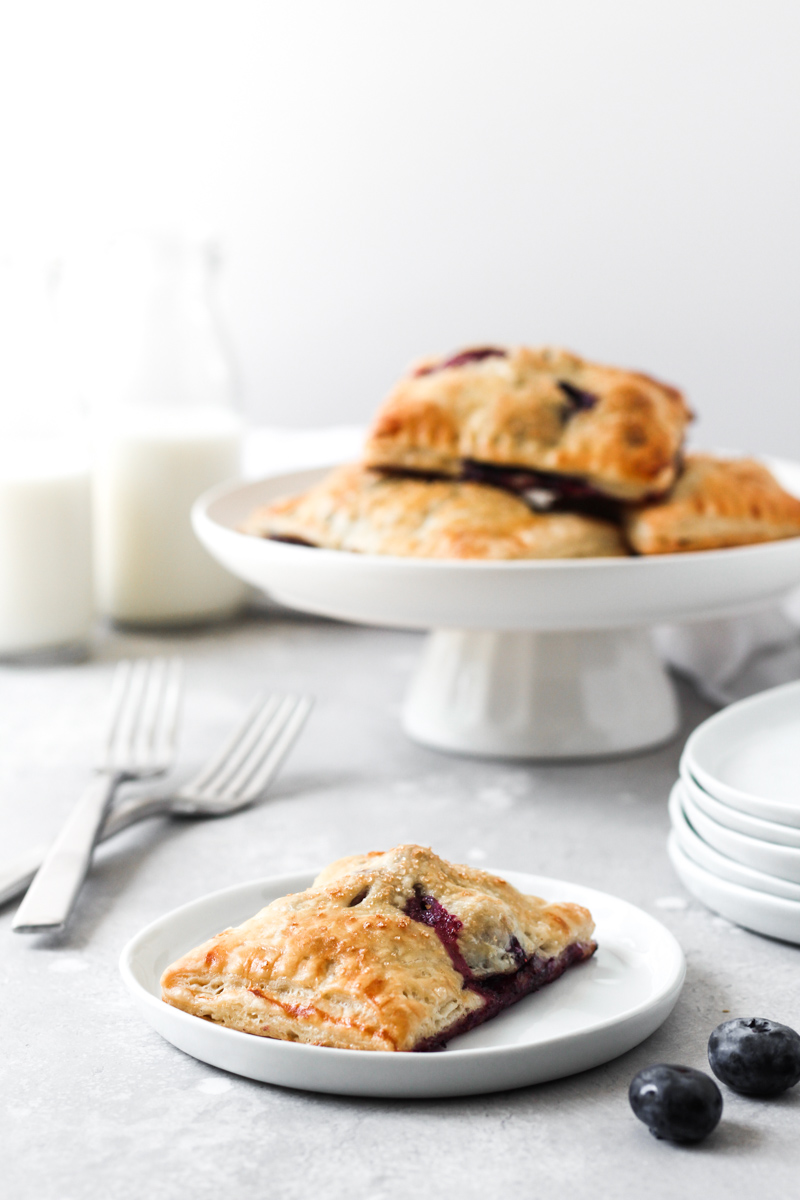 The 5 ingredients required for an all-butter pie crust
Flour. The key to making a great pie crust is finding the perfect balance between tenderness and strength.  All-purpose flour or pastry flour will produce the ideal tenderness for your crust.  Using a low-protein flour like cake flour will give you a tender crust, but it will crumble easily.  A high-protein flour like bread flour will give you the strength, but it will result in a tough and dense dough.
Butter is the key ingredient to creating flaky layers of goodness in a pie crust.  The temperature and quality of butter are important factors to consider.  Butter should always be cold, straight out of the refrigerator, when added to the dough to prevent it from becoming too incorporated into the dough.  Unsalted butter allows you to control the amount of salt in the crust.  Additionally, the higher the fat content, the more flavorful and less soggy your crust will be once baked.  European butter contains a slightly higher fat content as opposed to American style butter, but each will produce a delicious crust.
Salt. It's all about the flavor.  Although you can eliminate salt from pie dough, it adds a depth of flavor to your crust for a nice balance.  My preference is to use fine ground sea salt as opposed to table salt which is highly refined.
Sugar.  Not all pie crusts call for sugar, but when added it enhances the flavor and aids in the coloring of the crust.
Water.  Liquid brings all your pie crust ingredients together.  Water is ideal and must be ice cold to keep the butter intact while mixing.  Additionally, it is key not to over mix the dough once the water has been added otherwise, too much gluten will develop resulting in an undesirable tough crust.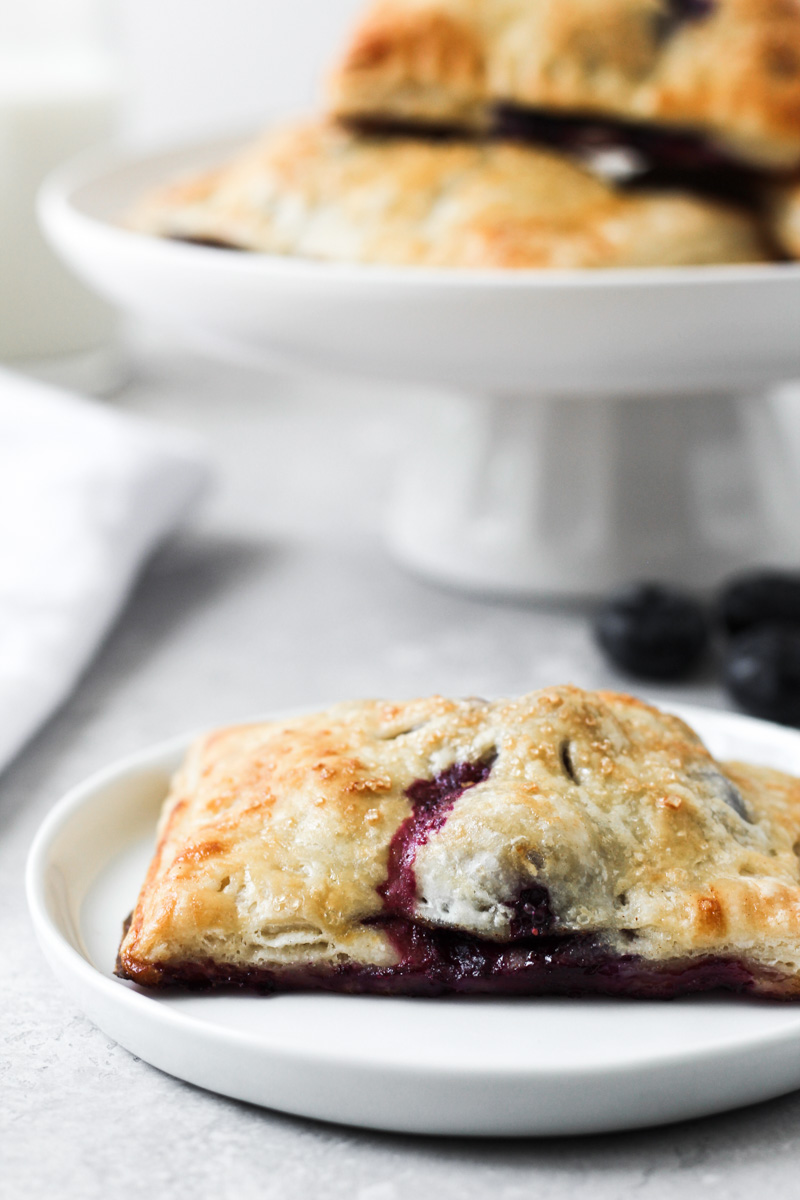 How to make the best pie crust
Incorporate the butter by hand.  To have the most control of how you mix your dough, incorporate the butter by hand.  You can feel the process which is a much better indication of when it is ready compared to sight.  Additionally, it's difficult to over incorporate the butter into dough compared to doing it with a mixer or pastry cutter.
Refrigerate your ingredients and bowl.  It's important to start with very cold butter.  To help ensure that the butter stays cold, you can place your mixing bowl with flour into the refrigerator or freezer to ensure your ingredients stay cold and melt-free.
Use your judgment on the quantity of water.  Every brand of flour hydrates differently.  Therefore, follow the amount of water listed in the pie crust as a guideline.  Add more or less water as needed based on your best judgment.  Always add slowly until the dough just comes together.
Chill your dough.  If your ingredients begin to get too warm, then stop mixing your dough and chill it for about 20 minutes before continuing to mix.
Err on the side of undermixing as oppose to overmixing.  It's crucial to mix pie dough just until it comes together.  Overmixing dough results in a tough, undesirable dense crust.  Better to undermix than to overmix.
How to serve blueberry hand pies
I know it is so tempting to bite into that pie once it comes out of the oven.  However, a little patience is so important to allow the filling to settle.  Allow your pies to cool completely to room temperature before serving or taking that first bite.  This will allow the juices to be absorbed back into the filling so when you take that first bite, the juices will not be oozing out!
If you enjoy your pie warm, then pop your hand pies into a 325°F/163°C oven for about 4-5 minutes just before serving.  And for some extra indulgence, place a small scoop of vanilla ice cream on top!  This is definitely my favorite way to enjoy fruit pie whether it's a slice or an individual hand pie.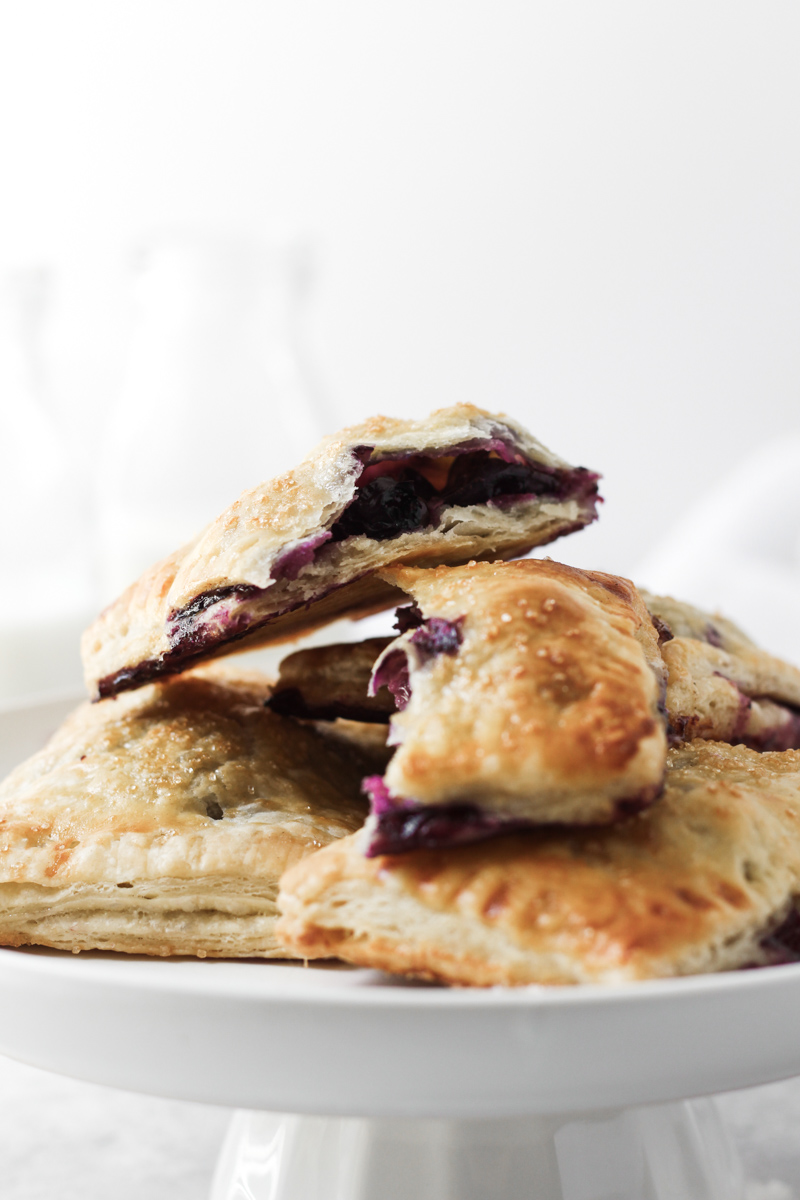 Tips and takeaways
If you add too much water to your dough, then chill it thoroughly and roll it out with more flour than you'd usually use. This will balance out the excess liquid.
Make the all-butter pie dough up to 2 days in advance and keep tightly covered in the refrigerator.  You can also freeze the dough for up to 3 months.
Love blueberries?  Try these other blueberry recipes...
Make sure to tag me @thesweetoccasion on Instagram and leave me a review below if you make these Blueberry Hand Pies. I'd love to see your creations and read your feedback.  And if you would like to make this recipe later, be sure to pin this recipe using the button on any of these images. Let's make every occasion a sweet occasion!
Print
Blueberry Hand Pies
---
Author:

Maria

Total Time:

2 hours 40 minutes

Yield:

8

hand pies

1

x
Description
Blueberry hand pies are made with an all-butter pie crust that bakes to golden brown perfection.  The filling is bursting with fresh blueberries that have a hint of lemon.  These mini pies are the perfect portable summer treat!
---
For the dough
For the filling
225 g

(

1 1/2 cups

) fresh blueberries

110 g

(

1/2 cup

) granulated sugar

18 g

(

2 tablespoons

) cornstarch
zest from

1

lemon

28 g

(

2 tablespoons

) fresh lemon juice

1 g

(

1/2 teaspoon

) ground cinnamon

1.4

(1/4 teaspoon ) salt

50 g

(

1

large) egg, beaten

14 g

(

1 tablespoon

) milk
Coarse sugar, for sprinkling
---
Instructions
Preheat oven to 425°F/218°C.  Line two baking sheet pans with parchment paper or silicone mats.  Roll out one dough disc on a floured surface to a 12x8-inch rectangle. Cut into 8 rectangles and place them evenly spaced onto one of the prepared baking sheet pans.  Place the pan into the refrigerator.
Repeat with the other dough disc for top crusts and place on the second sheet pan.  Put the pan into the refrigerator.
In a small bowl, combine blueberries, sugar, cornstarch, lemon zest, lemon juice, cinnamon, and salt.  Set aside.
Beat together egg and milk. Brush bottom pastry crusts with egg wash.  Divide blueberry filling mixture evenly between the 8 crusts by piling high in middles and allowing for a 1/2-inch border on all sides.  Place the remaining 6 rectangles on top of blueberry filling.  Gently stretch the dough to allow edges to meet and lightly press edges together to create a seal.  Using a fork, crimp edges of each hand pie.
With remaining egg wash, brush each hand pie and sprinkle with coarse sugar.  Cut slits in each pie to allow for steam to escape.
Bake hand pies for 16-18 minutes or until crusts are golden brown and blueberry filling is bubbly.
Transfer to a wire rack to completely cool.  Enjoy.
Prep Time:

25 minutes

Cook Time:

16 mintues

Category:

Pie
Keywords: blueberry hand pies, pies, summer dessert
T