This post may contain affiliate links, please read my full disclosure policy.
Crisp, sweet apples and tart rhubarb come together in this pleasantly refreshing Rhubarb Apple Pie.  It's a delicious late-spring and early-summer treat while rhubarb is still in season.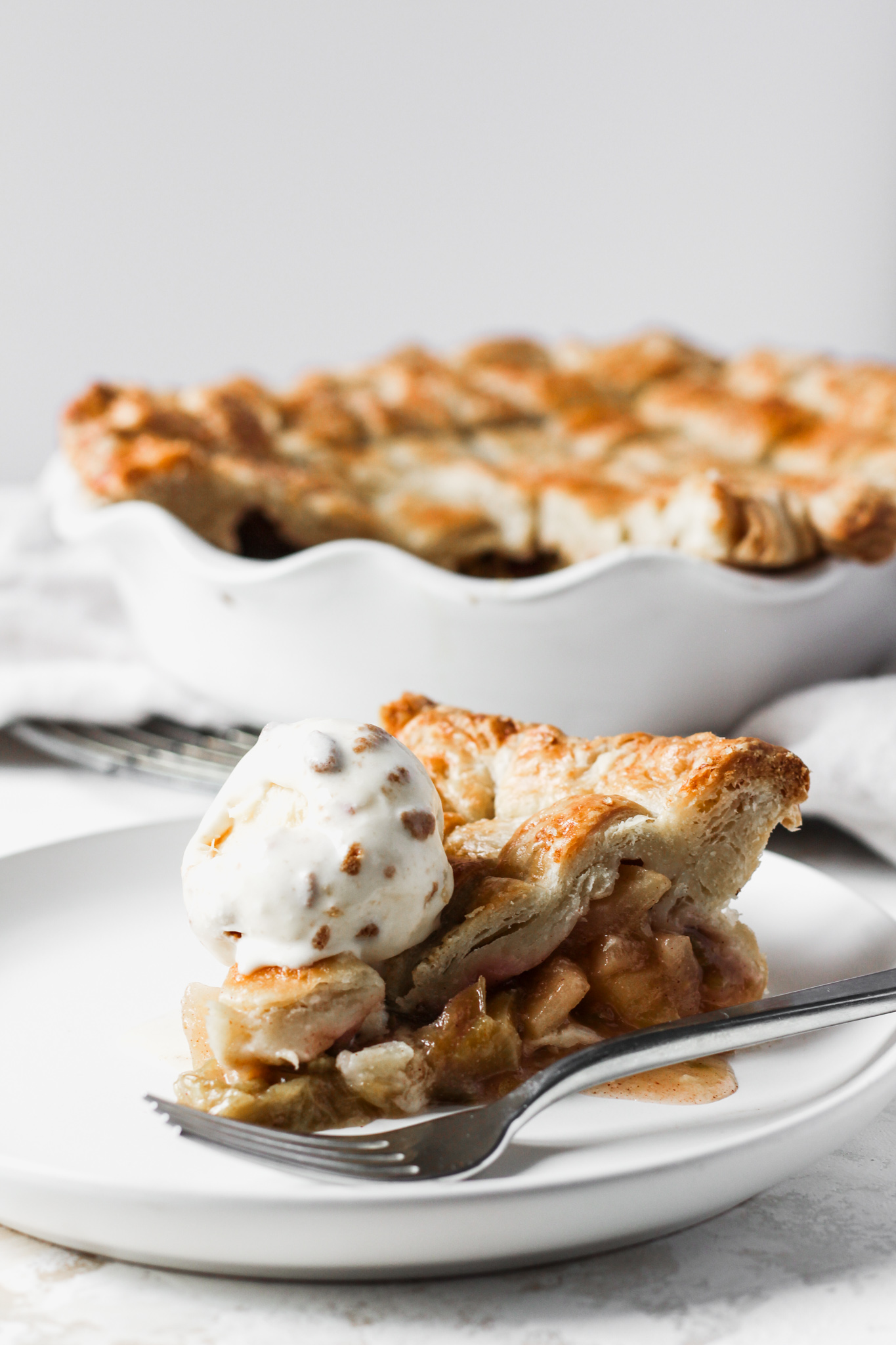 Apple pie is a fall-time favorite.  There is something so warm and cozy about it, especially when warmed with a scoop of vanilla ice cream on top.  However, fall is not the only time to enjoy apple pie.  It's a pie that is delicious year-round.  Apples are crisp, sweet, and juicy, and they lend themselves well to other fruits making them the perfect complement to many pies.
Rhubarb, on the other hand, is much more tart.  Therefore, it is an ideal companion to apples and makes for a delicious pie.  Unfortunately, rhubarb has a short season.  So while it lasts, I highly recommend making this rhubarb apple pie.  It's the perfect balance of sweet and tart for a refreshing summer treat.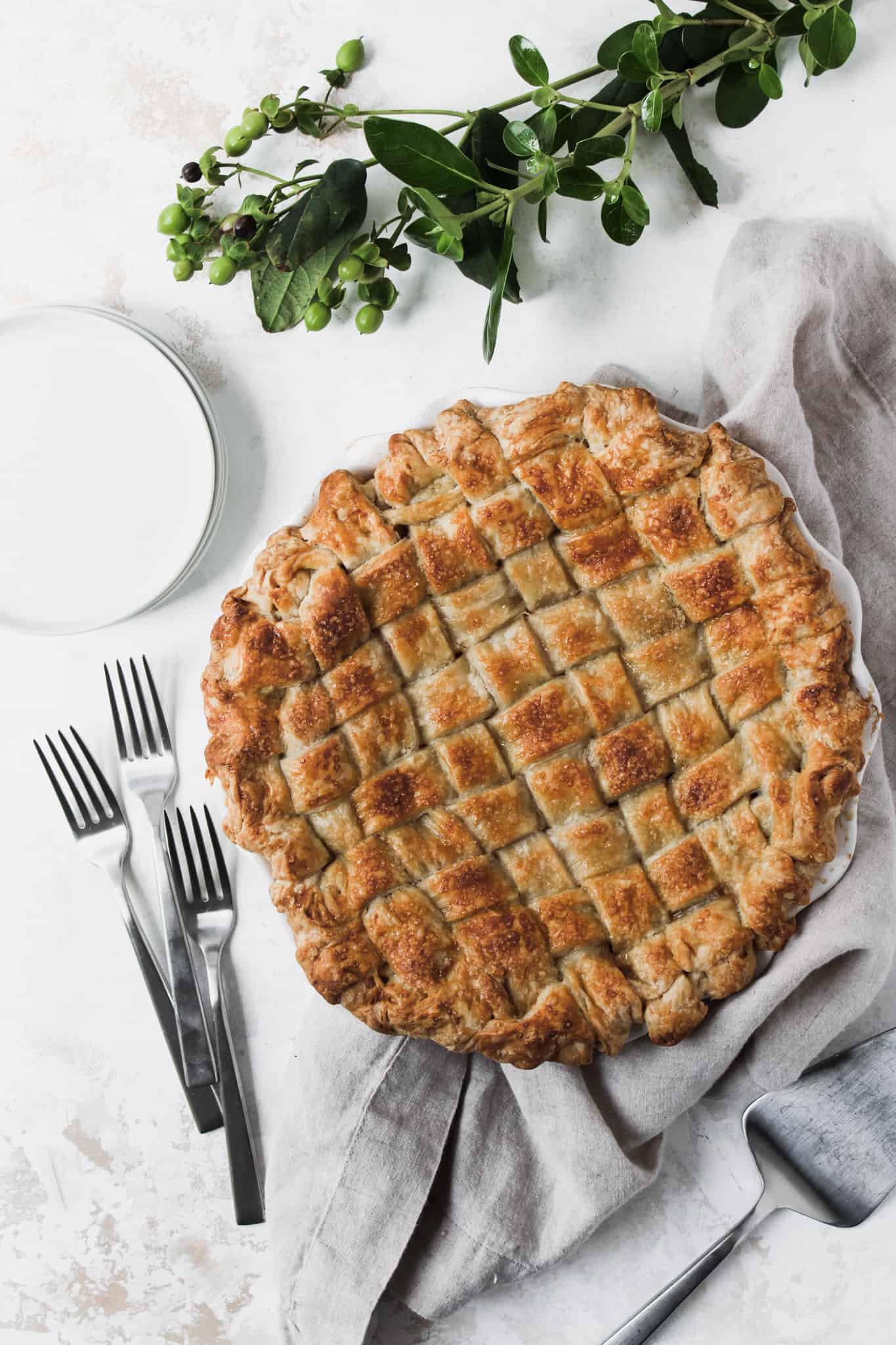 Before you begin
Take out the following baking equipment.
Digital kitchen scale
9-inch pie dish
Baking sheet pan
Rolling pin
1 knife
Large bowl
Silicone spatula
Small bowl
Pastry brush
Read the recipe through from start to finish.
Understanding Ingredients
The key to making a great pie crust is finding the perfect balance between tenderness and strength.  Consequently, all-purpose flour or pastry flour will produce the ideal tenderness for your crust.  Using a low-protein flour like cake flour will give you a tender crust, but it will crumble easily.  A high-protein flour such as bread flour will give you the strength, but it will result in a tough and dense dough.
Butter is the key ingredient for creating flaky layers of goodness in your pie crust.  Butter should always be cold, straight out of the refrigerator, when added to the dough to prevent it from becoming too incorporated into the dough (meaning less flaky layers).  The higher the fat content, the more flavorful and less soggy your crust will be once baked.  European butter contains a slightly higher fat content as opposed to American style butter, but each will produce a delicious crust. I do not recommend substituting shortening, as it will create a crust that is less crisp, browns faster, and usually leaves a filmy aftertaste.
A liquid is essential to bringing all your pie crust ingredients together.  Water is ideal and it's crucial to ensure it's ice-cold to keep the butter intact while mixing.  Additionally, it is key not to over mix the dough once the water has been added.  Otherwise too much gluten will develop resulting in a tough crust.
Rhubarb season is short-lived, so it's important to know what to look for when selecting rhubarb for your pie.  Choose stalks that are redder and thinner.  This indicates that they are more tender and sweet.  Additionally, select stalks that are firm and crisp with shiny skins.  Typically, the rhubarb season only lasts from late spring to early summer, so enjoy your rhubarb desserts while you can!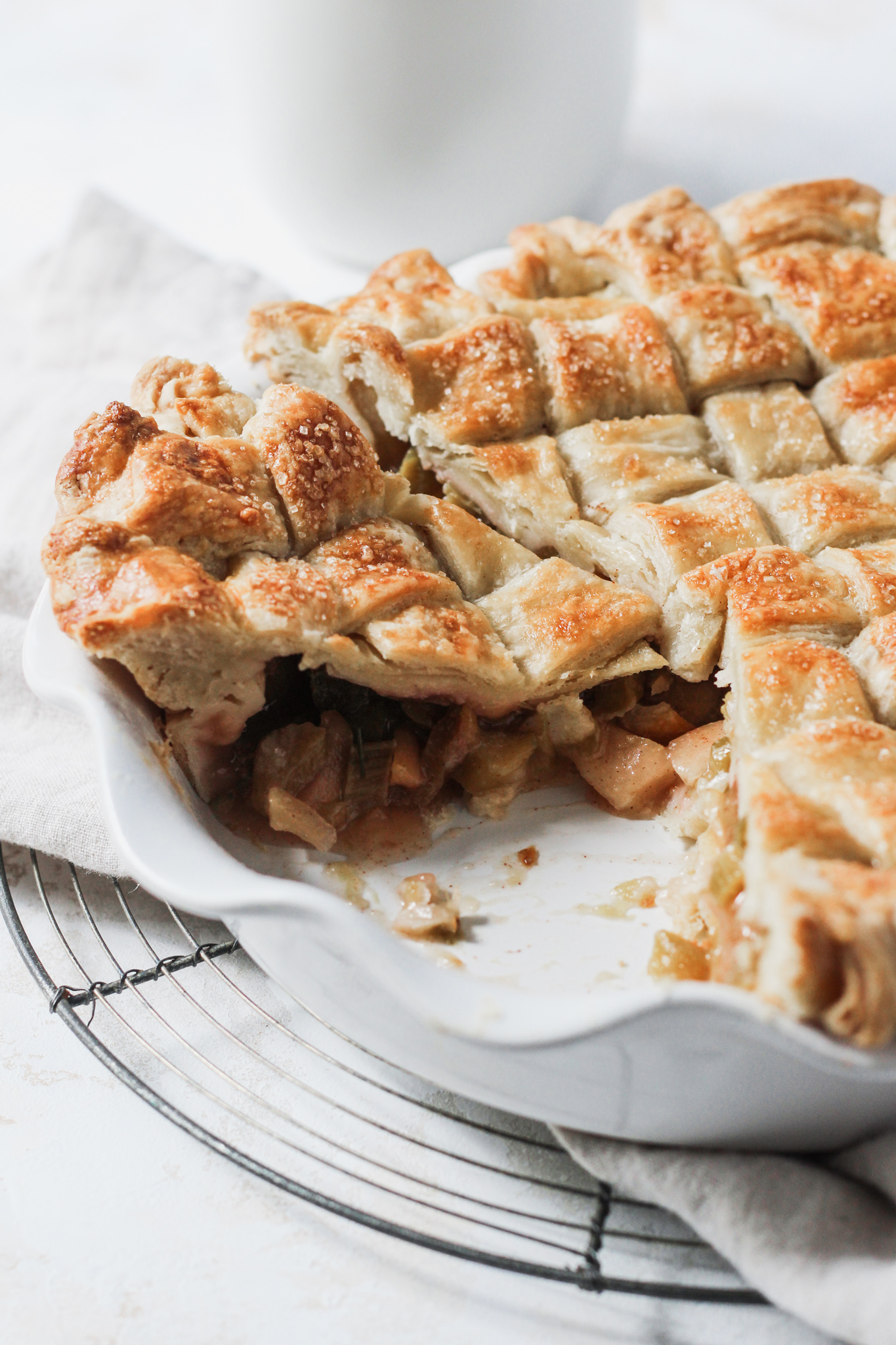 The best apples to use for pie
When it comes to baking, it's very important to select apples that maintain their structure.  Some apples are delicious to snack on, but when you use them in baked goods they can turn out like mush.  Normally, when I make apple pie, I opt for a mixture of Granny Smith apples and Fuji apples to have a nice balance of sweet and tart flavor. However, because rhubarb can be sour I don't recommend Granny Smith, and instead, I would select sweeter apples.
Braeburn
Braeburn is a crisp and juicy apple that holds up especially well when baked.  Its flavor is a mix of tart and sweet, making it a delicious baking apple.  The reddish exterior with stripes of yellow and green makes for a beautiful presentation.
Fuji
Fuji apples are quite popular for snacking on.  They tend to be large, juicy, and crisp all the while maintaining their structure when baked.  They have a honey-sweet flavor that is excellent for desserts and would pair nicely with rhubarb.
Honeycrisp
The Honeycrisp apple is extremely versatile and a dessert winner.  Its crisp texture holds up very well in baking.  Its flavor is sweet with a hint of honey, as the name suggests, but still a mild apple.
Jonagold
These apples are the perfect combination of sweet and tart.  Their crisp texture holds up well in the oven.  Their peak season is early in the fall, and as a result, not the ideal timing for the rhubarb season.  However, Jonagold would be delicious in a traditional apple pie for fall.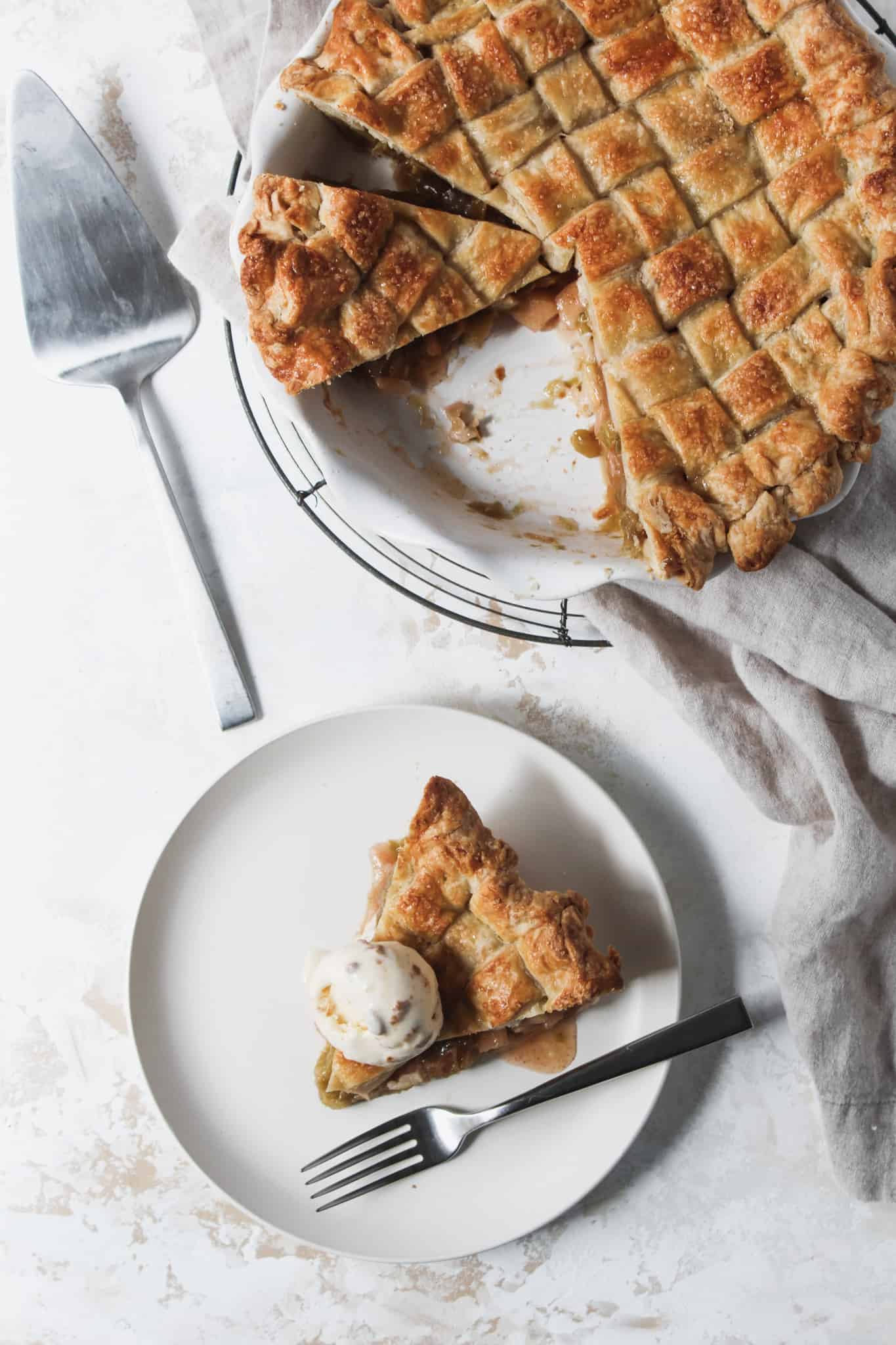 How to make an egg wash
An egg wash is simply a mixture of beaten egg and a liquid.  You can use water, milk, or cream.  The purpose of an egg wash is to add color and shine to your crust.  If you are wondering how this works, let me explain.
The protein in the yolk of an egg adds the color while its fat adds the beautiful shine.  You would think, why not just use an egg yolk then instead of a whole egg.  However, the egg white has a high moisture content which prevents the yolk from drying out too quickly.  This helps prevent the crust from drying out and becoming crisp and instead results in a tender finish.
To make an egg wash, in a small bowl mix together 1 whole egg plus 14 g (1 tablespoon) of water, milk, or cream.  Lightly brush a thin layer on the surface of your pie crust.  Be sure to evenly spread and avoid leaving any pools of liquid on the crust.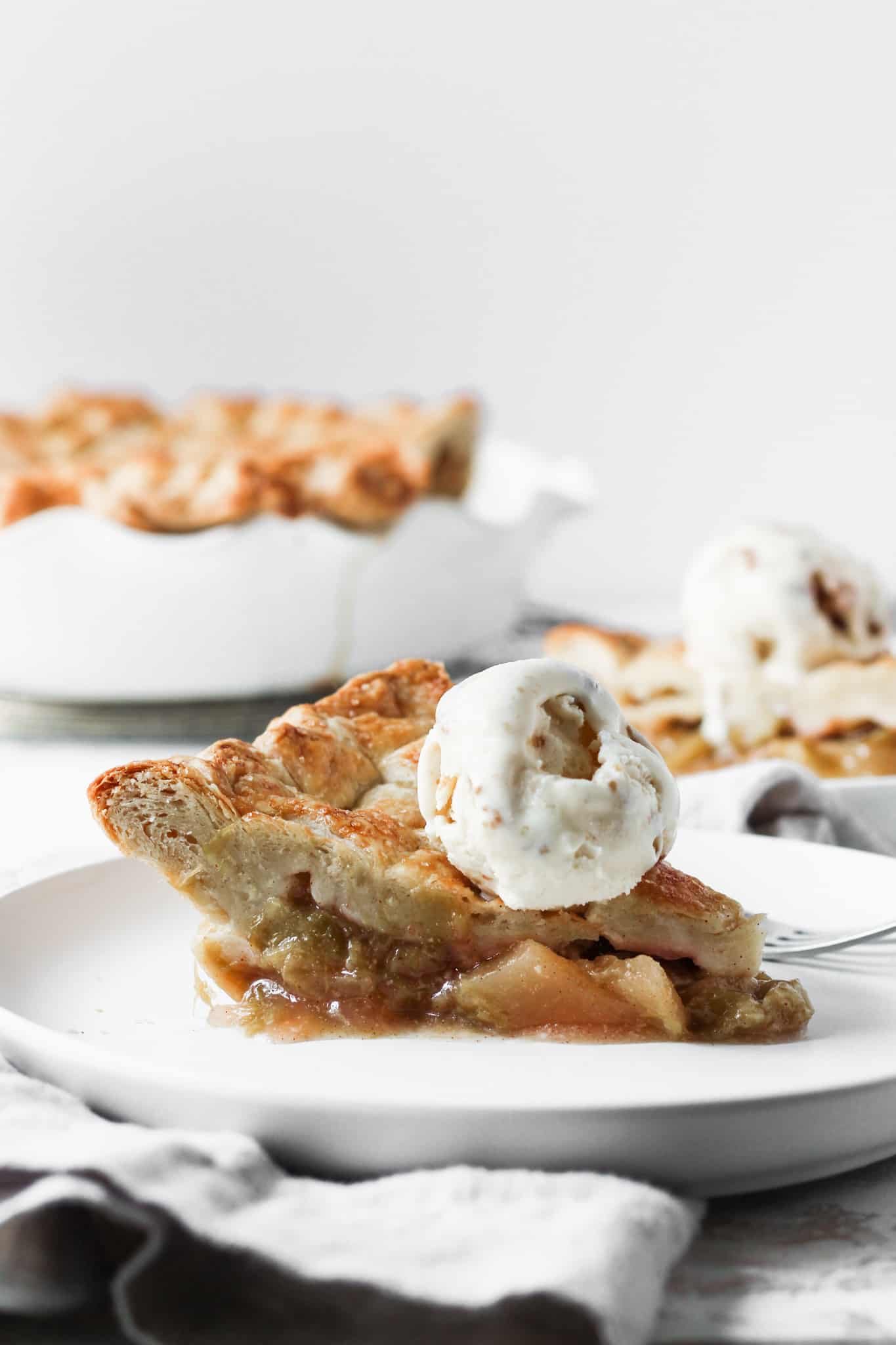 Tips and takeaways
To prevent a soggy crust, brush your unbaked bottom crust with egg white.  Allow it to dry for about 5 minutes before adding your fruit filling.
If you prefer to use flour as your thickening agent, you can substitute 35 g (1/4 cup) all-purpose flour for the cornstarch.
Pears are another delicious option in this pie.  You can substitute an equal amount of firm pears for the apples.  I would highly recommend Barlett pears.  The flavor complements the rhubarb.
Citrus pairs well with rhubarb.  You can add 1 teaspoon of lemon or orange zest to the recipe for a subtle but complementary flavor.
Love rhubarb?  Try these other recipes...
Make sure to tag me @thesweetoccasion on Instagram and leave me a review below if you make this Rhubarb Apple Pie. I'd love to see your creations and read your feedback.  And if you would like to make this recipe later, be sure to pin this recipe using the button on any of these images. Let's make every occasion a sweet occasion!
Print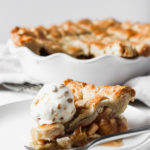 Rhubarb Apple Pie
---
Author:

Maria

Total Time:

2 hours 45 minutes

Yield:

1

9-inch pie

1

x
Description
Crisp, sweet apples and tart rhubarb come together in this pleasantly refreshing Rhubarb Apple Pie.  It's a delicious late-spring and early-summer treat while rhubarb is still in season.
---
For the filling
450 g

(

1

pound) rhubarb, ends trimmed and stalks cut into 1/4-inch pieces

2

medium-sized apples, cored and sliced 1/4-inch

110 g

(

1/2 cup

) granulated sugar

55 g

(

1/4 cup

) light brown sugar

20 g

(

2 tablespoons

) cornstarch

1 g

(

1/2 teaspoon

) ground cinnamon
pinch of salt
Egg wash
Turbinado sugar
---
Instructions
Preheat oven to 400°F/204°C.
Prepare the all-butter pie crust recipe.  Carefully transfer rolled out dough to a 9-inch pie dish.  Fit the dough to the bottom and sides of the dish by carefully lowering the dough into the dish and allowing dough to fall into place.  Leave a 1-inch border and trim the rest of the dough using a sharp knife.  Refrigerate crust while preparing the filling.
For the filling, mix the rhubarb, apples, both sugars, cornstarch, cinnamon, and salt in a large bowl.  Pour the filling into the pie dish with the prepared crust.
Roll out your top crust, beginning from the center and rolling outwards, to a circle that is 3 inches larger than your baking dish.  Using a pastry cutter wheel (or sharp knife), cut the dough into strips.  The thickness or thinness is a personal preference.  For my pie, I chose to cut dough into 1 1/4-inch thick strips.
Arrange enough strips parallel to each other over the filled pie.  Fold every other strip loosely in half and lay a strip of pie dough along the center of the pie perpendicular to the other strips.  Fold the strips back down over the perpendicular strip and fold the other strips up to the point of the perpendicular strip.
Lay another perpendicular strip and repeat the process of threading the strips until a full lattice top is complete.
With a sharp knife, trim away excess dough from the strips and roll excess dough from bottom crust up and over the edge of the pie crust.  Pinch dough together with fingertips and crimp edge of pie.
Brush the lattice top with the egg wash and sprinkle with the turbinado sugar.
Place pie on baking sheet and bake at 400°F/204°C for 20 min then reduce oven to 375°F/190°C for an additional 40 min or until pie is browned and bubbly.
Allow pie to completely cool before slicing and serving.
Prep Time:

45 minutes

Cook Time:

1 hour