This post may contain affiliate links, please read my full disclosure policy.
Strawberry rhubarb brioche is soft, pillowy brioche bread topped with rich almond cream and slightly sweetened strawberries and rhubarb. A delicious, sweet, yeast-raised bread for breakfast.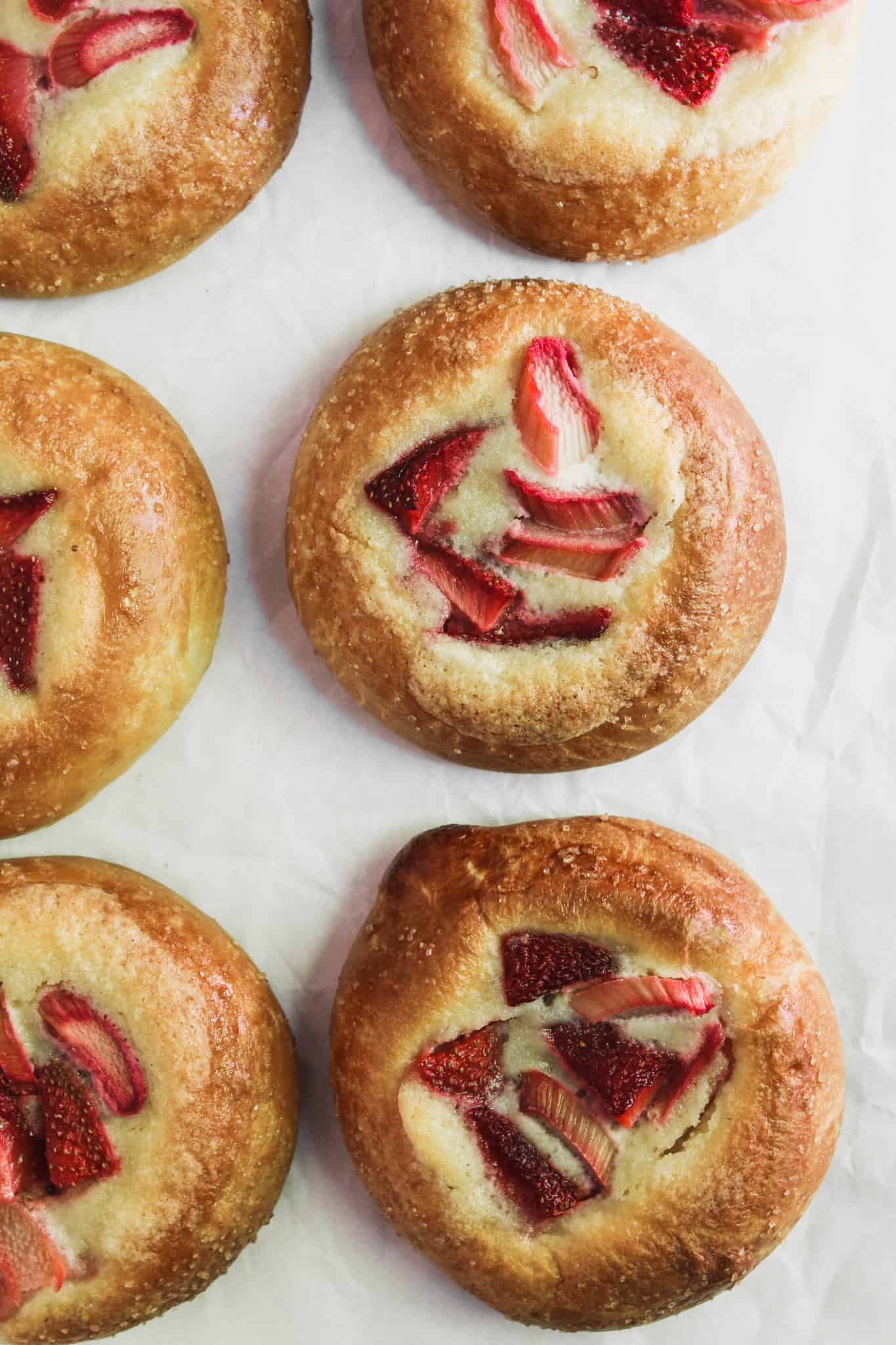 There is no doubt that French pastries are mouthwatering and delicious. Quite often, the basis of French pastries is butter, pure decadence. However, with the combination of fruits and airy hand-whipped creams, these butter-laden doughs are transformed into light, delicate pastries (often flakey...hello croissants) that are heavenly. Although French pastries are notorious for their butter, they are always balanced in flavor and lack the dreaded overpowering sugar element that American pastries so often have.
Brioche bread is one such example. This sweet yeast-raised dough has the perfect balance of a sweet pastry (rich egg and butter flavor) with a light and airy bread. It can easily be served warm right out of the oven with a pat of butter or some homemade jam and coffee, or it can be eaten as a pastry.
To transform this traditional sweet French bread into more of a pastry, I have added a layer of almond cream topped with fresh strawberries and rhubarb. However, even with these additions, the bread is still not too sweet and is delicious for breakfast or for an accompaniment to an afternoon coffee or tea.
Almond cream, also known as frangipane, is a fundamental recipe in French classical pastry that is made with eggs, almond flour, starch, and sugar. It's often used as filling for tarts or breakfast pastries and is a delicious addition to the strawberry rhubarb brioche.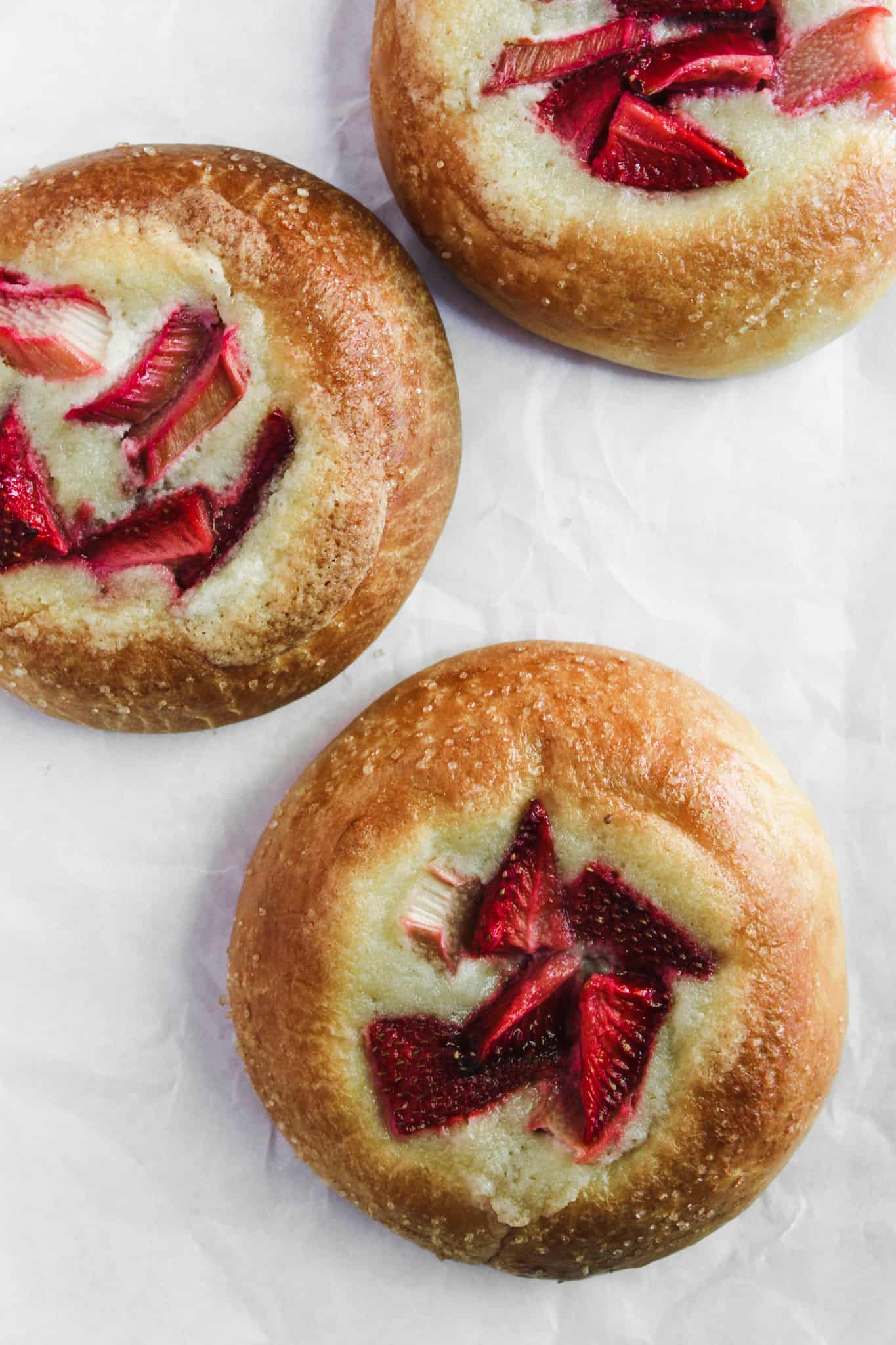 Before you begin
Take out the following baking equipment.
Digital kitchen scale
Stand mixer fitted with the dough hook
1 dough scrapper
2 medium bowls
2 small bowls
Plastic wrap
Sifter
Stand mixer paddle attachment
Silicone spatula
1 bench scraper
Baking sheet pan
Parchment paper
Allow all your ingredients to come to room temperature.
Read the recipe through from start to finish.
Strawberry rhubarb brioche ingredients
All-purpose flour. Gives your brioche the structure. Alternatively, you can use a combination of half bread flour and half all-purpose flour for a slightly stronger dough. However, using all bread flour can be a bit chewy for this recipe.
Instant yeast. This is one of the easiest yeasts to use. It does not require activation like active dry yeast that needs a slightly warmed liquid to become activated. Instead, instant yeast can be added directly to your flour. Remember always to store leftover yeast in the refrigerator to maximize shelf life.
Granulated sugar. Creates caramelization in your dough and gives the brioche a beautiful brown color.
Salt. It helps to control the speed of fermentation. Too much salt prevents the dough from fermenting, and not enough salt results in a rapid fermentation (not ideal).
Eggs. Adds a rich flavor to the brioche
Milk. Contributes to the caramelization of the brioche, adds a richness and mixes with the flour to create the gluten.
Butter. Always use unsalted butter so that you can control the amount of salt in the dough. The butter adds a rich flavor to the brioche. Additionally, it is critical to use room temperature butter so that it can properly incorporate into the dough.
Egg wash. It creates a beautiful shiny exterior.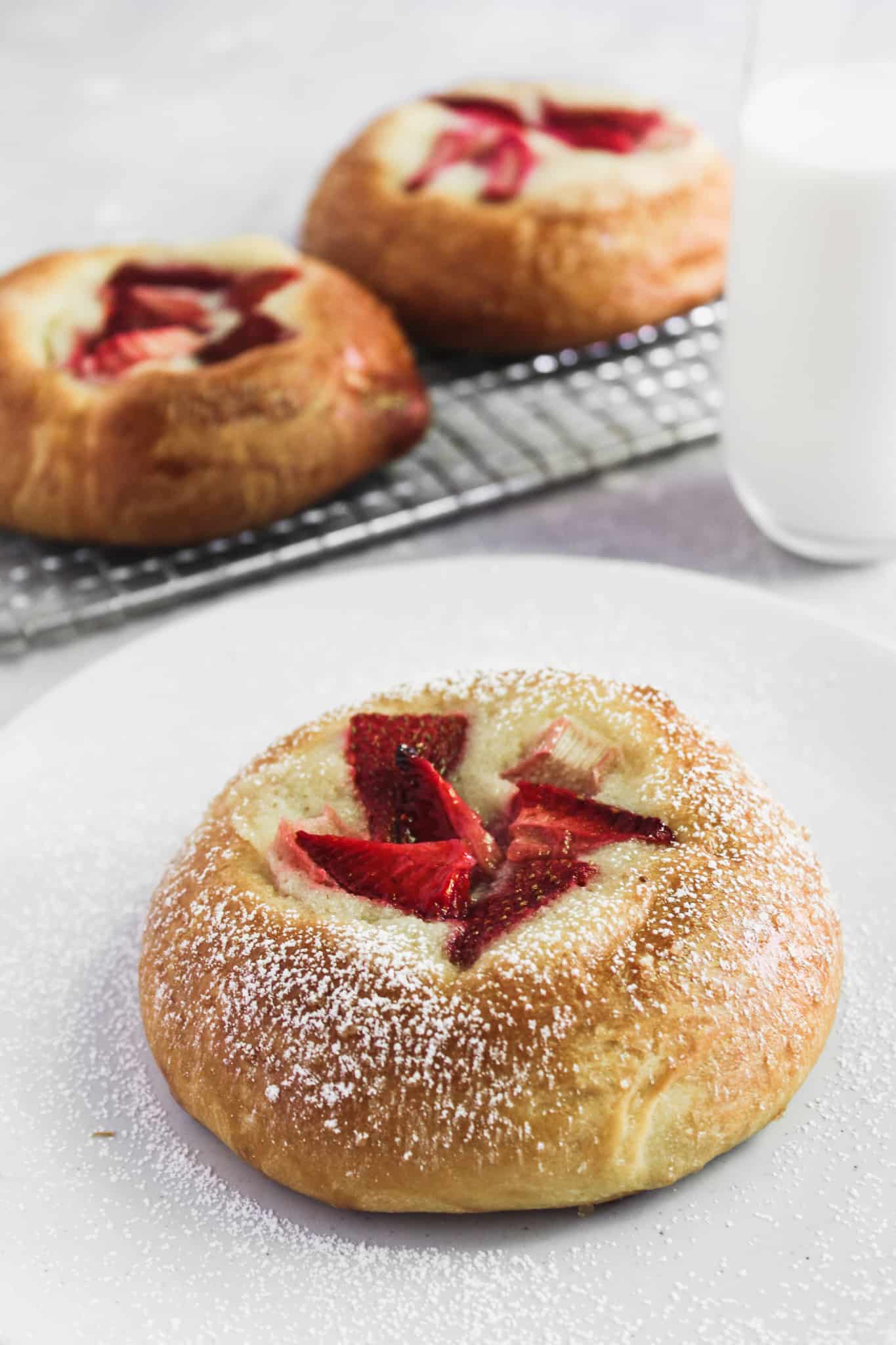 Tips for making almond cream
Always bake in pastries and never serve raw.
Use skinless almond flour to keep your almond cream light in color.
When mixing, do not incorporate too much air into the almond cream, or else excess air bubbles will cause the cream to puff up when baking and collapse later.
Alternatively, if you'd like to use another nut flour, substitute half of the almond flour for your nut flour of choice.
Store almond cream in the refrigerator for up to 3 days or freeze for up to 1 month.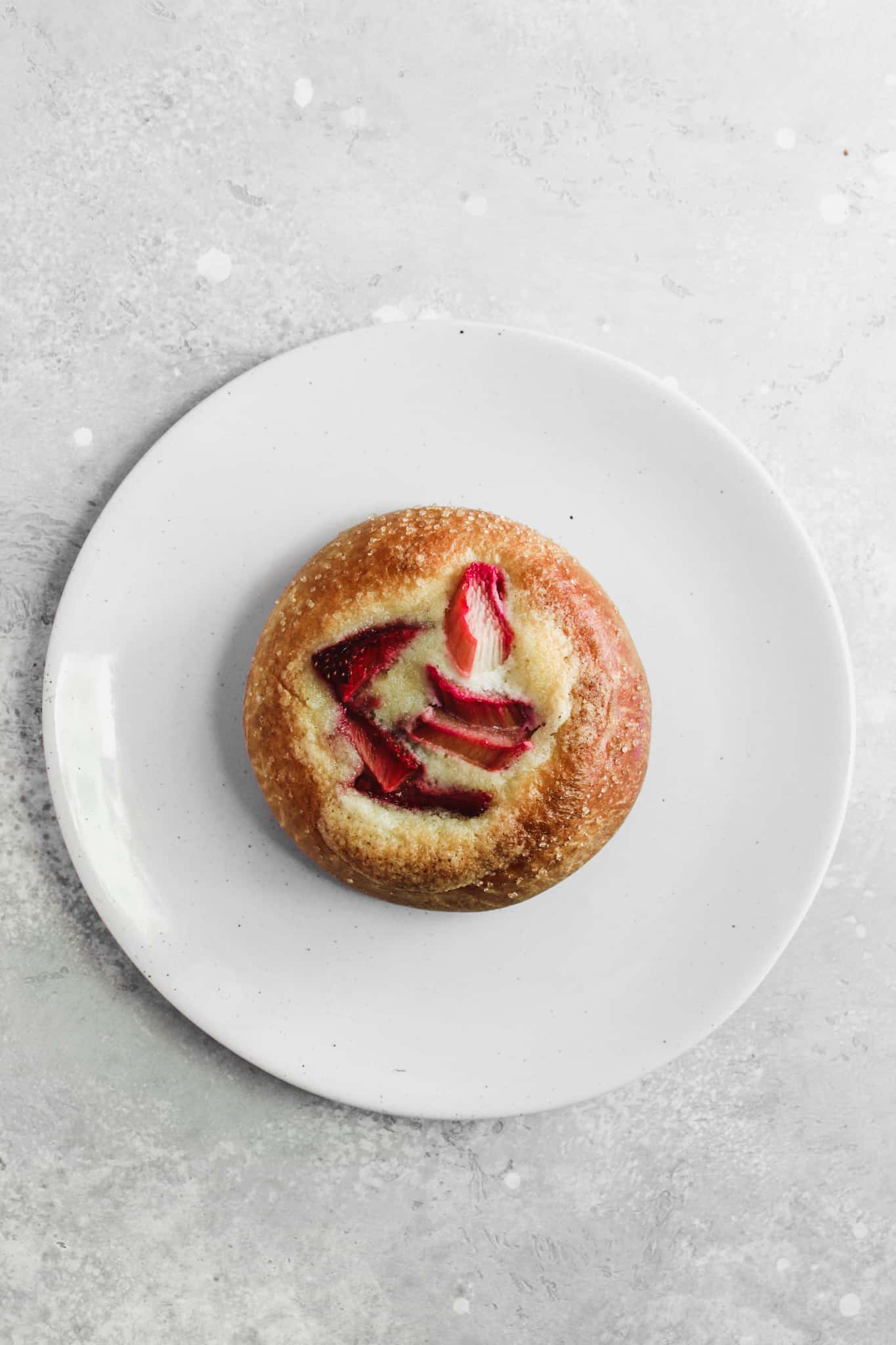 Tips for strawberry rhubarb brioche
To know when you have mixed the dough enough, use the windowpane test (cut off a piece of dough with a bench scraper and gently stretch the dough as thinly as possible to the point where you can see through it. If it tears before this point, then the dough needs additional mixing). Under mixed dough will lack light and airy texture. Conversely, over mixing the dough will result in a chewy and dense brioche.
The brioche dough requires at least an hour to ferment, but it is ideal to make it the day before and ferment it in the refrigerator overnight.
Make the almond cream up to three days in advance to save time.
To know when it is fully baked, the brioche will have a golden-brown crust and hold its shape. Alternatively, a knife inserted into the bread will come out clean without any dough residue.
Store brioche in a plastic bag. Never the refrigerator as it will lose its moisture.
I hope you enjoy this strawberry rhubarb brioche recipe as much as I do. Be sure to read through the recipe thoroughly before making it. Furthermore, I suggest making the almond cream and brioche dough the day before so that the day of assembling the rolls, you only have to complete the final proof of your bread and prep the strawberries and rhubarb (plus your dough will develop a better flavor). Lastly, you can always experiment with the fruit topping. For example, peaches would be an excellent option. However, just be cautious that some berries such as raspberries will bleed if baked in the oven for the full time. Happy Baking!
More breakfast recipes
Make sure to tag me @thesweetoccasion on Instagram and leave me a review below if you make this Strawberry Rhubarb Brioche. I'd love to see your creations and read your feedback. And if you would like to make this recipe later, be sure to pin this recipe using the button on any of these images. Let's make every occasion a sweet occasion!
Print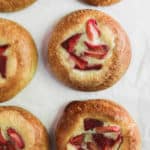 Strawberry Rhubarb Brioche
---
Author:

Maria

Yield:

8

brioche rolls

1

x
Description
Soft, pillowy brioche bread topped with a rich almond cream and slightly sweetened strawberries and rhubarb.  A delicious sweet yeast-raised bread for breakfast.
---
For the brioche dough
2 3/4 cups

(

330 g

) all-purpose flour

1 1/2 teaspoons

instant yeast

3 tablespoons

granulated sugar

1 1/4 teaspoons

salt

4

large (200 g) eggs, lightly beaten

1/4 cup

whole milk

10 tablespoons

(

140 g

) unsalted butter, at room temperature
Egg wash
Coarse sugar, for sprinkling
For the almond cream filling
1 cup

(

96 g

) almond flour, skinless

1 cup

powdered sugar

1 teaspoon

all-purpose flour

1 teaspoon

cornstarch

1/4 teaspoon

salt

1/2 cup

(

57 g

) unsalted butter, at room temperature

1

large (50 g) egg, beaten

1 teaspoon

pure vanilla extract

1/2 teaspoon

pure almond extract
For the strawberries and rhubarb
3/4

pound fresh strawberries, hulled and quartered

2

small-medium rhubarb stalks, sliced 1/4"

1 1/2 tablespoons

granulated sugar
---
Instructions
For the brioche
In the bowl of a stand mixer fitted with the dough hook, mix flour, yeast, sugar and salt to evenly combine.  Add the eggs and milk.  Mix on medium speed for about 5 minutes.  Using a spatula or dough scraper, scrape the dough from the sides and bottom of the bowl.  If the dough feels sticky add about 1 teaspoon of flour.  Continue mixing for another 5 minutes and repeat process 2 more times.  Add enough flour so that dough is still slightly sticky to the touch.  It is ok for some of the dough to still be sticking to the sides of the bowl.
With the mixer on low, add half of the butter and mix until incorporated, about 3-4 minutes.  Scrape down the sides and bottom of the bowl and add the remaining butter.  Mix on medium speed for about 5 minutes or until butter is completely incorporated and the dough is elastic and shiny.
In a medium bowl, lightly sprinkle some flour and add the dough.  Cover the bowl with plastic wrap and allow the dough to rest at room temperature for about 1-2 hours or until dough doubles in size.  On a lightly floured surface press out the gases of the dough.  Stretch and fold the left side of the dough over to the center as well as the right side over to the center. Repeat process with the top and bottom portions of the dough. Place seam side down in a lightly floured bowl, cover, and refrigerate overnight to ferment.
For the almond cream
Sift together the almond flour, sugar, flour, cornstarch and salt.  Set aside.
In the bowl of a stand mixer fitted with the paddle, mix butter for 1 minute.  Add vanilla and almond extracts and mix until incorporated.  Scrape the sides and bottom of the bowl.  Add almond flour mixture and mix on medium speed for 1 minutes.  Gradually add the egg and continue to mix on medium speed until it is incorporated, about 2 minutes.
For the strawberries and rhubarb
In a medium mixing bowl, combine strawberries, rhubarb and sugar until well mixed.  Set aside.
To assemble
Remove the  dough from the refrigerator and turn onto a lightly floured surface.  Divide dough into about 85 gram each.  Roll each piece of dough into a ball.  Place on a silpat or parchment paper lined baking sheet and cover loosely with plastic wrap.  Set aside and allow to proof for 1 hour.
Preheat oven to 400°F (204°C).
Once the dough has proofed, brush the brioche rolls with the egg wash and sprinkle with course sugar.  Using wet fingers, create a well in the center of each brioche roll.  Fill the well with the almond cream and top generously with strawberries and rhubarb.  Sprinkle fruit with coarse sugar.
Bake for 25-28 minutes or until rolls are golden brown.  Allow to cool before serving.
Keywords: strawberry rhubarb brioche, french pastry, summer dessert, breakfast