This post may contain affiliate links, please read my full disclosure policy.
Sweet, buttery brioche rolls are perfectly tender. This traditional French bread is made into rolls that are delicious for breakfast, as an accompaniment to any meal, or as a sandwich roll.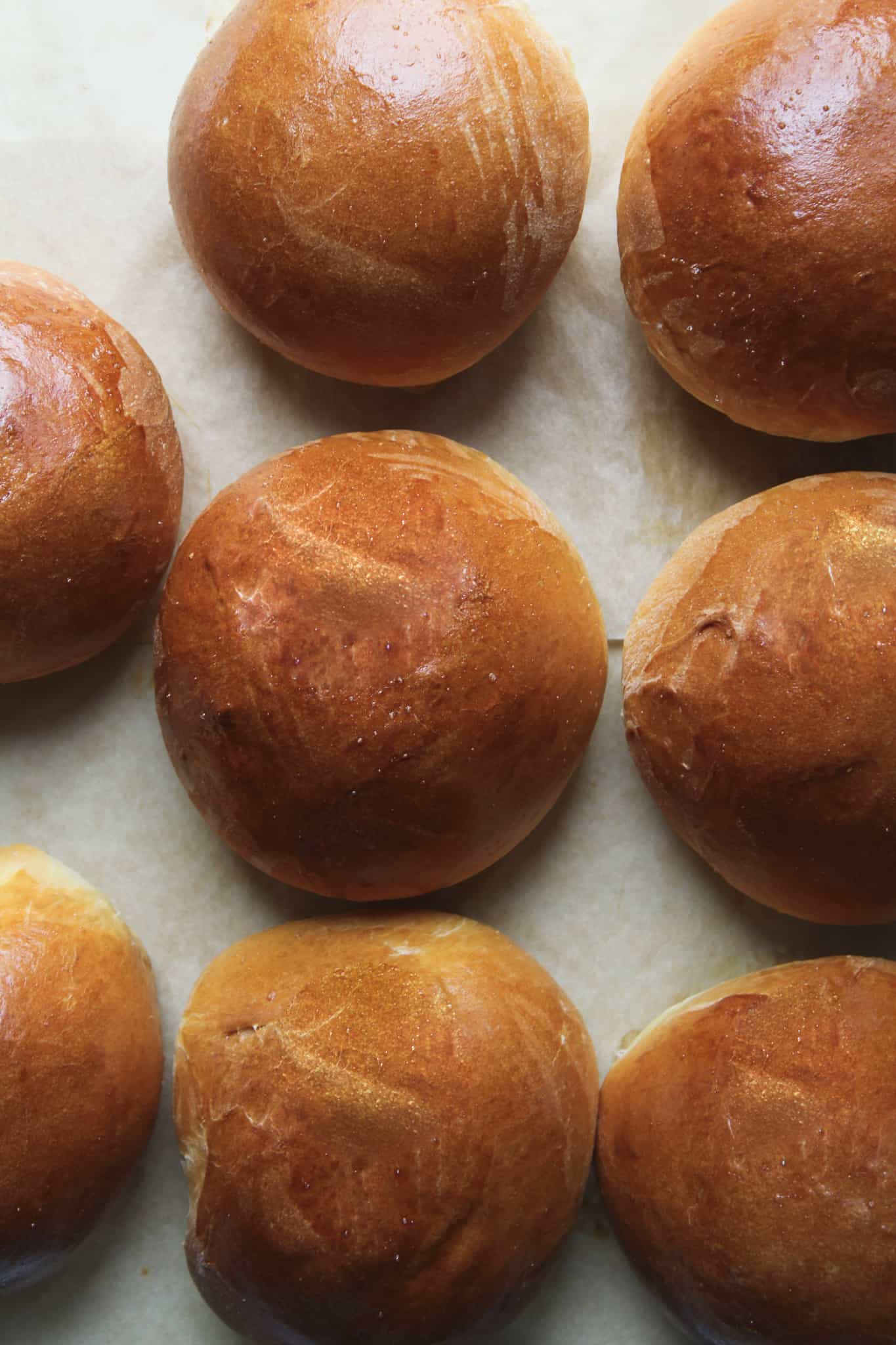 The smell of fresh homemade bread permeating through the home is irresistible. And brioche rolls are no exception. These rolls are enriched with eggs and butter to yield a sweet, buttery flavor. It's the perfect balance between a sweet pastry and bread. Brioche rolls are delicious served for breakfast with a side of jam or turned into an afternoon sandwich.
Brioche is a simple dough to work with; however, make sure you plan enough time to make the dough. Between the kneading, proofing, overnight rise, shaping, final proofing, and baking, you want to ensure you allow enough time before you plan to enjoy these delicious rolls.
Before you begin
Take out the following baking equipment.
Digital kitchen scale
Stand mixer fitted with the dough hook
2 small bowls
1 bowl scraper
1 medium bowl
Plastic wrap
Baking sheet pan
Parchment paper
1 bench scraper
Wire cooling rack
Allow all your ingredients to come to room temperature.
Read the recipe through from start to finish.
Understanding ingredients
All-purpose flour is used to make these brioche rolls. Typically you might think that bread flour would be selected. However, because of the lower protein content, all-purpose flour is ideal for this particular recipe. It will yield a bread that is soft and tender as opposed to rubbery and chewy.
Salt is an essential ingredient in bread baking. It helps control the speed of the fermentation process. Too much salt and your dough will not rise, and not enough salt would cause the dough to ferment too quickly. It's important to note that do not keep the salt and yeast together (in the same bowl) once you measure them. The salt will kill the yeast. Instead, add them separately to your bowl with the dry ingredients and mix immediately.
There are a variety of yeasts on the market. There is fresh yeast, instant yeast, rapid rise yeast, and active yeast. Which one to use? I know it can be confusing. To make things easier, I always use instant (here is the brand I prefer). It's simple to work with compared to other yeast. All you have to do is add it straight to your mixer and mix. No initial hydrating and having to worry about how warm the water is or how long you have to let it sit. Skip all those variables with instant yeast. If a recipe does call for another yeast, make sure to convert the amount to instant yeast (if you prefer to use it).
Sugar is an ingredient that a simple bread recipe, such as a baguette or French bread, does not contain. However, it is added to brioche to caramelize the rolls in the oven, which gives the bread a beautiful brown color.
As an enriched dough, these brioche rolls contain both butter and egg. They add a rich flavor and texture to the bread. It's essential for the butter to be at room temperature so that it can easily incorporate into the dough.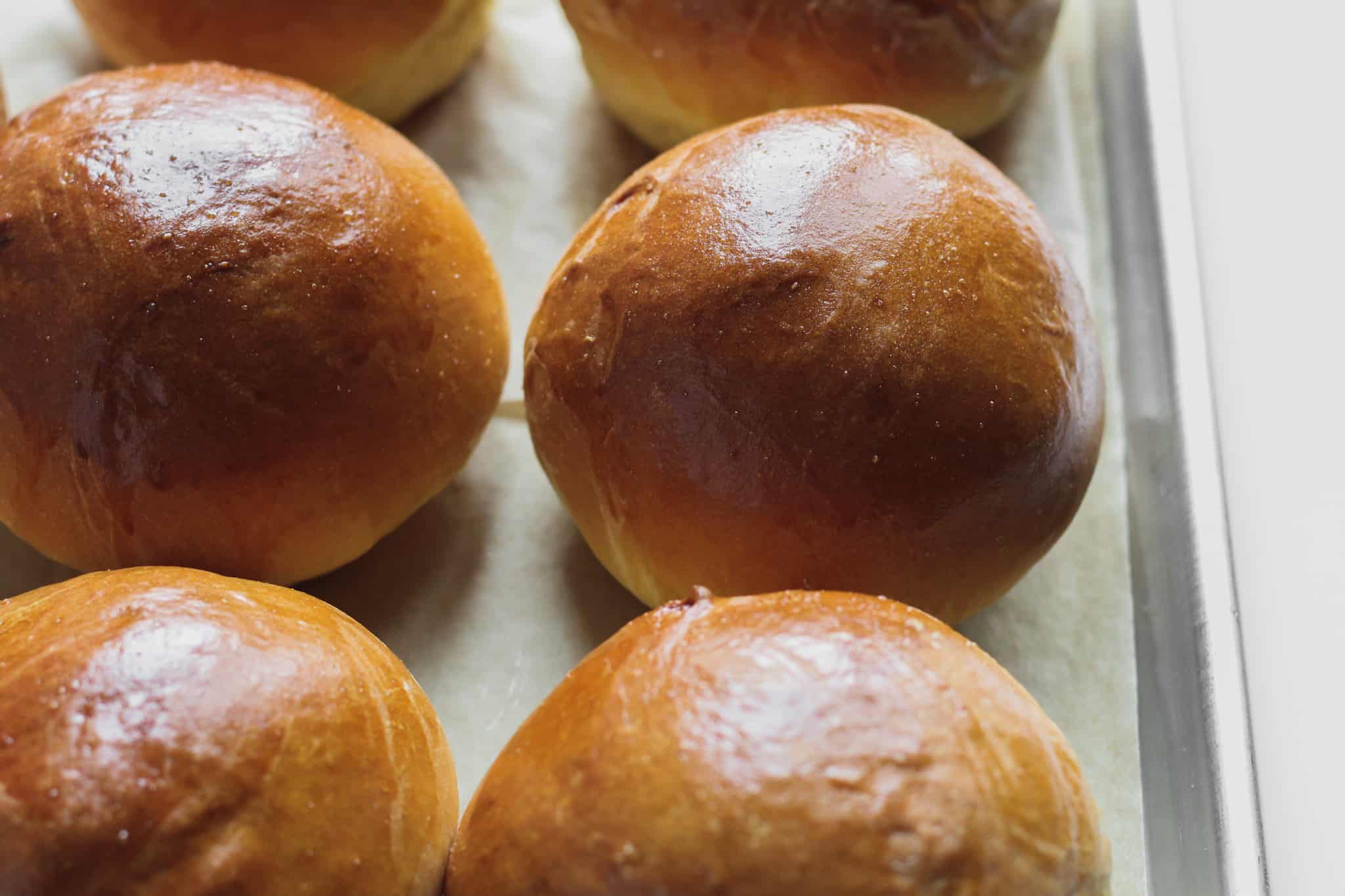 Fermentation Process
In bread making, fermentation happens when the yeast breaks down the sugars in the dough (specifically the sugars found in the flour) and converts them to carbon dioxide and alcohol. These gases then cause the dough to rise and give your final bread its beautiful shape. When making brioche rolls, plan to allow plenty of time for this fermentation (proofing) process as there are three phases of fermentation. Let me explain.
The first fermentation occurs immediately after mixing. Allow the dough to rest for about 1 - 2 hours or until the dough doubles in size. Temperature is key. Ideally, you should allow your dough to proof at approximately 75°F/24°C. If the temperature is too warm, your dough will ferment too quickly and vice versa if the temperature is too cold (it will take a long time to proof).
The second stage of fermentation occurs not too long after the first. Once your dough initially doubles in size, you should stretch your dough. This process of stretching helps to strengthen your dough and develop the gluten network. After this simple step is complete, you should cover the dough with plastic wrap and allow it to ferment overnight in the refrigerator. Doing so in the refrigerator slows the fermentation process down and chills the butter to make it easier to work with during the shaping process. Additionally, this overnight proof allows the flavors to develop.
Finally, after you give the final shape to the dough, there is one last fermentation needed before baking the bread. This final step takes about 1 - 1 1/2 hours. And to test for readiness, gently poke the dough with your finger. If the indentation springs back, then the dough is ready for baking.
Making doughnuts out of brioche bread
This dough also makes delicious doughnuts that have the option of being filled. Rather than cutting and shaping the dough, roll your dough out to a 1/2-inch thickness after the overnight fermentation. Use a 3 1/2-inch round cutter to cut the dough into nine doughnuts and carefully transfer to a parchment-lined baking sheet pan. With the scraps of the dough, use a 1-inch circle cutter to cut mini doughnuts. Cover and continue with the final proof.
Heat a large heavy-bottomed pot filled with 2 L of canola oil to 350°F/177°C. Place a wire rack over a baking sheet pan lined with parchment paper and set aside. Carefully place two doughnuts in the hot oil, one at a time, without splashing oil on yourself. Fry each doughnut for 1-2 minutes on each side, until golden brown. Using a slotted spoon, remove the doughnuts from the oil and place them onto the cooling rack. Repeat with the remaining doughnuts.
You can fill the doughnuts with pastry cream, lemon curd, Nutella, or fruit preserves for a delicious indulgence.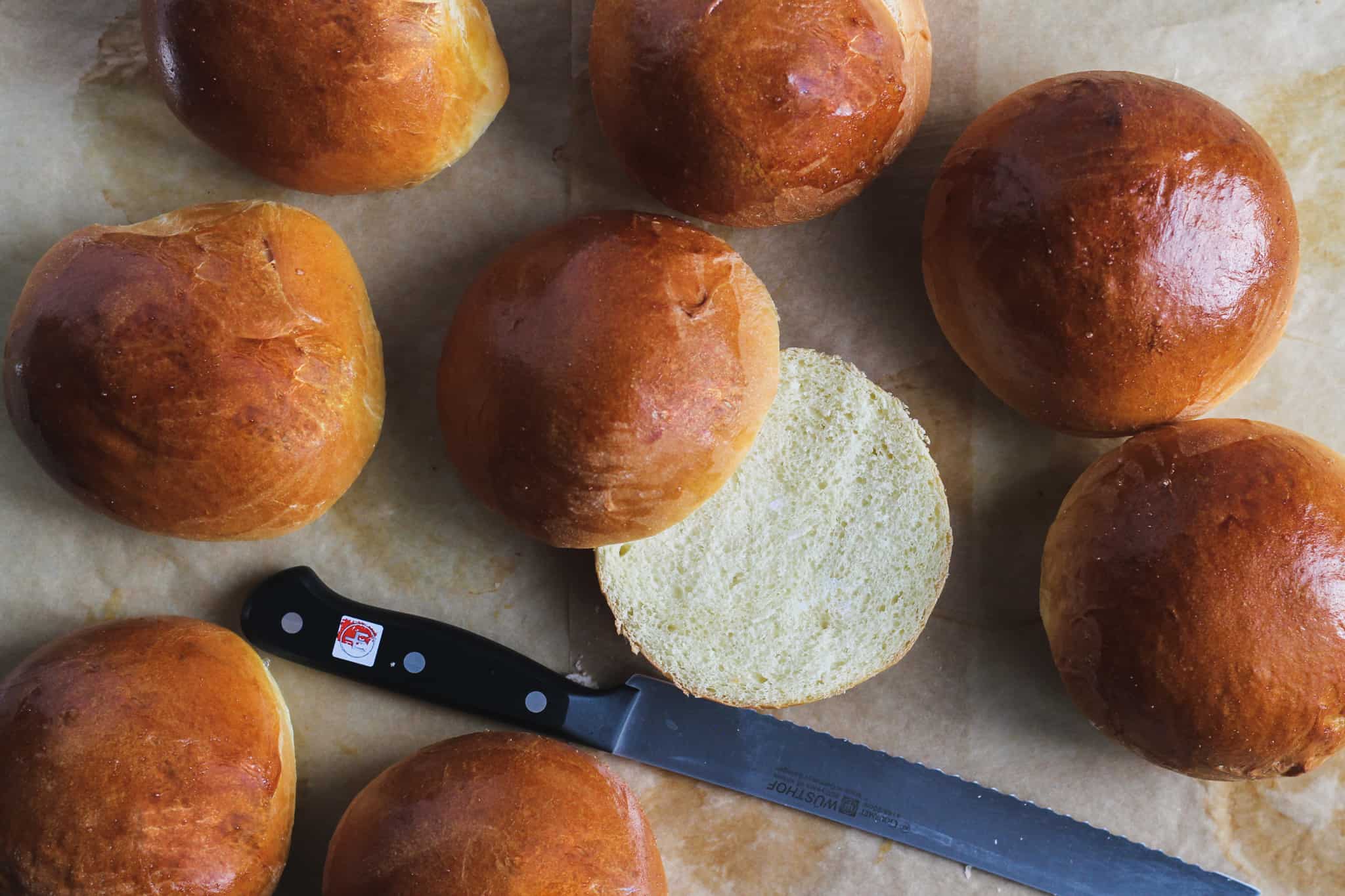 Tips and takeaways
As you can see, the fermentation process is long, but the results are worth it. Make sure you plan according to your schedule before beginning this recipe.
This dough is very versatile. In addition to doughnuts, you can use it to make smaller rolls (dinner-size), a large loaf, or even a braided loaf. As a loaf bread, you can add a filling for an extra boost in flavor. Cinnamon sugar, chocolate, nut, and fruit are all wonderful additions.
For the initial fermentation stage, I often turn my oven on for about one minute then immediately turn it off just to slightly warm it up. I then place my bowl with the dough into the oven and allow it to ferment. I usually do this when our kitchen feels on the cooler side. Using the oven will help create the ideal proofing temperature for the dough.
More brioche recipes
Make sure to tag me @thesweetoccasion on Instagram and leave me a review below if you make these Brioche Rolls. I'd love to see your creations and read your feedback. And if you would like to make this recipe later, be sure to pin this recipe using the button on any of these images. Let's make every occasion a sweet occasion!
Print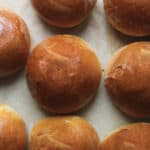 Brioche Rolls
---
Author:

Maria

Total Time:

14 hours 30 minutes

Yield:

8

rolls

1

x
Description
Sweet, buttery brioche rolls are perfectly tender.  This traditional French bread is made into rolls perfect breakfast, as an accompaniment to any meal, or as a sandwich roll.
---
525

 g (3 3/4 cups) all-purpose flour

5.1

 g (2 teaspoons) instant yeast

55

 g (1/4 cup) granulated sugar

4.8

 g (1 teaspoon) salt

180

 g (3/4 cup) whole milk, at room temperature

150

 g (3 large) eggs, at room temperature

85

 g (6 tablespoons) unsalted butter, cut into tablespoons and at room temperature
Egg wash
---
Instructions
In the bowl of a stand mixer fitted with the dough hook, mix the flour, yeast, sugar, and salt and mix to combine evenly.  Add the eggs and milk, and mix on medium speed for 5 minutes.  Using a spatula or dough scraper, scrape the dough from the sides and bottom of the bowl.  Continue to mix on medium speed for an additional 10 minutes, or until dough is soft and smooth.
Reduce the mixer to low speed and add the butter, one tablespoon at a time, making sure it is fully incorporated before adding the next piece.  Scrape the sides and bottom of the bowl.  Once all the butter is fully incorporated, mix on medium speed for an additional 5 minutes, or until the dough is soft, elastic, and shiny.
Transfer the dough to a lightly oiled medium bowl.  Cover the bowl with plastic wrap and allow the dough to rest at room temperature for about 1-2 hours or until the dough doubles in size.
Turn the dough out onto a lightly floured work surface.  Stretch and fold the left side of the dough over to the center as well as the right side over to the center. Repeat this process with the top and bottom portions of the dough. Place seam side down in a lightly oiled bowl, cover, and refrigerate overnight to ferment.
Line a baking sheet pan with a silicone mat or parchment paper and set aside.  On a lightly floured work surface, using a bench scraper, divide the dough into 113 g (4 oz) portions.  Round out each portion into a ball and place seam side down onto the prepared baking sheet pan.  Cover loosely with plastic wrap and allow to proof at room temperature for 1 to 1 1/2 hours.  When you poke the dough gently with your finger, the small indentation should spring back.
Meanwhile, preheat the oven to 350°F/177°C.  When the dough is ready, brush the surface with the egg wash.  Bake in preheated oven for 20-25 minutes, until golden.  Transfer rolls to a wire cooling rack to cool.
Prep Time:

2 hours 30 minutes

Cook Time:

20 minutes

Category:

Bread