Lemon curd is sweet, silky and tangy, and it's made from only 5 ingredients. It's delicious as a spread for scones and muffins or as a filling for cakes and tarts. A versatile recipe that can be whipped up in no time.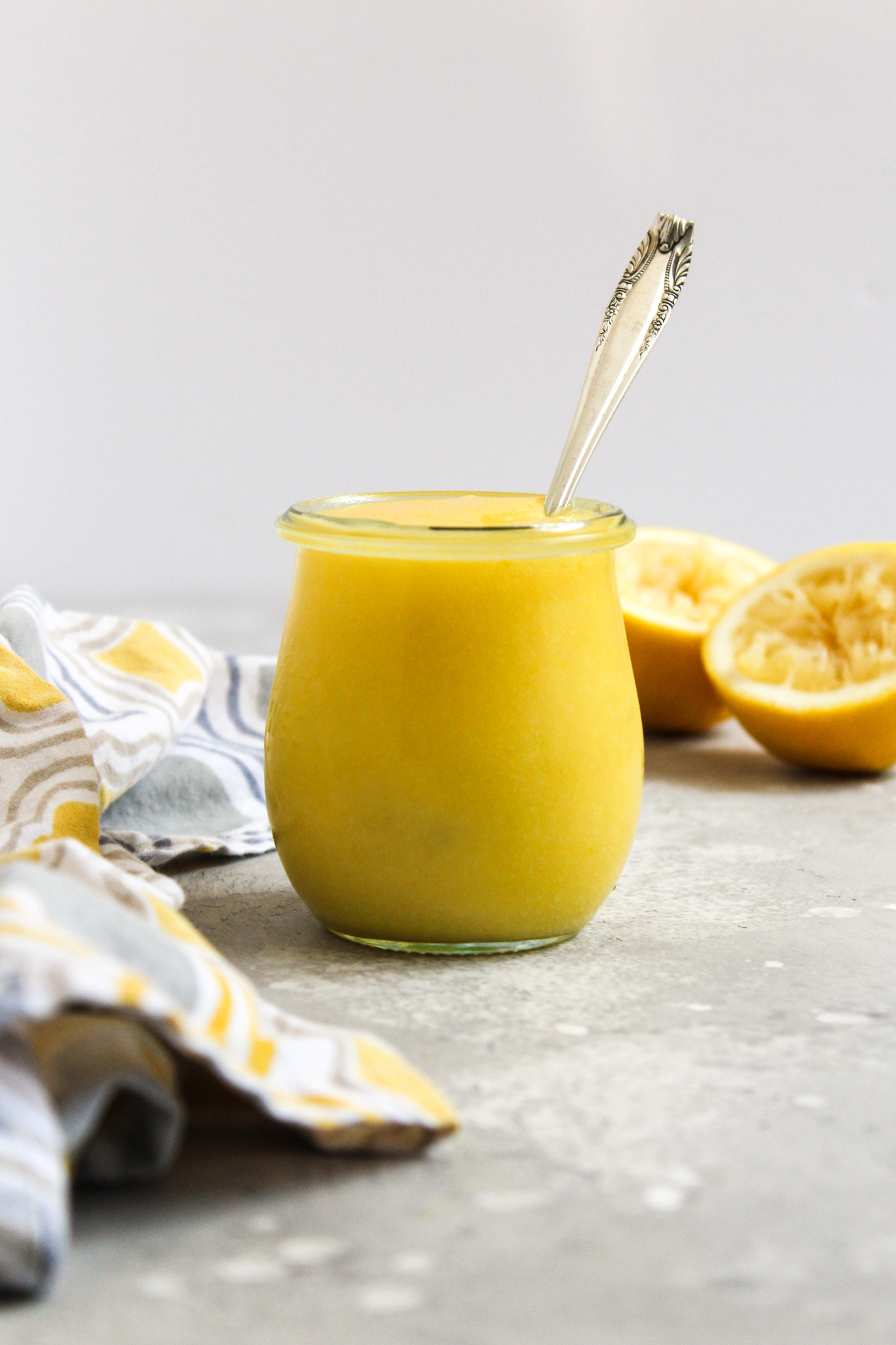 Do you love lemon desserts? If so, you've come to the right place. Today I'm making super lemony lemon curd! If you thought lemon curd was only for fillings for cakes, tarts and cupcakes (at least that's what I thought), then let me enlighten you. Sure it's delicious in these items (such as in my Meyer lemon tarts), but it's also equally delicious when used as a spread for poundcake, scones, pancakes and croissants, or as a filling for French macarons, crepes and choux pastry. And this is not an exhaustive list.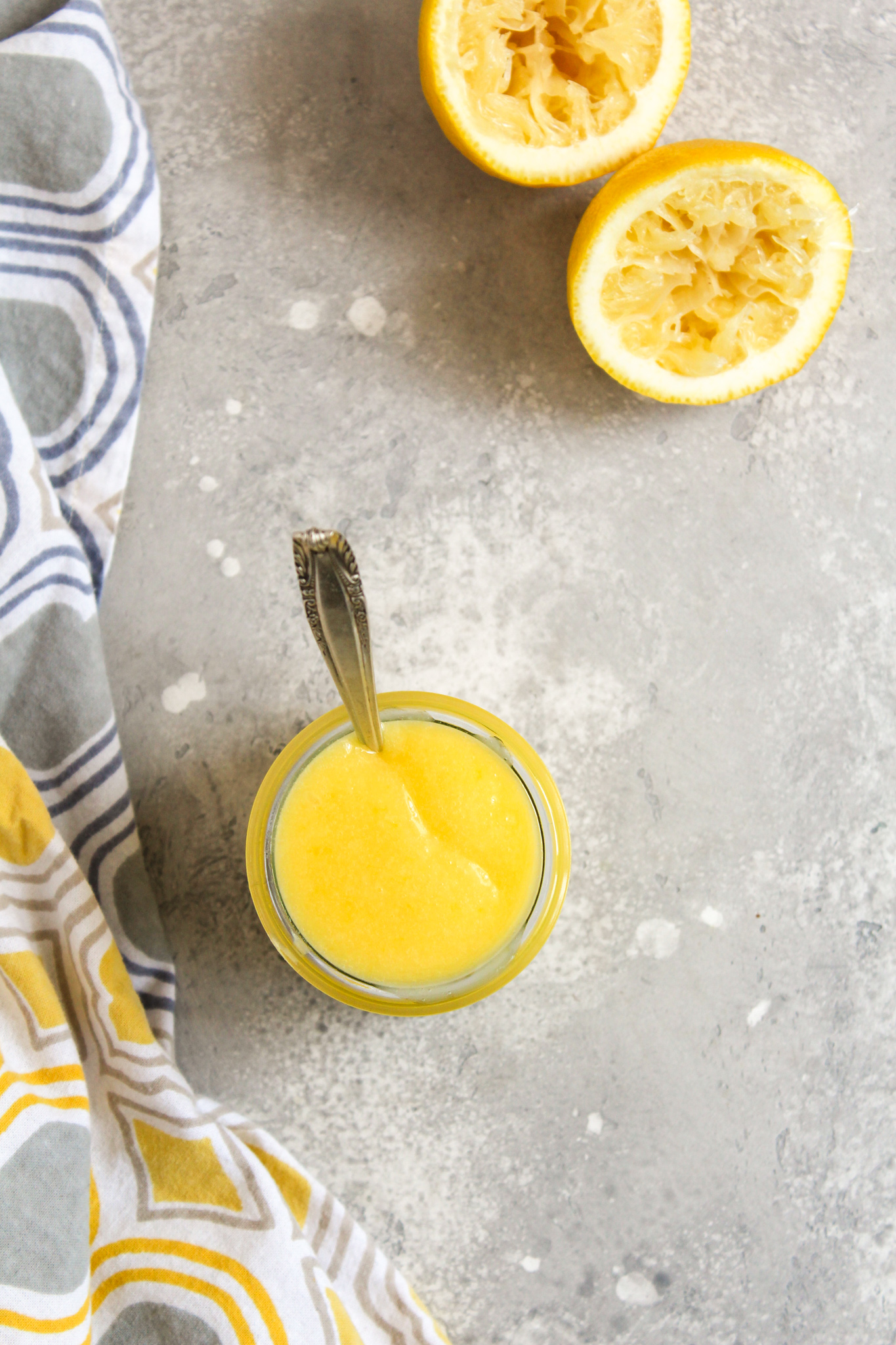 Lemon curd ingredients
Lemon - lemon curd is packed with flavor. It's sweet yet tangy and has a lovely creamy texture. All the delicious lemon flavor comes from a combination of fresh squeezed lemon juice and lemon zest. If you like an even stronger lemon flavor, just add more lemon zest. To tone it down a bit, omit the zest altogether from the recipe.
Sugar - It's a fine line between balancing the tart and sweet flavors of this recipe. I love the tartness of the filling, with just enough sugar to add sweetness without overpowering the tartness.
Eggs - Using 2 whole eggs plus 2 egg yolks, as opposed to 3 whole eggs, produces a richer and creamier lemon curd. The additional yolks also create a brighter yellow color. To increase the richness, substitute 2 egg yolks for every 1 whole egg.
Butter - The butter adds a buttery, rich flavor to the lemon curd. Additionally, it adds to the creaminess. For extra richness, add up to an additional 4 tablespoons of butter.
Using a double boiler
Making lemon curd in a double boiler helps prevent it from burning (do not try making it directly on the stovetop). If you don't own a double boiler, no problem. Use a heatproof bowl set over a small saucepan filled with an inch of simmering water. Just ensure that the bottom of the bowl does not touch the simmering water.
Cook the lemon curd in the double boiler until it thickens (this takes about 10 minutes). During this time whisk the mixture constantly. Once the lemon curd reaches 170°F/75°C, it's ready to be removed from the heat. When the curd mixture coats the back of a wooden spoon, it is an indicator of reaching temperature. Always strain your curd through a sieve before adding the butter. This will remove any chunks of cooked eggs and leave your mixture perfectly smooth. Finally, whisk in butter until completely melted and smooth. And there you have it, lemon curd!
For more lemon recipes
Print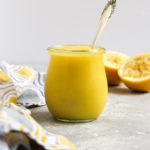 How to make lemon curd
---
Author:

Maria

Yield:

1 1/2 cups

1

x
1/2 cup

 (

116

g) fresh lemon juice
Zest from 

1

lemon

3/4 cup

 (

150

 g) granulated sugar

2

large  eggs (100 g) +

2

large egg yolks (

40

 g)

1/4 teaspoon

salt

1

 stick (113 g) unsalted butter, diced and at room temperature
---
Instructions
Place lemon juice, zest, sugar, eggs, egg yolks and salt into a medium heatproof bowl set over a small saucepan filled with an inch of simmering water.  Whisk constantly until the mixture thickens, about 10 minutes.  The temperature should read 170°F/75°C and the mixture should coat the back of a wooden spoon.
Remove from heat and strain filling through a sieve into a small bowl.  Whisk in butter until completely melted and mixture is smooth.
Place a sheet of plastic wrap directly onto the surface of the filling to prevent a 'skin' from forming.  Refrigerate for at least 4 hours.
Category:

Frostings & Fillings
Keywords: lemon curd, filling, spring dessert