This post may contain affiliate links, please read my full disclosure policy.
A simple four-ingredient pizza dough recipe for making delicious homemade pizza. Top with fresh, seasonal ingredients for a delicious weeknight dinner.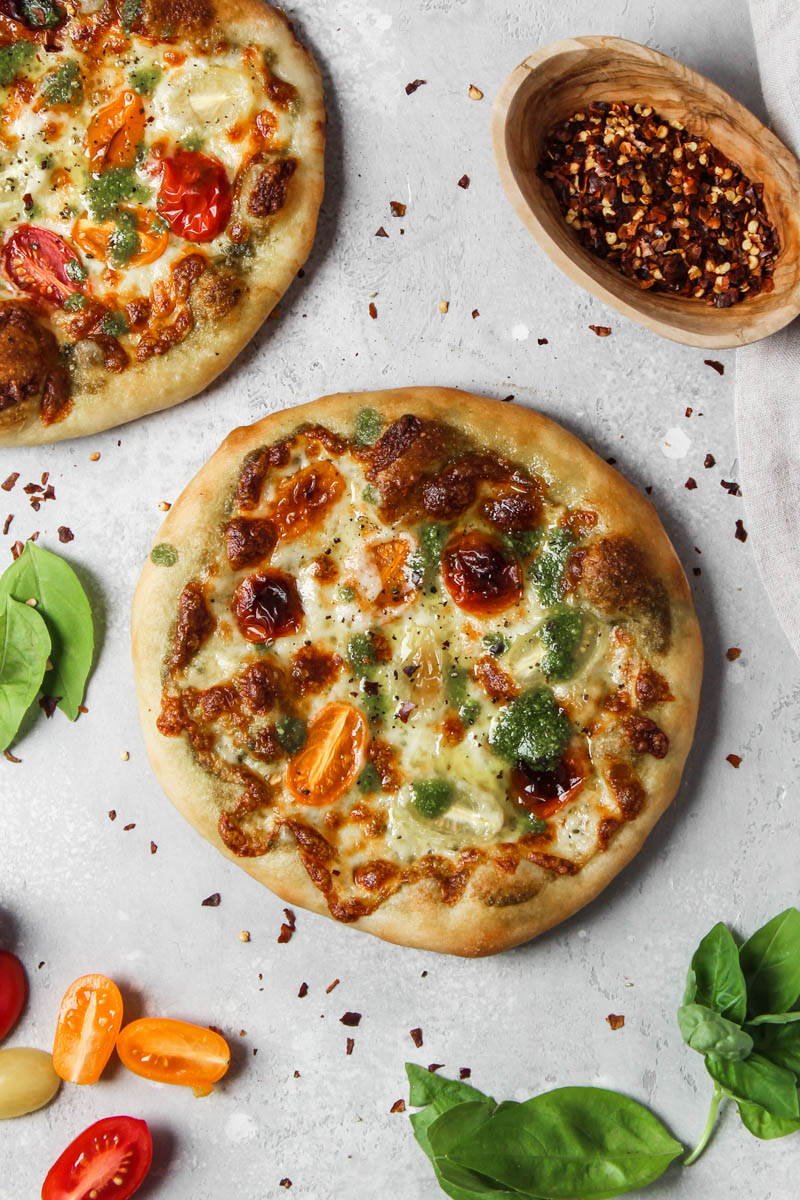 Friday nights in our household are pizza and movie night. It's a fun tradition we began that kicks off our weekend. My toddler and I make the pizza dough recipe the day before, and the day of we stretch the dough out for our whole family and top with everyone's favorite toppings. It's a simple recipe to make, and it's best to make it in advance. Undoubtedly, it's a fun way to get the kids involved in the kitchen.
One of my pastry school chefs once said, "There is no secret to a dough recipe—it is flour, water, and salt…and, yet each of these elements is key." This statement couldn't be more accurate. Pizza dough uses simple ingredients, yet a crust can make or break a pizza. With some patience and practice, you can perfect your pizza dough and experiment with making all kinds of pizza, calzones, strombolis, and garlic knots. It's a versatile recipe that you will want to keep in your recipe box.
Before you begin
Take out the following baking equipment.
Digital kitchen scale
Stand mixer fitted with the dough hook attachment.
2 small bowls
Silicone spatula or dough scraper
Large bowl
Plastic wrap
Kitchen Towel
Pizza stone or baking sheet pan
Large spatula
Read the recipe through from start to finish.
Understanding Ingredients
All-purpose flour yields a chewier crust compared to one that uses bread flour, which produces a crispier and denser crust. All-purpose flour has a lower protein content than bread flour. The less protein flour has, the less gluten develops, resulting in the difference in the overall texture.
There are a variety of yeasts on the market. There is fresh yeast, instant yeast, rapid rise yeast, and active yeast. Which one to use? I know it can be confusing. To make things easier, I always use instant yeast (here is the brand I prefer). It's simple to work with compared to other yeast. All you have to do is add it straight to your mixer and mix. No initial hydrating and having to worry about how warm the water is or how long you have to let it sit. Skip all those variables with instant yeast. If a recipe does call for another yeast, make sure to convert the amount to instant yeast (if you prefer to use it).
Water is a crucial ingredient in creating the necessary gluten strands in the dough. It's the binding ingredient that brings everything together. The temperature of the water is critical when making pizza dough or bread dough in general. Use room temperature water, around 70°F/21°C. Using water that is too warm will cause your dough to ferment too quickly, and using water that is cold will not initiate the fermentation process. Ideally, once your pizza dough is mixed, its temperature should be around 75°F/24°C.
Salt adds flavor to the dough. It prevents pizza crust from having a starchy taste. Additionally, salt controls the rate of fermentation of the pizza dough by preventing it from over fermenting.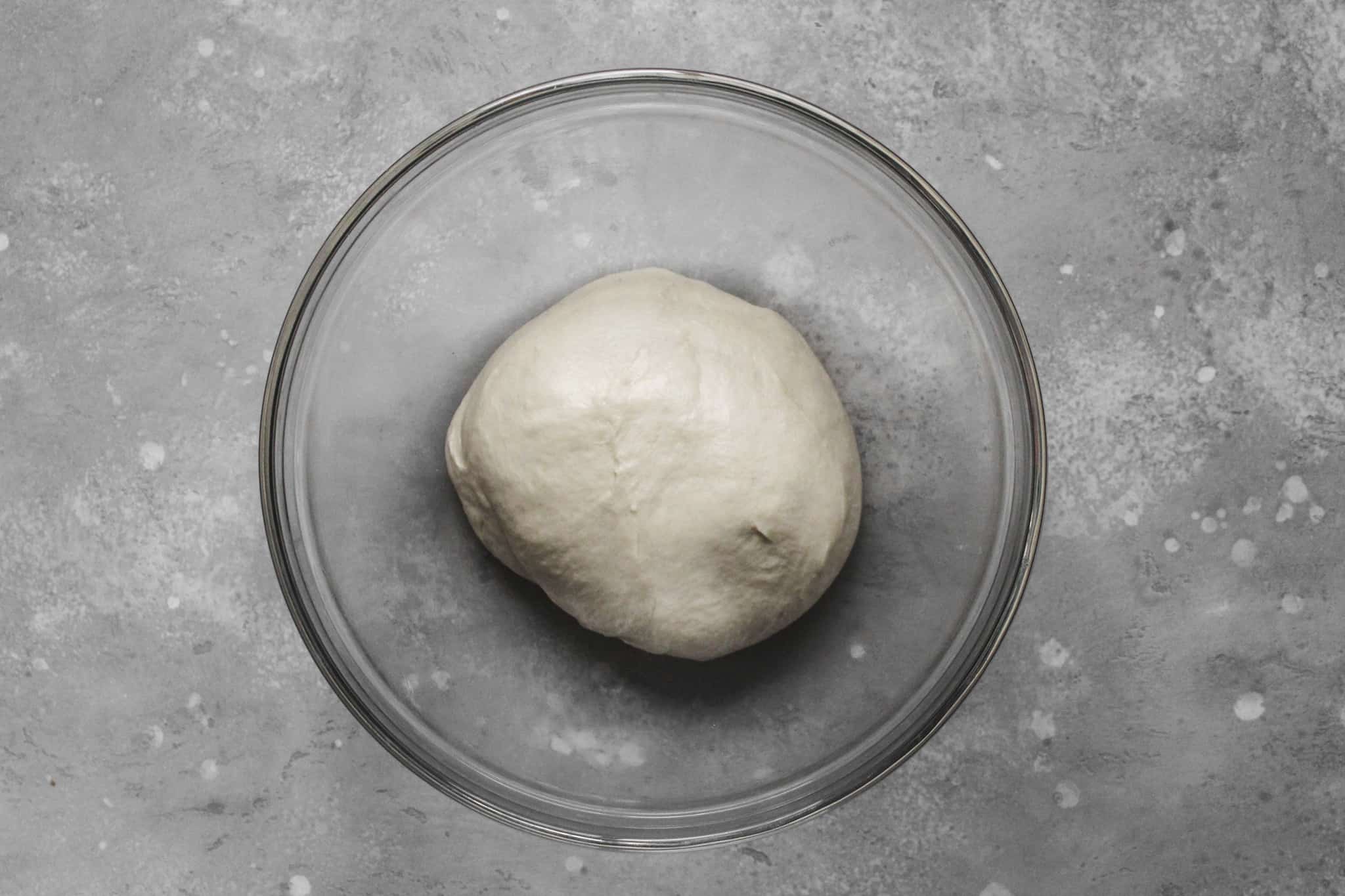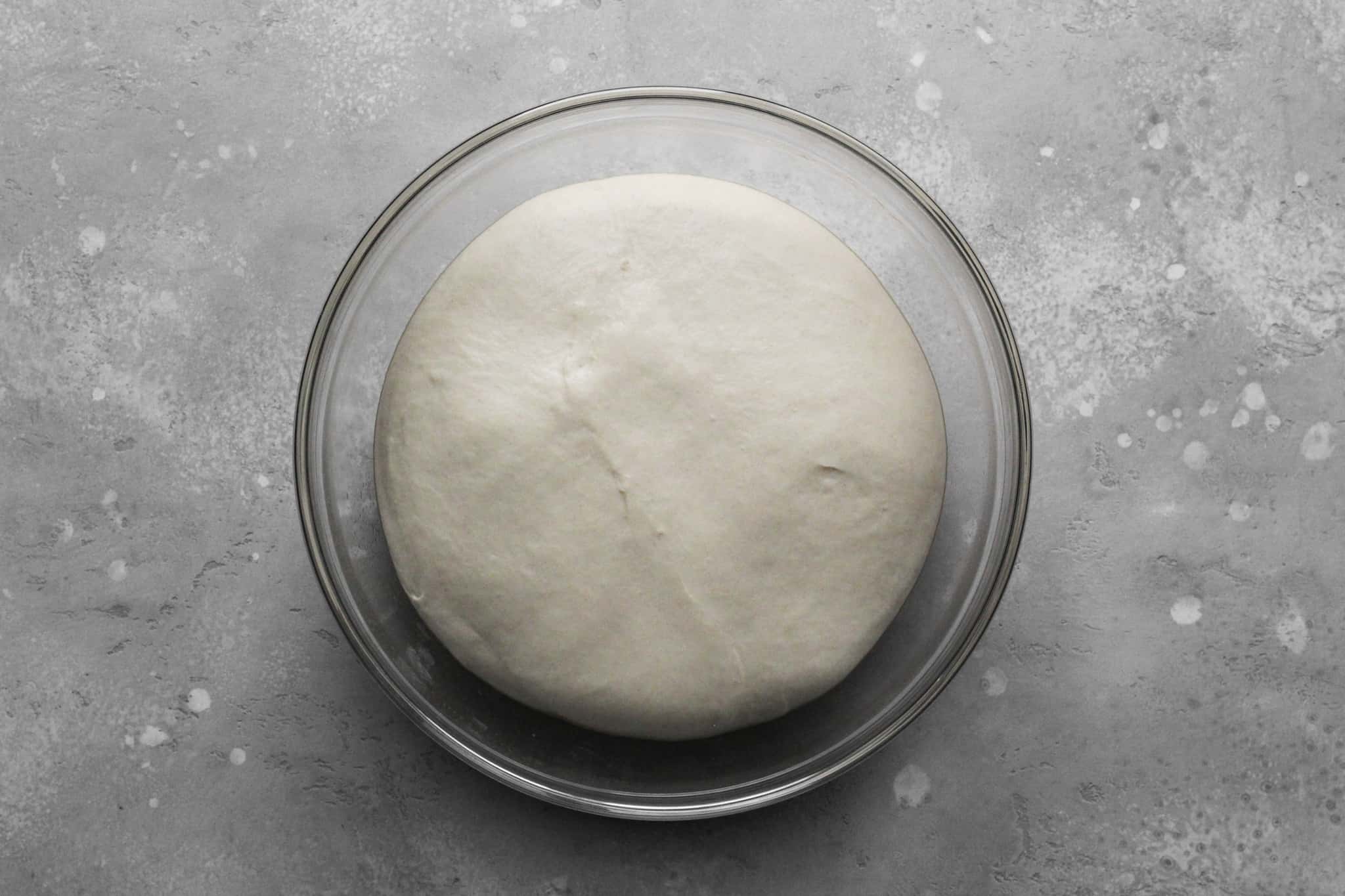 Pizza dough fermentation
There are many variations of pizza dough recipes. What it comes down to, however, is flavor and time. Flour, water, salt, and yeast are four basic ingredients and the only essential ingredients necessary for pizza dough. If you can afford yourself time for the dough to ferment, you will have a delicious crust to pair your toppings.
During the fermentation stage, the yeast breaks down the sugar in the flour into alcohol and organic acids, which in turn creates flavor. The longer the dough ferments, the more the flavor develops. Therefore, a long, slow, and cool fermentation is ideal. As a bonus, this long fermentation allows the gluten to relax, which makes it much easier to stretch your pizza dough.
For a very well developed flavor, mix your pizza dough, and allow it to rest at room temperature for 30 minutes. Doing this will allow the yeast to begin fermenting. Then transfer the dough to your refrigerator. Continue to ferment for three hours or as long as 24 hours. This long fermentation will produce the maximum flavor for your dough. If you don't have the time, you can ferment the dough at room temperature for 1-2 hours or until the dough doubles in size.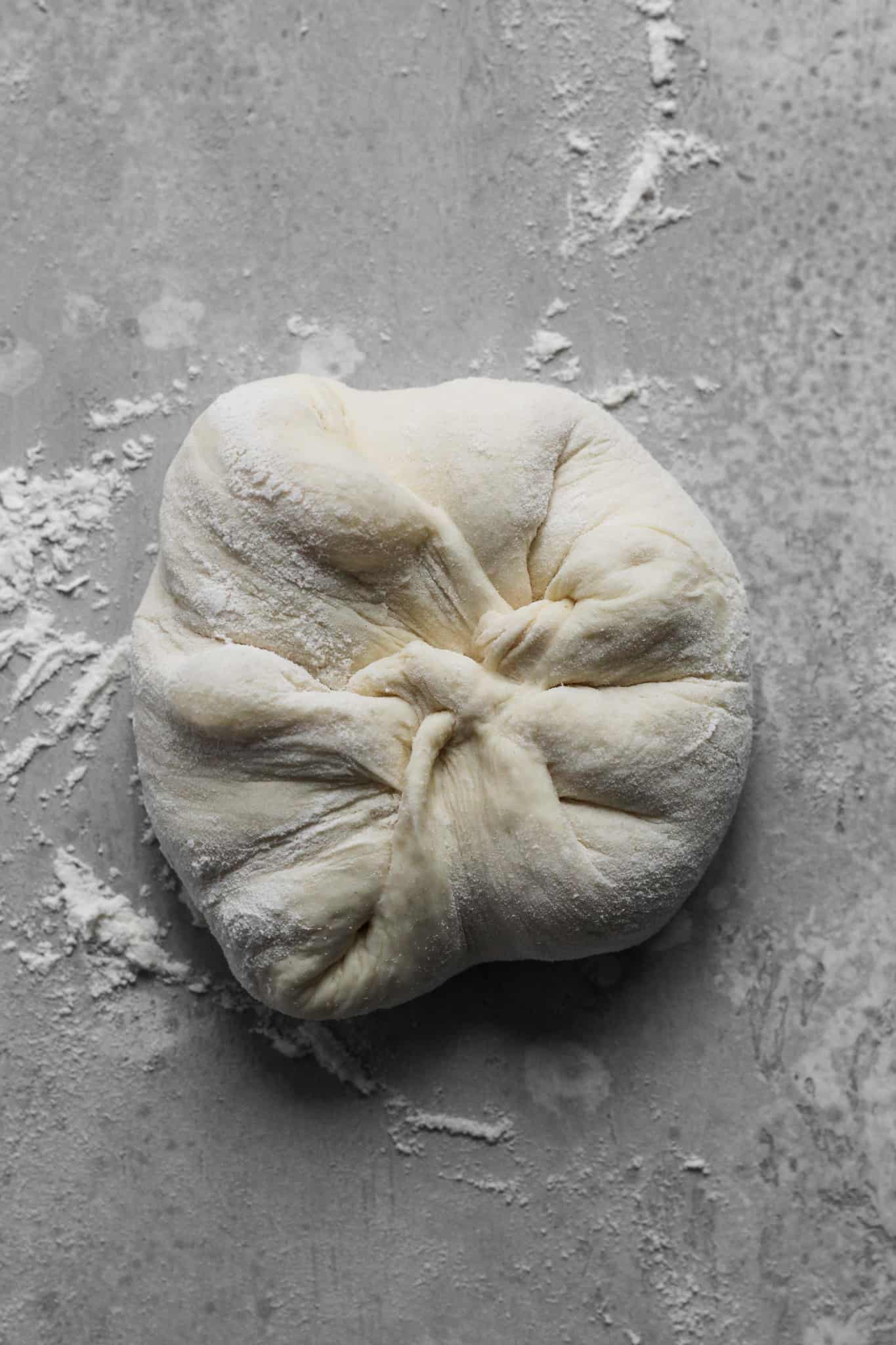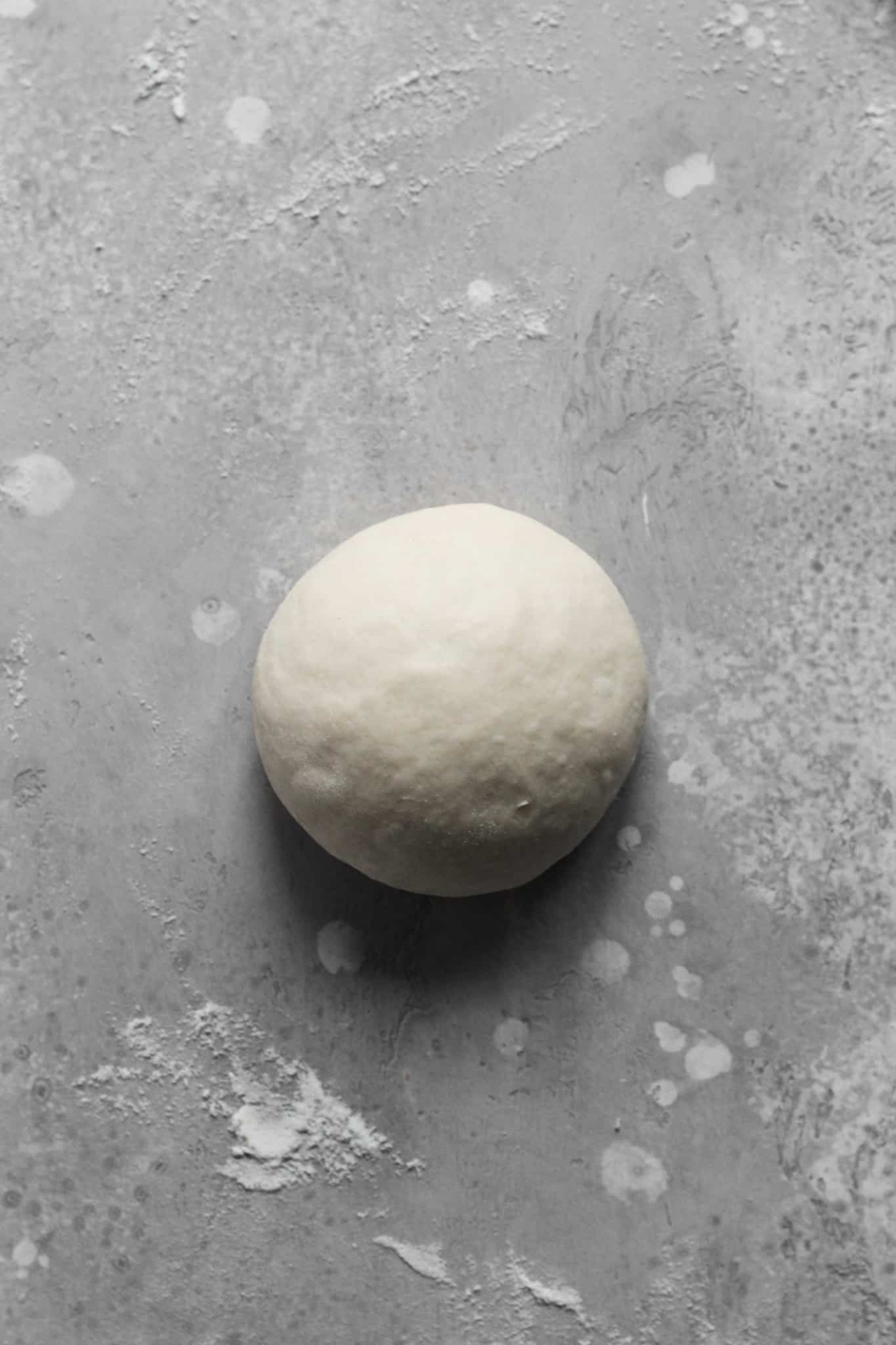 How to stretch your pizza dough
There are many techniques for shaping a pizza crust. Perhaps you can stretch it with a few tosses in the air? Not me. I'm more likely to drop the pizza than stretch the pizza using this method. Although you can use a rolling pin to shape your dough, I recommend stretching the pizza dough with your hands. Rolling dough flattens out the air pockets that are important for forming the crust.
I recommend using gravity to your advantage. First, slightly flatten your dough on a lightly floured surface with the palm of your hand. Then lift the dough and hold it as your would a steering wheel. Stretch and rotate the dough continuously. Gravity will pull down on your dough as you do this, which helps stretch the dough. I like to finish stretching my dough with placing it on the lightly floured surface and using my palms to stretch it to my desired thickness.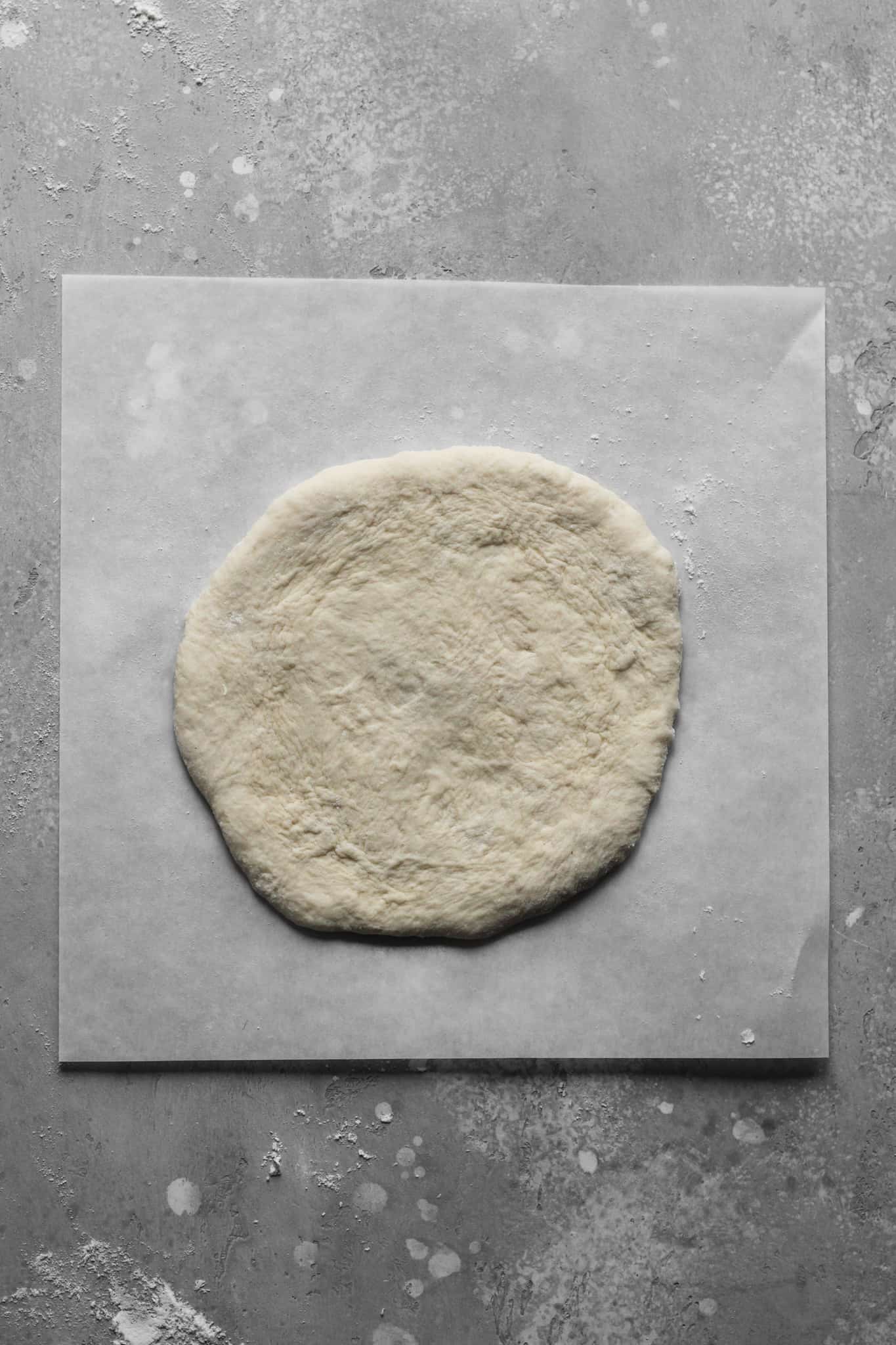 Toppings for homemade pizza
Toppings are a personal preference, but my recommendation is always to keep things simple. Pizzas topped with fresh, seasonal ingredients from your local supermarket or farmer's market make for delicious pizzas. Plus it's fun to take kids on an excursion to select fresh ingredients.
For a crispy crust, use sauce and other high-moisture ingredients sparingly. Remember, a little sauce will go a long way, and it will also prevent your crust from getting too soggy.
There are many options for cheese toppings. Use a part-skim mozzarella as opposed to a higher water content mozzarella cheese. Blending with an additional cheese adds a depth of flavor. Cheddar, gruyère, and provolone are all great options. I recommend using a 75/25 ratio of mozzarella to a second cheese option.
How to bake pizza dough
When baking pizza, the key is to use a pizza stone surface in an extremely hot oven. This surface will not only help to retain heat, but it will also bake your crust thoroughly before your toppings begin to burn. You can easily find large pizza stones that will fit into your oven or smaller square stones that are great for individual pizzas or fit together for a large pizza.
Preheat your oven to as hot as it will go on the bake setting, around 500°F/260°C with your pizza stone. If you do not own a pizza stone, you can preheat your oven to 475°F/246°C with a baking sheet pan. I wouldn't recommend a higher temperature, because some baking sheet pans will crack at 500°F/260°C. Once your oven preheats to the correct temperature, slide your pizzas directly on to the stone (or baking sheet pan). Bake until the toppings are bubbly, and the crust is lightly browned along the edges and bottom.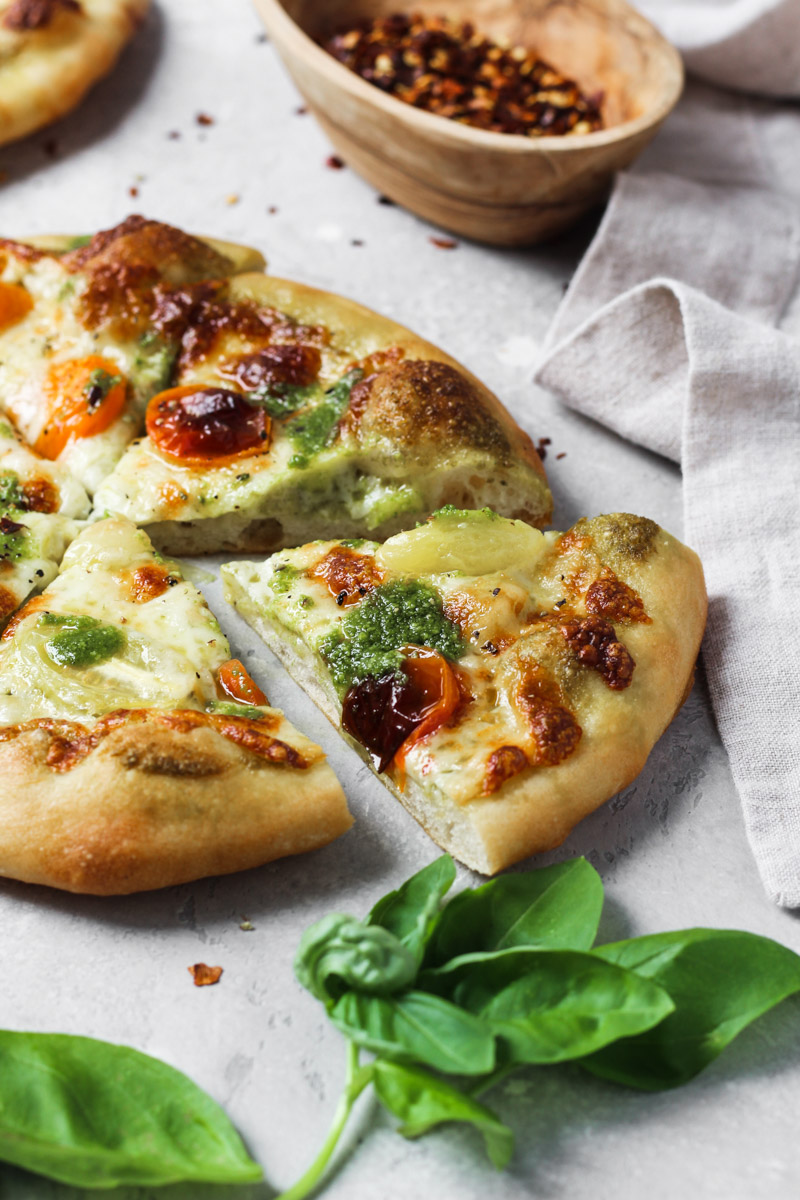 Tips and takeaways
Allow your oven sufficient time to preheat to its hot temperature. It takes about 30 minutes for the oven to fully preheat to 475°F/246°C.
For easy transfer into the oven, place your stretched pizza dough onto parchment paper. Bake your pizzas with the parchment paper. If making a large pizza and you do not have a pizza peel to transfer the dough into the oven, you can use the bottom side of a baking pan to transfer the pizza to the hot surface.
You can use this dough to make dinner rolls. Portion each roll to about 50-60g.
More savory recipes
Make sure to tag me @thesweetoccasion on Instagram and leave me a review below if you make this pizza dough recipe. I'd love to see your creations and read your feedback. And if you would like to make this recipe later, be sure to pin this recipe using the button on any of these images. Let's make every occasion a sweet occasion!
Print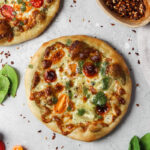 Pizza Dough Recipe
---
Author:

Maria

Total Time:

13 hours 15 minutes

Yield:

4

individual pizzas or

1

large

1

x
Description
A simple 4 ingredient pizza dough recipe for making delicious homemade pizza.  Top with fresh, seasonal ingredients for a delicious weeknight dinner.
---
350 g

all-purpose flour

7 g

salt

2 g

instant yeast

240 g

warm water
---
Instructions
In the bowl of a stand mixer fitted with the dough hook, add the flour, salt, and yeast*.  Turn the mixer on for 10 seconds just to combine the dry the ingredients.  Add the water and mix on speed 3 for 10 minutes.  In the initial stage of mixing, scrape the bowl with a silicone spatula or dough scraper to ensure all the ingredients mix together thoroughly.
Increase the mixer to speed 4 and mix for an additional 10 minutes.  If the dough is sticky, add more flour, 1 tablespoon at a time, until the dough comes together in a solid ball.  Scrape the dough onto a lightly floured surface and shape into a smooth, round ball.
Lightly grease a large mixing bowl with olive oil.  Add the dough and cover with plastic wrap.  Allow the dough to rest at room temperature for 30 minutes.  Transfer the dough to your refrigerator and continue to ferment for three hours or as long as 24 hours**.
Remove the dough from the refrigerator and allow to sit at room temperature for 30 minutes.  Turn the dough out onto a lightly floured surface.  For individual-sized pizzas, divide the dough into 150 g portions.  Flatten the dough to release some of the gases.  Bring all the sides of the dough to the center and press down to form a seam.  Flip upside down and shape the dough into a smooth, round ball.  Place seam-side down and cover with a clean kitchen towel.  Allow the dough to rest for 15 minutes.
Meanwhile, preheat oven to 500°F/260°C with

a pizza stone, otherwise preheat to 475°F/246°C with a baking sheet pan in the oven.

Flatten the dough with your fingertips and stretch to your desired thickness.  Top your pizza dough with your choice of sauce and pizza toppings.  Place pizza into the preheated oven on top of the pizza stone or hot sheet pan.

Bake until the toppings are bubbling and the crust is brown.

Allow the pizza to cool slightly before serving.
Notes
*Alternatively, you can knead the dough by hand.  Place the dry ingredients into a large mixing bowl and whisk together.  Add the water and begin to mix the dough.  Once thoroughly combined, knead until you have a smooth, elastic dough.
**If you do not have the time for a long fermentation, you can alternatively ferment the dough at room temperature for or 1-2 hours or until doubled in size.
Prep Time:

30 mintues

Cook Time:

15 minutes

Category:

Savory