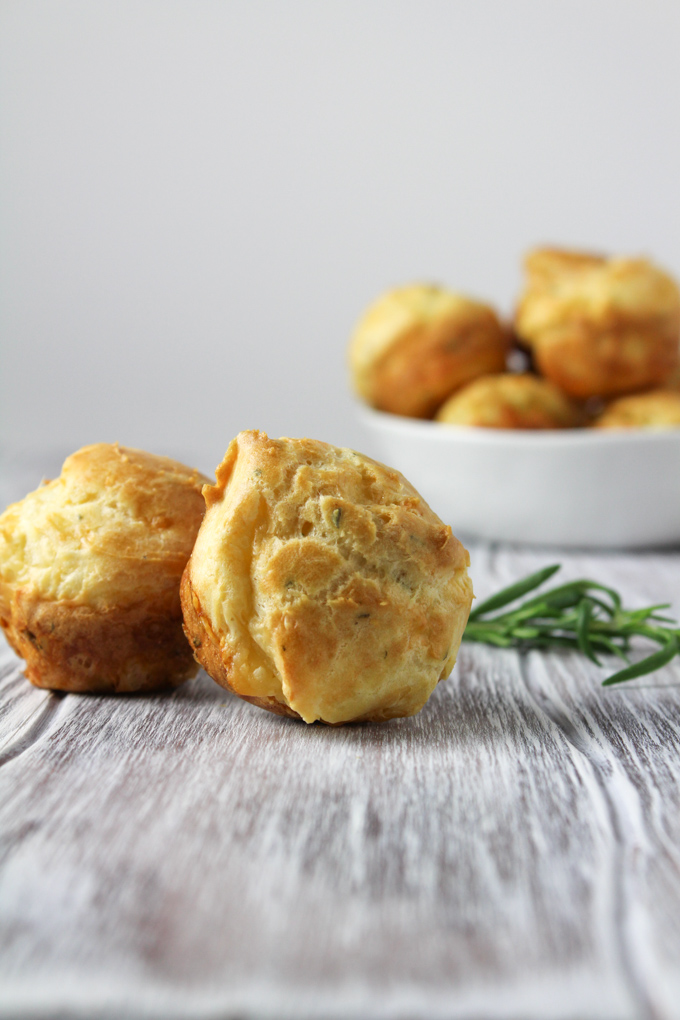 I love bread, especially a warm baguette straight out of the oven dipped in some flavorful extra virgin olive oil or when I want to splurge some creamy butter spread across a slice!  There's nothing like homemade bread.  It's flavorful and only requires four ingredients.  However, if you are short on time it's not the most ideal recipe to make.
When I don't have the extra time yet crave some bread on the side for dinner, my go to is to make some gougères for our family.  Sure, it's not an equal swap for bread, but it is a great alternative that does the trick and can be flavored in so many ways.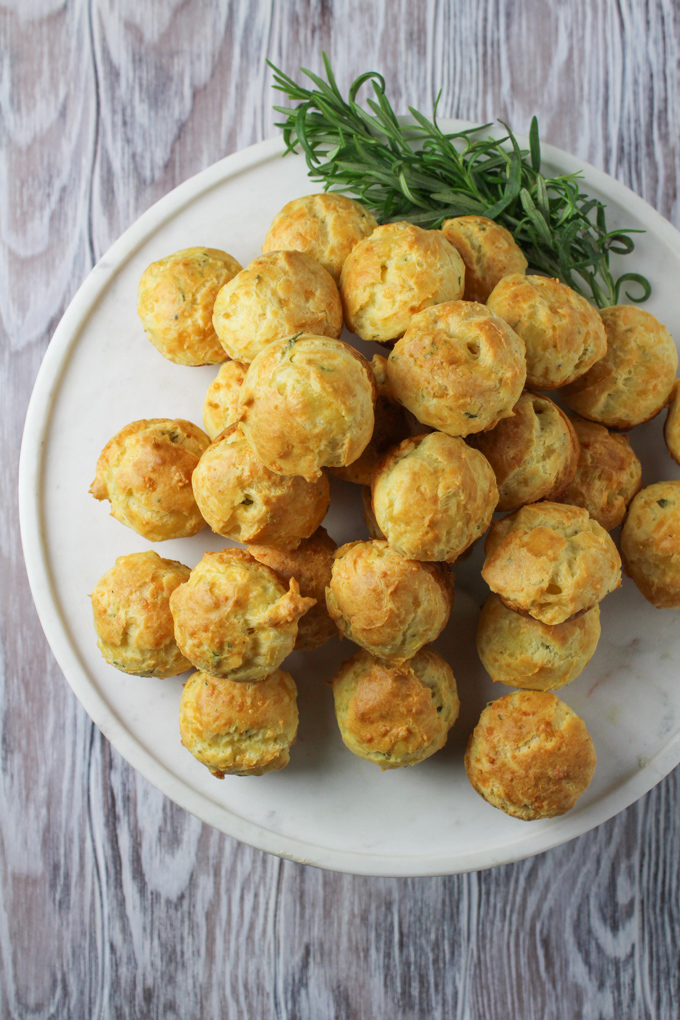 Gougères are made from the classical French pastry dough, choux pastry, also known as pâte à choux. This dough is used to make an array of desserts including éclairs, cream puffs, and profiteroles to name a few, but can also be used to make savory pastries.
Gougères are quite delightful.  You bite into them and they are a tender, crisp puff with a hollow center. They are light enough to serve as an appetizer or the perfect accompaniment to your meal. Traditionally, Gougères are made with Gruyère cheese but the options are endless with the type of flavorings you can add.  When using cheese, a low moisture selection is ideal such as Parmesan or Asiago. Fresh herbs, spices, crispy bits of pancetta, sundried tomatoes, and kalamata olives are all wonderful options for this savory pastry.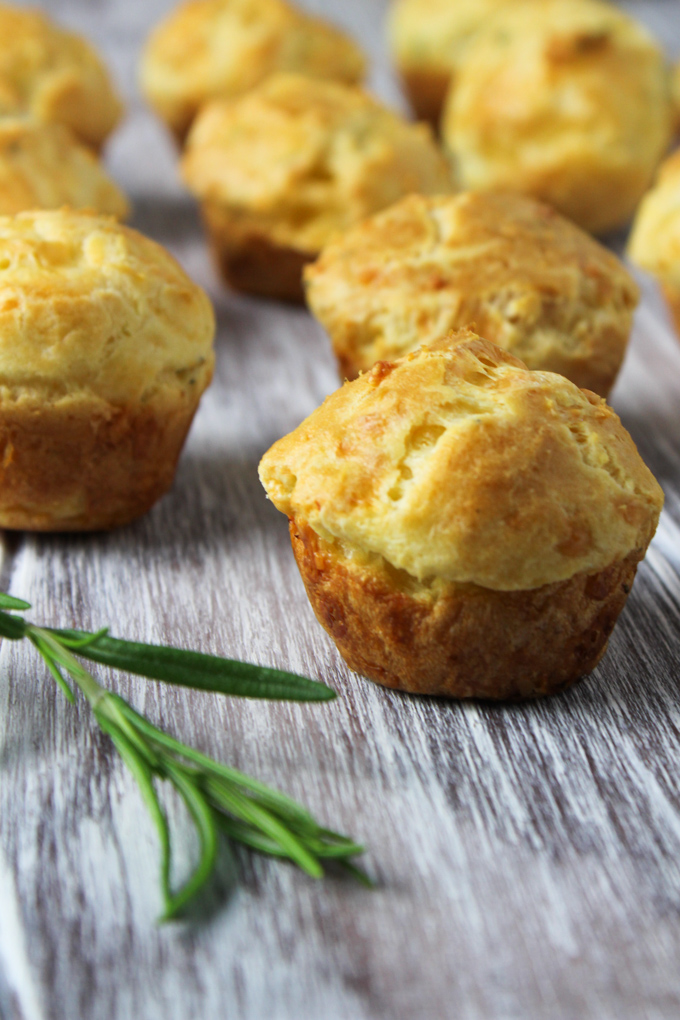 Traditionally gougère dough is piped onto parchment paper lined baking sheets using a pastry bag.  However, I enjoy making these pastries in mini muffin tins. The dough is first baked at a high temperature releasing steam to puff up and create a pocket of air.  The temperature of the oven is then lowered to complete the baking.  The result is a crisp exterior and a soft, hollow interior.
This dough keeps well in the freezer for future use, perfect for having on hand for guests popping in or for an easy addition to dinner.  If you intend on freezing some dough, I would suggest using a pastry bag to pipe 1 1/2" rounds on a baking sheet lined with parchment paper. Place the tray into the freezer and once the dough is frozen place the unbaked gougères into a freezer storage bag to store. When ready to use, remove the gougères and place on a baking sheet pan lined with parchment paper. Allow to come to room temperature before baking.  And voila how easy is that!
I hope you enjoy this simple, yet impressive recipe and it becomes a regular to your entertaining or everyday meals.
Print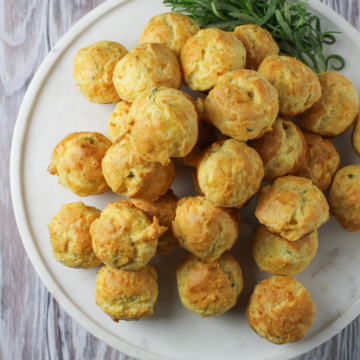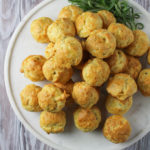 Rosemary Gruyère Gougères
---
1/2 cup

(

113 g

) whole milk

1/2 cup

(

113 g

) water

8 tablespoons

(

113 g

) unsalted butter, cut into tablespoons

1/2 teaspoon

 (

2.5 g

) sea salt
Freshly ground black pepper, to taste

1 cup

(

120 g

) all-purpose flour, sifted

4

large (200 g) eggs

1 tablespoon

(

3 g

) chopped fresh rosemary

1 1/2 cups

(

150 g

) grated Gruyère cheese
---
Instructions
Preheat oven to 400°F/200°C.  Lightly grease a mini muffin tin with olive oil.  Set aside.
In a medium saucepan, combine milk, water, butter, salt and pepper and bring to a boil.
Remove saucepan from heat and add the sifted flour to the liquid mixture.  Immediately stir vigorously with a wooden spoon until the mixture comes together.  You may see lumps of flour initially but after mixing together, the mixture will come together into a smooth mass.
Return saucepan to medium heat and cook mixture while stirring with a wooden spoon until dry and pulls away from the side of the pan, about 2 minutes.
Transfer mixture to the bowl of a standing mixer fitted with the paddle attachment.  Mix the dough on medium speed for 2 minutes to slightly cool.  Add the eggs, 1 at a time, until each egg is fully incorporated before adding the next.  Scrape the bottom of the bowl to ensure the dough is completely mixed.
To check for the proper consistency of the dough, remove bowl and beater from the mixer.  Pull the paddle straight up and the dough should hang down from the paddle in a V-shape.  If it does not then the dough requires more liquid.  Add a teaspoon of egg or warmed milk at a time. After mixing check again for the proper consistency.  Keep adding only one teaspoon at time until V-shape appears when the paddle is lifted from the dough.  Once consistency is achieved add the rosemary and cheese to the dough and mix just until incorporated. 
Using a small scoop, place 1.5 tablespoons of dough in each muffin slot. 
Place muffin pan in preheated oven and bake for 10-12 minutes, until gougères have risen.
Lower the oven temperature to 325°F/160°C.  Bake for an additional 20-25 minutes.  The gougères should have a crust on the outside and will be dried out completely.