This post may contain affiliate links, please read my full disclosure policy.
Zucchini Puff Pastry Tarts are buttery and flaky dough topped with zucchini and feta and baked to crispy perfection. This delicious pastry can be served as an appetizer or light lunch with a simple salad.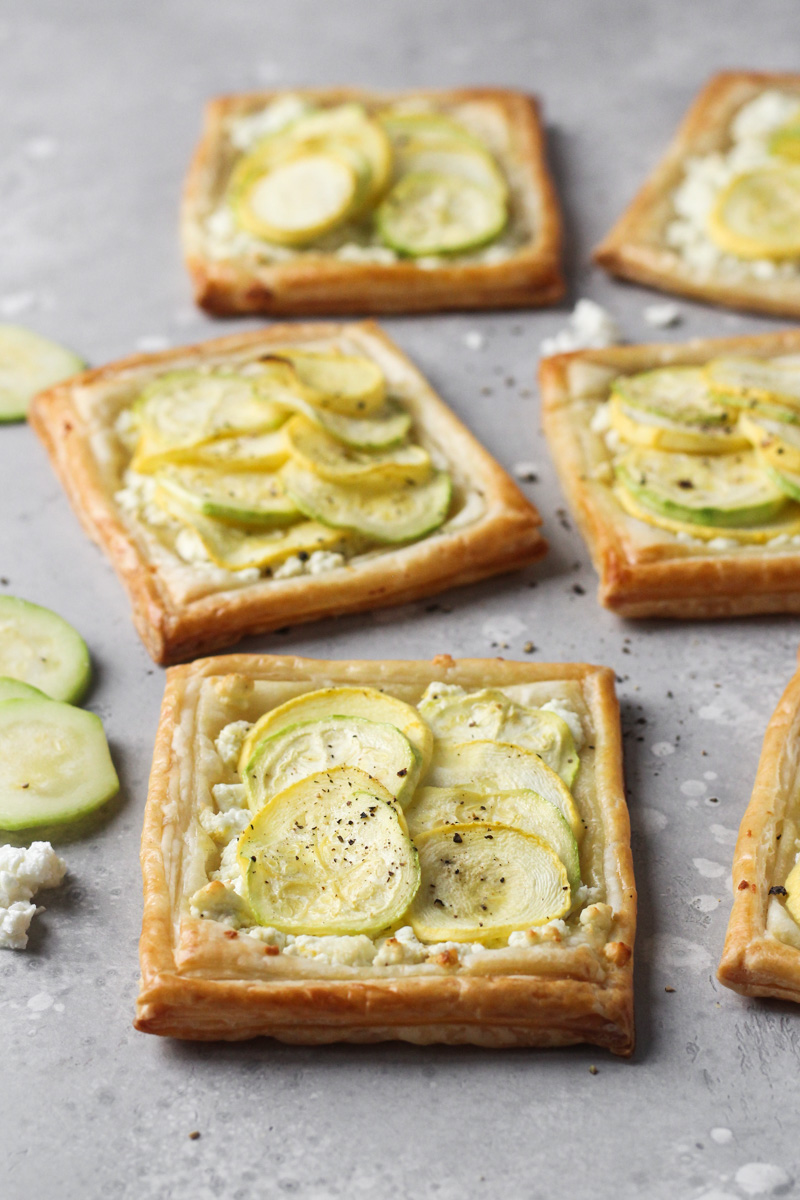 If you haven't tried baking with puff pastry, then give it a try. It's simple to work with and the perfect foundation for so many delicious savory and sweet pastries, like these zucchini puff pastry tarts. They are made with a delicious combination of zucchini, feta, and a hint of lemon and can be prepped in just 20 minutes. They're so good that you'll want to make a double batch.
Why this recipe works
Easy to make using fresh ingredients.
Light and crispy texture.
Made with simple store-bought puff pastry.
Can be served as a meal, appetizer, or snack.
Before you begin
Take out the following baking equipment.
Digital kitchen scale
Large baking sheet
Parchment paper
2 small bowls
Fork
Knife
Whisk
Pastry brush
Read the recipe through from start to finish.
Understanding Ingredients
Puff pastry is a light and flaky pastry that only requires four simple ingredients: flour, water, salt, and butter. It's very time-consuming to make from scratch, so use store-bought puff pastry for a quick and easy recipe. To use, allow the puff pastry sheets to thaw overnight in the refrigerator.
There is a variety of feta cheese to choose from. Use a good quality cheese for these tarts as it's one of the star ingredients. Feta cheese made from sheep's milk is the sharpest, while goat's milk and cow's milk tend to be milder.
For this recipe, use green zucchini or yellow squash, or a combination of the two. Because these tarts are individual-sized, it's best to select squash on the small to medium size. This will allow for two rows of sliced zucchini as shown in the pictures. Alternatively, you can use a thick squash and create one row of thinly sliced zucchini.
Types of feta cheese
Three regional types of feta cheese are most commonly found at the supermarket. You can use any of them for this recipe. Here's a look at how they differ.
Greek Feta
This is the most common of the three. Greek feta is tangy, sharp, and briny. It has a fine texture that makes it ideal for crumbling into dishes. Of the three, this variety has the most flavor.
French Feta
French feta is mild and creamy and less briny than the Greek version. It's a softer cheese that spreads well so it is an excellent choice for these tarts.
Bulgarian Feta
Out of the three varieties, Bulgarian feta is the saltiest. It has a firm yet creamy texture that also works well in these zucchini puff pastry tarts.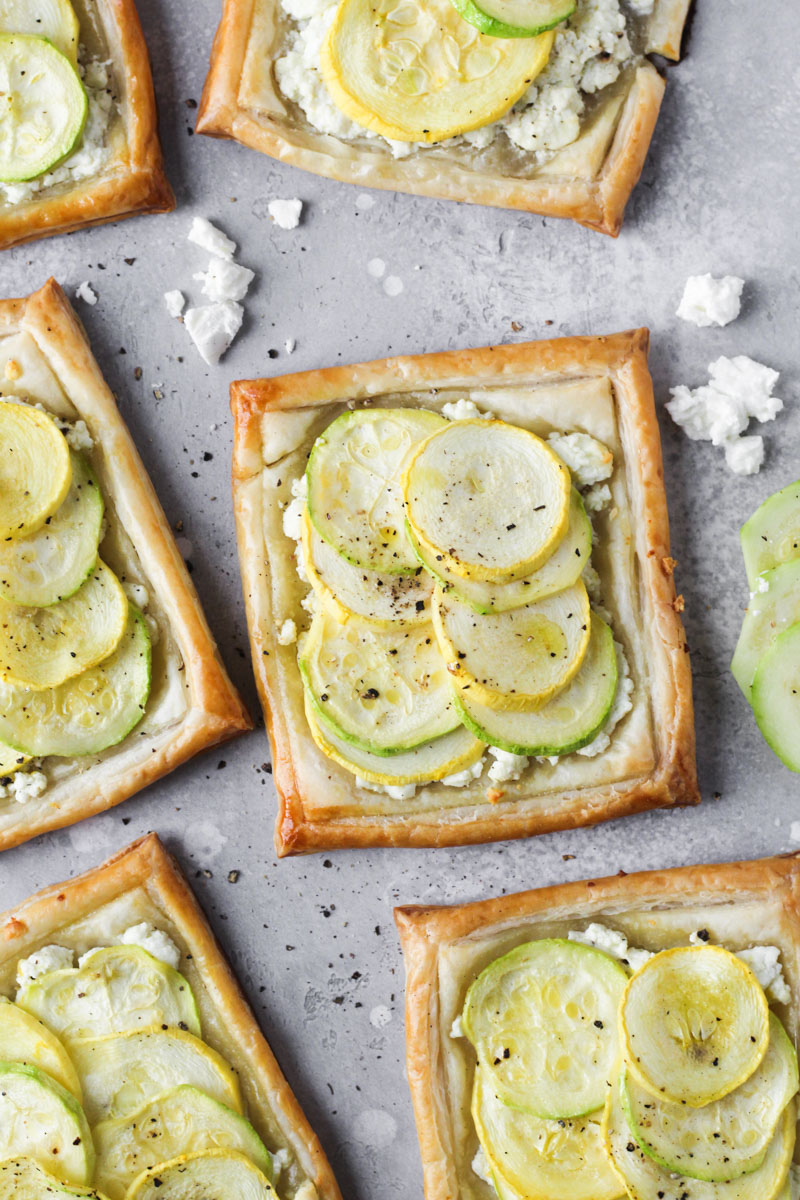 Working with puff pastry sheets
Puff pastry is made of very thin alternating layers of butter and dough. When baked, the butter layers melt and produce steam, which causes the dough to puff up in the oven. When working with sheets of puff pastry, do not let them get too warm otherwise, it becomes difficult to work with and will not puff up beautifully in the oven. It's essential to work quickly and efficiently with puff pastry. If the pastry begins to get too warm at any point, place it back in the refrigerator for 5-10 minutes before resuming.
Scoring puff pastry
It's important to score the puff pastry before baking. You'll want to create a 1/4-inch border around the edge of each puff pastry tart. This will allow the border to puff up in the oven.
To score, use a sharp knife. Begin in one corner and press the knife into the pastry to make a shallow slit without cutting through the entire pastry. Slide the knife to the next corner and continue to do this until you've created a rectangle leaving a 1/4-inch border from the edge of the pastry.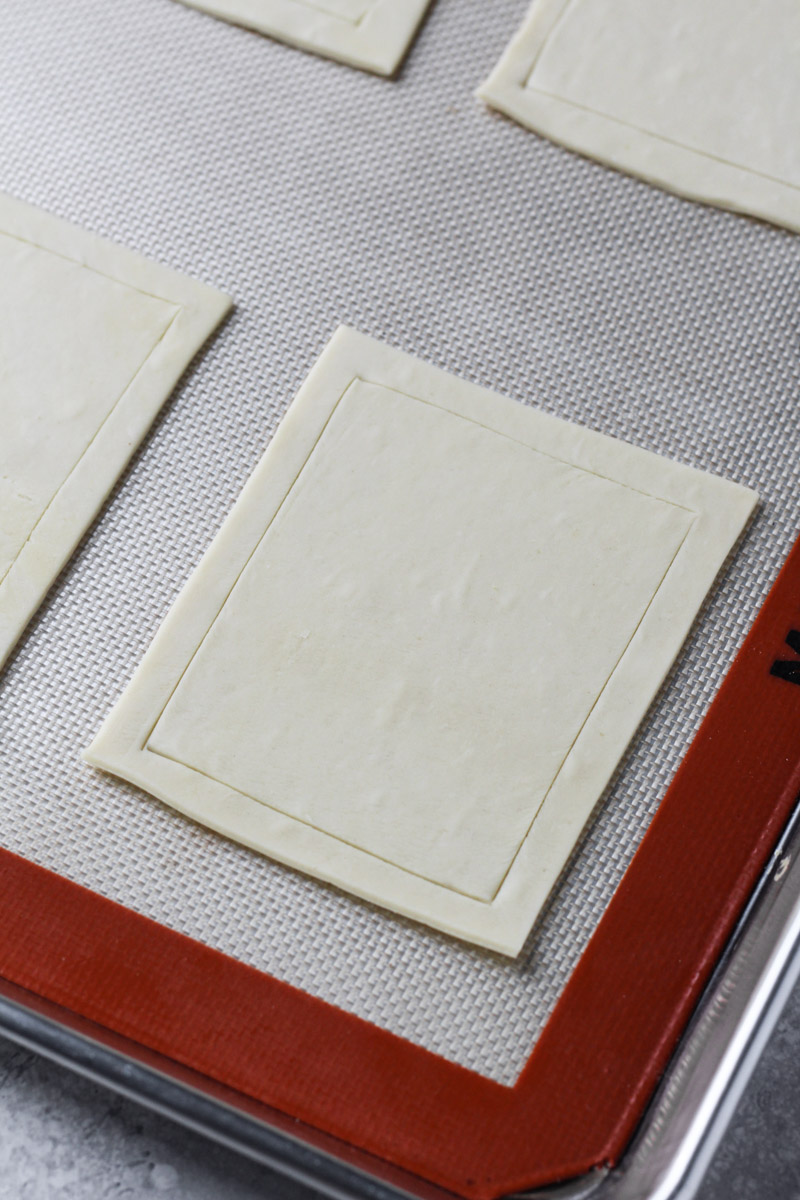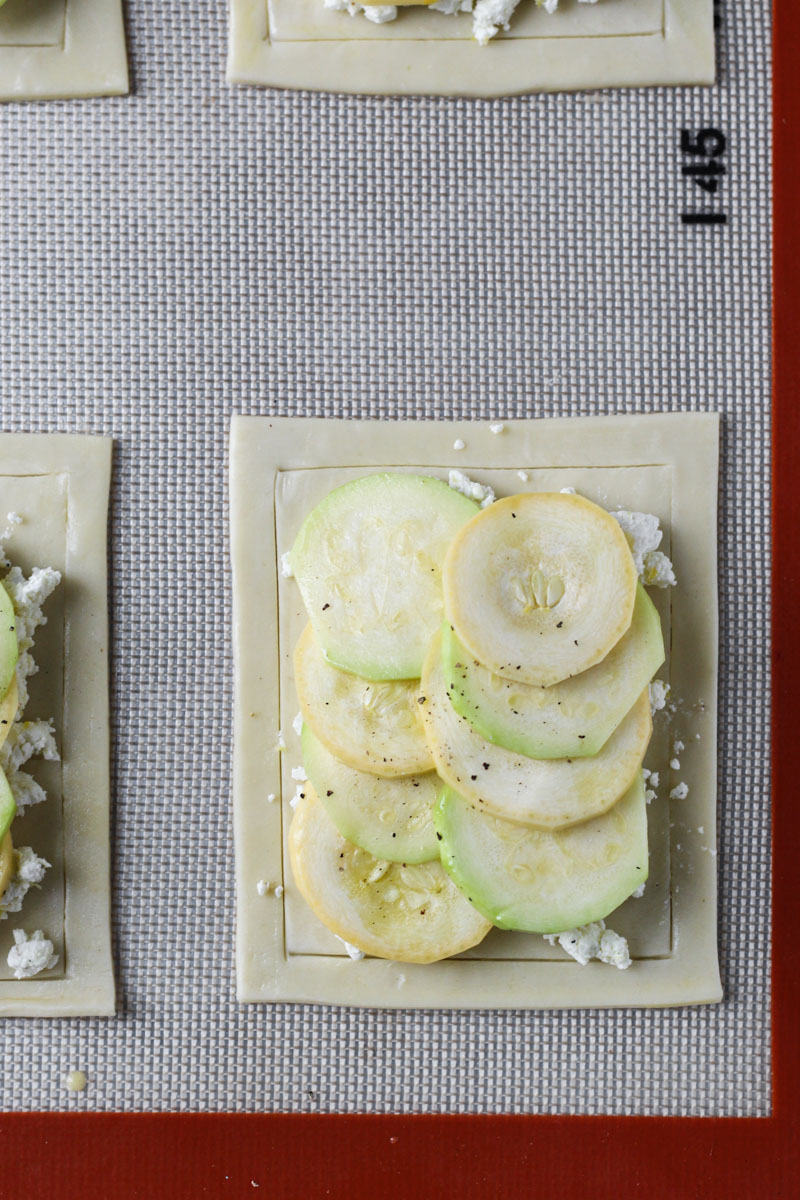 How to store leftover zucchini puff pastry tarts
For any leftover tarts, store them in an airtight container in the refrigerator. Feta is perishable and shouldn't be stored at room temperature. Storing the pastry in the refrigerator will cause it to lose some of its flakiness, it's best to reheat the tarts in a 350°F/177°C oven to add back the flakiness.
Tips and takeaways
Once your tarts are assembled, you can refrigerate them for 15 minutes to ensure they are chilled and will puff up nicely in the oven.
You can substitute the zucchini with asparagus, thinly sliced carrots, or tomatoes. You could even add some chopped Kalamata olives to the cheese mixture.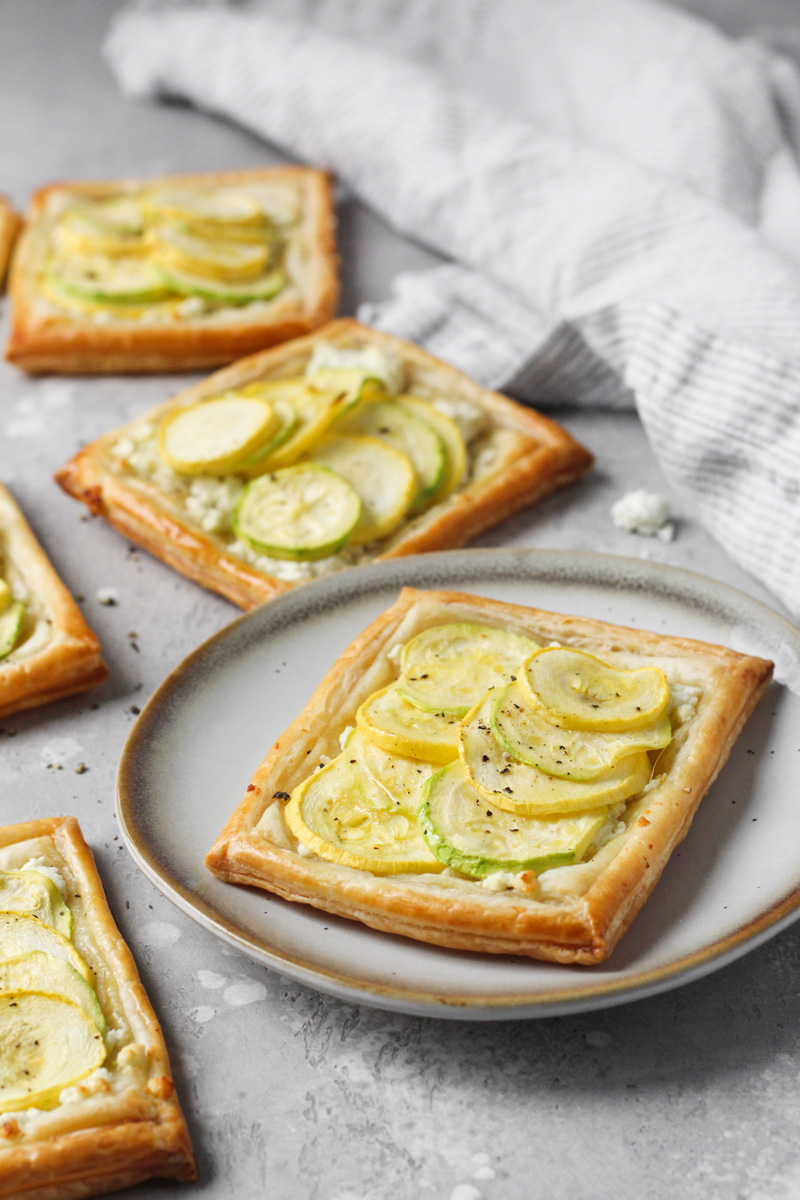 For more savory pastries, try these recipes...
Make sure to tag me @thesweetoccasion on Instagram and leave me a review below if you make these Zucchini Puff Pastry Tarts. I'd love to see your creations and read your feedback. And if you would like to make this recipe later, be sure to pin this recipe using the button on any of these images. Let's make every occasion a sweet occasion!
Print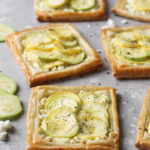 Zucchini Puff Pastry Tarts
---
Author:

Maria

Total Time:

40 minutes

Yield:

6

individual tarts

1

x
Description
Zucchini Puff Pastry Tarts are buttery and flakey dough topped with zucchini and feta and baked to crispy perfection.  This delicious pastry can be served as an appetizer or light lunch with a simple salad.
---
1

sheet frozen puff pastry, thawed

170 g

(

6 oz

) feta cheese, crumbled

26 g

(

2 tablespoons

) good quality extra virgin olive oil, divided
Juice and zest of a small lemon

50 g

(

1

large) egg

5 g

(

1 teaspoon

) milk

2

small zucchini (green or yellow), sliced and peeled 1/8-inch thick
Freshly ground pepper, to taste
Salt, to taste
---
Instructions
Preheat the oven to 400°F/204°C.  Line a large baking sheet pan with parchment paper.  Set aside.
In a small bowl, mix the feta, 13 g (1 tablespoon) olive oil, lemon juice, zest, and ground pepper until evenly combined.
Unfold the thawed puff pastry.  Lay it flat onto a lightly floured surface, silpat mat, or sheet of parchment paper.  Slice the puff pastry in half right lengthwise using a knife or pastry cutter. Slice each half crosswise into 3 equal rectangles to make 6 tarts.
Transfer the sheets onto the prepared baking pan, space evenly. Using a knife, score a 1/4-inch border around the outside to allow the edges to rise during baking. DO NOT cut all the way through, but just enough to leave a distinct border.
Whisk together the egg and milk. Using a pastry brush, lightly brush the edges of the pastry with the egg wash.
Divide the feta mixture evenly between the 6 tarts and spread evenly within the border.
In a small bowl, toss the sliced zucchini, the remaining 13 g (1 tablespoon) olive oil, salt, and pepper until combined.  Lay the zucchini slices overlapping tightly within the borders.
Bake the tarts on the middle rack of the oven for 20-25 minutes, until evenly puffed with golden brown edges.
Notes
Storing:  Store in an airtight container in the refrigerator.  To reheat the tarts, bake for a few minutes in a preheated 350°F/177°C oven.
Prep Time:

20 minutes

Cook Time:

20 minutes

Category:

Pastry
Keywords: puff pastry, zucchini tart, feta tart, pastry