This post may contain affiliate links, please read my full disclosure policy.
Banana Nutella Bread is a delicious, moist and chocolatey twist on a classic breakfast bread.  It's simple to make and perfect for breakfast or dessert.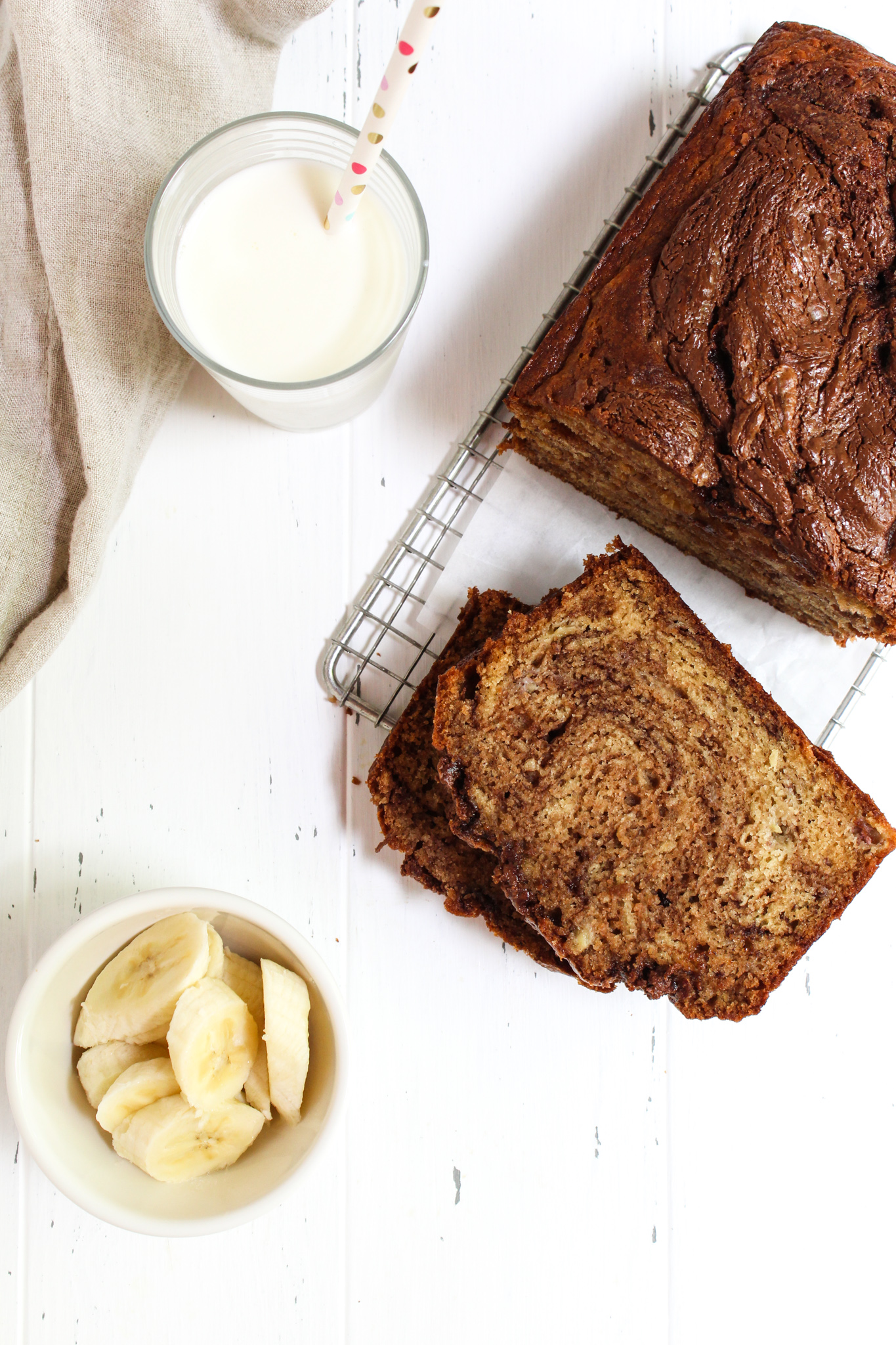 Do you ever end up with several overripe bananas on your counter?  It seems that I either don't purchase enough bananas for our household (our son goes through phases of consuming large quantities of bananas) or I purchase too many leaving us with many overripe bananas.  Thank goodness for banana bread though, because it's the perfect solution to the excess banana scenario.
The beauty of banana bread is that you can dress it up any which way.  As long as you have a solid banana bread recipe there are many options for variation.  Love nuts, you can throw some in.  Similarly, love chocolate chips or coconut, throw them in as well.  However, the key is not to over pack you batter with mix-ins or else you will be left with a dense texture.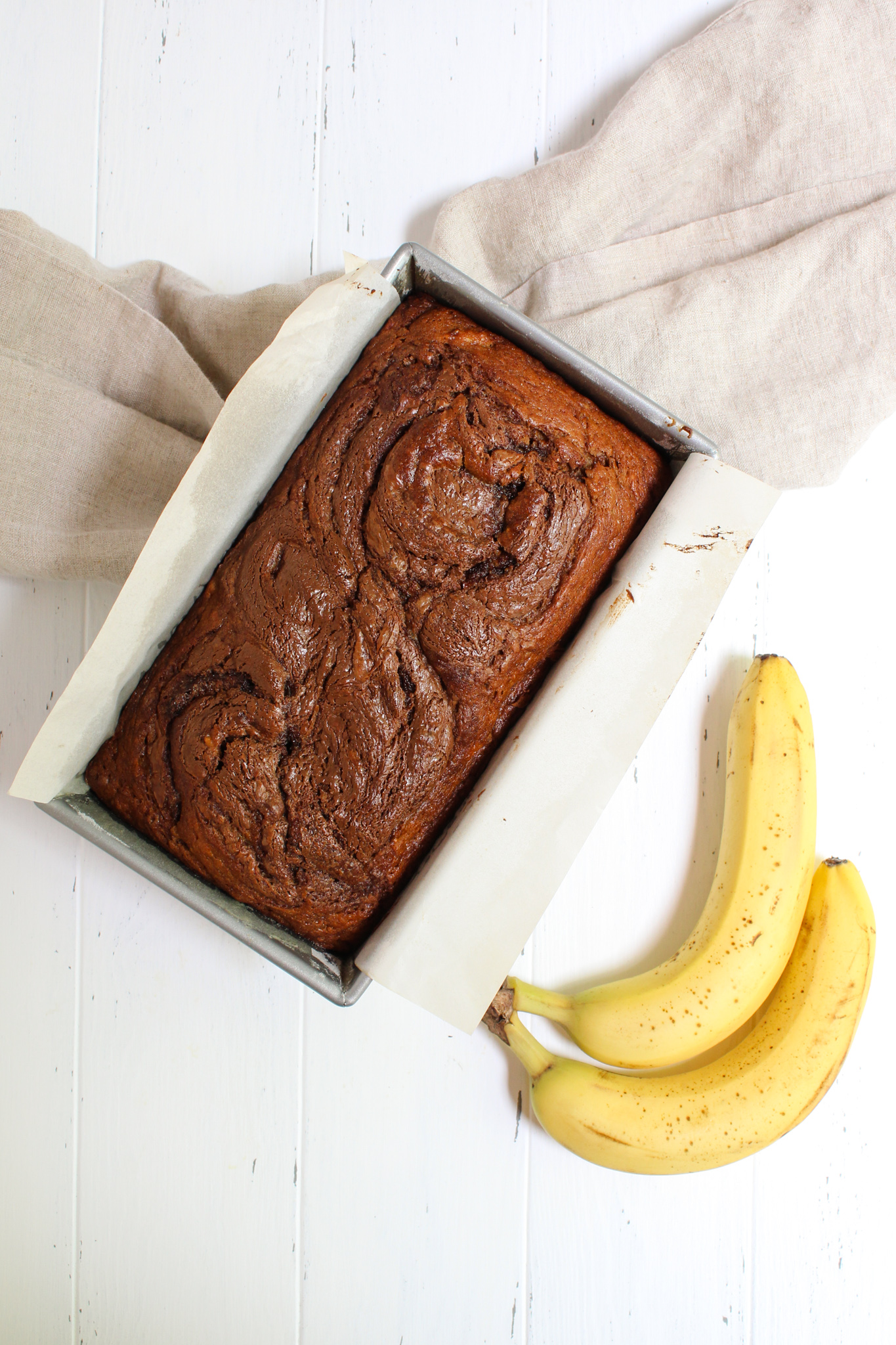 Let me tell you, this recipe for banana Nutella bread is super moist!  I can't stand dry cake even if it has been masked with frosting.  It's impossible to salvage dry cake or quick bread without adding some sort of syrup (and then that just alters the flavor).  A cake on its own should be moist!  So I made sure to include enough bananas in this recipe and added milk which helps to ensure that your baked loaf is moist.  Here are some tips for using bananas.
Tips to using bananas for a quick bread
If your bananas are not ripe enough, place in a paper bag and loosely close (to help speed the process up add an apple to the bag)
Mash bananas using a fork.  Alternatively, use a handheld or stand mixer to mash your bananas.  Place in a bowl, begin mixing on low and slowly increase to medium-high until bananas are completely mashed.
For a quicker process to ripen bananas, place unpeeled bananas on a baking sheet in a 250°F/120°C oven until soft (about 15-20 minutes)
Store over ripe bananas in the freezer until ready to use for baking
Banana Nutella bread mix-ins
Chocolate Chips - chocolate pairs very well with banana bread.  Additionally, y0u can use butterscotch chips, peanut butter chips, or dark chocolate chips for a delicious pairing.
Fresh Fruit - use seasonal fruit to dress up your banana bread.  In the summer, berries pair well with bananas.
Dried Fruit - for more of a texture, mix in some dried fruit which would be an excellent combination with the banana and some nuts.
Nut Butters - substitute any nut butter of your choice for the Nutella.  Or try using chocolate almond spread instead of the chocolate hazelnut spread.
Nuts - use your favorite nut in this recipe.  Walnuts pair well with banana bread as do pecans.  However, it is a matter of preference.  Add about 1/2 - 3/4 cup chopped nuts.
Spices - spices can enhance the flavor of your banana bread.  You can omit the Nutella and add cinnamon and a pinch of nutmeg for a more classic and homey flavor.
Tips to making banana Nutella bread
Use overripe bananas - very ripe bananas are key to making sweet and moist banana bread.  The more ripe the better, even brown bananas work very well.  To ripen bananas follow tips mentioned above.
Use room temperature ingredients - all ingredients should be at room temperature so that the banana Nutella bread can bake evenly in the oven.  Yes, this even includes eggs (adding cold eggs to your creamed butter and sugar will cause the butter to harden and curdle).
Don't over mix dry ingredients - over mixing your batter will create a very dense banana Nutella bread.  Instead, mix dry ingredients until just combined.
Err on the side of under baking vs over baking - always err on the side of under baking your loaf.  Set your timer for a 5 minutes less than the suggested time it will take to bake and begin checking for doneness (all ovens are different and all baking pan materials bake at different rates).  You can always add baking time, but never undo an over baked loaf.
More breakfast recipes
Print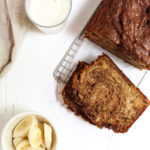 Banana Nutella Bread
---
Author:

Maria

Yield:

1

large loaf

1

x
Description
Banana Nutella Bread is a delicious, moist and chocolatey twist on a classic breakfast bread.  It's simple to make and perfect for breakfast or dessert.
---
2 cups

(

240 g

) all-purpose flour

1 1/2 teaspoons

baking powder

1 teaspoon

baking soda

1 teaspoon

salt

3

very ripe bananas, mashed

1/4 cup

(

60

ml) whole milk, at room temperature

1/2 cup

(

113 g

) unsalted butter, at room temperature

3/4 cup

(

165 g

) packed light brown sugar

2

large eggs (

100 g

)

1 teaspoon

pure vanilla extract

1/2 cup

Nutella
---
Instructions
Preheat oven to 350°F/177°C.   Line an 9 x 5 loaf pan with parchment paper, butter and flour.  Set aside.
In a medium bowl, whisk together the flour, baking powder, baking soda and salt.  Set aside.
In another medium bowl, combine the mashed bananas and milk.
In a large bowl using a hand-held mixer or stand mixer with the paddle attachment, beat the butter on medium speed until completely smooth and creamy.  Add the sugar and mix on medium speed until fluffy.  Mix in eggs, one at a time, and scrape down the sides and bottom of the bowl.  Mix in vanilla.  Add banana mixture to the mixer and continue mixing until well combined.  With the mixer on low speed, slowly add flour mixture into butter mixture until just combined.
Microwave Nutella for 20 seconds.  Using a rubber spatula, fold in 2/3 of the Nutella into your batter.  Careful not to over mix.  Pour batter into the prepared loaf pan.  Add the remaining Nutella and swirl.
Bake for about 50-55 minutes or until a toothpick inserted into the center comes out clean.
Allow cake to cool completely in the pan set on a wire rack before slicing.
Keywords: nutella banana bread, breakfast, chocolate