You're craving a warm slice of banana bread, but must wait for the bananas to ripen enough to use for baking. Wait no longer because I am sharing two easy ways to quickly ripen bananas for all your favorite baking recipes.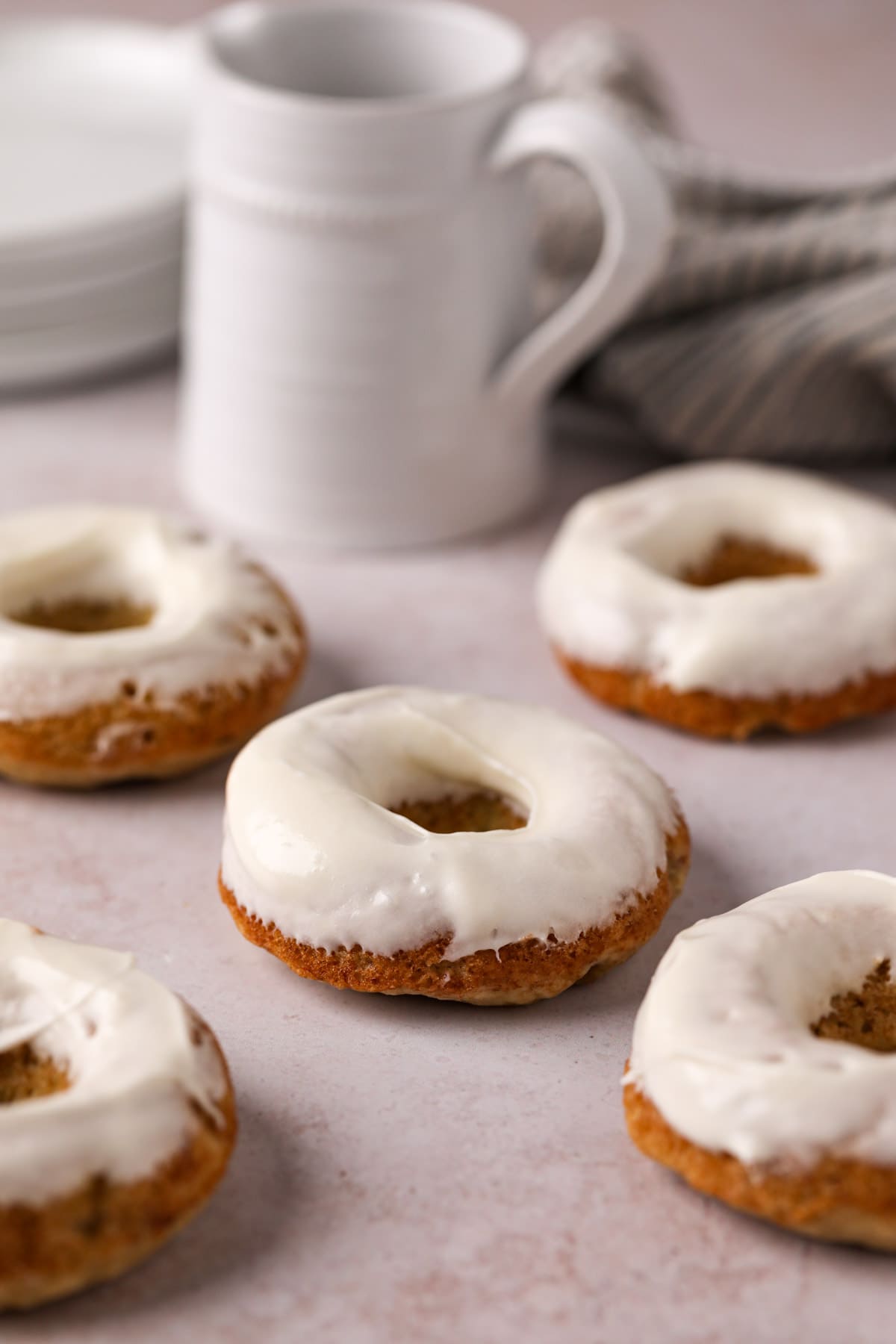 As a mom, I love hacks that allow recipes to fit into my busy schedule. My kids love bananas, so I never have enough ripe bananas on hand. But when the craving hits, I no longer wait for bananas to naturally ripen. I fast-track the process, and so can you. Let's dive in!
Why Do My Bananas Need to Be Very Ripe for Baking
You may wonder why recipes like brown butter banana cookies or easy banana donuts call for ripe bananas. Here are three reasons why it's important to select ripe bananas:
Sweetness. Ripe bananas are naturally sweeter. They add a delicious flavor to your baked goods.
Moisture. Ripe bananas have a high water content compared to unripe ones. They help keep your baked goods moist.
Soft, mushy texture. It's easy to mash ripe bananas into a smooth consistency. This makes adding them to a batter or dough easy for a well-blended mixture.
Choosing the Right Bananas
When you want to quickly ripen bananas for baking, you'll want to choose ones that are still firm and yellow with a few green spots. Bananas at this stage are only beginning to ripen. This allows you to control the ripening process more easily.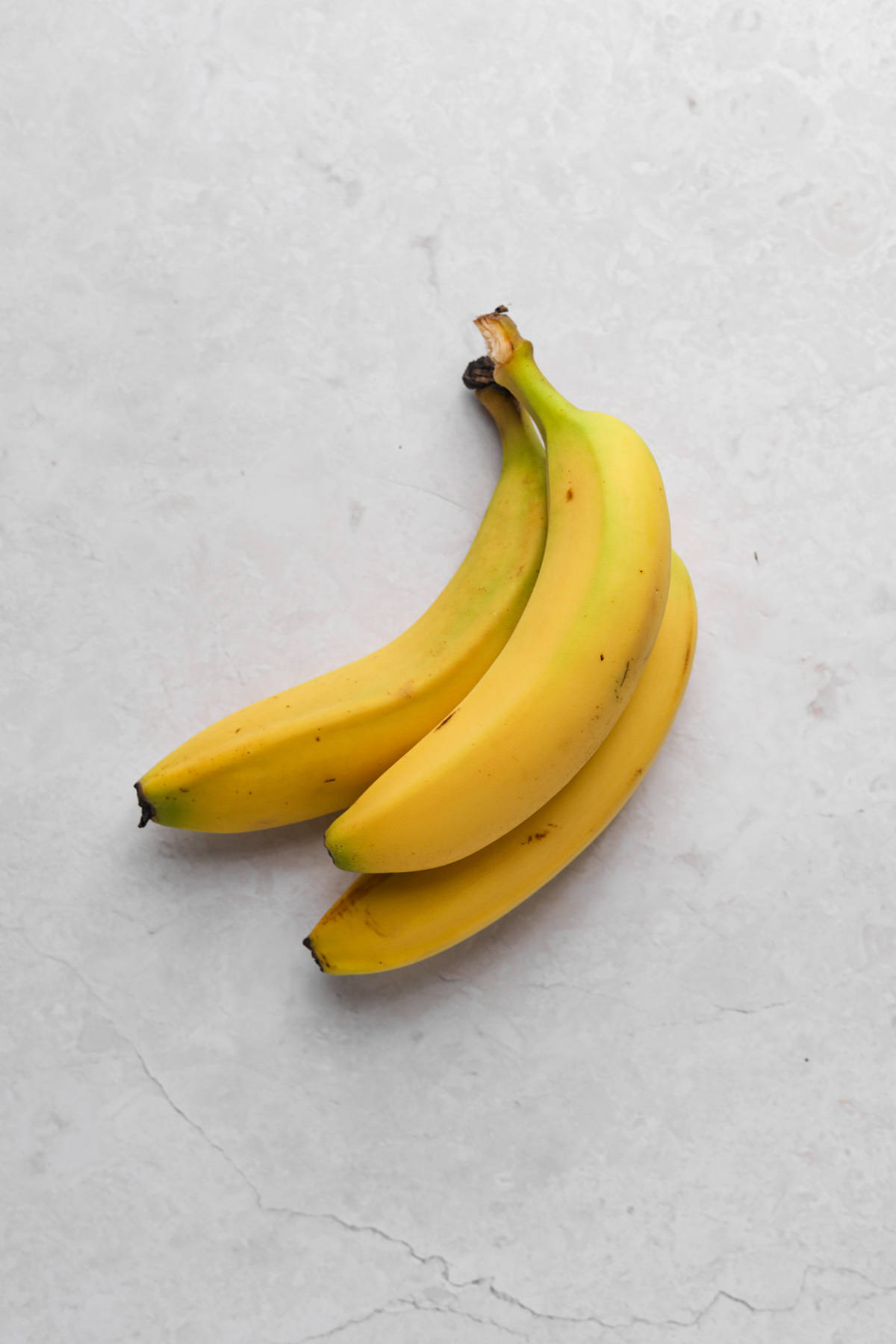 Note: Avoid using completely green, unripe bananas. They will not have any flavor even after ripening them in the oven. Green bananas have not begun to develop their sugars. Stick with yellow bananas with a few green spots.
How to Use the Oven Method
A quick way to ripen your bananas is using the oven method. You'll need bananas (with their skins on) and a baking sheet. Here's how to do it: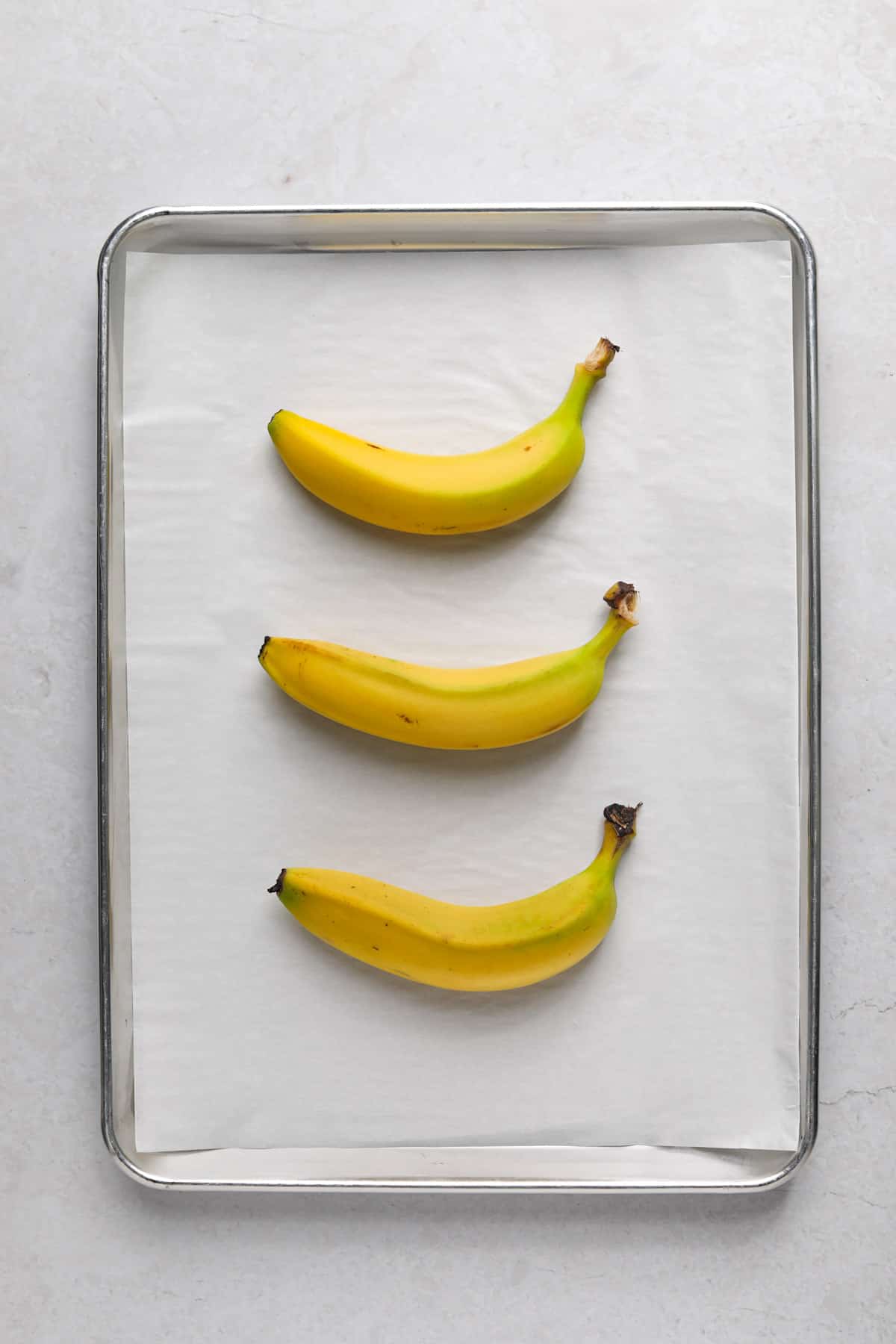 Preheat the oven to 300°F/150°C. Arrange the bananas on a baking sheet lined with parchment paper, leaving equal space between each one.
Bake for 15-20 minutes until the skins are black. Allow the bananas to cool completely before handling.
Note: I prefer lining my baking sheet with parchment paper or aluminum foil. Sometimes the bananas will split and the juices will leak onto the pan. Lining the sheet pan makes for easy cleanup!
How to Use the Microwave Method
For an even quicker method, you can use the microwave to ripen your bananas. Here's how: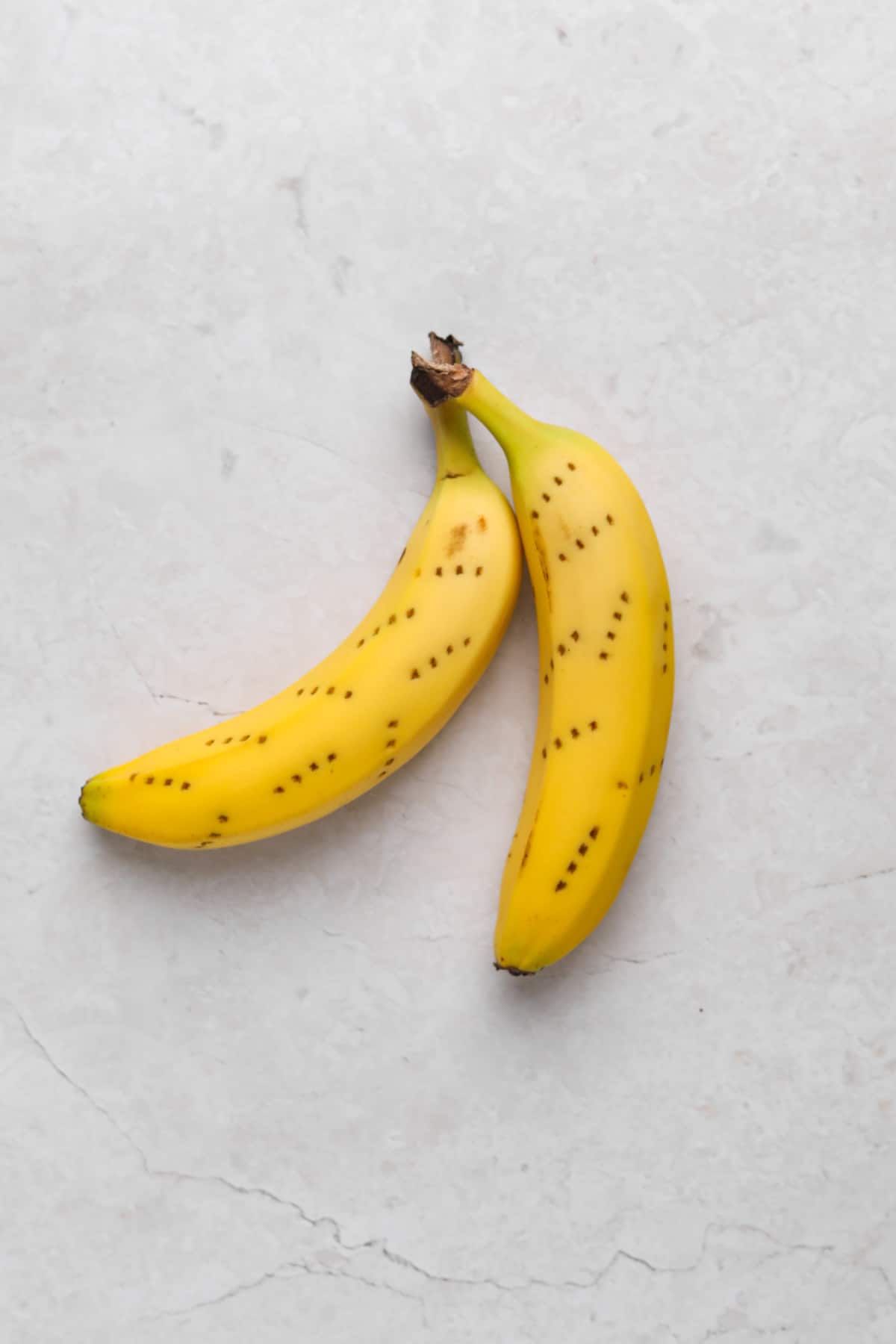 Using a fork or knife, poke holes all over the unpeeled bananas so the steam can escape in the microwave. If the bananas are large, slice them in half lengthwise, leaving them in their peels.
Place the bananas on a microwave-safe dish and microwave on high for 30-second intervals until softened. Check for softness by gently squeezing them.
Allow the bananas to cool completely before using.
Note: The microwave method will not produce super ripe bananas like the oven will however, they will become soft enough to easily mash into the ideal consistency.
How to Store Ripened Bananas
If you don't plan on using the bananas immediately after you ripen them, you can store them for your future baking needs. Here are two options:
Refrigerator. Once completely cooled, scoop the bananas out of their peels and store them in an airtight container for up to 3 days.
Freezer. Again, the bananas must be completely cooled and scooped from their peels. Place in a resealable freezer bag and freeze for up to 3 months. When ready to use, thaw in the refrigerator overnight.
Note: Naturally overripe bananas can also be stored in the freezer for up to 3 months. Store unpeeled in a freezer-safe bag for up to 3 months. Thaw in the refrigerator overnight, then scoop, mash, and use as directed in your desired recipe.