Ever run out of an ingredient and can't get to the store? I've got you covered with an essential guide to baking substitutions. They're simple substitutions that use staple baking ingredients.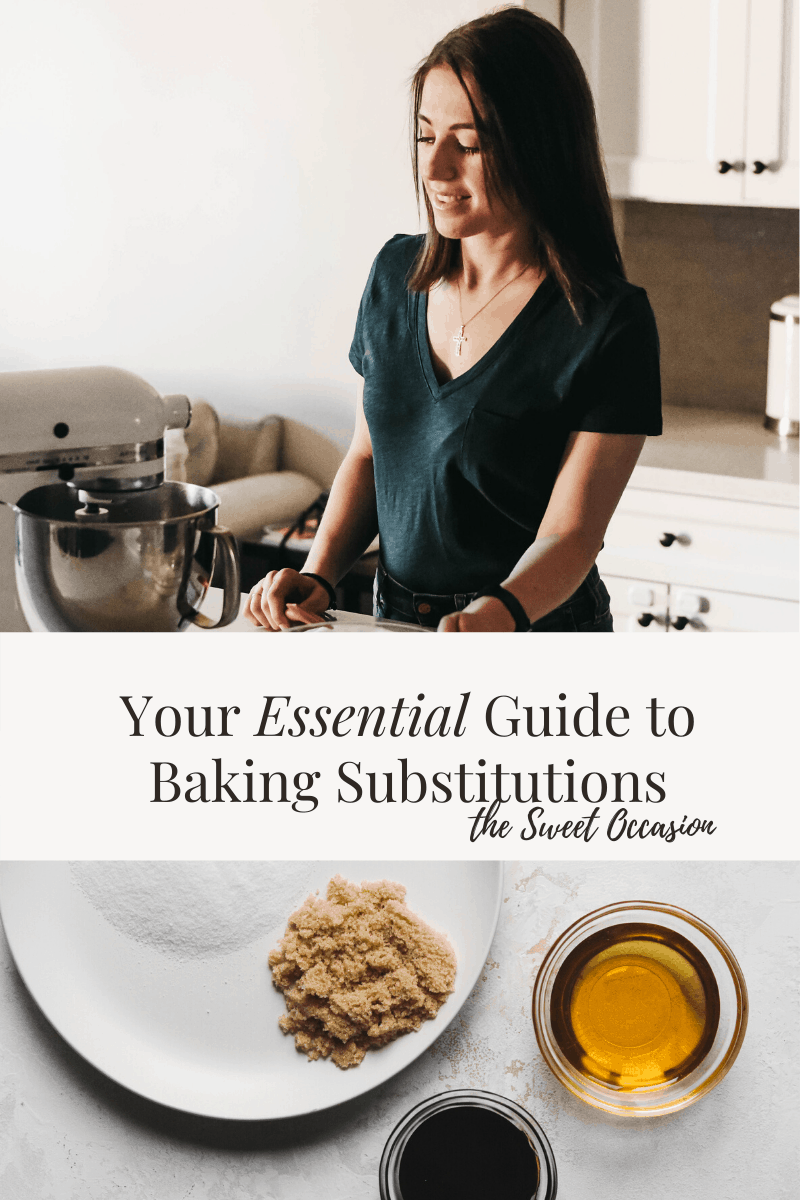 Have you ever started a recipe and realized that you are short one ingredient? We've all been there. When we used to live a block from the supermarket, and before having kids, I would walk over to the supermarket and pick up the missing ingredient all the time (my husband also made many, many runs to the store for me, thank you, George!). But when you don't have the convenience of the supermarket next door, it's raining, you have little kids, or you just don't want to make the run to the store, have no fear, you can still make the recipe you picked out. It's simple, baking substitutions. These tried and tested substitutions will yield very similar, if not the same results!
Substitutions for flour
There are a variety of flours on the market. Some are more common than others, and rather than purchase flour to sit on the shelf to only use occasionally (or if you are in a pinch and run out of a specific type of flour), you can use these simple substitutions.
Bread Flour
1 cup bread flour = 1 cup all-purpose flour
You can certainly use all-purpose flour to replace cup-for-cup bread flour. Note though that bread and pizza dough made with this substitution will have less of a chew to it as a result of lower protein content in all-purpose flour.
Cake Flour
1 cup cake flour = 1 cup all-purpose flour - 2 tablespoons all-purpose flour + 2 tablespoons cornstarch
Cake flour produces soft, tender cakes and cupcakes. If you don't have it stocked in your kitchen, you can simply substitute it with all-purpose flour and cornstarch. Sift this substitution twice to ensure the ingredients are thoroughly mixed together.
Pastry Flour
1 cup pastry flour = 1/2 cup all-purpose flour + 1/2 cup cake flour
Pastry flour creates lighter and more delicate pastries than those made with all-purpose flour. Although excellent for creating tender pastries and pie crusts, it is not a staple flour stocked in an everyday kitchen. To substitute for pastry flour, use equal parts all-purpose flour and cake flour.
Self-Rising Flour
1 cup self-rising flour = 1 cup all-purpose flour + 1 1/2 teaspoons baking powder + 1/4 teaspoon salt
It's best to use self-rising flour only for recipes that list it in their ingredients. If you only occasionally need it and want to forgo purchasing a bag, substitute with this combination of all-purpose flour, baking powder, and salt.
Substitutions for leavening agents
Leavening agents are essential to many baked goods, including cookies, cakes, cupcakes, brownies, and bars. It's important to use leavening agents that have not expired (or else their leavening power won't get the job done). And if you run out of either baking soda or baking powder, you can use them, in many instances, interchangeably with these substitution guidelines.
Baking Soda
1 teaspoon baking soda = 3 teaspoons baking powder
Substitute three times the amount of baking powder for baking soda. Note that using too much baking powder can give a chemical taste to your baked goods. So for recipes that call for a large quantity of baking soda, replacing it with baking powder could add an undesirable flavor.
Baking Powder
1 teaspoon baking powder = 1/4 teaspoon baking soda + 1/2 teaspoon cream of tartar
Baking soda requires both a liquid and an acidic ingredient to react. When substituting for baking powder, ensure your recipe contains an acidic component, or else your baked goods could yield a metallic flavor. Common acidic baking ingredients include buttermilk, lemon juice, natural cocoa powder, brown sugar, yogurt, honey, molasses, applesauce, and cream of tartar.
Substitutions for fats
Butter and oil are at the core of most baking recipes. They both play crucial roles in the science of baking. Typically, a specific recipe depends on which ingredient is used (for example, pie crust depends on butter for its flakiness, whereas oil cannot fulfill this role). However, in many instances, you can use the following substitutions to yield similar results.
Butter
1 cup butter = 1 cup coconut oil
Butter is a tricky ingredient to substitute for depending on the recipe. For recipes that call for melted butter, use a 1:1 ratio of melted coconut oil. A recipe that calls for room temperature butter or cold butter, use coconut oil in its solid-state. Note that in recipes that depend on creaming butter and sugar together (for example, cakes), this substitution could alter the final texture of your baked goods.
Vegetable oil or canola oil
1 cup vegetable oil = 1 cup melted butter or 1 cup melted coconut oil or 1 cup unsweetened applesauce
Melted butter is a common substitution for vegetable oil. It adds a satisfying flavor, arguably better than oil, and will not compromise a baked good's structure. Alternatively, you can use melted coconut oil in a 1:1 ratio or even unsweetened applesauce. Applesauce is a delicious substitution and will maintain the moistness in your baked goods.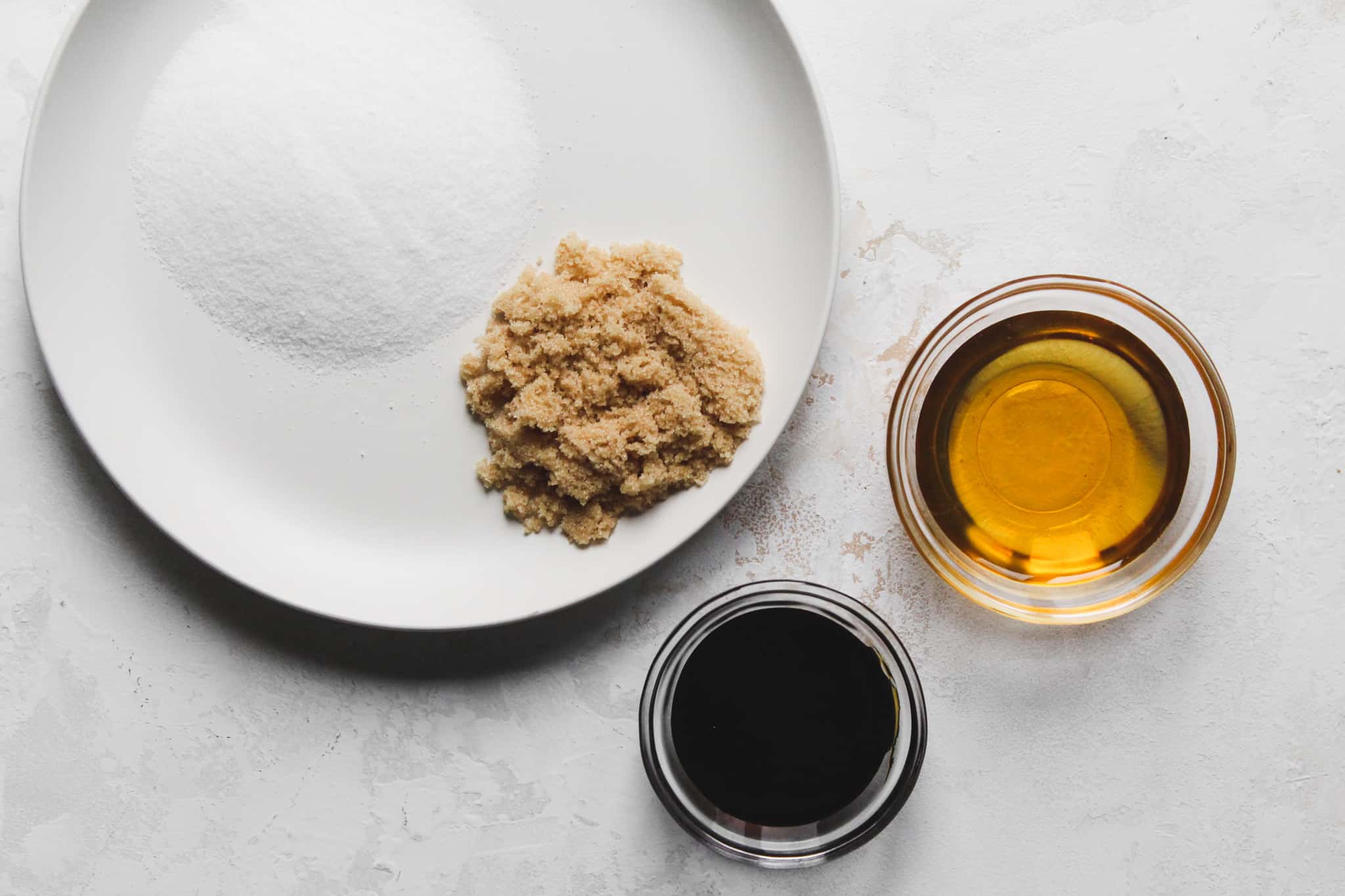 Substitutions for sweeteners
You can't have a baked good (unless it's savory) without some sort of sweetener. These ingredients play more of a role than just sweetening a product (for example, they add moistness, tenderness, and color). As a general guideline, replace liquid sweeteners with another liquid sweetener and similarily, dry sugars with another dry sugar. Doing this will maintain the integrity of your baked goods.
Granulated Sugar
1 cup granulated sugar = 1 cup brown sugar
Simply substitute granulated sugar with a 1:1 ratio of brown sugar. Essentially, brown sugar is granulated sugar with the addition of molasses. The brown sugar will add a bit more moistness to your baked goods. For recipes whose color is important (for example, white cake), do not use this substitution.
Brown Sugar
1 cup brown sugar = 1 cup granulated sugar + 1 tablespoon molasses
Simply mix granulated sugar and molasses until evenly distributed to create a light brown sugar substitute. For dark brown sugar, increase the amount of molasses.
Powdered Sugar
1 cup powdered sugar = 1 cup granulated sugar blended
In a blender, blend the granulated sugar until it becomes a powder. Typically a high powered blender will get the consistency closest to that of store-bought powdered sugar. However, it's difficult to replicate it exactly. For recipes such as royal icing that depend on the powdered sugar for its texture, it's preferred not to use this substitution and instead use the real thing.
Honey
1/4 cup honey = 1/4 cup agave nectar, corn syrup, or molasses or 1 1/4 cups granulated sugar + 1/4 cup water
You can either substitute a 1:1 ratio of agave nectar for honey or make a substitution using granulated sugar and water. To do the latter, combine sugar and water in a small pot and heat over medium while constantly stirring until the sugar dissolves. Allow mixture to cool to room temperature.
Molasses
1 cup molasses = 1 cup dark corn syrup, honey, or maple syrup or 3/4 cup packed brown sugar
Molasses has a distinct flavor, so it is difficult to replicate. If taste is a top priority for you, then use the brown sugar substitution (since brown sugar is a combination of granulated sugar and molasses). Additionally, you can up the spice flavor in your recipe to mask the absence of the molasses. However, I would not recommend using this substitution in recipes that molasses is the featured ingredient, such as in molasses cookies.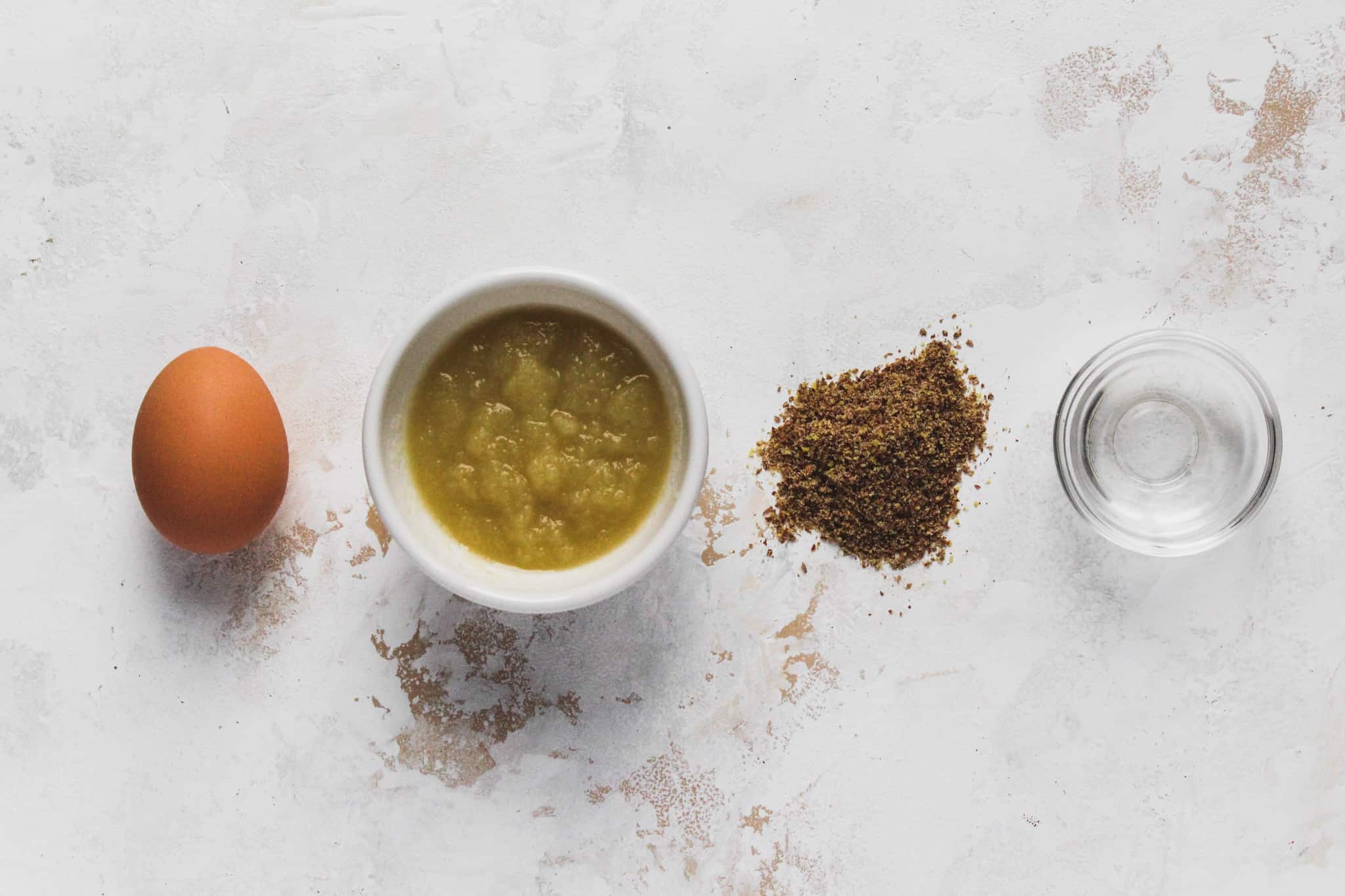 Substitutions for eggs
1 large egg = 1/4 cup applesauce or 1 tablespoon ground flaxseed + 3 tablespoons water
If you are out of eggs or would like to transform a recipe into a vegan version, you can replace eggs with applesauce or ground flaxseed and water. When using flaxseed, mix with water and allow the mixture to sit for 5 minutes before adding it to your recipe. Do not use this substitution for recipes that rely on eggs for structure and texture such as a sponge cake, lemon curd, pastry cream, or pâte à choux.
Substitutions for dairy products
Don't have buttermilk on hand? Not to worry, a simple substitution will save you a trip to the store. The same goes for half-and-half as well as heavy cream. The following substitutions work very well in recipes such as cake batters, pancakes, waffles, muffins, scones, etc.
Buttermilk
1 cup buttermilk = 1 cup plain yogurt or 1 cup milk + 1 tablespoon vinegar
If using the milk and vinegar combination, mix the ingredients in a small bowl and allow to sit for 5 minutes. This method will cause your milk to curdle and give the same tanginess as store-bought buttermilk.
Half-and-half
1 cup half-and-half = 1/2 cup whole milk + 1/2 cup heavy cream
Simply whisk together the milk and cream. You can use heavy cream or heavy whipping cream. Whipping cream has a lower fat content, so I would avoid using it for this substitution.
Heavy cream
1 cup heavy cream = 3/4 cup whole milk + 1/4 cup melted unsalted butter
Combine cooled melted butter with milk. Using lower fat milk will produce a thinner mixture and will not translate to an equal substitution. Do not use this substitution for making homemade whipped cream (make the trip to the supermarket and buy store-bought heavy cream).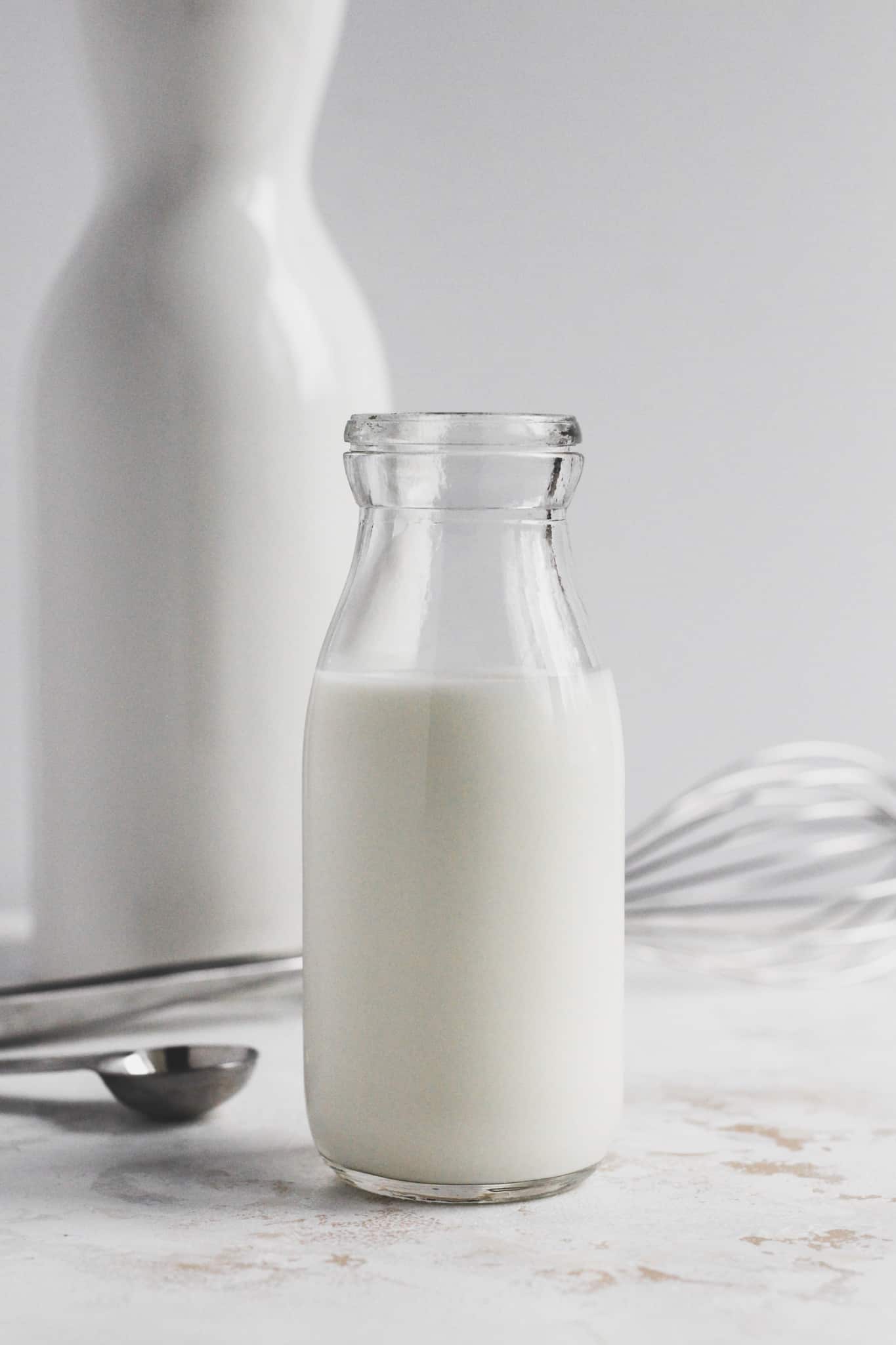 Substitutions for vanilla
1 vanilla bean = 1 tablespoon pure vanilla extract or 1 tablespoon vanilla bean paste or 1 tablespoon vanilla powder
Interchanging a vanilla bean with extract, paste, or powder is quite simple. When using vanilla extract, always use a pure vanilla extract as this will yield the best flavor.
*Note - if you are trying to substitute ingredients to create a healthier recipe, I would not recommend making all the substitutions for one recipe because your final baked good's texture and flavor could be significantly affected. Instead, use this as a guide for when you a missing an ingredient. If wanting to make a healthier version of a recipe, I would highly recommend searching for a specific recipe tailored to your preferences.
For more baking ingredient guides, check out these posts