Keeping your baking pantry stocked with key ingredients is efficient and important. Check out these 10 baking ingredients that you should stock in your own kitchen for baking. They are basic but essential to the magical baking process.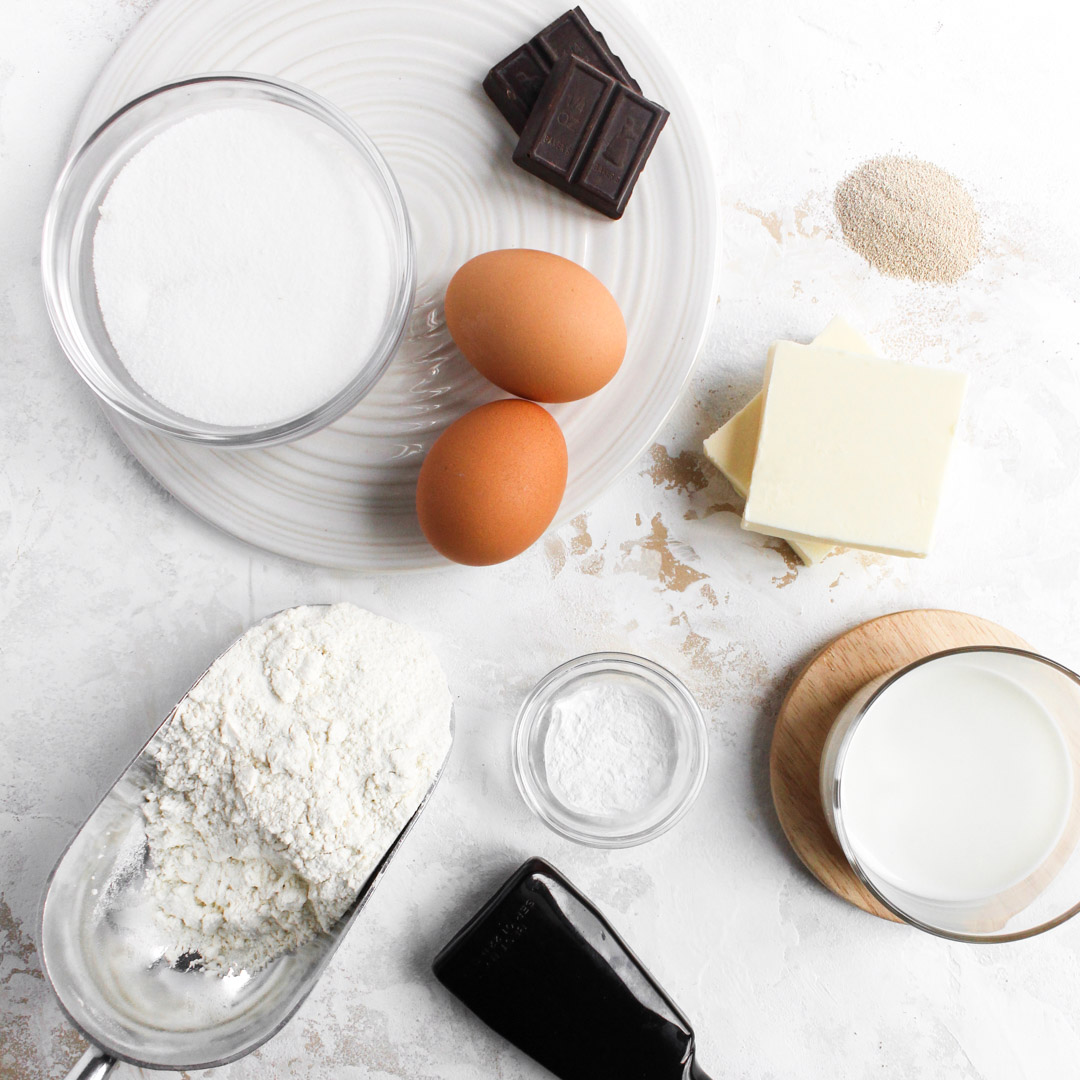 There is nothing like the frustration when you set out to cook or bake and realize that you are missing that one ingredient. We've all been there. My husband can be the first to tell you, as he often has to stop at the grocery store on his way home when I have forgotten that key ingredient.
To ease this frustration, I want to share with you 10 baking ingredients that you should stock in your kitchen because every great baker relies on these ingredients. They are basic but essential to the magical baking process. I believe in making your time in the kitchen efficient, not to rush the process, but to spend your time enjoying the baking journey. So let's dive into what you should stock your baking pantry with.
Note: these items refer to a standard kitchen that does not maintain dietary or allergy restrictions. These guidelines can be applied to substitutions of choice based on preferences or restrictions.
Sugar
Sugar comes in many forms, and granulated sugar is one of the most common types used in baking. I would additionally recommend stocking brown sugar and powdered sugar, as these types are also commonly used. The role of sugar goes beyond adding sweetness to baked goods. It adds moisture, creates tenderness, carmelizes, and adds texture. It's an ingredient that is used time and time again in baking.
Butter
Butter, because it's a solid fat, is used more commonly in baking than any other form of fat. It adds flavor, moisture, and contributes to leavening baked goods. Unsalted butter is ideal because it allows you to control the amount of salt that goes into a recipe. You can store any excess butter in the freezer.
Large eggs
Notice how I didn't just mention eggs, but I specified LARGE eggs. This was intentional, and it can make a difference in the outcome of a baking recipe. Standard recipes are based on using large eggs. The role of eggs in baking includes creating structure, stability, acting as a thickening agent, and adding moisture. Using any other size egg will mean either the addition or omission of egg in a recipe which will alter the outcome of your baked good.
Pure Vanilla
I can't stress enough the importance of using PURE vanilla extract. Any other extract is considered subpar. And when it comes to baking, using subpar ingredients will be noticeable in the final product. The role of vanilla not only imparts a pleasant flavor, but it also enhances the flavors of the other ingredients in a recipe.
All-purpose flour
If there is only one flour to select to stock your kitchen, I'm going to tell you it's all-purpose flour. The name certainly gives it away, I know. But when you stand in the baking aisle at the grocery store, it can be overwhelming to select from an array of all-purpose, cake, pastry, bread, self-rising, whole-wheat, and a variety of gluten-free flours. It's frustrating to find that your pastry flour has expired because you bought it for that one recipe and never used it again.
But I'm here to tell you that it's ok to not have every type of flour stocked on your shelf. And let me tell you why. The key thing to know is that the difference in the types of flour lies in the protein content (this determines how tender baked goods are, how much water is absorbed, the strength of dough, the volume of dough, and overall texture).
All-purpose flour has a moderate about of protein (10-12%) making it ideal as the staple flour. And if you enjoy baking cakes frequently, you might stock up on cake flour. But when it comes to trying out a recipe with pastry flour, you may not have known, but you can mix all-purpose and cake flour to achieve a protein content similar to that of pastry flour. So before you reach for a bag of flour at the store, do a little research so that you are not left with flour that you rarely use.
Baking powder
Baking powder is a leavening agent used in many types of baked goods. It releases carbon dioxide into the batter that already has bubbles. This gas expands these bubbles until the mixture is set in the hot oven, therefore, leavening your baked goods. It's important to use fresh baking powder that is not expired to ensure it's maximizing its important role.
Baking soda
Similar to baking powder, baking soda is another leavening agent that causes batters to rise when baked. When used in conjunction with baking powder, baking soda is added to neutralize acids in a recipe, add tenderness, and contribute to the leavening.
Salt
Similarly to vanilla, salt not only adds flavor to your baked goods but it also enhances all the flavors in a recipe. In bread baking, salt helps strengthen the gluten structure as well as control the fermentation process. When selecting salt, use kosher or sea salt. Both provide clean flavors without any additives. Always select a fine grain salt.
Chocolate
You can't have a baking pantry without chocolate. This includes cocoa powder, semisweet chocolate chips, and unsweetened baking chocolate squares. All three types are used frequently in baking. Always select better quality chocolate, you will notice the difference in your final products.
Whole milk
Milk plays an important role in cakes, cupcakes, pastries, and filling recipes. It helps with the structure of baked goods, adds flavor, moistens and helps create a golden-brown crust. Selecting whole milk is ideal as the extra fat allows for increased moisture and tenderness.
Yeast
For the bread baker, yeast is a must. It's not only essential for bread but also yeasted doughs such a cinnamon rolls. I always suggest keeping instant yeast on hand as opposed to active dry yeast. It's easier to work with (you simply add it in with your dry ingredients without having to activate it in water first). Store yeast in the refrigerator to maintain its freshness.
For more baking ingredient guides, check out these posts