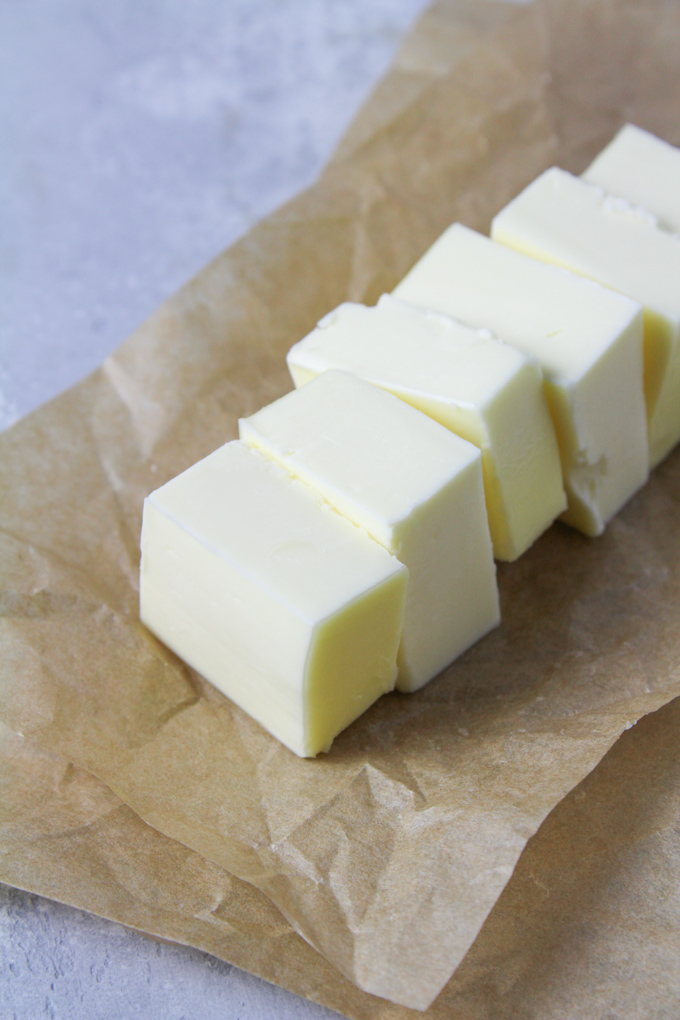 Butter! Who doesn't love it? Spread it on a piece of warm bread straight out of the oven...yum! But what about butter in baking? It is such an important ingredient that can be taken for granted. Should it be room temperature or cold, salted or unsalted? The answers to these questions can significantly alter the outcome of your baked goods. So let's look at some key points on baking with butter.
Salted vs. unsalted
Standing at the dairy aisle of the grocery store, you may wonder 'Does it really matter whether you bake with salted or unsalted butter?' Yes, it certainly does! Baking is a science and consequently it matters how much of each ingredient goes into your recipe. Most baking recipes call for salt and when you use a butter that already contains salt, you lose control of the quantity of salt that goes into your recipe. It's simple to suggest removing salt from your recipe and instead use salted butter. But not all brands have the same amount of salt in their butter, so how do you really know how much is being added to your recipe? By eliminating the unknown and consistently using unsalted butter in baking, the control of quantity of salt remains in your power and therefore you are better equipped with producing the ideal final flavor of your product. Additionally, as salt is a preservative, it extends the shelf life of salted butter and can mask any undesirable flavors. Using unsalted butter provides a much more cleaner and pure flavor.
European Butter
In addition to texture, butter certainly adds a lot of flavor to recipes. So should you use European butter which has a higher fat content and therefore more flavor? Well, that is a matter of preference. However, I find that using European butter in everyday desserts such as cupcakes, brownies, and cookies, does not have such an astounding impact as there are many other flavors that go into these items, such as chocolate, vanilla, nuts, fruits, etc. However, if you are willing to splurge on your butter, I would save it for items such as pie crust, puff pastry and croissants where the butter flavor is much more prevalent and pure.
Butter Temperature
When preparing to make a recipe, it is always key to note the temperature of your butter. Is it suppose to be softened, melted, or cold? These differences in temperature are determined by the needs of the recipe and if not followed properly, can severely affect the outcome of your baked goods.
Softened butter should be close to room temperature, malleable and able to hold its shape without looking oily. It should be slightly firm to the touch, yet leave the impression of your finger when you press into it. At this temperature, the fat is able to easily cream together with the sugar to create batters and doughs that produce tender cakes and cookies. The easiest and most effective way to soften your butter is to leave it at room temperature for 1 hour. This will allow for even distribution of temperature (as opposed to microwaving which is quick but inconsistent).
Cold butter is necessary for flaky pie doughs or tender biscuits and scones. When using cold butter, it does not fully incorporate into your dough and you are therefore left with small pieces of butter in your dough (this is ideal!). As a result, the pieces melt in the oven and release steam that create pockets of air and in turn result in a flaky, buttery crust or biscuit. Removing butter straight for the refrigerator immediately before using is ideal to keep your butter cold. If while working with your dough warms your butter too much, it is always best to pop your mixture into the refrigerator to cool your butter back down and not compromise your end result.
Melted butter is not as commonly found in recipes, but you will see it from time to time such as in pancake or brownie recipes. In these instances, the butter is adding primarily flavor and moistness to your end product and will also add a more soft texture. After melting your butter be sure to allow it to cool to room temperature before incorporating into your mixture.
Butter Substitutions
Often we are looking for ways to make a recipe more healthy such as swapping coconut oil for butter or just have a preference to certain ingredients. However, as mentioned earlier, baking is a science, and therefore quality and quantity of ingredients are key to the success of your recipe. If a recipe calls for butter, I would advise against swapping an alternative fat within the recipe as it will compromise the texture of your baked good (each fat has a different water content and/or different melting point). Instead, if you are looking for a more healthy alternative or substitution I would suggest seeking out a recipe that has been tested with these alternatives.