This post may contain affiliate links, please read my full disclosure policy.
Easy Strawberry Peach Crisp is made with fresh sliced strawberries and peaches topped with a simple buttery oat topping. Serve this warm with a scoop of vanilla ice cream for a simple sweet treat!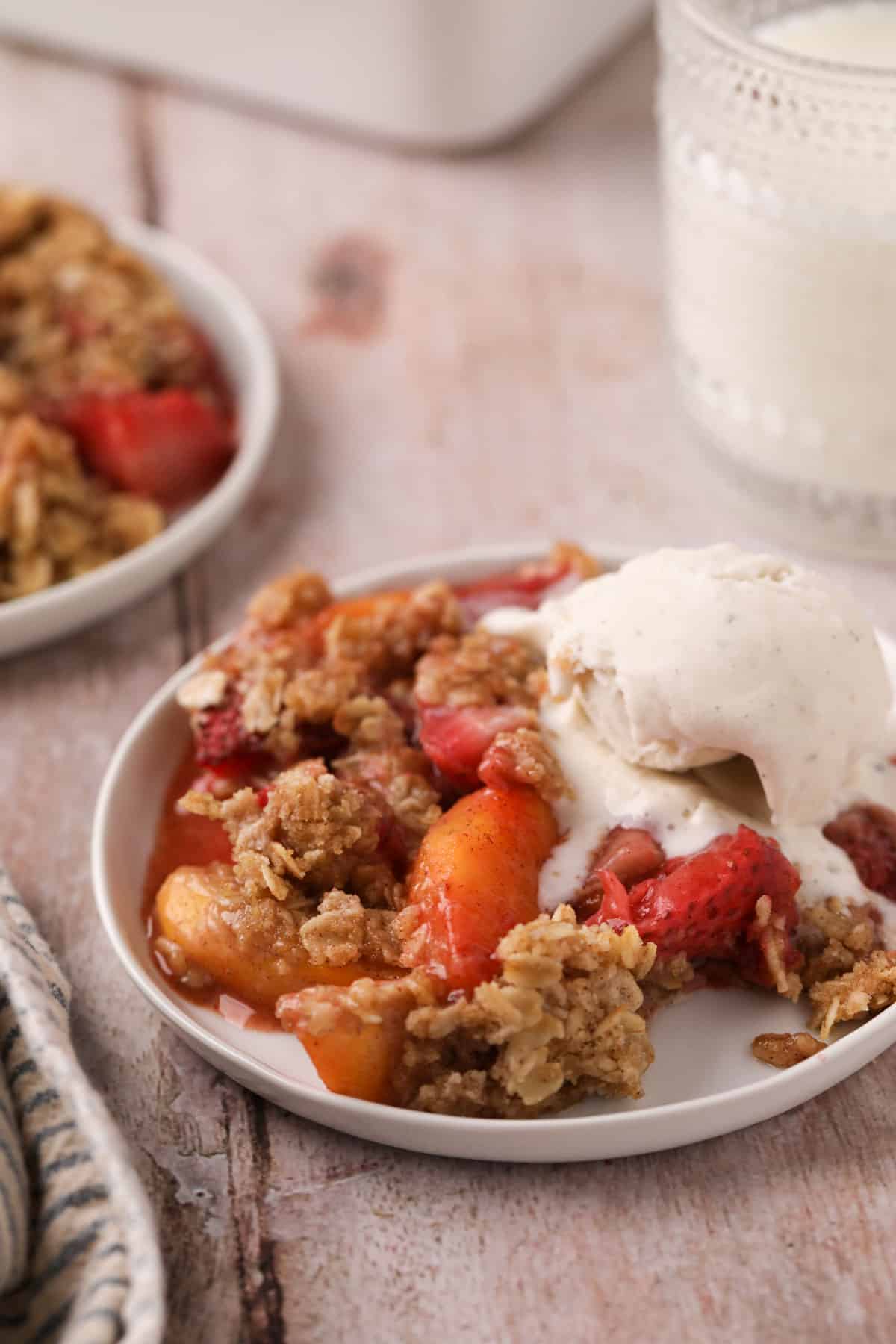 You've come to the right place if you're searching for a no-fuss, crowd-pleasing dessert. This easy strawberry peach crisp is made with fresh, seasonal fruit topped with a buttery oat crumble. As a busy mom of three, I love that this sweet treat is ready to serve in under 1 hour.
Seasonal fruit desserts are a favorite of mine, especially easy crisps. The combination of flavors is endless, and the buttery crumble topping is irresistible. Our favorite flavor combinations include strawberry apple, rhubarb pear, and cherry apple.
For this particular crisp, fresh sweet strawberries roast in the oven to create a syrup-like flavor. They're the perfect complement to fresh sliced peaches. Serve it à la mode with vanilla ice cream for the ultimate sweet treat.
Why You'll Love This Recipe
Quick and easy dessert. Easy peach strawberry crisp only takes 15 minutes to prepare using basic baking ingredients.
Cinnamon oat topping. This buttery crisp topping is an irresistible, crunchy, flavorful complement to the fresh strawberries and peaches.
Versatile. Mix and match your favorite fruits and flavors and make one large dessert or individual servings. There are so many easy variations to this simple dessert.
Ingredients You'll Need
Topping Ingredients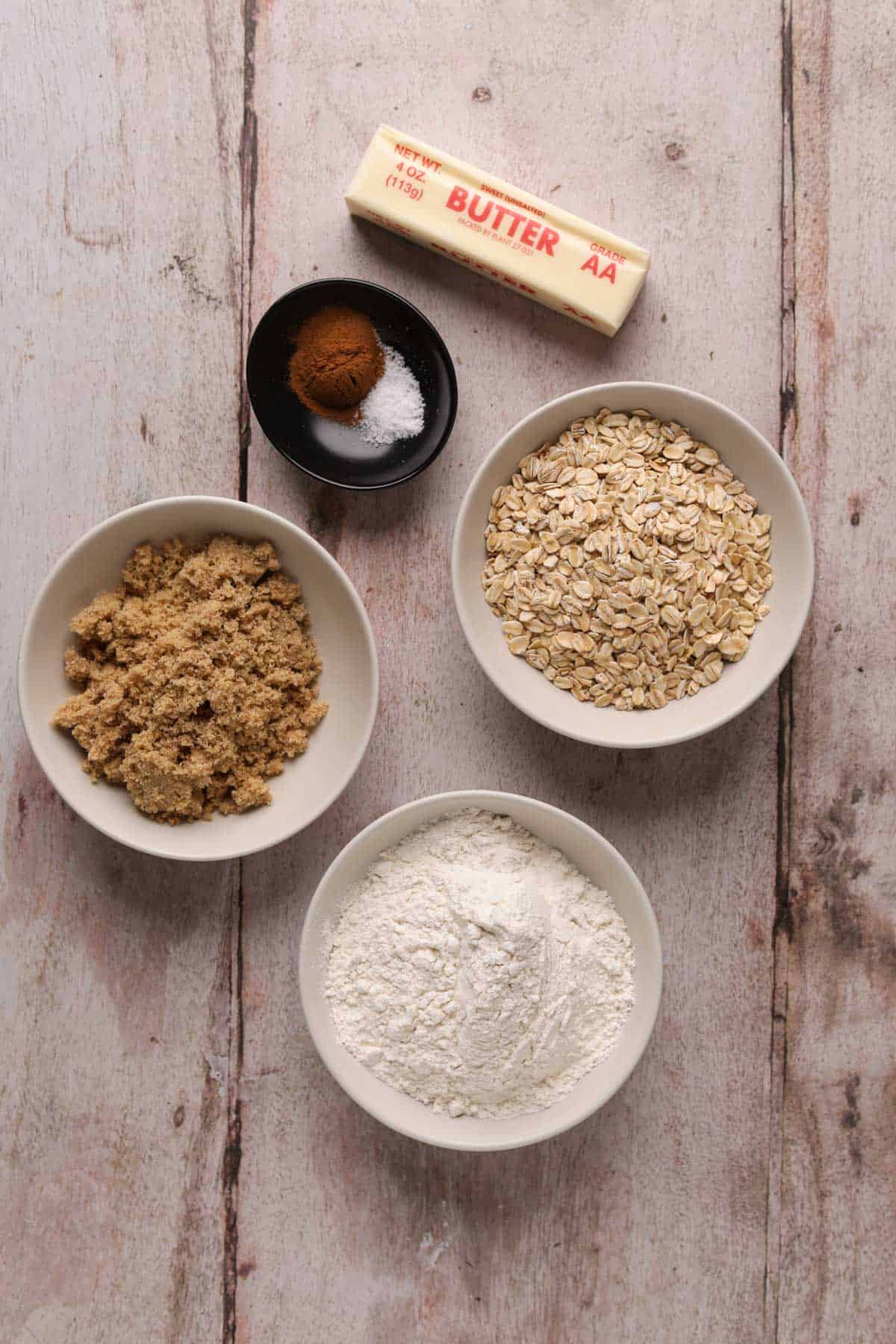 All-purpose flour. The key ingredient in the crisp topping. It helps hold everything together and gives crisp its crumbly texture.
Oats. Adds a slightly chewy texture and a nutty flavor to the crisp topping. Use old-fashioned oats for the ideal texture. Using quick oats will produce a softer texture.
Light brown sugar. Adds sweetness to the topping. Because of its higher moisture content than granulated sugar, brown sugar helps prevent the topping from drying out. The molasses in the brown sugar also helps with the browning of the crisp topping. You can also use dark brown sugar.
Cinnamon. Adds a warm, spiced flavor. Feel free to add more or less according to your preference.
Salt. A pinch added to the topping enhances the flavors of the other ingredients.
Butter. Adds moisture and a delicious rich flavor to the topping. When mixed with the rest of the ingredients, butter brings everything together. Cold butter slows the melting process during baking, which helps keep a crisp texture while the filling bakes.
Filling Ingredients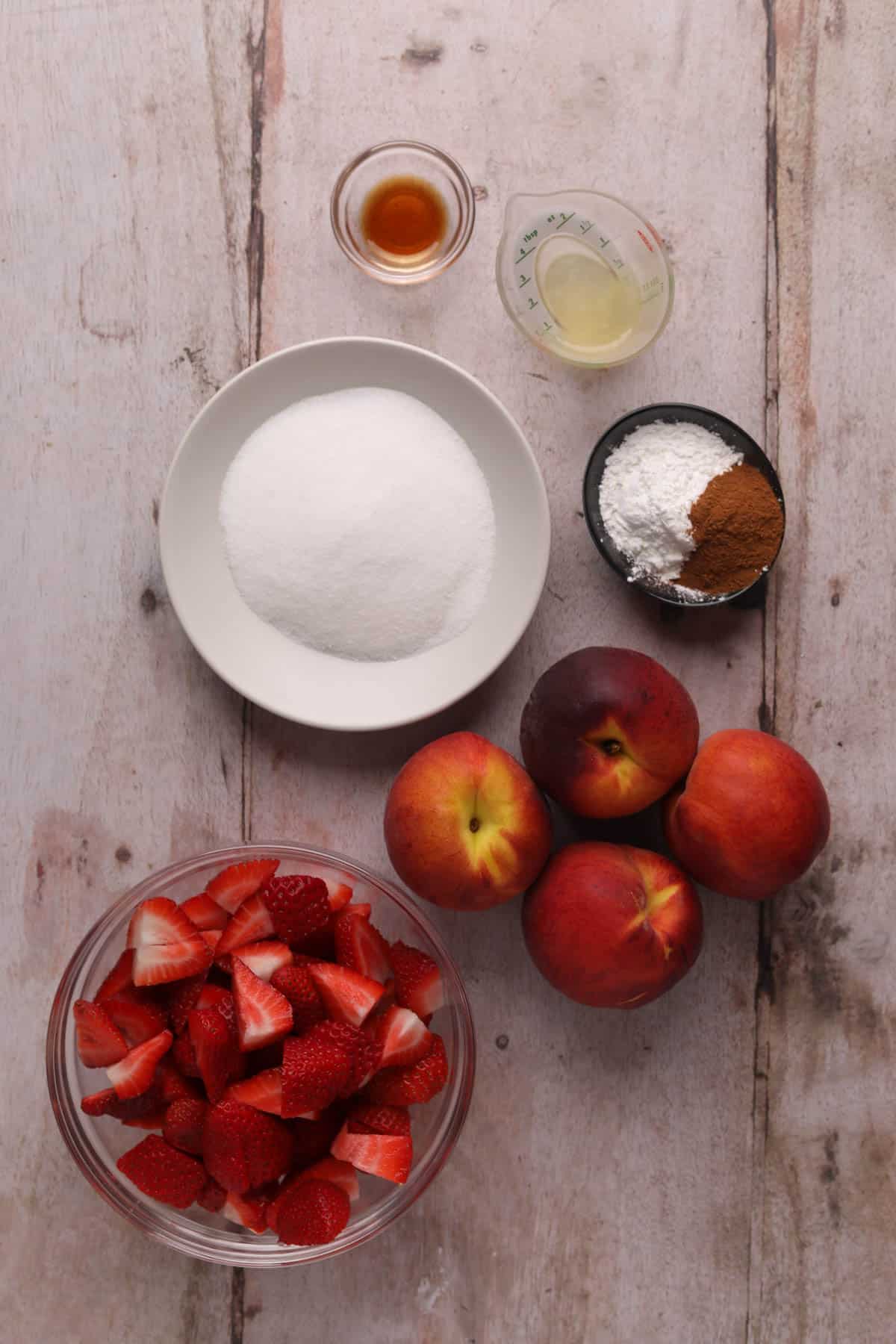 Peaches. Fresh seasonal peaches work best for this recipe. Select peaches that have some give when gently squeezed and have a sweet aroma. Ensure they are not overripe or mushy, or they can create a soggy crisp. If fresh peaches are unavailable, use frozen ones but completely thaw and strain excess liquid.
Strawberries. Use fresh seasonal strawberries for the best flavor. Select plum, bright red strawberries with green leaves. If not available, substitute with frozen strawberries (make sure to thaw and strain them from the liquid!).
Granulated sugar. Adds sweetness to the fruit filling and helps to draw out the moisture from the peaches and strawberries for a delicious syrup-like consistency.
Cinnamon. Adds a warm spice flavor.
Cornstarch. Acts as a thickening agent. I prefer cornstarch to flour because it produces a clear filling compared to flour, which can become cloudy. Ensure your filling is bubbling for the cornstarch to thicken the filling properly.
Lemon juice. Adds flavor to the filling and balances out the sweetness.
Vanilla. Always select a good quality pure vanilla extract for the best flavor.
Step-By-Step Instructions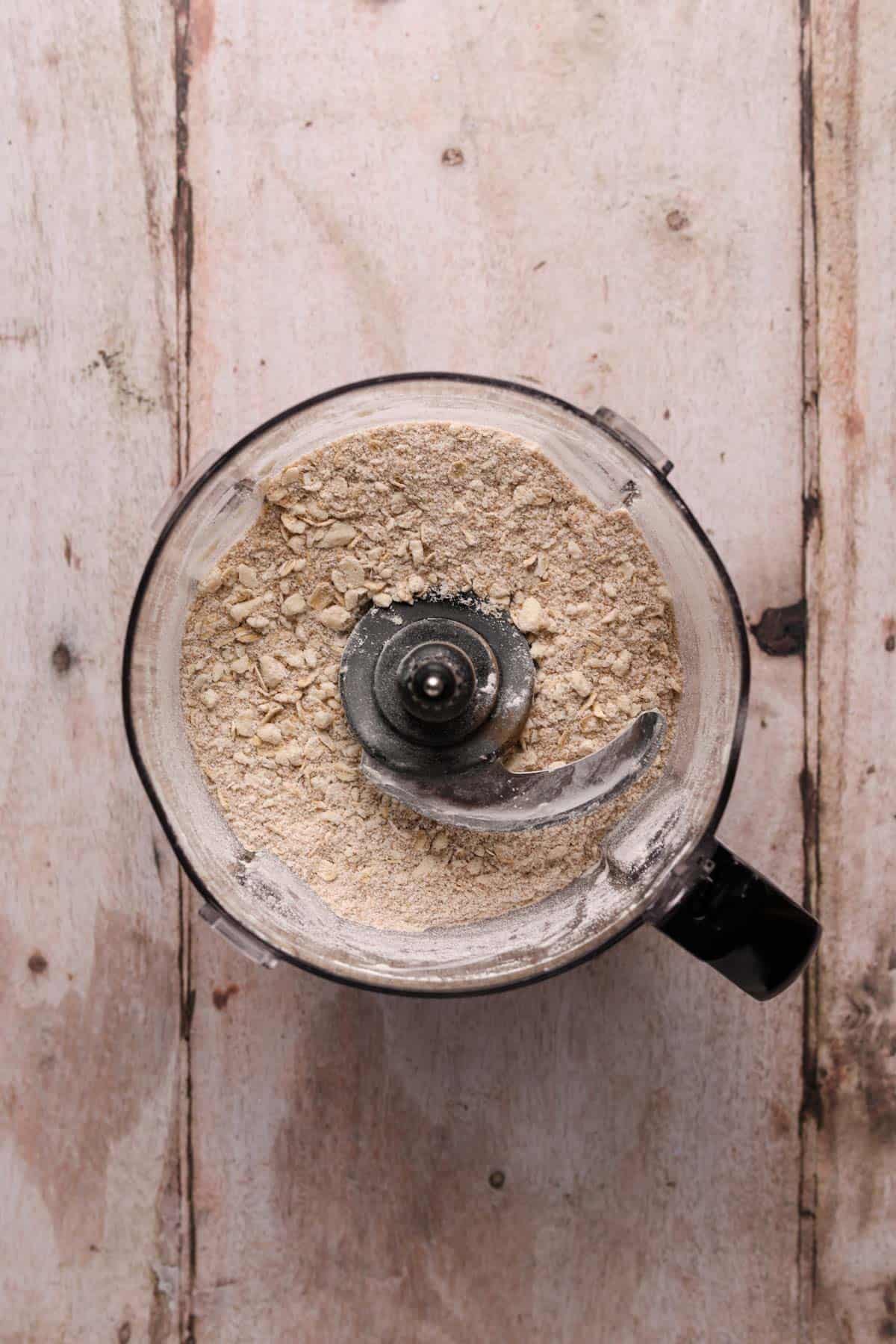 Combine dry ingredients. Pulse the flour, brown sugar, oats, cinnamon, and salt in a food process 2-3 times to combine. Add butter and pulse until a coarse meal.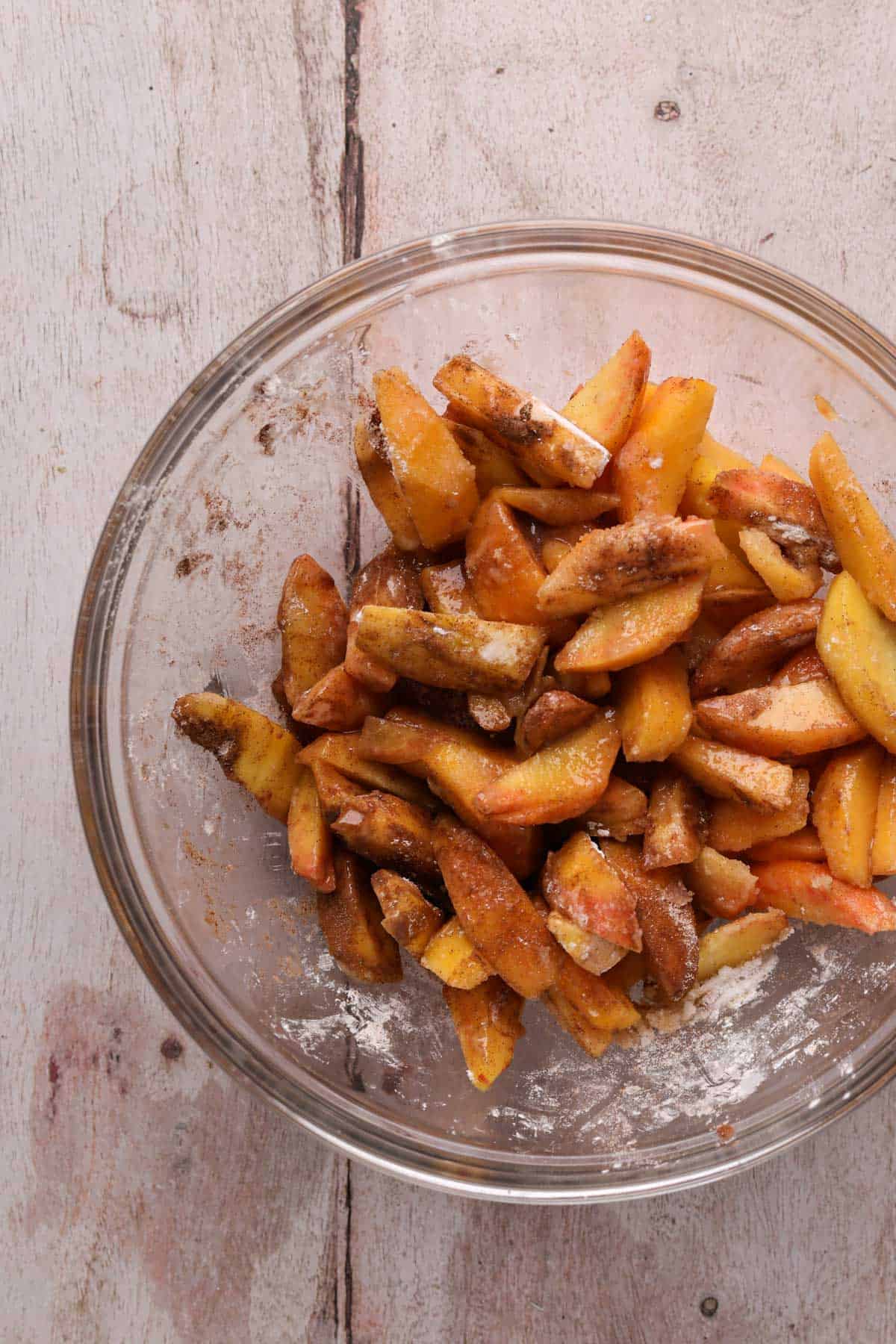 Combine peaches and flavorings. Mix the peaches, sugar, cornstarch, and lemon juice in a large bowl.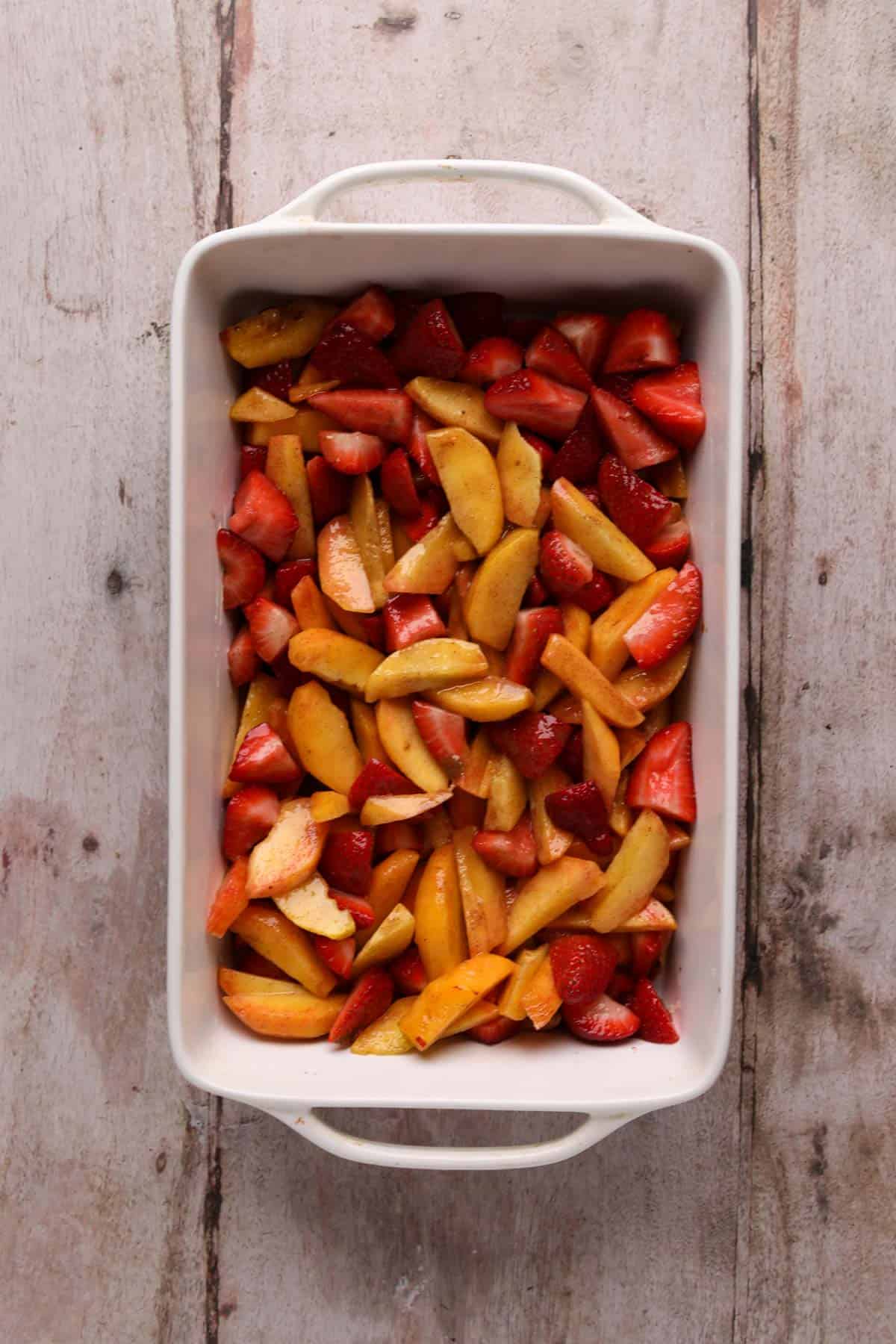 Add strawberries. Gently mix the strawberries into the peach mixture and spread into an even layer in the prepared pan.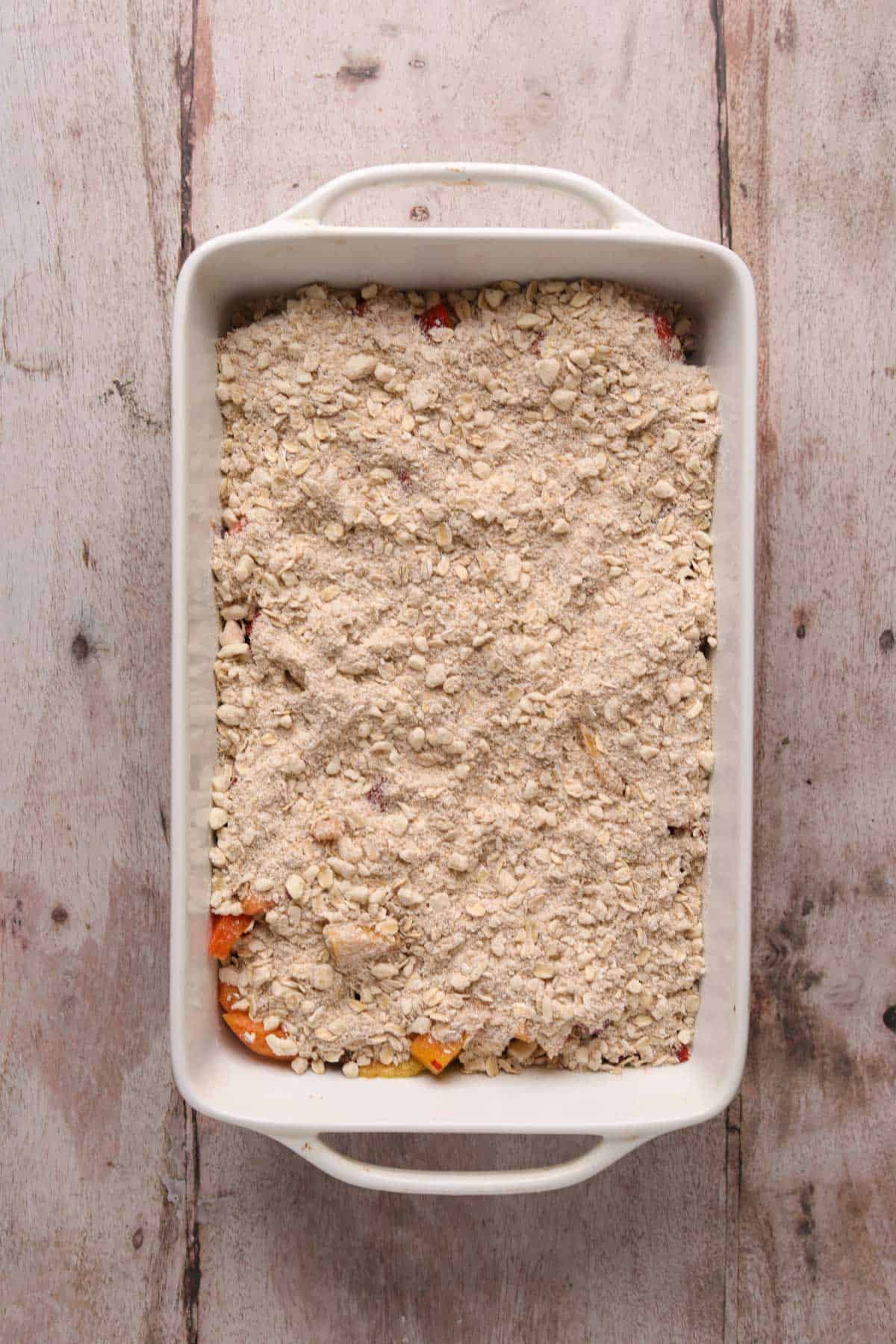 Sprinkle the topping and bake. Evenly sprinkle the topping over the filling and bake until the topping is golden brown.
Note: Keep the crisp topping in the refrigerator or freezer while preparing the filling to keep the butter cold! The colder the butter, the better for a crispy topping!
Recipe Tips & Tricks
As a trained pastry chef, I recommend following these guidelines for the perfect crisp. They are simple tips that can have a big impact!
Use cold butter. The temperature of the butter is key to achieving a crisp topping. You can dice and store in the refrigerator until ready to use.
Mix the filling thoroughly. Ensure the filling is thoroughly mixed to evenly distribute the sugar, cornstarch, and flavorings.
Taste the filling. Before adding the strawberry peach filling to the baking dish, taste for sweetness and adjust with more sugar if needed. During the beginning of the season, peaches and strawberries are less sweet than during peak season.
Evenly distribute the filling. Spread the filling into an even layer and sprinkle the crisp topping in an even layer to ensure even baking.
Recipe Variations
Add blueberries or blackberries. Substitute your favorite berries for the strawberries. Peach blackberry crisp is a delicious summer flavor combination.
Make individual desserts. Like peach cherry crisps, divide the filling between eight 6-ounce ramekins and sprinkle each with the crumble topping.
Use granola. Substitute the oats with ¾ cup oat-free granola or toasted coconut flakes for a tasty alternative with an extra crispy texture.
Gluten-free strawberry peach crisp. Replace the all-purpose flour in the oat topping with almond flour.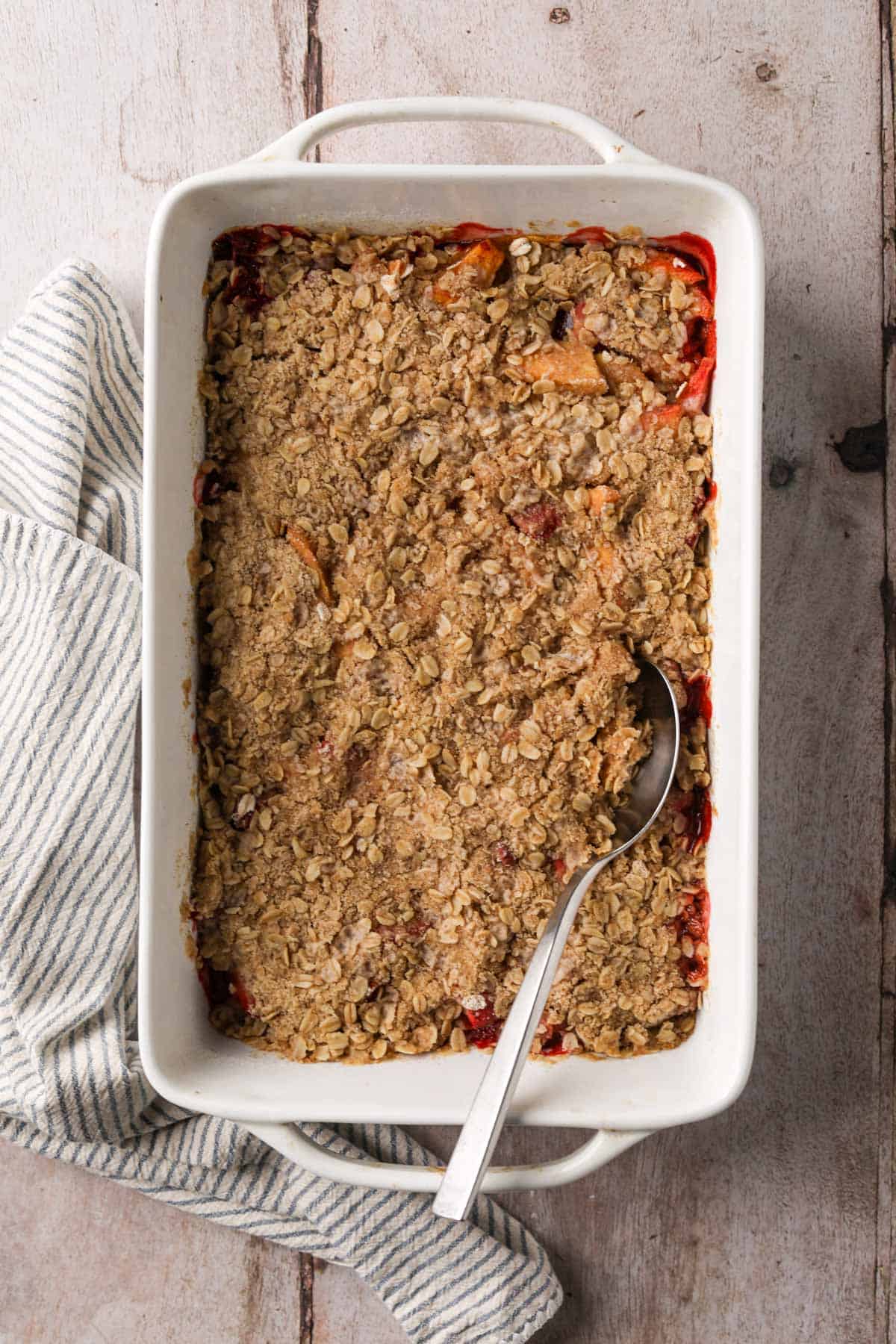 Equipment You'll Need
Digital kitchen scale or measuring cups. Using a scale will give you the most accurate measurements.
3-quart baking dish. An 8x11 baking dish works. You can bake crisps in a glass, metal, or ceramic baking dish. If using glass, add extra baking time because it takes longer for the glass to heat.
Food processor. If you don't have a food processor, you can use a pastry cutter or your fingers to work the butter into the dry ingredients for the topping.
Large bowl.
Storage Tips
In the refrigerator. Store leftover crisp covered in the fridge for up to 3 days.
In the freezer. Place the leftover fruit dessert into a freezer-safe container and freeze for up to 3 months. Thaw in the refrigerator overnight before serving.
Make ahead. Make the crisp topping ahead of time. Store in an airtight container in the refrigerator for up to 3 days, or store in a freezer-safe bag and freeze for up to 3 months. Add the topping to the filling and bake without thawing.
Reheat: Re-warm peach and strawberry crumble in a preheated 350°F/177°C oven to warm it evenly and ensure the topping is crispy and not soggy. Bake until the peach filling is warmed through and bubbly.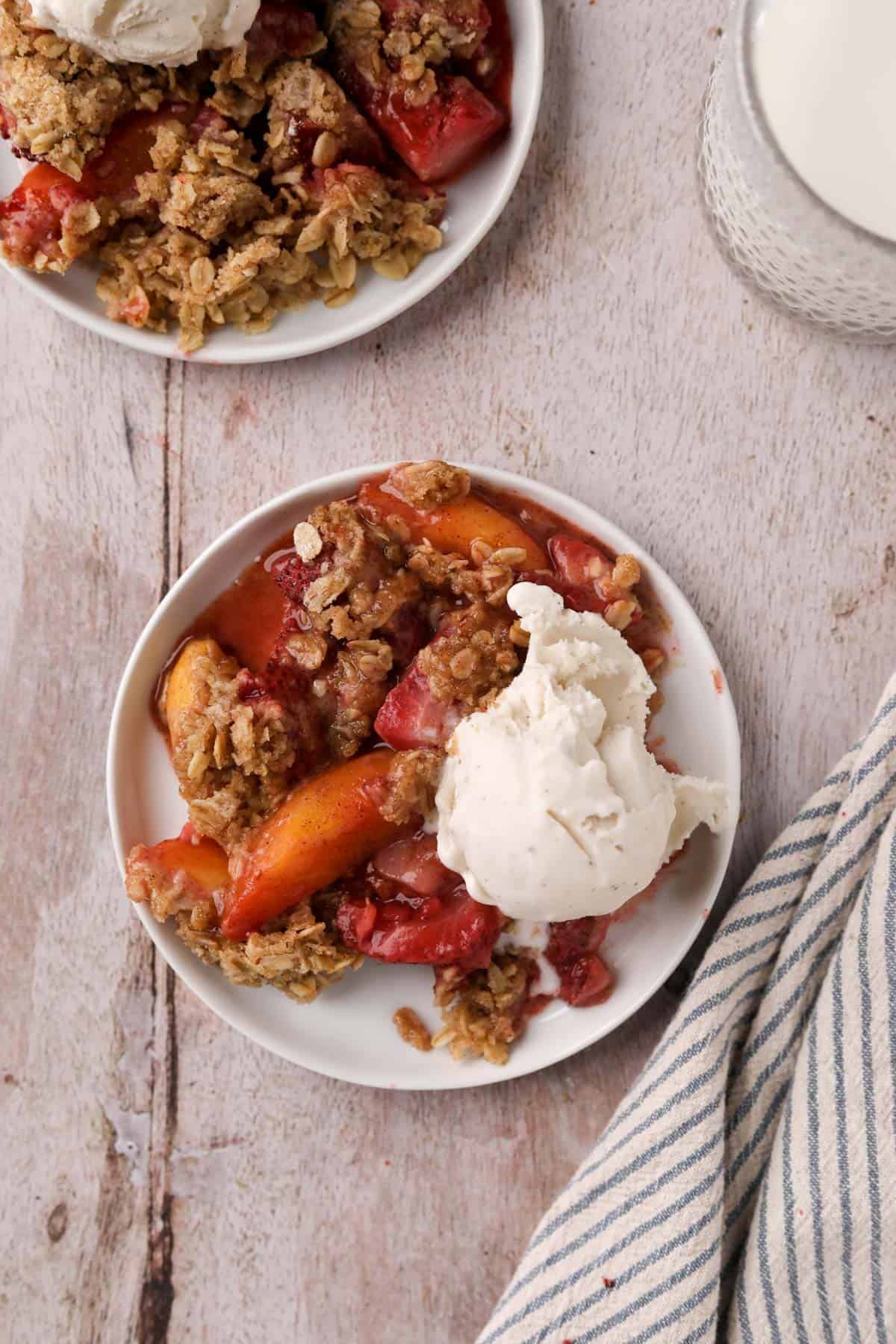 FAQ
Can I use frozen peaches and strawberries?
Yes, you can use frozen fruit as long you thaw them completely and drain any excess moisture.
How can I soften peaches quickly?
Add peaches to boiling water and cook for up to 5 minutes until fork tender. You don't want them to become too soft.
How do you keep strawberry peach crisp from getting soggy?
Select peaches that are ripe but not too soft. Also, use a large enough (3 quarts) baking pan to ensure the fruit isn't overcrowded so the steam can easily escape during baking.
Should I refrigerate peach crisp?
It's best to store leftover crisp in the refrigerator to keep it fresh.
What is the difference between peach crumble and peach crisp?
Crumbles use flour, sugar, baking powder, and melted butter to create a crumbly texture. Crisps use flour, butter, sugar, and oats or nuts to create a crispy and crunchy texture.
Please leave a starred rating and comment below if you make this Strawberry Peach Crisp. I love reading your feedback! And if you'd like to make this recipe later, don't forget to pin it on Pinterest! Happy Baking!
Print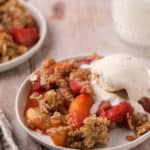 Easy Strawberry Peach Crisp
---
Description
Easy Strawberry Peach Crisp is made with fresh sliced strawberries and peaches topped with a simple buttery oat topping. Serve this warm with a scoop of vanilla ice cream for a simple sweet treat!
---
Topping
140 g

(

1 cup

) all-purpose flour

90 g

(

3/4 cup

) old-fashioned oats

110

(1/2 cup) light brown sugar

1 teaspoon

ground cinnamon

1/4 teaspoon

salt

113 g

(

1/2 cup

) cold unsalted butter, cubed
Filling
624 g

(

5 cups

) firm ripe peaches, about 6-8 peaches peeled and sliced

110 g

(

1/2 cup

) granulated sugar

3 tablespoons

cornstarch

1 1/2 teaspoons

ground cinnamon

2 tablespoons

fresh lemon juice

1 teaspoon

pure vanilla extract

450 g

(

3 cups

) quartered fresh strawberries
---
Instructions
Preheat the oven to 350°F/177°C. Butter a 3-quart baking dish (8x11-inch) and set aside.
Topping
Add the flour, oats, brown sugar, cinnamon, and salt to a food processor. Pulse 2-3 times to combine.
Add the butter and pulse 4-6 times or until the mixture resembles a course meal. Refrigerate while preparing the filling.
Filling
Place the peaches in a large mixing bowl and combine with the sugar, cornstarch, cinnamon, lemon juice, and vanilla extract.
Add the strawberries and gently mix to combine.
Pour the filling into the prepared baking dish and spread it into an even layer. Evenly sprinkle the topping over the filling.
Bake for 35-40 minutes or until the fruit is bubbling and the topping is golden brown.
Notes
Storage: Store leftover crisp covered in the fridge for up to 3 days or in a freezer-safe container and freeze for up to 3 months. Thaw in the refrigerator overnight before serving.
Freezer: Tightly cover unbaked crisp with plastic wrap and aluminum foil and freeze for up to 3 months. Baked covered with aluminum foil in a 350°F/177°C oven for 20 minutes, then remove foil and bake 35-40 minutes.
Prep Time:

15 minutes

Cook Time:

40 minutes

Category:

Pies & Crisps

Method:

Baking
Keywords: peach strawberry, strawberry peach crumble, summer dessert