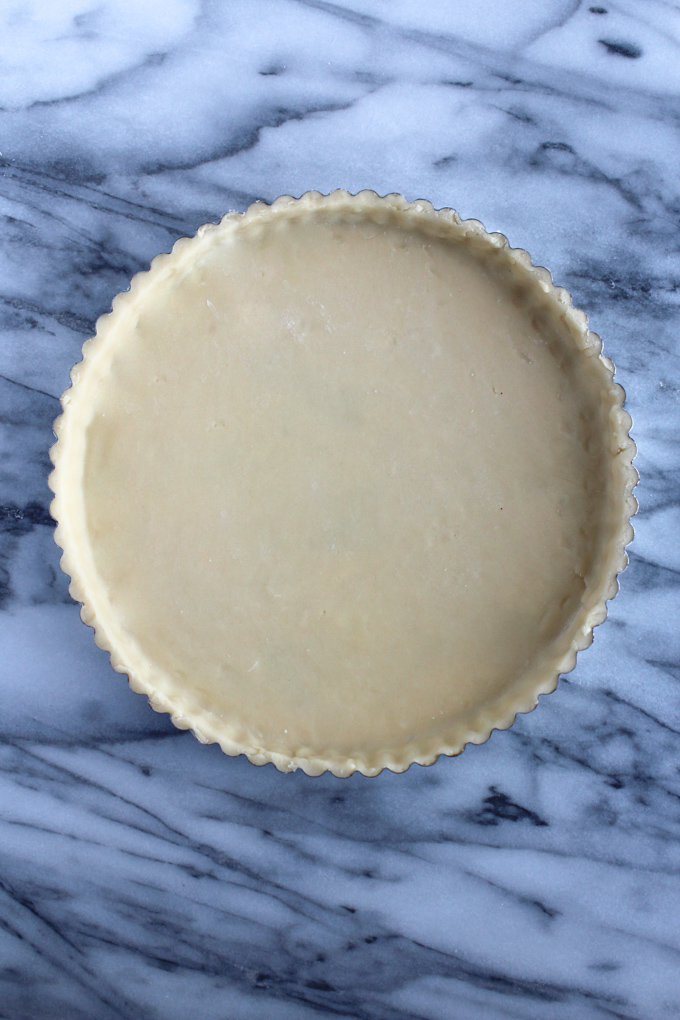 I've been to Paris once in my life. It was a family vacation and I was almost 13 at the time (it's crazy to say that it was almost 20 years ago!!!). Some of my favorite memories from that summer vacation were the French pâtisseries. Having a passion for baking from such a young age, it goes without saying that these memories of the magical French pastry shops would forever stay with me!
Classical French pastries are not only delicious but are beautifully constructed, almost too pretty to consume. I find that the tarts are especially aesthetically pleasing! The time and effort put into these masterpieces are well worth the outcome. And it's important to note that all tarts must begin with a solid foundation, a well constructed tart shell!
The French have several pastry doughs in their repertoire depending on what sweet or savory treat they are making. Today I want to share with you a recipe for one such dough, pâte sucrée. This is a French term referring to a rich, sweetened, short pastry that is used primarily for fresh fruit tarts or cream filled tarts. When referring to 'short,' this means the fat in the dough (butter) shortens the gluten strands by preventing them from fully developing as they would in a baked good such as bread. Consequently, we are left with a tender and crumbly delicious crust.
This recipe will become a basic recipe for you to refer to when making sweet tarts! It yields two 9-inch tart shells or eight 4-inch tart shells. It can easily be made a day ahead. Any extra dough can be frozen for up to 3 months only needing to be thawed overnight in the refrigerator before being rolled out. To achieve a perfect crust, it is important to chill your dough twice. Once after the dough has been mixed and a second time once the dough is in the tart pan.
Print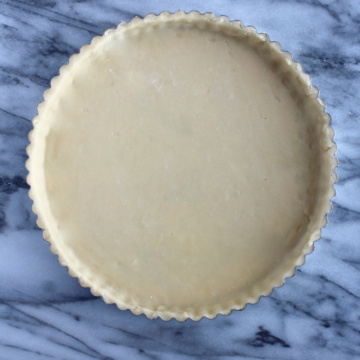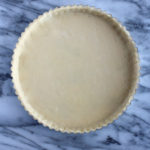 Pâte Sucrée
---
Yield:

2

-

9

-inch tarts or

8

-

4

-inch tarts

1

x
1 1/2

sticks (170 g) unsalted butter at room temperature

1 cup

(

130 g

) powdered sugar

1/4 teaspoon

(

1.4 g

) salt

1 teaspoon

(

4 g

) pure vanilla extract

1

large (50 g) egg

2 1/2 cups

(

285 g

) cake flour, sifted*
---
Instructions
In a stand mixer fitted with the paddle attachment, cream the butter, sugar and salt on medium speed for about 2 minutes or until you have a homogenous mass.
Scrape down the sides of the bowl and the paddle with a rubber spatula and add egg and then vanilla to your mixture while beating on low speed just until incorporated.  Scrape down the bowl and paddle.
Gradually add the sifted flour and mix just until the dough comes together.  Do not over mix!  The dough will feel soft to the touch but not sticky.
Scrape the dough out of the bowl and shape into a 1/2" thick square.  Wrap with plastic wrap and chill in the refrigerator for at least 1 hour or overnight.
For a 9-inch tart, remove the dough from the refrigerator and divide into two equal pieces. Place 1 portion back into the refrigerator.  Roll out the second portion into a 1/4-inch thick circle and line a 9-inch tart pan.  Use a sharp knife to cut any excess dough.   Using a fork, perforate the bottom of the tart shell.  Refrigerate uncovered for at least 1 hour or overnight.
Position oven rack to middle of the oven and preheat to 325°F/160°C.  Line the tart shell with a piece of parchment paper and fill with baking weights/dried beans/rice.  Bake tart for 15 minutes then remove parchment with weights and continue to bake for an additional 15 minutes or until lightly golden brown.
Allow to cool completely before filling.
Notes
*When using cups, measure after sifting flour for best results.
For 4-inch tarts, follow same procedure.  Except bake in preheated oven for 10 minutes.  Remove parchment and weights and continue to bake for an additional 8 to 10 minutes or until lightly golden brown.