Thin and chewy chocolate chunk cookies are crispy on the edge and loaded with chocolate.  Delicious on their own or perfect for making into ice cream sandwiches for a summer treat.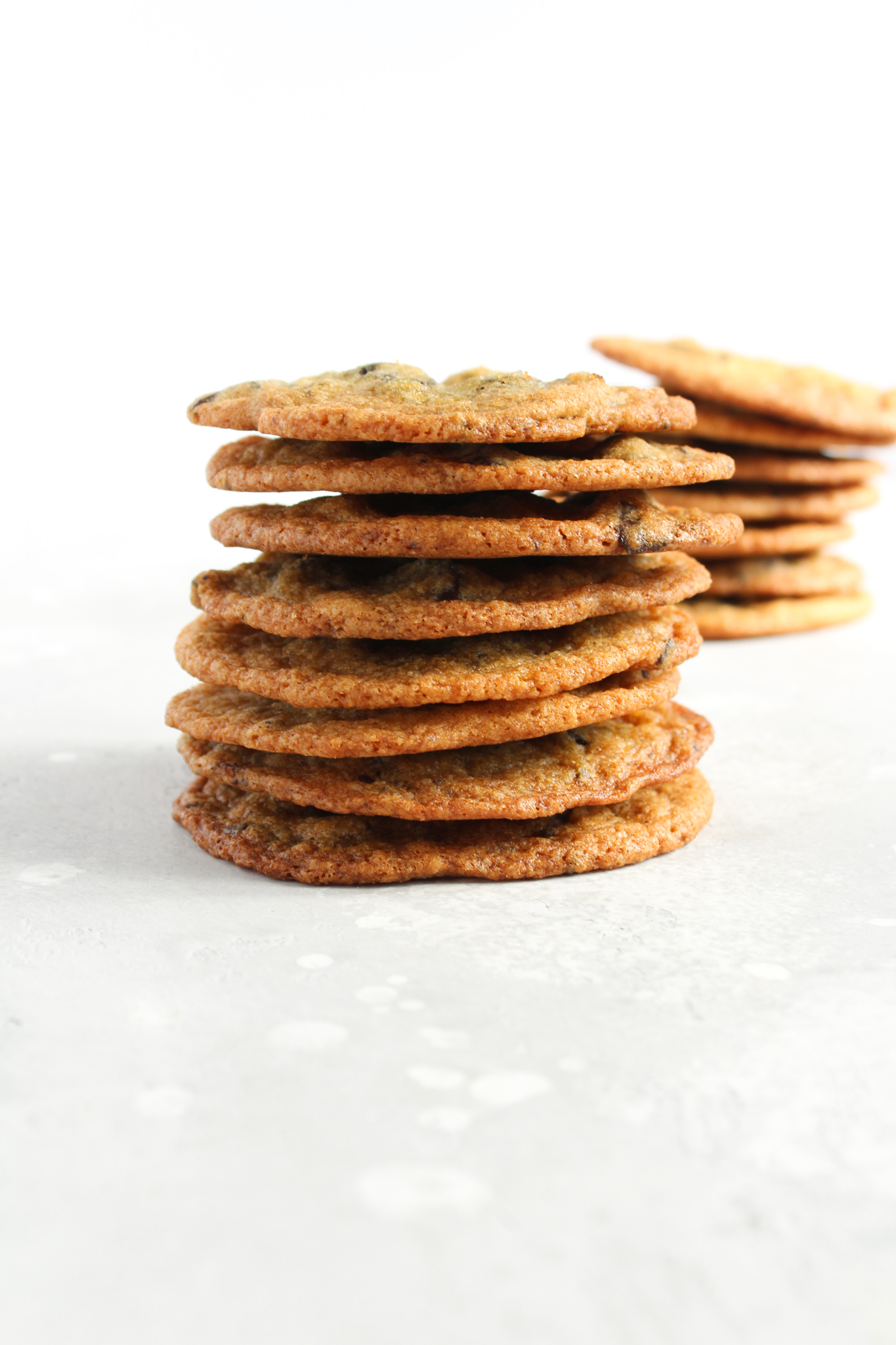 These chocolate chunk cookies are definitely my new favorite cookie.  I love that they are thin and crispy on the edges yet still chewy in the middle and packed with so many chocolate chunks.  They go wonderfully with a cold glass of milk, and for an added indulgence, these cookies make the ultimate ice cream sandwiches.
How to make super thin cookies
Making thin cookies comes down to the science of cookie baking.  It specifically has to do with the ratio of ingredients.  A higher sugar and butter to flour ratio will create cookies that are thin and crispy.  Because there is more butter and sugar relative to the other ingredients, the dough will not only melt more quickly but also spread more.   Additionally, the "extra" sugar will allow the cookies to get more crispy around the edges.
It is very important to measure your flour correctly to allow for the proper sugar and butter to flour ratio.  You must measure your flour using the "spoon and level" method.  In other words, using a spoon, scoop the flour into a measuring cup and level it with the back of a knife.  It does not mean scoop the flour with a measuring cup, pack the flour down into the measuring cup or tap the measuring cup to allow the flour to settle.  These three methods will result in extra flour measured and therefore an incorrect ratio of sugar and butter to flour.  Too much flour and you will not get thin cookies with crispy edges.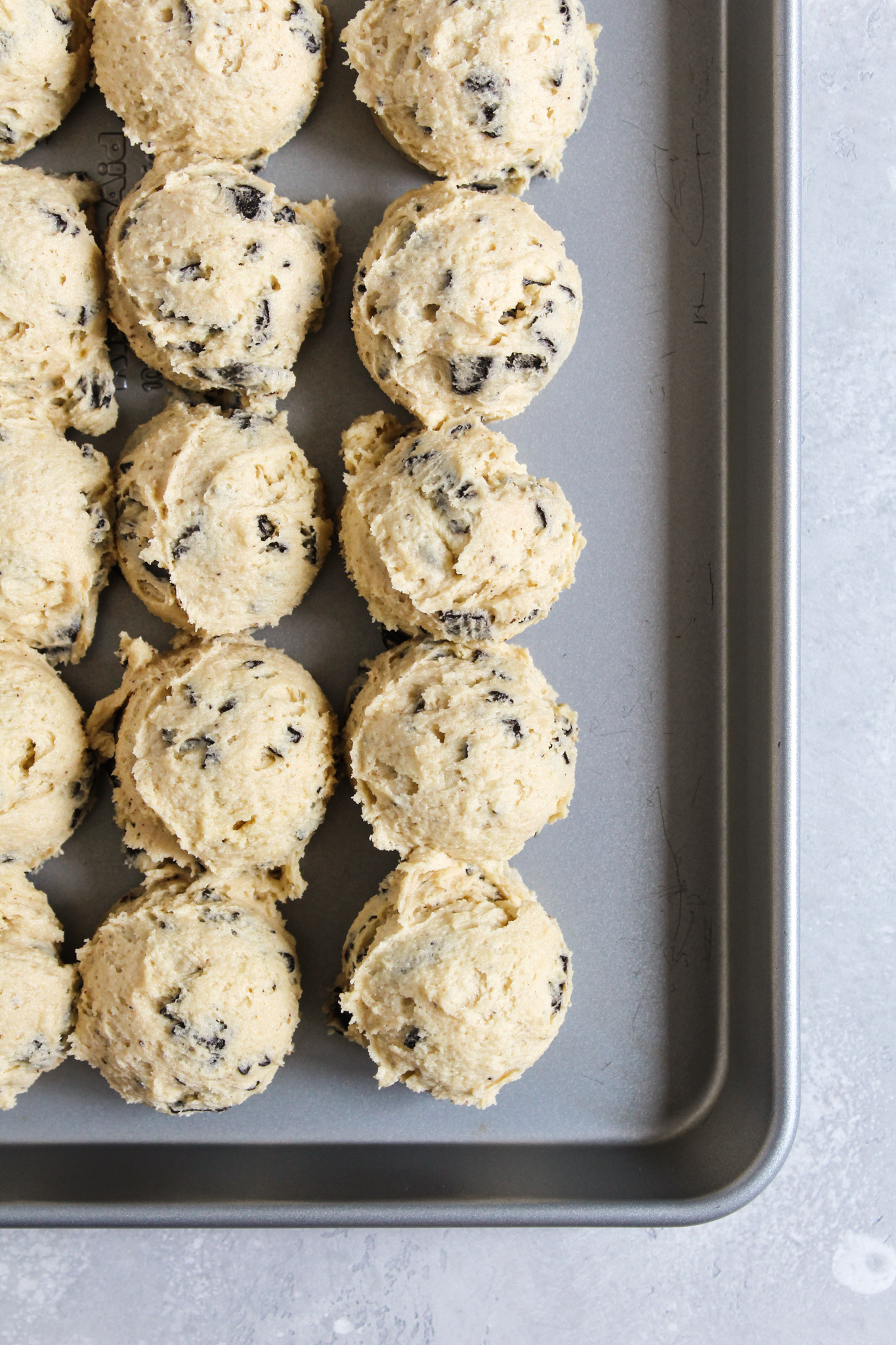 Prepping your cookie dough for baking
Different recipes call for different methods of scooping your cookie dough and adding it to your prepped baking pans.  Some recipes call for rolling the dough into balls while others call for rolling into balls and slightly flattening them into disk like shapes.  It is so important to follow a recipe's directions because different methods will produce different results.  For example, flattening the cookie dough will cause the cookies to bake faster and spread thinner.
Because this recipe calls for a higher ratio of butter and sugar to flour, the cookies will naturally spread thin.  So to prep this cookie dough for baking, use an ice cream scooper to scoop approximately 1.5 tablespoons of dough right onto your prepared baking sheets.  Allow 2-inches of space between each cookie.  And that's it!  No need to roll into balls or any other tricks.  This dough will naturally spread, and because of the higher butter content, if you try to roll into balls you will just have one big mess (sticky dough all over your hands for no reason).

Baking equipment for making chocolate chunk cookies
There are no special tools required for making these chocolate chunk cookies.  However, I do suggest a few tools that will make the process that much easier.
Using a stand mixer or handheld mixer is the easiest and most efficient way to properly cream butter and sugar.  With this type of equipment, it takes about 5 minutes to achieve a mixture that is fluffy and light in color.  Of course you can do this by hand using a wooden spoon, but it is much more difficult to achieve the proper texture.  And achieving a mixture that is fluffy and light in color properly aerates your cookie.  In other words, you cookies will rise in the oven and spread more evenly.
The ice cream scoop method.  Yes it's a thing, and I'm sure you have probably heard this before.  Using an ice cream scoop will help you consistently measure the same amount of dough for each cookie. Additionally, it reduces the amount of mess because you don't have to touch the dough to measure it this way, especially in this recipe where you add your measured dough directly to prepared baking sheets with no added steps.
Large baking sheets will save you time!  These cookies spread thin so you must allow for 2-inches of space between each cookie on your baking tray.   The bigger the baking sheet pans, the more cookies you can bake at a time.  I always use the biggest baking trays that will fit into my oven for all my baking.  Additionally silicone baking mats are great for lining your baking sheets to prevent your cookies from sticking.  They can be reused over and over again and are easy to store.
For more cookies
Print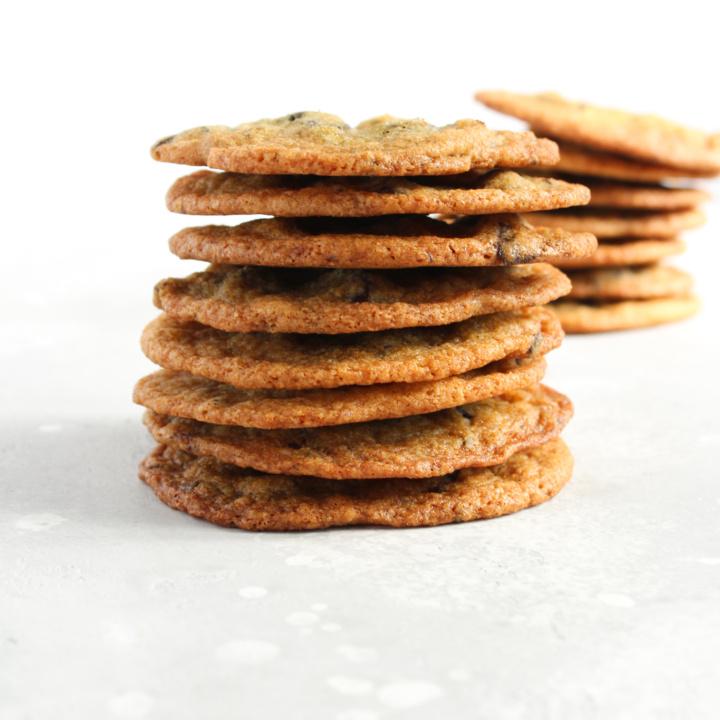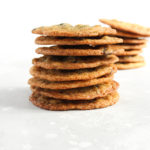 Chocolate Chunk Cookies
---
Author:

Maria

Yield:

4

dozen

1

x
Description
Thin and chewy chocolate chunk cookies are crispy on the edge and loaded with chocolate.  Delicious on its own or perfect for making into ice cream sandwiches for a summer treat.
---
2 cups

(

240 g

) all-purpose flour

1 teaspoon

baking soda

1/2 teaspoon

salt

1 cup

(

226 g

) unsalted butter, at room temperature

1 cup

(

200 g

) granulated sugar

1/2 cup

(

100 g

) packed light brown sugar

2

large eggs (

100 g

)

2 teaspoons

pure vanilla extract

12 oz

semisweet chocolate chunks (about

2 cups

)
---
Instructions
Preheat oven to 375°F/190°C.  Line large baking sheets with parchment paper or silicone baking mats.  Set aside.
In a medium bowl, whisk together flour, baking soda and salt.  Set aside.
In a large bowl using a hand-held mixer or stand mixer with the paddle attachment, beat the butter on medium speed until completely smooth and creamy.  Add the sugars and mix on medium speed until fluffy and light in color, about 5 minutes.
Mix in eggs one at a time and scrape down the sides and bottom of the bowl after each addition.  Add vanilla extract and mix until combined.  On low speed, slowly add flour mixture into butter mixture until just combined.  Mix in chocolate chunks until evenly distributed.
Scoop dough, about 1.5 tablespoons each, and place about 2-inches apart on prepared baking sheets.  Bake for 10-12 minutes or until edges are golden brown.  Remove from oven and allow to cool for 5 minutes on the cookie sheet.  Transfer to a cooling rack to cool completely.
Keywords: chocolate chunk cookies, cookies
Pin it for later