This post may contain affiliate links, please read my full disclosure policy.
Brown Butter Toffee Cookies are chewy and packed with tons of flavor.  They have a delicious combination of vanilla, easy-to-make brown butter, and chocolate-covered toffee pieces that are sure to be a hit!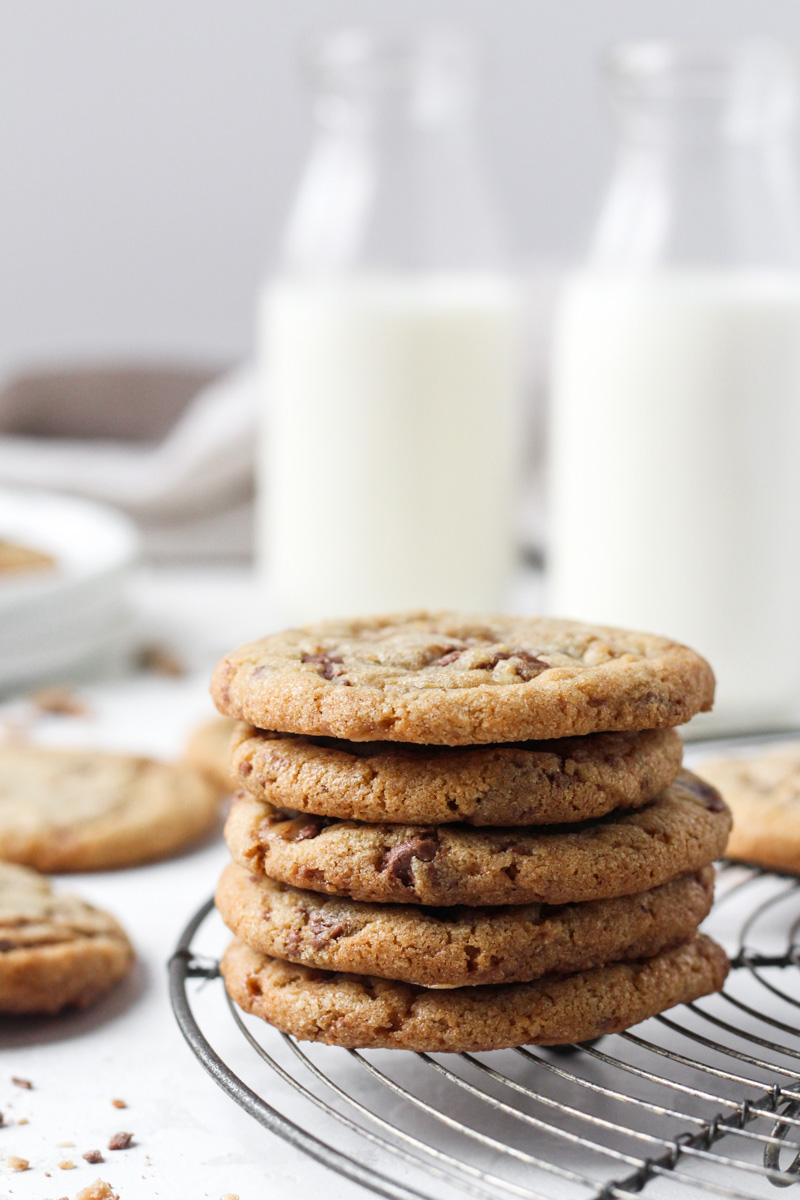 These brown butter toffee cookies have a soft and chewy center with a slightly crunchy edge and bits of chocolate toffee throughout.  They're not just any regular toffee cookies but prepared with brown butter for a next-level flavor.  Trust me, you won't want to stop indulging after just one cookie.  All you need with these bakery-style cookies is a cold glass of milk.
Why this recipe works
Soft and chewy cookies.
Made with 9 simple ingredients.
Refrigerate overnight for maximum flavor.
Has a decadent combination of chocolate and toffee.
Before you begin
Take out the following baking equipment.
Digital kitchen scale
Small saucepan
Wood spoon
Large mixing bowl
Medium mixing bowl
Sifter
Whisk
Silicone spatula
Plastic wrap
2 baking sheet pans
Parchment paper
Large ice cream scoop
Wire cooling rack
Allow your eggs to come to room temperature.
Read the recipe through from start to finish.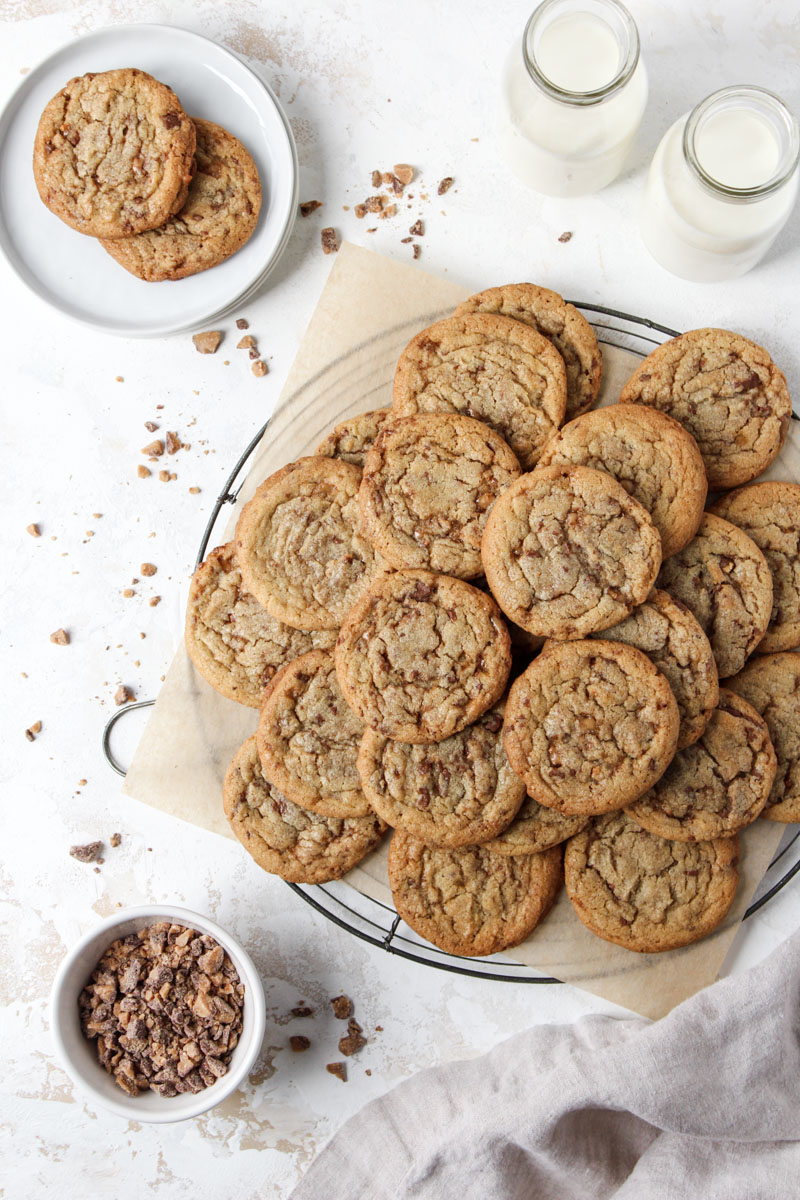 Understanding ingredients
The key ingredient for these cookies is brown butter, which adds a rich, nutty flavor.  It's essentially clarified butter, which is made by heating the butter to evaporate the water and separate the milk solids. The only difference is that brown butter is cooked until the milk solids caramelize, providing a bolder flavor.
Using a combination of brown sugar and granulated sugar gives cookies a nice spread and a subtle caramel flavor.  Brown sugar contains molasses, which adds moisture to cookies and creates a softer and chewier cookie. Instead of using a 50/50 ratio, I increased the amount of brown sugar so that these cookies would be chewier.  Using the granulated sugar helps with the spread of the cookies.
Toffee is made by caramelizing sugar and butter.  It's similar to caramel but cooked to a higher temperature to create its classic brittle texture.  For these brown butter cookies, use your favorite toffee.  I prefer using chocolate-covered toffee bits for an extra decadent flavor.
How to make brown butter for toffee cookies
In a small saucepan, melt the butter over medium-high heat.  Cook, while occasionally stirring, until the butter begins to have brown specks throughout. You will begin to smell the nuttiness of the butter. Remove the saucepan from the heat and transfer the butter to a large mixing bowl.  Set aside to cool, but not thicken. It's important not to burn the butter.  Not only will it taste burnt, but it will also evaporate too much liquid and affect the consistency of your cookie dough.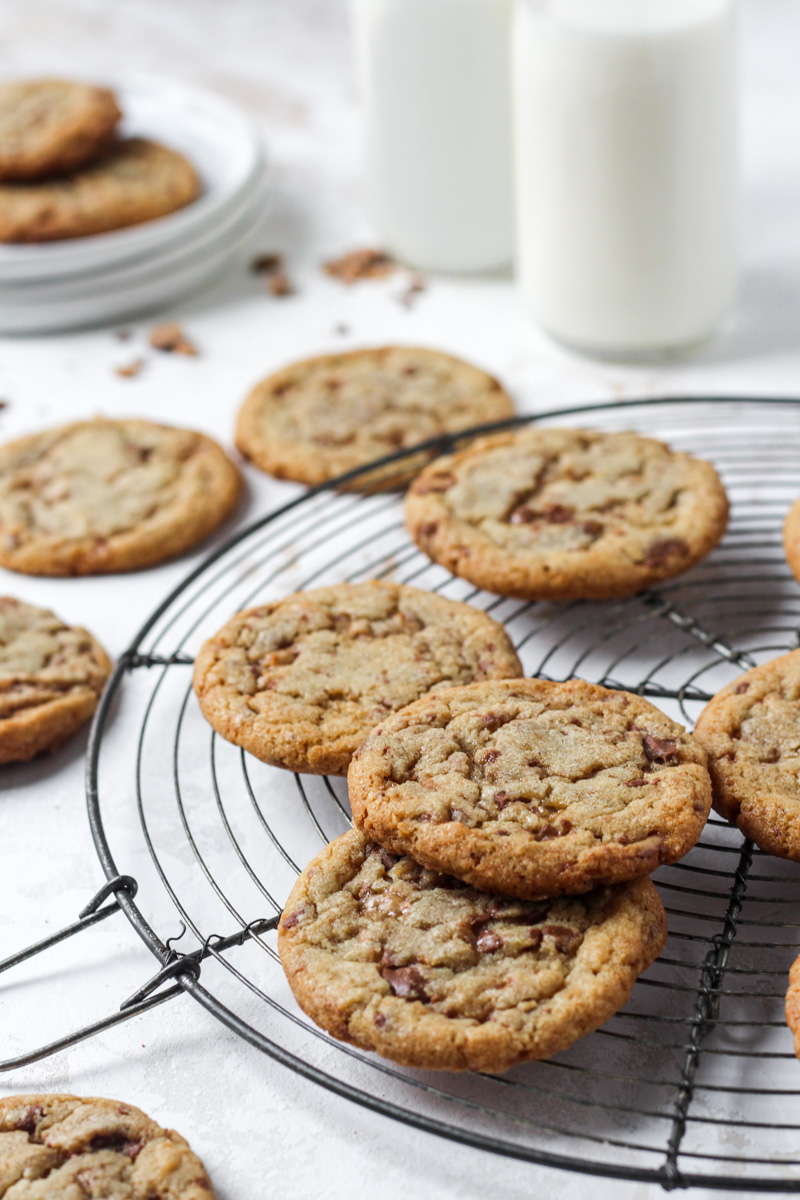 Can I substitute brown butter in any cookie recipe?
Brown butter adds a wonderful flavor to cookie recipes.  It can transform a good cookie into a great cookie, which may make you wonder if you can use brown butter in any cookie recipe.  The short answer is no, you cannot.  It'll work for some recipes, while for others, you have to test and adjust to accommodate the substitution.
Why can't I always substitute brown butter? If a recipe originally calls for softened butter, using brown butter is not a simple substitution.  The temperature of butter affects the overall texture of cookies.  Adjusting baking recipes is very different than adjusting cooking recipes.  Baking is a science and requires a bit more testing to achieve the ideal outcome.
As you boil butter during its browning process, a good amount of moisture is lost.  Translate this into your cookie dough, and this loss of moisture will affect the final taste and texture of your cookies.  If you'd like to use brown butter, you will have to make up for that loss.  You could add extra butter or egg, but this also adds extra fat, which again can affect the texture.  Instead, you could experiment with adding a small amount of milk.
Refrigerating cookie dough
It's important to refrigerate this cookie dough for at least two hours or preferably overnight before baking.  Because this recipe calls for brown butter, which is melted, chilling this dough will help prevent these cookies from overspreading.  More importantly, refrigerating the dough will maximize the flavor of these cookies.  The longer you chill this dough, the more time it will have to develop its flavors fully.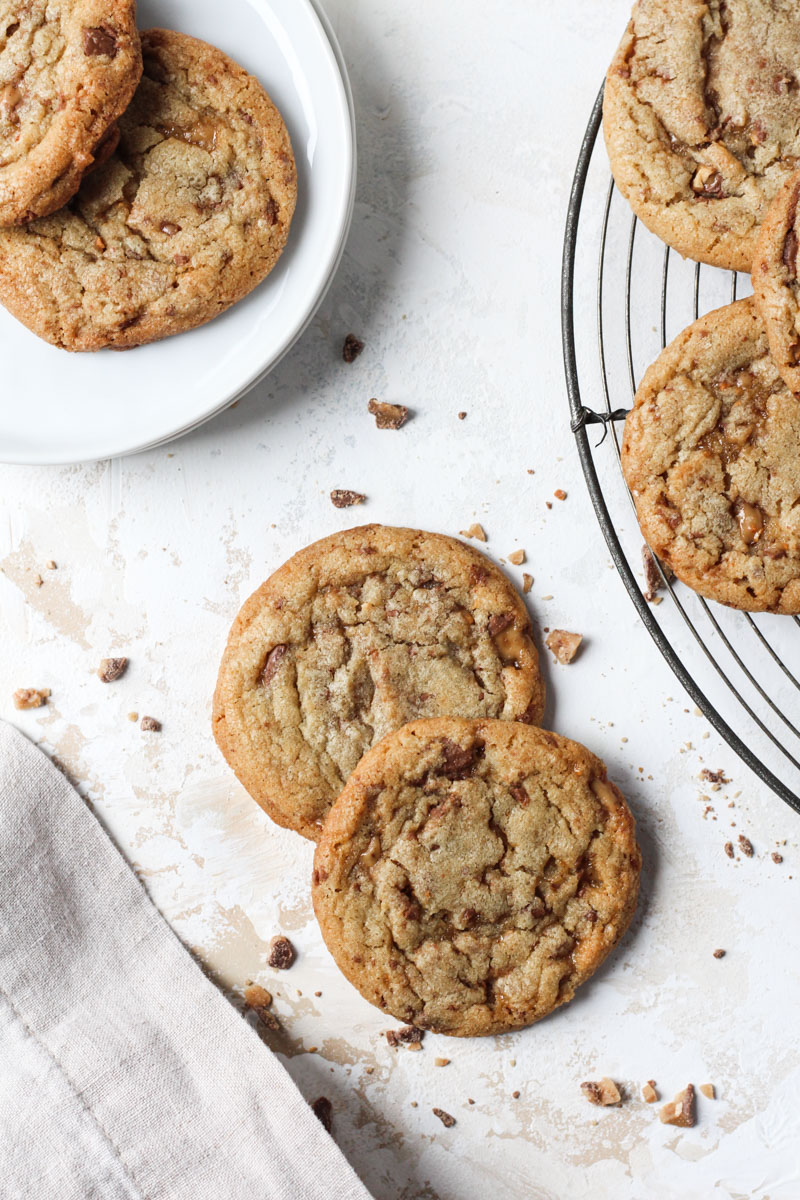 How to enjoy brown butter toffee cookies
These cookies are perfectly delicious on their own, served with a cold glass of milk.  However, here are some other ways to enjoy these cookies.
Sandwich together with homemade vanilla ice cream for a delicious treat.
Make toffee s'mores cookie sandwiches.  Spread melted chocolate over the bottom side of one cookie and top with a toasted marshmallow and second cookie for a decadent sandwich.
Drizzle with homemade caramel sauce for a tasty complement to the toffee.
How to bake perfect cookies
Make sure to use the right size eggs.  It's an important detail to follow because using a different sized egg could affect your cookies' texture.  Unless specified, use large eggs for baking as these are the standard size for recipes.
Use good quality pure vanilla extract.  Vanilla not only adds flavor to your cookies, but it also enhances the flavors of the other ingredients.  Never skimp on vanilla or use an artificial version, it will result in subpar cookies.
Bring your eggs to room temperature.  Using room temperature ingredients will allow you to mix your dough more efficiently and consistently to create soft and chewy cookies.  Allow your eggs to sit at room temperature for about 1 hour before using.
Remove cookies from the oven when the edges are golden brown, and the centers look slightly underbaked.  Once you remove the cookies from the oven, they will continue to bake on the hot sheet pan.  Allow them to sit for 4-5 minutes before transferring to a cooling rack.
Allow your sheet pans to cool completely before baking another batch of cookies.  If you add cookie dough to a warm or hot sheet pan, it can cause the bottoms of your cookies to overbake.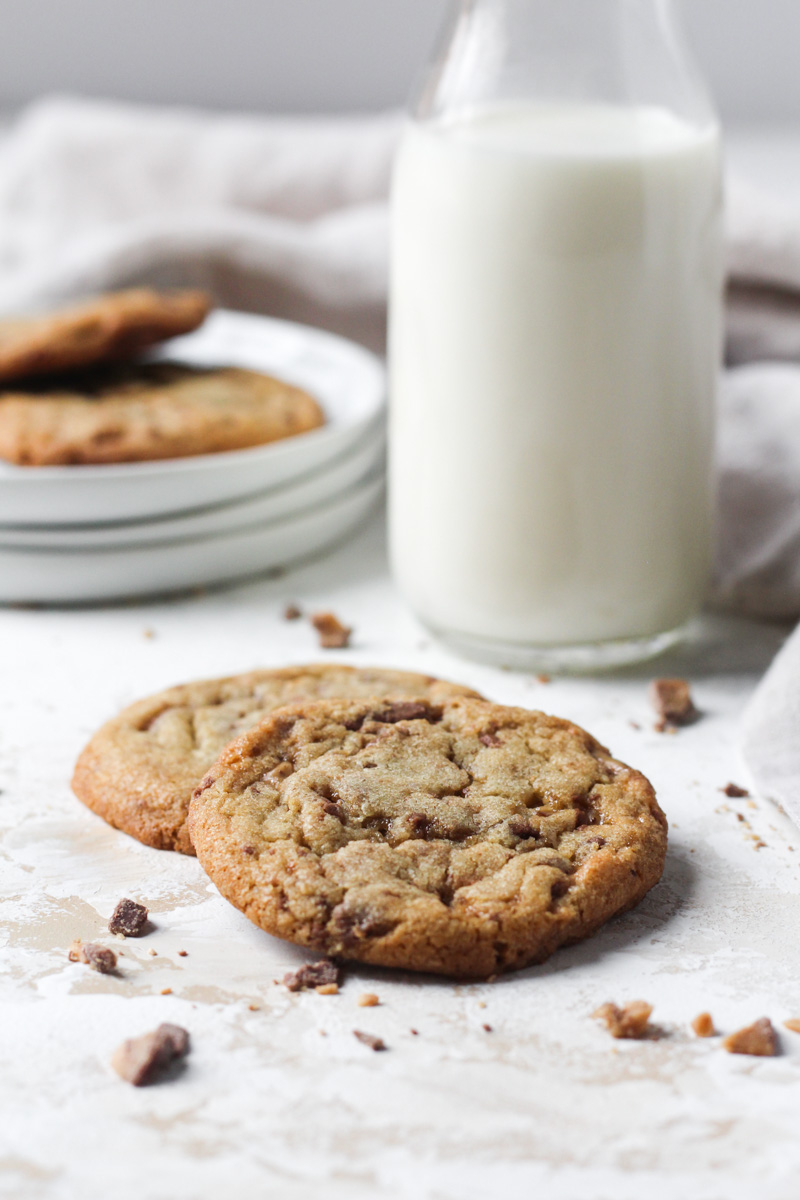 Tips and takeaways
Always use unsalted butter for your baking.  It will allow you to control the amount of salt that goes into a recipe.
For consistent cookies, use an ice cream or cookie dough scoop to portion the cookie dough.  Scoop and drop the dough onto a parchment-lined baking sheet pan.  Using a scoop will also help bake perfectly round cookies.
If you love brown butter, try these other recipes...
Make sure to tag me @thesweetoccasion on Instagram and leave me a review below if you make these Brown Butter Toffee Cookies. I'd love to see your creations and read your feedback.  And if you would like to make this recipe later, be sure to pin this recipe using the button on any of these images. Let's make every occasion a sweet occasion!
Print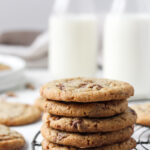 Brown Butter Toffee Cookies
---
Author:

Maria

Total Time:

13 hours (including chilling time)

Yield:

3

dozen cookies

1

x
Description
Brown Butter Toffee Cookies are chewy and packed with tons of flavor.  They have a delicious combination of vanilla, easy-to-make brown butter, and chocolate-covered toffee pieces that are sure to be a hit!
---
226 g

(

1 cup

) unsalted butter

280 g

(

2 cups

) all-purpose flour

4.8 g

(

3/4 teaspoon

) baking soda

4.2 g

(

3/4 teaspoon

) salt

1

large egg +

1

large yolk, at room temperature

165 g

(

3/4 cup

) light brown sugar

110 g

(

1/2 cup

) granulated sugar

8 g

(

2 teaspoons

) pure vanilla extract

150 g

(

1 cup

) chocolate toffee bits
---
Instructions
In a small saucepan, melt the butter over medium-high heat.  Continue to heat, while occasionally stirring, until the butter has brown specks throughout.  Careful not to burn the butter.  Remove from heat and transfer to a large bowl.  Set aside to cool, but not thicken.
In a medium bowl, sift together the flour, baking soda, and salt.
Once the butter is at room temperature, add the egg, egg yolk, both sugars, and vanilla extract.  Whisk together until smooth and thoroughly combined.
Add the dry ingredients to the butter mixture and fold together until combined.  Add the toffee and mix just until incorporated.
Cover the bowl with plastic wrap and refrigerate for at least two hours or preferably overnight.
Remove your cookie dough from the refrigerator and allow to come to room temperature.  Preheat your oven to 350°F/177°C.  Line two baking sheet pans with parchment paper.  Using a 1 tablespoon ice cream scoop, scoop cookie dough balls, and line them on your prepared sheet pans, allowing for plenty of space for spreading.
Bake for 10-11 minutes or until the edges are lightly golden brown and the centers still look slightly underbaked.  Allow the cookies to cool a couple of minutes on the hot sheet pan and then transfer them to a wire rack to cool completely.
Notes
Make-Ahead:  You can make the cookie dough and chill it in the refrigerator for up to 3 days.
Storage:  Store in an airtight container at room temperature for up to 1 week.
Freezing:  Freeze unbaked cookie balls for up to 3 months.  When ready to bake, allow the dough to come to room temperature and bake as directed in the recipe.  If baking without thawing, allow for an extra 2-3 minutes of baking time.
Prep Time:

45 minutes

Cook Time:

10 minutes

Category:

Cookies
Keywords: brown butter, toffee, cookies, holiday cookies