Soft, chewy sugar cookies with sprinkles throughout. These cookies are fun to share for all ages and are perfect for using themed colored sprinkles for any celebration.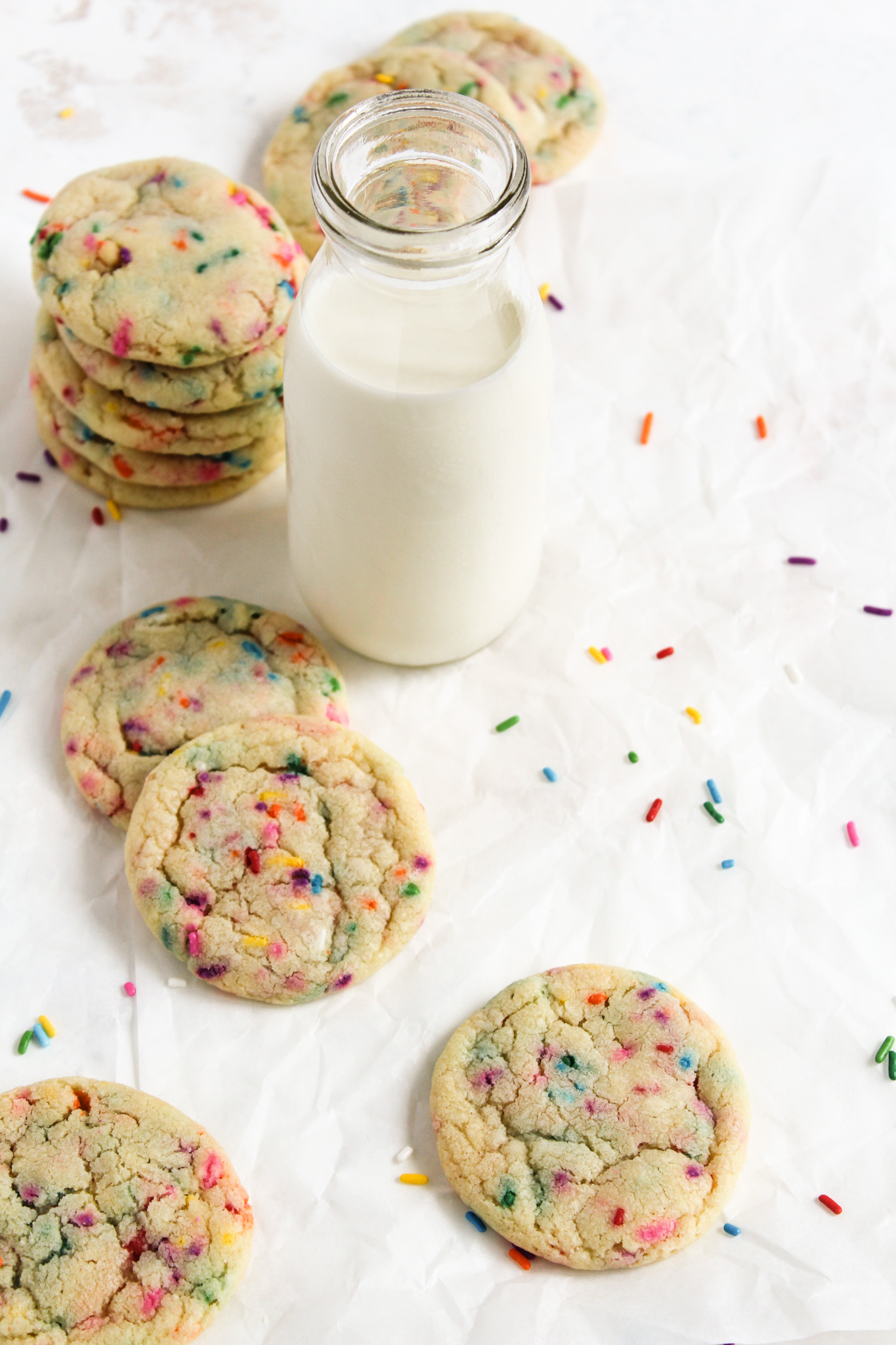 Funfetti cookies are definitely fun and festive.  They have the buttery flavor and chewy texture of a sugar cookie with the addition of sprinkles.  These cookies are super simple to make, and this basic recipe can be used for any occasion.  Celebrating a holiday?  Use red, white and blue sprinkles for a patriotic theme.  Or switch it up with orange and black sprinkles for Halloween.  The options are endless, and these cookies are sure to be a huge hit!
Creaming method for funfetti cookies
The creaming method is the most common mixing method for making cookies.  It gets its name from the process of creaming together the sugar and butter.  This process helps to lighten and leaven your cookies.  In other words, by beating together the sugar and butter, you are creating pockets of air in your mixture.  This air in turn will puff your cookies up in the oven.
In order to properly cream together butter and sugar you must begin with room temperature butter.  It's important to note that butter that is too warm (greasy looking or beginning to melt) will lead to disaster.  In other words, you won't be able to create those ideal pockets of air which will result in a dense dough and collapsed cookies.  To avoid this, allow your butter to sit at room temperature for about 1 hour before using.
You will want to cream your butter and sugar on medium speed until the mixture is light and fluffy.  This will take about 5 minutes.  When properly creamed, your dough will actually yield more cookies than if you do not aerate your mixture.  Without creaming, your cookies will be heavier.  In other words, each cookie will be denser, not bigger.  If properly creamed, however, your dough will be loaded with tiny air pockets.  This air poorly conducts heat (a good thing!) and therefore slows the rate at which the sugar and butter melt.  At the same time, the air begins to puff up and holds the dough until the cookies finally set.  And finally, the crumb of your cookies is what is left over from those tiny air pockets!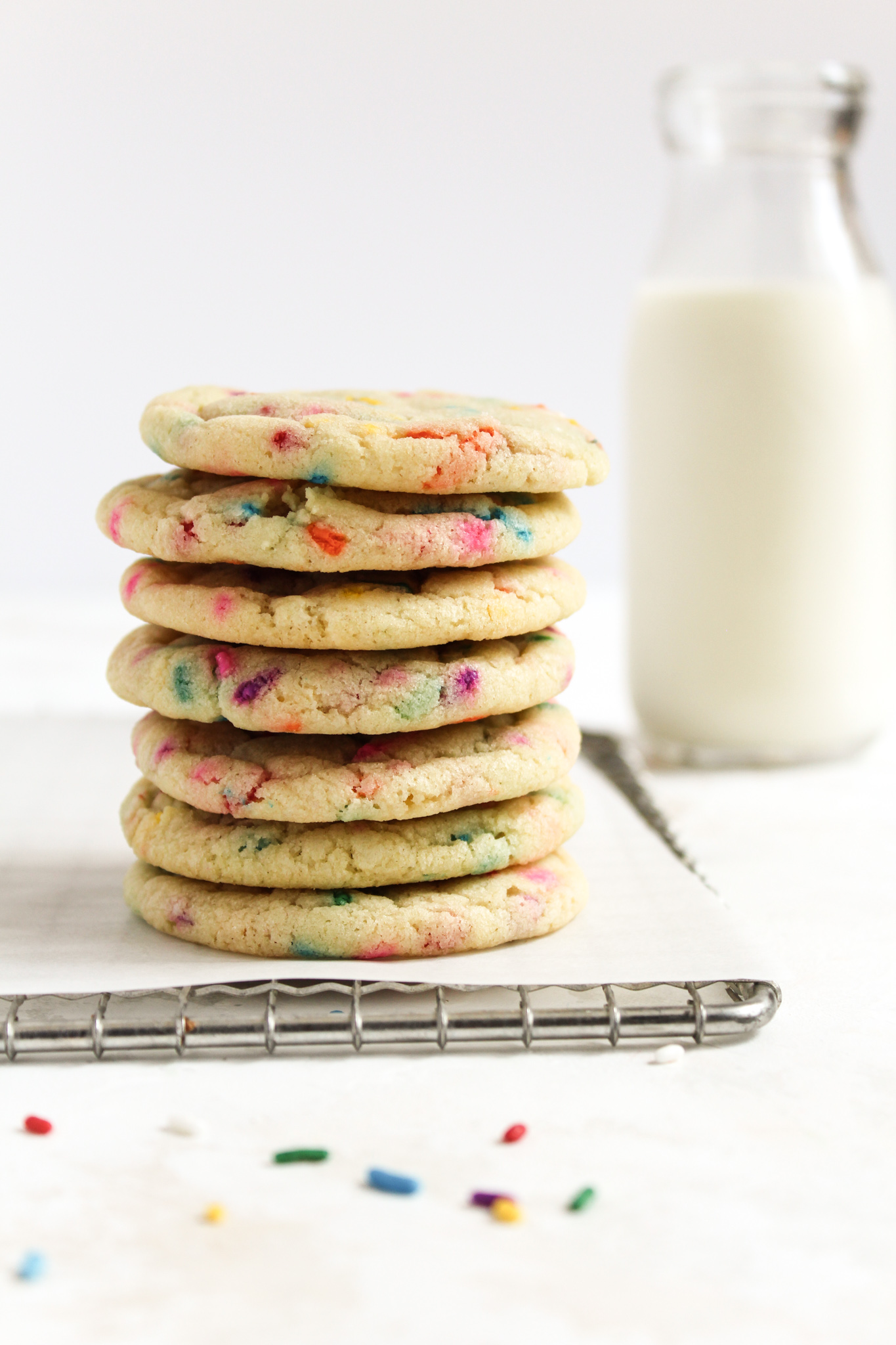 No brown sugar?
That's right these cookies only call for granulated sugar, as do most funfetti and sugar cookie recipes.  But have you ever wondered why?  Selecting when to use brown or white sugar (or a combination of the two) really comes down to a science.  Of course the most obvious role of sugar is its contribution to flavor.  Funfetti cookies just wouldn't be sweet without sugar.  But did you know that sugar also contributes to a cookie's texture?!
Because these funfetti cookies rely a great deal on the creaming method for their leavening, it is key that granulated sugar is used.  Let me explain.  When butter and sugar are properly creamed, white sugar is able to produce thick and puffy cookies (for all the reasons explained above).  On the other hand, brown sugar is more dense and, when creamed with butter, will produce much less air (less air = less rise + more spread).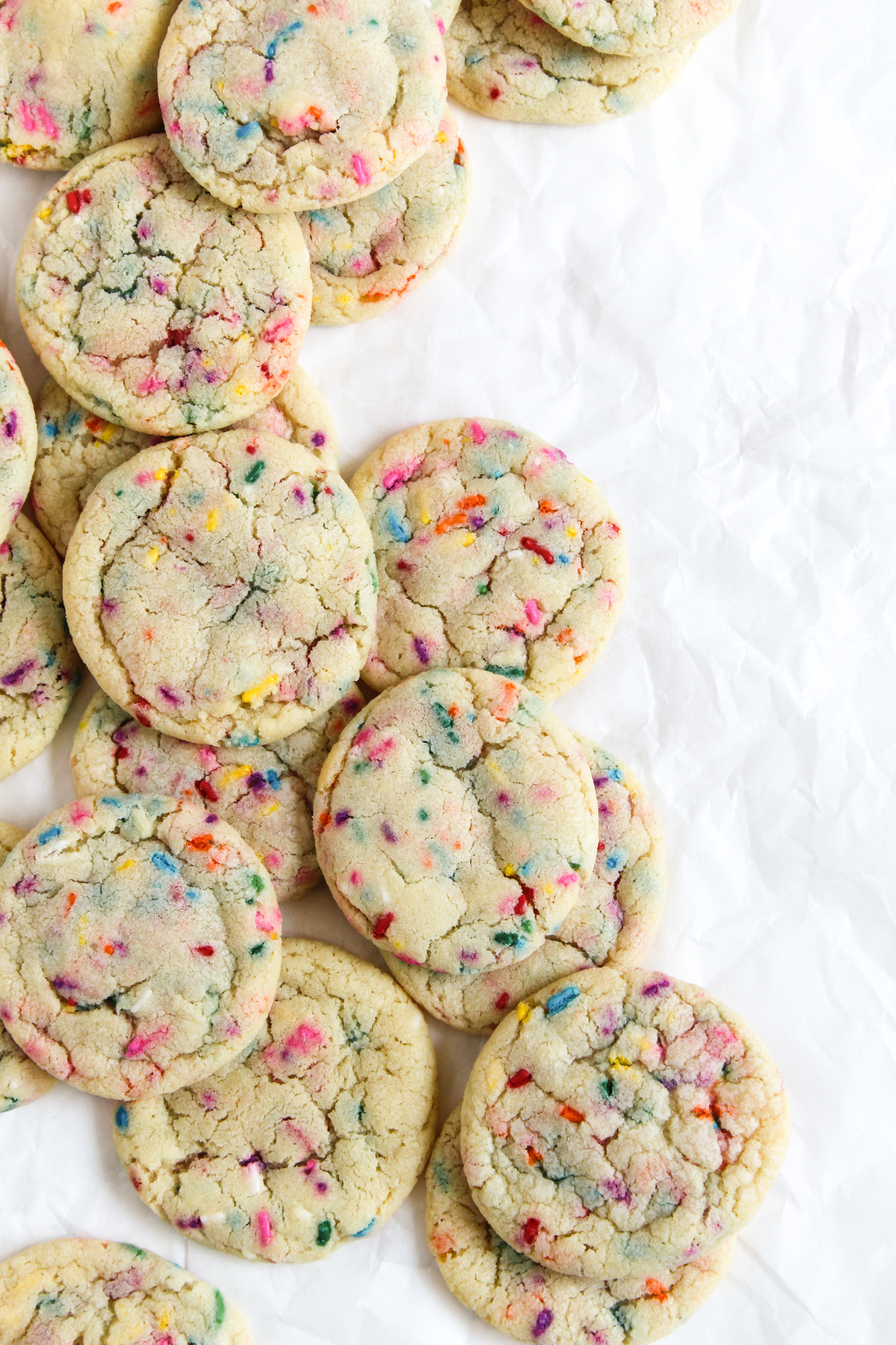 I think that is enough science for today!  More to come on another day.  In the meantime, enjoy making these cookies almost as much as eating them.  There are so many options for sprinkles on the market that you can have a lot of fun with these cookies.  Happy Baking!
More cookie recipes
Print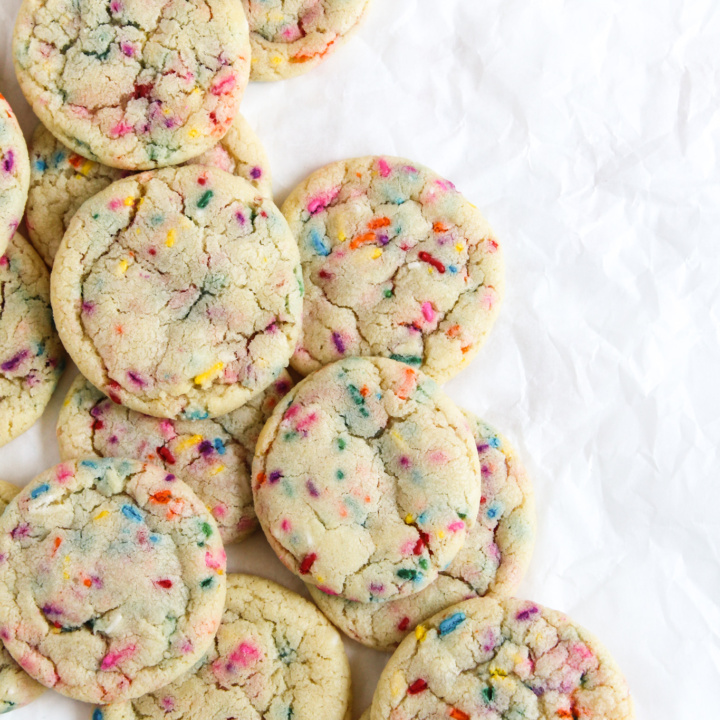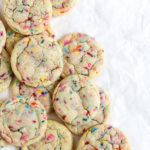 Funfetti Cookies
---
Author:

Maria

Yield:

3

dozen cookies

1

x
Description
Soft and chewy sugar cookies with sprinkles throughout.  A fun cookie to share for all ages!
[tasty-recipe id="1489"]
---
2 1/2 cups

(

300 g

) all-purpose flour

1 teaspoon

baking soda

1/2 teaspoon

salt

3/4 cup

(

170 g

) unsalted butter, at room temperature

1 1/4 cups

(

250 g

) granulated sugar

2 teaspoons

pure vanilla extract

1

large egg (

50 g

)

1/2 cup

sprinkles
---
Instructions
Preheat oven to 350°F/177°C.  Line two baking sheets with parchment paper or silicone baking mats.  Set aside.
In a medium bowl, whisk together flour, baking soda and salt.  Set aside.
In a large bowl using a hand-held mixer or stand mixer with the paddle attachment, beat the butter on medium speed until completely smooth and creamy.  Add the sugar and mix on medium speed until light and fluffy, about 5 minutes.  Mix in egg until combined and scrape down the sides and bottom of the bowl.  Add the vanilla and mix until combined.  On low speed, slowly add flour mixture into butter mixture until combined.  Mix in sprinkles. Do not over mix.
Shape dough into balls, about 1 1/2 tablespoons each, and place on the cookie sheets.  Leave 2-inches between each cookie. Bake for 10-11 minutes or until cookies just begin to brown around the edges (but the center is still soft). Allow cookies to cool on baking sheet for 5 minutes, and then transfer to a wire rack to cool completely.
Keywords: funfetti cookies