Birthday Cake Cupcakes are moist, classic yellow cupcakes topped with a light and fluffy chocolate buttercream.  Perfect for any celebration.
Every celebration deserves a delicious dessert and if you have the time and patience, a homemade one at that.  My birthday cake cupcakes are the perfect sweet for not only birthday celebrations but any occasion.  They are super moist vanilla cake topped with a decadent, silky smooth chocolate buttercream.  These cupcakes are such a versatile cake that they would also pair nicely with my swiss meringue buttercream, the cream cheese frosting from my simple carrot cake, or even my vanilla-almond buttercream from my funfetti snack cake.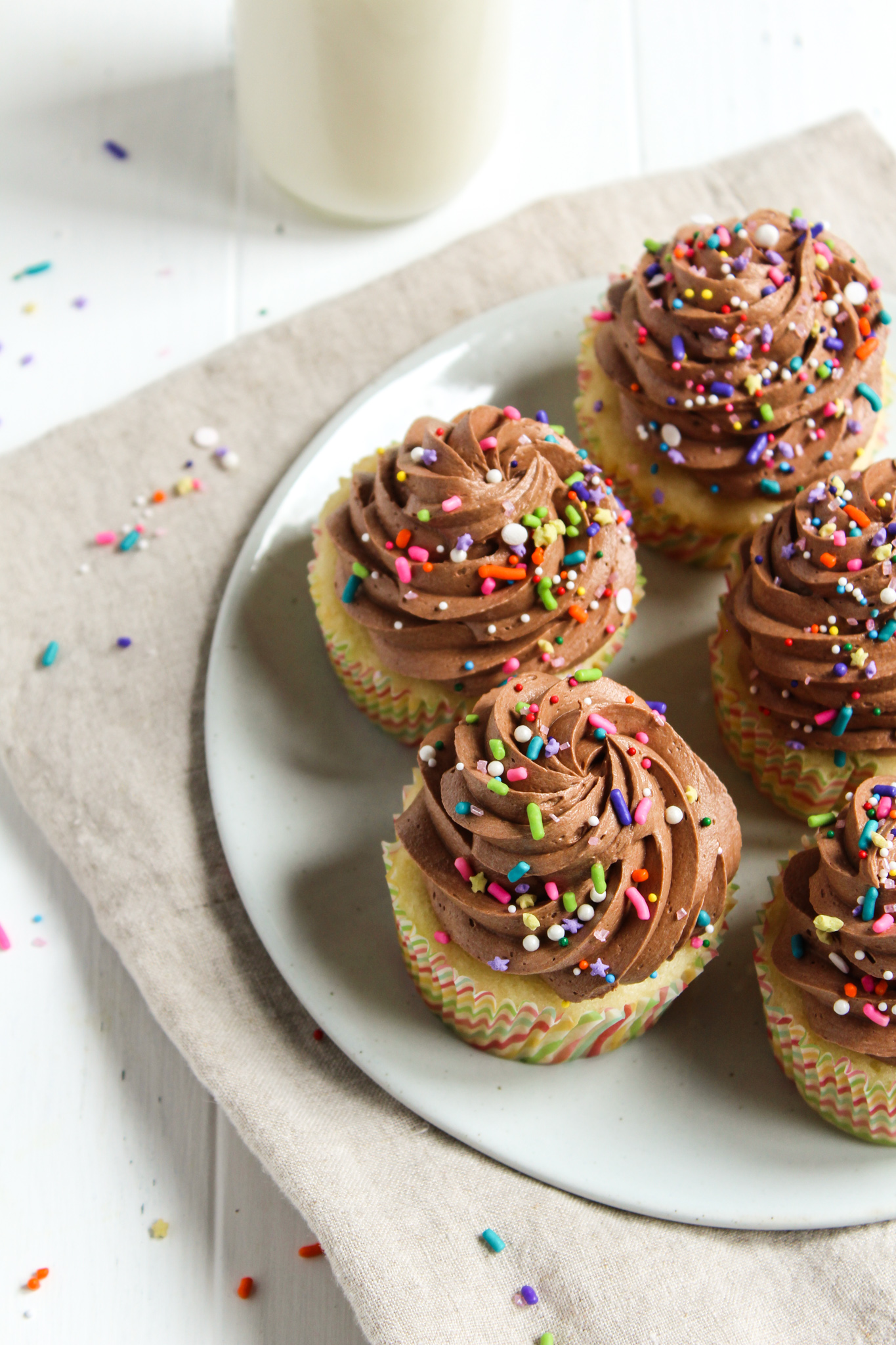 Cake flour vs all-purpose flour
Is there a difference between cake flour and all-purpose flour when baking a cake?  Yes there is!  Not all flour is created equal.  And when it comes to baking these birthday cake cupcakes, cake flour is the way to go.  Let me explain.
What is cake flour?
Cake flour is a delicate flour that has a low protein content, 7-8% which discourages gluten formation.  It's finely milled (which is why it normally has clumps and always needs to be sifted) and is typically bleached.  Because of the low protein content, cake flour produces a fine crumb and a very tender texture in cakes and cupcakes.
What is all-purpose flour?
In contrast to cake flour, all-purpose flour has a higher protein content, 10-12% and therefore has a greater amount of gluten formation.  This flour can easily be found at most grocery stores as either bleached (produces a softer texture) or unbleached (creates a stronger structure).  Because all-purpose flour is in the middle of the pack with its protein content, it is a standard flour that can be used to bake many items such as cookies, muffins, pizza dough and bread.
Cake flour vs all-purpose flour in birthday cake cupcakes
Baking with cake flour will produce a spongier and softer texture.  Additionally, the cupcakes will be slightly taller because of this difference in texture.  In comparison, baking with all-purpose flour will produce a slightly more sturdy cupcake that has a slight chewiness to it.  These cupcakes will not be quite as tall as those made with cake flour.
How to make cake flour at home
If you do not have cake flour on hand you can easily make it with two simple ingredients, all-purpose flour and cornstarch.  The formula:
1 cup all-purpose flour – 2 tablespoons all-purpose flour + 2 tablespoons cornstarch = 1 cup cake flour
Always sift the mixture to ensure the flour and cornstarch are evenly combined before using in your recipe.  The cornstarch helps to discourage the formation of gluten while still maintaining a cake's structure.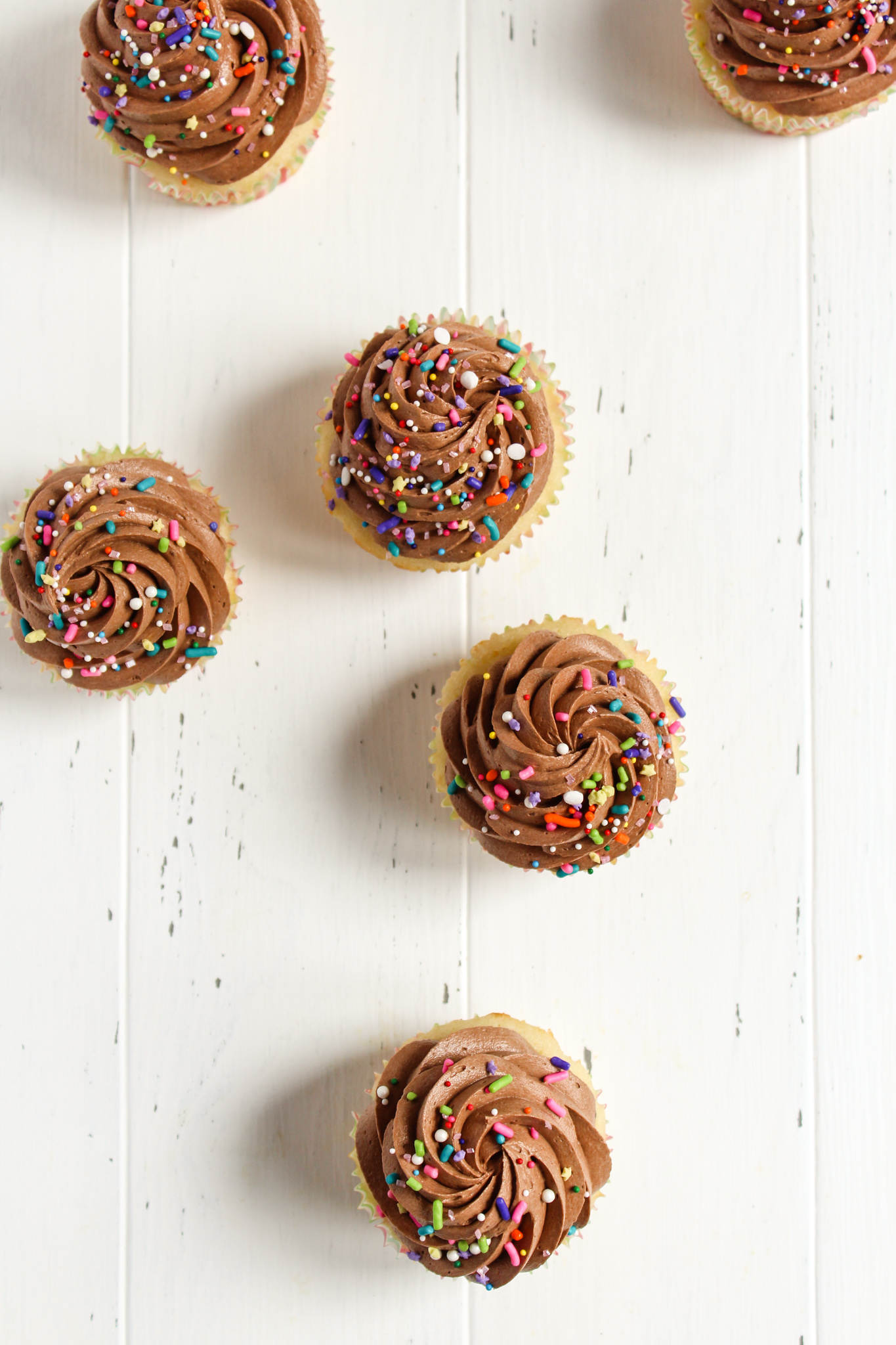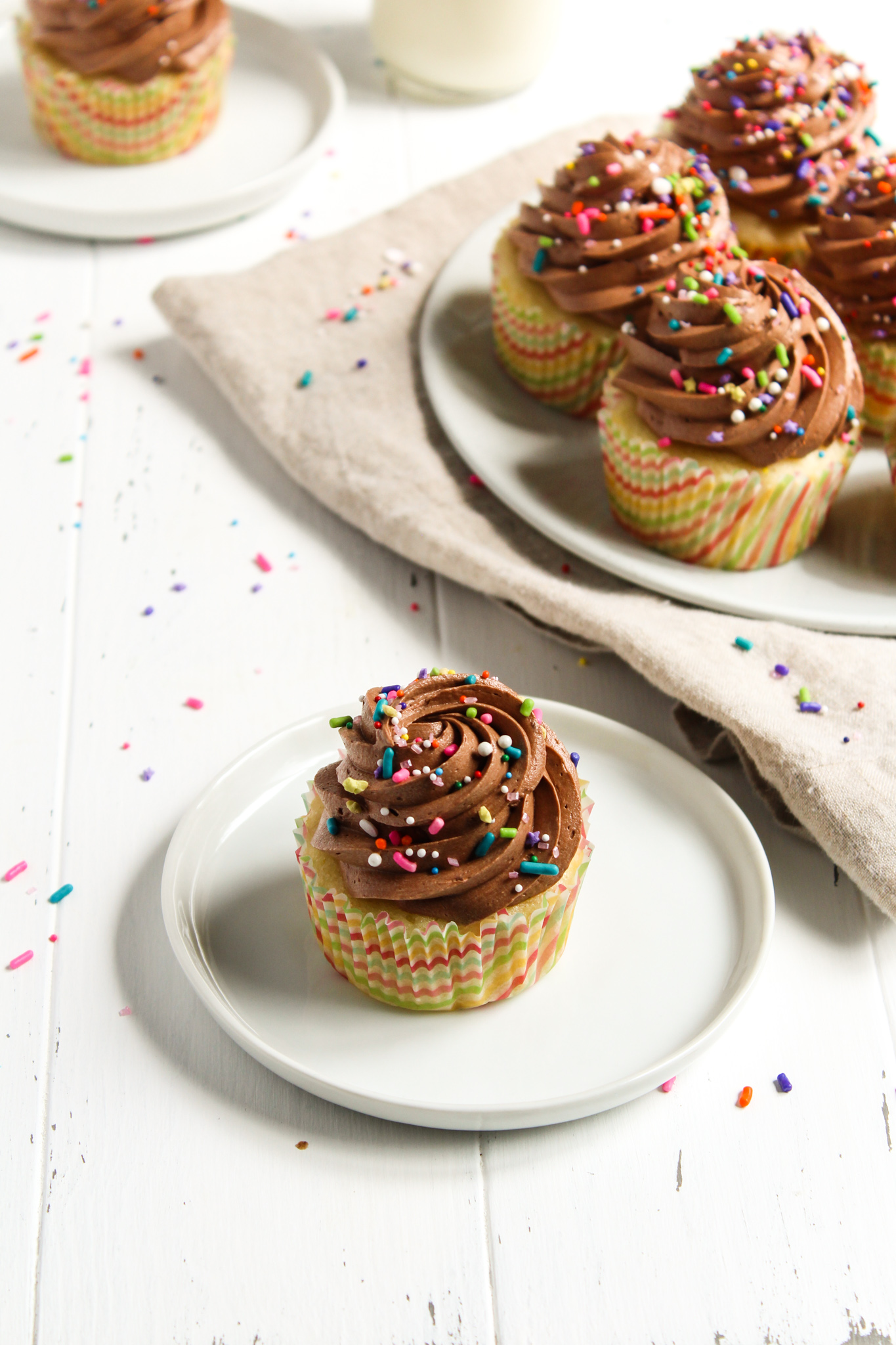 Decorating Birthday Cake Cupcakes
The best part of making cupcakes and cakes is decorating them.  There is so much room for creativity, and you can tailor your cupcakes to your specific occasion (themed colors, holiday sprinkles, buttercream flowers, etc.).
Always ensure that your birthday cake cupcakes are completely cool before frosting with chocolate buttercream (better to avoid melting buttercream)!  For the buttercream I use a pastry bag with a large star tip.  Typically I fill my pastry bag about a third to halfway with buttercream.  The more buttercream you add the more difficult it is on your hand to pipe.  I always prefer to refill more frequently and give myself more control of the pastry bag than to put more stress on my hand.
In one motion pipe two circles of buttercream on top of each cupcake.  As I get close to completing the second circle I ease up on squeezing the buttercream and finally release it completely once I've achieved the second circle and continue rotating the bag to gradually release the second swirl from the bag.  This produces a smoother finish and looks prettier.
Finally top these cupcakes with sprinkles, cupcake toppers or just leave plain.  Feel free to get creative with these cupcakes.  Happy Baking!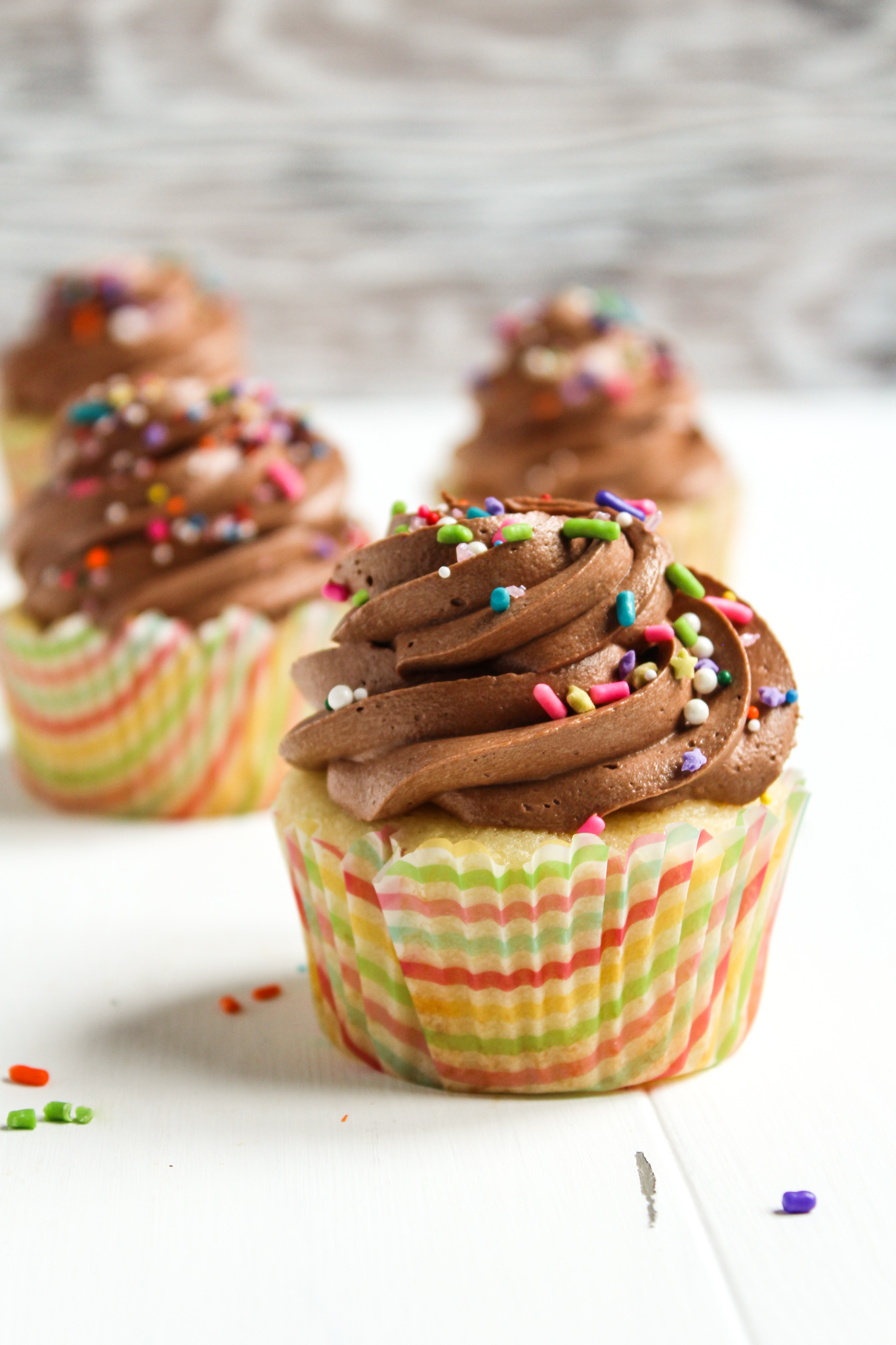 Looking for more cupcake inspiration?  Try these recipes...
Make sure to tag me @thesweetoccasion on Instagram and leave me a review below if you make these Birthday Cake Cupcakes. I'd love to see your creations and read your feedback.  And if you would like to make this recipe later, be sure to pin this recipe using the button on any of these images. Let's make every occasion a sweet occasion!
Print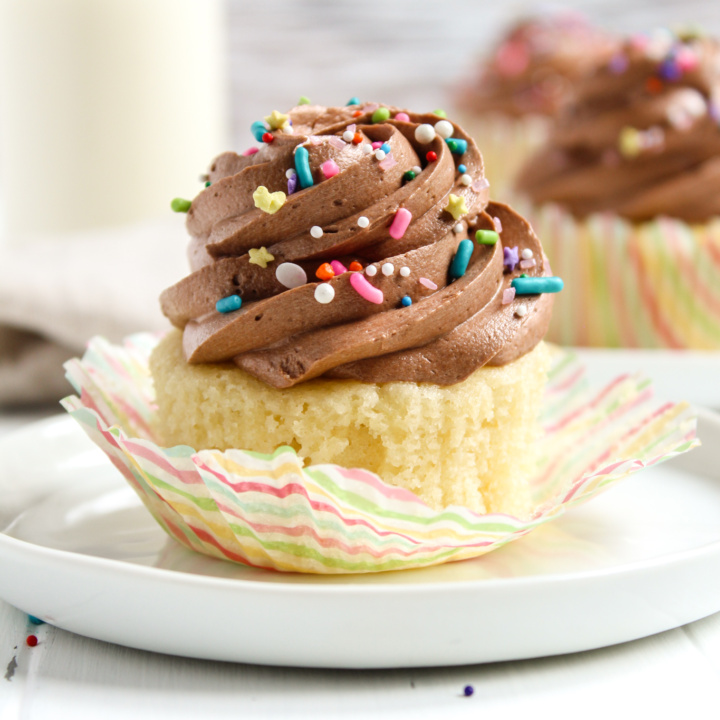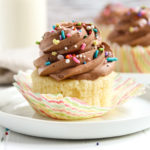 Birthday Cake Cupcakes
---
Author:

Maria

Total Time:

45 minutes

Yield:

12

cupcakes

1

x
Description
Moist, classic yellow cupcakes topped with a light and fluffy chocolate buttercream.  Perfect to serve at your next birthday celebration or any occasion.
---
1 1/2 cups

(

165 g

) sifted cake flour

1 teaspoon

baking powder

1/4 teaspoon

baking soda

1/4 teaspoon

salt

1

stick (113 g) unsalted butter, softened to room temperature

1 cup

(

200 g

) granulated sugar

2

large eggs (

100 g

), at room temperature

2 teaspoons

pure vanilla extract

1/2 cup

(

120 g

) sour cream, at room temperature

1/2 cup

(

120

ml) whole milk, at room temperature
Chocolate buttercream for frosting
---
Instructions
 Preheat oven to 350°F/177°C.  Line a muffin pan with cupcake liners.  Set aside.
In a medium bowl, sift together flour, baking powder, baking soda and salt.  Set aside.
In a large bowl using a hand-held mixer or stand mixer fitted with the paddle attachment, beat together softened butter and sugar on medium-high speed until smooth and creamy, 4-5 minutes.  Scrape down the sides of the bowl as needed.  Beat in eggs, one at a time, until combined.  Scrape down the sides of the bowl and beat in vanilla until mixed well and then sour cream.  With the mixer on low speed and in three parts, alternately add the dry ingredients and the milk to the batter, beginning and ending with the dry ingredients.  Beat until just combined.
Fill cupcake liners 2/3 full and bake for 17-19 minutes, or until a toothpick inserted in the center comes out clean.
Allow cupcakes to cool completely in the pans set on a wire rack before frosting.
Notes
Make Ahead: Make cupcakes up to 1 day in advance.  Cover in an airtight container at room temperature.  Chocolate buttercream can be made up to 1 week in advanced and stored covered in an airtight container in the refrigerator.  When ready to use bring to room temperature and rewhip for 5 minutes using a handheld mixer or stand mixer fitted with the paddle attachment.
Freezing:  Freeze cupcakes frosted or unfrosted for up to 2-3 months. Thaw overnight in the refrigerator and allow to sit for 30 minutes at room temperature before serving.
Baker's tools:  KitchenAid Stand Mixer, spatula, cupcake pan, cupcake liners, pastry bags, pastry tip.
Prep Time:

25 minutes

Cook Time:

20 minutes

Category:

Cakes & Cupcakes
Keywords: birthday cake cupcakes, birthday, vanilla cupcakes, chocolate buttercream