This post may contain affiliate links, please read my full disclosure policy.
Pumpkin Macarons are a delicious fall treat. These cookies made with fall spices and a tint of orange are filled with a pumpkin Swiss meringue buttercream for a light and silky filling. These macarons are the perfect cookie to celebrate the season.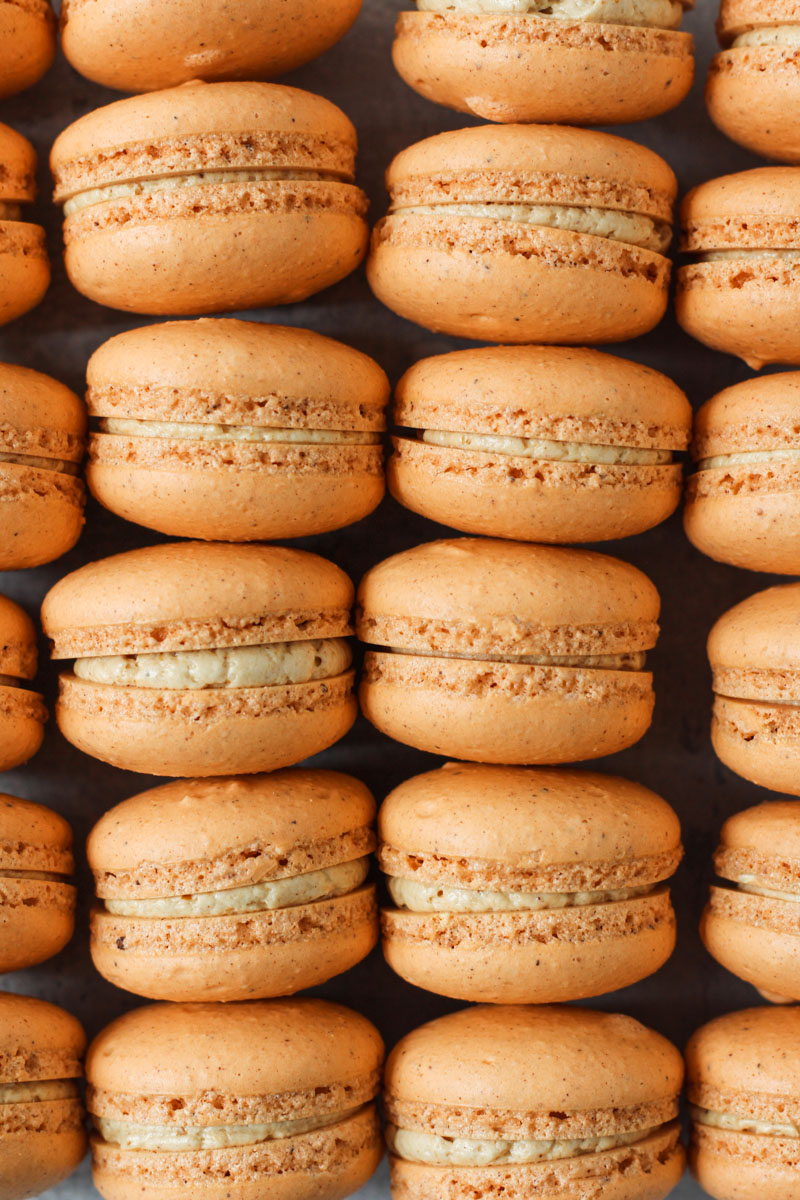 As summer winds down, I begin to get excited about fall baking. Fall spices, apples, and pumpkins are a few of my favorite ingredients. These flavors transform into so many desserts, and macarons are no exception. For this recipe, I've taken classic French macarons and created a festive fall cookie. They begin with a cookie flavored with the warm spices of cinnamon, ginger, nutmeg, and cloves, and are filled with a Swiss meringue buttercream that tastes like pumpkin pie. I've included my tips and techniques to create the perfect macarons.
Before you begin
Take out the following baking equipment.
Digital kitchen scale
1.5″ (3.5 cm) round cookie cutter
Parchment paper
1 baking sheet pan
Sifter
1 medium bowl
Stand mixer fitted with the whisk attachment
1 silicone spatula
2 pastry bags
1 round pastry tip
Scissors
Allow all of the ingredients to come to room temperature.
Read the recipe through from start to finish.
Understanding ingredients
Almond flour is an essential ingredient in French macarons. Compared to other nut flours, it absorbs the most amount of moisture, which is necessary for macarons. The dryer the flour, the more moisture it will absorb from the other ingredients. If you have some extra time, allow your almond flour to air dry for a couple of days before making the macarons. Always select almond flour made from skinned almonds. If your almond flour is coarse, you can put it in a food processor with the powdered sugar and blend for 10 seconds.
Macarons require a fair amount of sugar to create a brittle, shiny shell on the outside. You will notice that the total amount of sugar (a combination of powder sugar and granulated sugar) is greater than any other amount of ingredient. Any reduction in the amount of sugar for the macaron shells will affect their appearance and texture.
Egg whites are another essential ingredient for making macarons. The protein holds together the air bubbles created during the mixing process to maintain the cookies' structure.
Pumpkin puree is added to the Swiss meringue buttercream for a pumpkin pie filling flavor. Make sure to use pure pumpkin puree as opposed to pumpkin pie filling.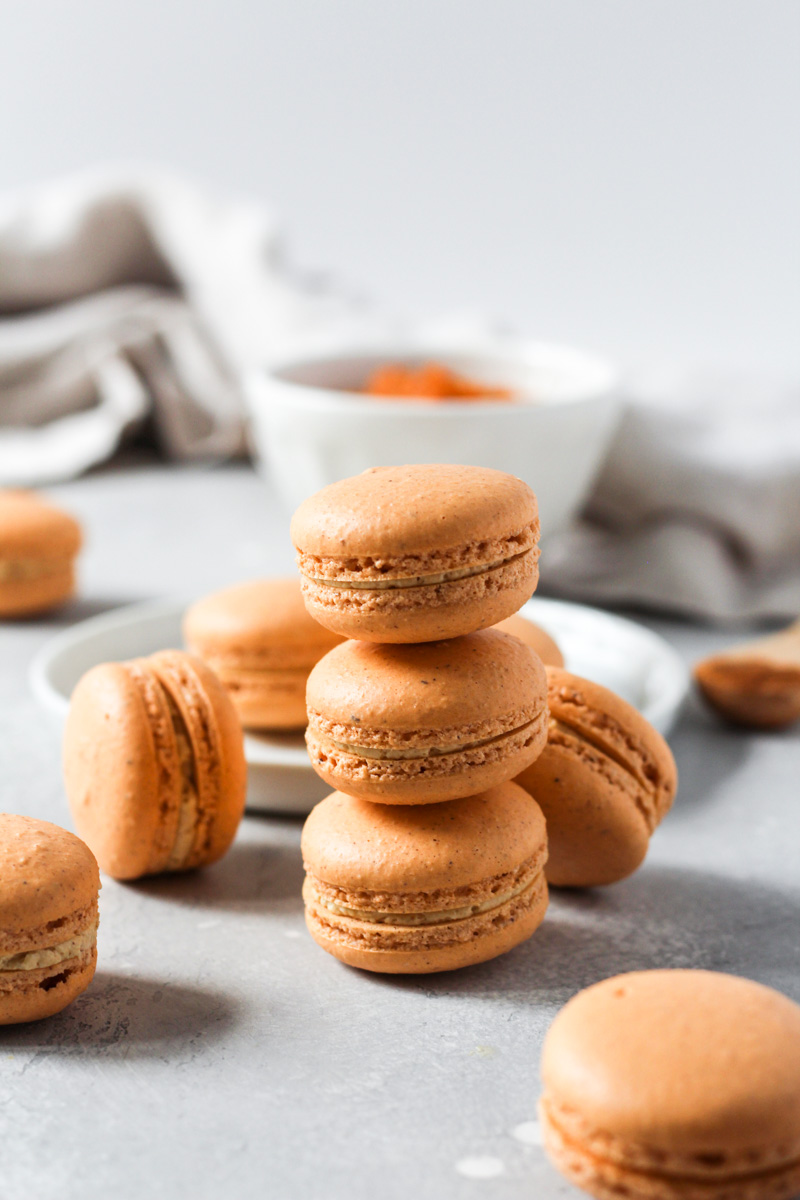 The essentials of a perfect macaron
Precise ingredient quantities. Using a scale to measure your ingredients is essential. It is the only way to ensure that you have accurate and consistent measurements. A scale will eliminate any variable in ingredients that could affect your final result.
Meringue. Creating a stable meringue is key to producing perfect macarons. This stage in the process can cause many issues if not done right. To make a stable meringue, you should whip the meringue until stiff, shiny peaks form.
Proper macaronage. Macaronage is the process of folding the dry ingredients into the meringue. This step, if not done correctly, can result in a variety of issues. While folding the ingredients together, you want to deflate some of the air in the batter with a spatula against the sides of the bowl. Doing this will help create the proper consistency.
Oven temperature accuracy. Even if you have made the perfect batter, the oven temperature could make or break your macarons. Allow enough time for your oven to preheat, about 20-30 minutes. For complete accuracy, you can keep an oven thermometer in your oven to ensure it's the correct temperature.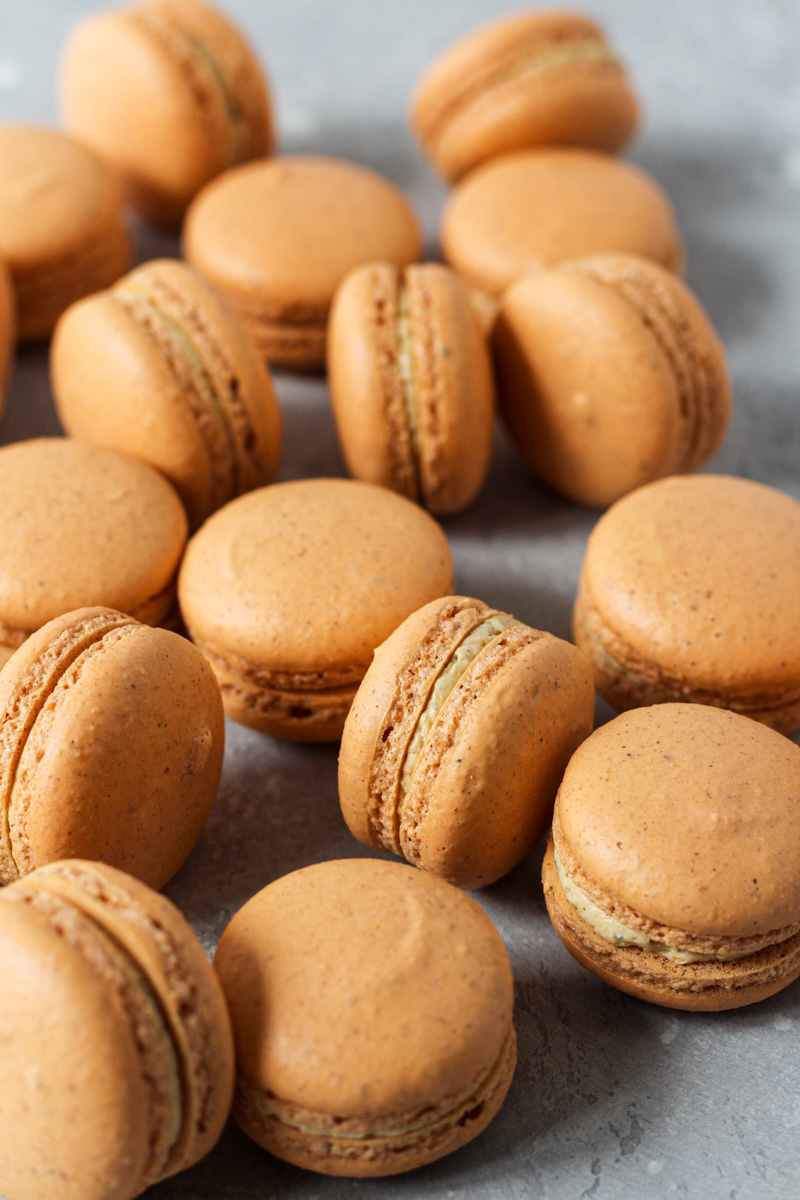 Aging egg whites
An additional step, but not a necessary step, is aging the egg whites before making macarons. Doing this allows some of the water to evaporate, resulting in stronger egg whites that can hold more air. For the aging process, store the egg whites in a loosely covered bowl on the counter overnight in a dry, cool room.
Ideal consistency for macaron batter
During the hand mixing process, always test the consistency of the batter often to prevent overmixing. Once the batter flows like honey or has a lave-like consistency, it's ready to pipe the mixture. You should be able to slowly trace a figure 8 with the batter without it breaking. At this point, stop mixing your batter.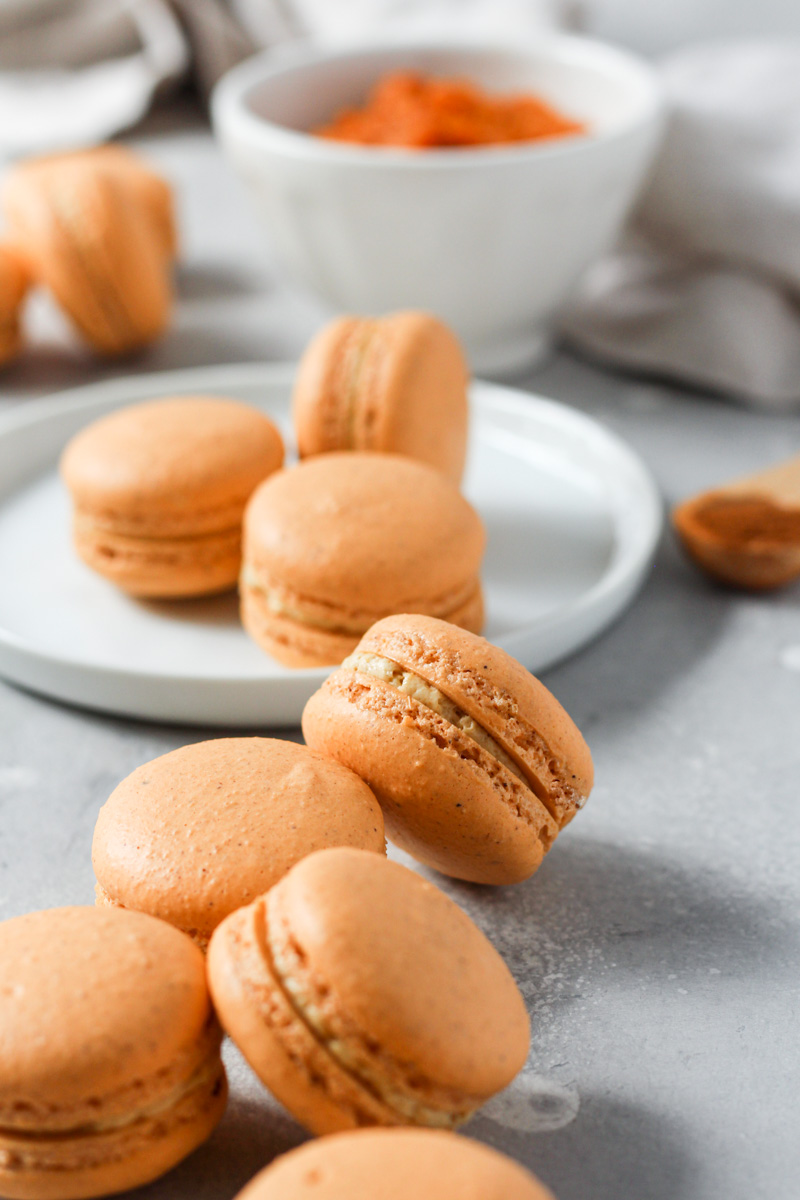 Troubleshooting macarons
The macaron shells have hollow interiors. This issue results from over whipping the egg whites. Mix the meringue just until the white clings to the bowl, and a small, stiff mass of meringue begins to clump in the middle of the mixer. Additionally, over baking your macarons can cause hollow interiors. Check that your oven temperature is correct and take your macarons out of the oven sooner if necessary.
The macarons cracked in the oven. Not allowing enough time for the macaron shells to dry out before baking could cause them to crack in the oven. On humid days, the drying process could take longer. If the macarons are piped too wide, this could also cause them to crack in the oven. To prevent this, make sure to pipe macarons no larger than 3.5 cm (1.5″).
The macaron feet are too tall. Macaron feet that rise quickly and become tall can happen from an oven temperature that is too hot or overwhipping the meringue. It is better to bake macarons at a lower temperature for a longer period than a higher temperature for a shorter period. Also, careful not to overwhip the egg whites. Stop whipping them once you achieve stiff, shiny peaks.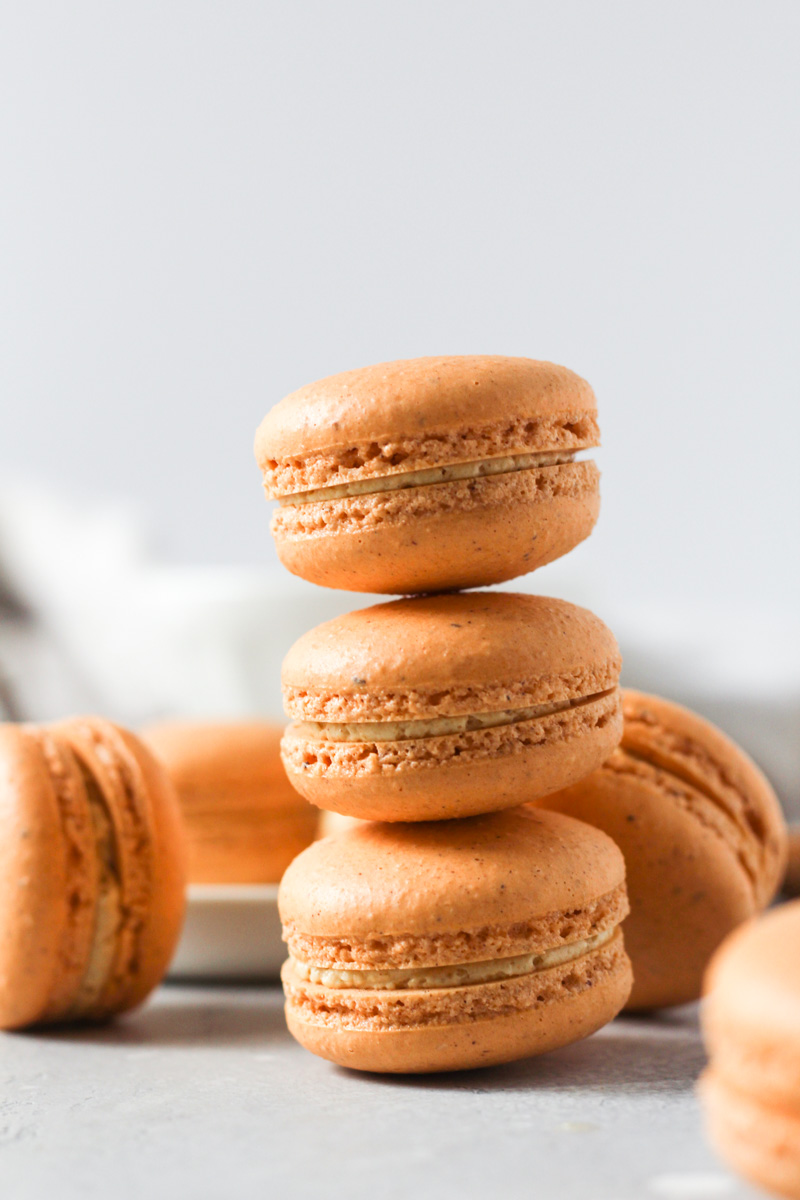 Tips and takeaways
Careful not to include any yolk into your egg whites (or any grease for that matter in your bowl). Any oil will prevent your egg whites from turning into a fluffy and stable meringue for both the macaron shells and buttercream.
Macarons can be tricky to make, especially when you are first starting. They do require practice to get them right. I recommend watching lots of videos on how-to making macarons. There are many recipes but few variations in technique. A visual guide will allow you to see what your meringue should look like and the proper consistency of your batter.
You will have some buttercream leftover. You can store in the refrigerator for up to 2 weeks or freeze for up to 3 months. Before using, bring to room temperature and re-whip with a mixer.
Whenever you color macarons, I highly recommend using soft gel paste food coloring. For this recipe, I used Americolor pumpkin soft gel food coloring.
If you love French desserts, try these other recipes...
Make sure to tag me @thesweetoccasion on Instagram and leave me a review below if you make these Pumpkin Macarons. I'd love to see your creations and read your feedback. And if you would like to make this recipe later, be sure to pin this recipe using the button on any of these images. Let's make every occasion a sweet occasion!
Print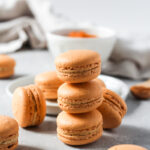 Pumpkin Macarons
---
Author:

Maria

Total Time:

1 hour 5 minutes

Yield:

34

macarons

1

x
Description
Pumpkin Macarons are a delicious fall treat.  These cookies made with fall spices and a tint of orange are filled with a pumpkin Swiss meringue buttercream for a light and silky filling.  These macarons are the perfect cookie to celebrate the season.
---
For the macaron shells
150 g

 almond flour

150 g

 powdered sugar

1.6 g

(

1 teaspoon

) ground cinnamon

0.5 g

(

1/2 teaspoon

) ground ginger

0.7 g

(

1/2 teaspoon

) ground nutmeg

0.5 g

(

1/4 teaspoon

) ground cloves

110 g

 egg whites, at room temperature

100 g

 sugar

4 g

(

1 teaspoon

) pure vanilla extract
a few drops orange food coloring
For the pumpkin swiss meringue buttercream
60 g

egg whites

115 g

brown sugar

226 g

unsalted butter, at room temperature

60 g

pure pumpkin puree

4 g

(

1 teaspoon

) pure vanilla extract

0.8 g

(

1/2 teaspoon

) ground cinnamon

0.3 g

(

1/4 teaspoon

) ground ginger

0.4 g

(

1/4 teaspoon

) ground nutmeg

0.2 g

(

1/8 teaspoon

) ground cloves
---
Instructions
For the macaron shells
Adjust the oven rack to the center position and preheat oven to 300°F/150°C.  Using a 1.5″ (3.5 cm) round cookie cutter, draw circles for your macarons on a piece of parchment paper allowing for 1″ (2.5 cm) between each circle.  Flip the parchment paper traced side down and line baking pan.  Set aside.
Sift together the almond flour, powdered sugar, cinnamon, ginger, nutmeg, and cloves into a medium bowl.
In the bowl of a stand mixer fitted with the whisk attachment, whisk the egg whites on medium speed until foamy.  Slowly add the sugar and increase the mixer speed to high.  As the mixture begins to thicken, add the food coloring.  Whip the meringue until stiff peaks form.
Remove the bowl from the mixer and fold half of the almond mixture into the meringue until combined (do not stir).  It's ok to deflate some of the meringue at this stage but not all of it.
Add the remaining almond mixture to the meringue and carefully fold together.  Deflate some more air in the batter by using the spatula to scrape the batter against the bowl in a circular motion.  Turn the bowl as you do this to ensure you spread the batter around the entire bowl.
Test the mixture for consistency often.  The batter should flow like honey when you lift the spatula from the bowl.  You should be able to slowly trace a figure 8 with the batter without it breaking.
Fit a pastry bag with a round tip.  Holding the piping bag at a  90˚ angle to your baking sheet pan, pipe batter on each traced circle.  Squeeze the piping bag to fill each circle and then stop squeezing and give a little flick of the wrist to help prevent the batter from forming a point.
Carefully bang the baking sheet pan on your counter a few times to eliminate any air bubbles and any points on top.  This will help your macarons spread out a bit.
Allow the macarons to sit at room temperature for about 20-40 minutes, or until a skin forms on the outside (you should be able to gently touch the macarons without your finger sticking).
Bake for 15-20 minutes.  Each macaron should have a foot that should bake without browning.  To check for doneness, test the feet as they should not budge when you push on them (they should be stable).
Remove from the oven and allow to cool on the hot sheet pan for 10 minutes.  Peel each macaron off the parchment paper and allow to cool to room temperature on a wire rack.
For the pumpkin Swiss meringue buttercream
Put the sugar and egg whites in a mixer bowl and whisk together. Make a double boiler by placing the bowl over a saucepan of simmering water (ensuring the bowl does not touch the water). Whisk constantly until the sugar is completely dissolved and the mixture feels hot to the touch, about 4-5 minutes.  You should not feel any sugar granules when rubbing the mixture between your fingertips.
Transfer the bowl to the stand mixer fitted with the whisk attachment.  Whip the mixture on medium-high until the bottom of the bowl no longer feels warm and the meringue is thick and glossy.
With the mixer on medium, add the softened butter half a stick at a time.  Continue to whip until the mixture is smooth.  Mix in the pumpkin, vanilla, and all the spices until completely incorporated.
Fill a pastry bag with the prepared swiss meringue buttercream.  Cut the tip off the pastry bag and pipe a dime-size amount of buttercream onto half the macarons.  Top with the remaining macaron shells and gently press together to evenly spread the filling.  Enjoy.
Prep Time:

20 minutes

Cook Time:

15 minutes

Category:

Cookies
Keywords: pumpkin pie spice, fall cookies, French macarons, pumpkin cookies