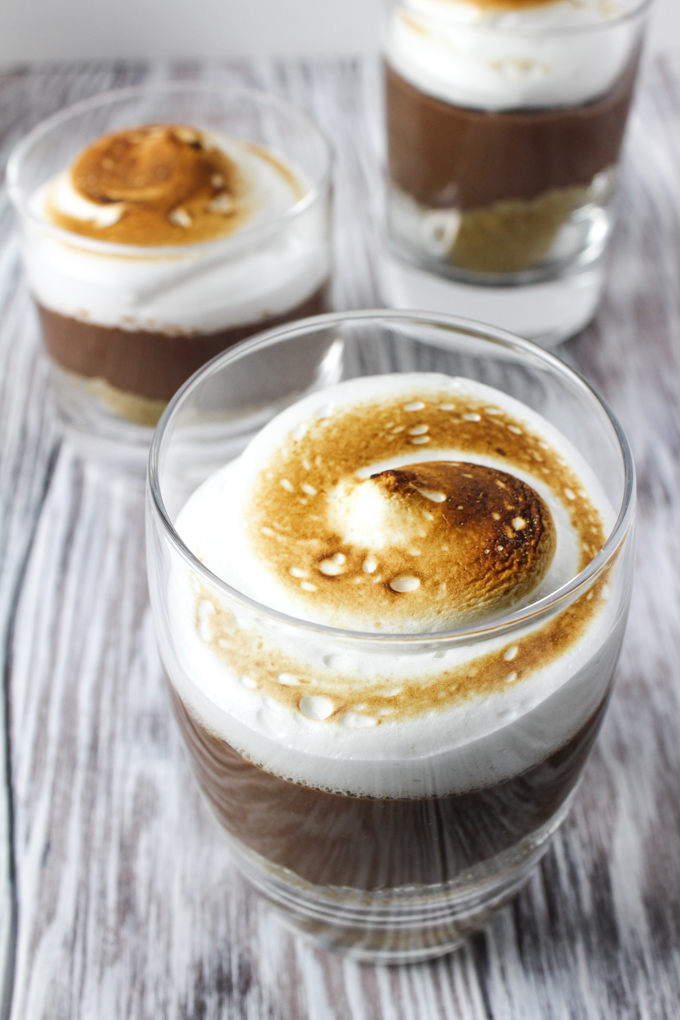 I'm back! It's been a crazy few weeks. Purchasing a new home (first time homebuyers yay!). Trying to unpack with a soon-to-be one year old (yikes!). I really don't know how all the moms out there make it seem effortless with a move especially with more than one kid (please tell me!!). Ok, it hasn't been horrible, just challenging at times. But really, buying our first house has been exciting and making it home even more exciting!
With all the chaos going on I missed National S'mores Day. But better late than never so I'm sharing with you my s'more pudding parfaits! Each component of a traditional s'more has been reconstructed: graham cracker crumbs instead of a cracker, chocolate pudding instead of a chocolate bar and toasted meringue instead of a toasted marshmallow. Delicious!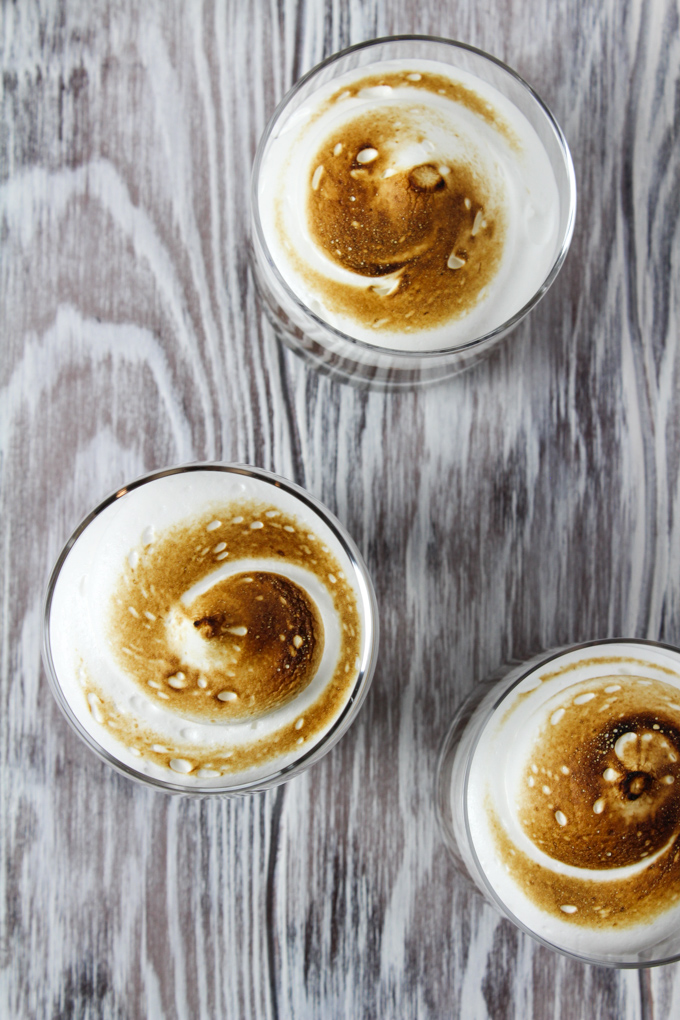 Making pudding from scratch is no comparison in flavor to packaged pudding. It requires more patience and attention to detail, but is worth the tasty outcome.
In this recipe, before adding the sugar and egg yolks to your mixture, its necessary to heat your milk. It's tempting to whisk your sugar and yolks together and set aside while waiting for the milk to reach the proper temperature. However, I have made this mistake before (during my pastry internship while making an ice cream base) only to realize that the sugar will "cook" the eggs.
Without getting in to the scientific reasoning (that would be a post in itself), premixing these ingredients will cause the egg proteins to clump up, something you cannot reverse. Therefore, it is key to wait to mix your sugar and yolks until you're ready to whisk in the hot milk. This is true for any dessert you make that requires these two ingredients to be mixed before being incorporated with another mixture.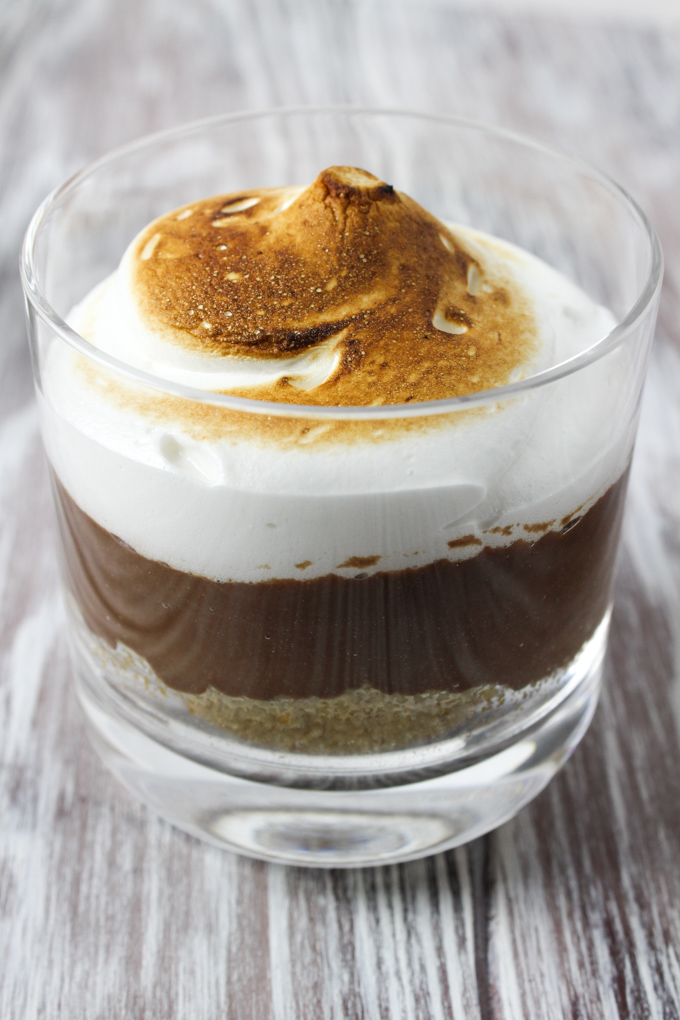 If you are making the the parfaits for guests or would like to prep ahead, you can always make the graham cracker crusts topped with the chocolate pudding the day before. I would suggest removing the parfaits from the refrigerator 30 minutes before adding your meringue and serving. It's a wonderful hostess dessert that is sure to impress.
It isn't summer without s'mores. And who said you need a campfire to make s'mores....
Print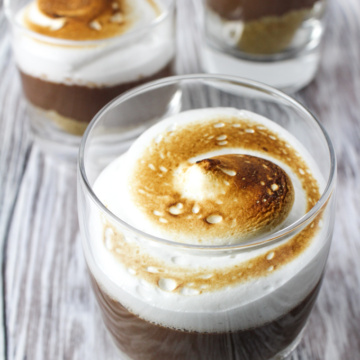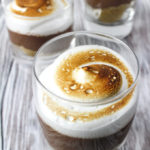 S'more Pudding Parfaits
---
For the Crust
1 cup

graham cracker crumbs

1 tablespoon

granulated sugar

1/4 teaspoon

salt

2 tablespoons

unsalted butter, melted
For the Pudding
3 cups

whole milk, divided

1/2 cup

unsweetened cocoa powder

1/4 cup

cornstarch

4

large egg yolks

3/4 cup

granulated sugar

2 tablespoons

butter

2 teaspoons

pure vanilla extract

1/2 teaspoon

salt
For the Meringue Topping
2

large egg whites

1/3 cup

granulated sugar

1/8 teaspoon

cream of tartar
Pinch of salt
---
Instructions
For the Crust.  In a medium mixing bowl mix graham cracker crumbs, sugar, salt and melted butter until evenly combined.  Spoon 2 heaping tablespoons of crumb mixture onto the bottom of each of eight (6-8 oz glass containers).  Set aside while preparing pudding.
For the Pudding.  Place a sieve on a large pitcher and set aside.  In a small bowl, whisk 1/2 cup milk and cornstarch. Set aside.  In a medium saucepan, whisk together the remaining 2 1/2 cups milk and cocoa powder over medium heat until the mixture reaches a simmer.
In a medium bowl, whisk the yolks and sugar together.  Gradually whisk in the hot milk.  Return the mixture to the saucepan and whisk in cornstarch mixture.  Whisk constantly over medium heat until mixture thickens, about 4 minutes (the pudding will just start to boil).  Remove from heat.  Whisk in butter, vanilla and salt.  Pour pudding through prepared sieve.
Pour pudding over crust in each jar, evenly dividing.  Cover and chill for 3-4 hours.
For the Meringue Topping.  Just before serving prepare meringue topping.  Place egg whites, sugar, cream of tartar and salt in a heatproof bowl of an electric mixer.  Set bowl over a small saucepan filled with an inch of simmering water.  Whisk constantly until sugar is dissolved and egg whites are warm to the touch, about 5 minutes.  Transfer the mixing bowl to an electric mixer fitted with a whisk attachment.  Beat on medium-high speed for 10-12 minutes until stiff, glossy peaks form.
Fill a pastry bag fitted with a large round pastry tip with the meringue.  Pipe a large swirl or desired design on top of parfait.  Using a kitchen torch, toast meringue.  Serve immediately.