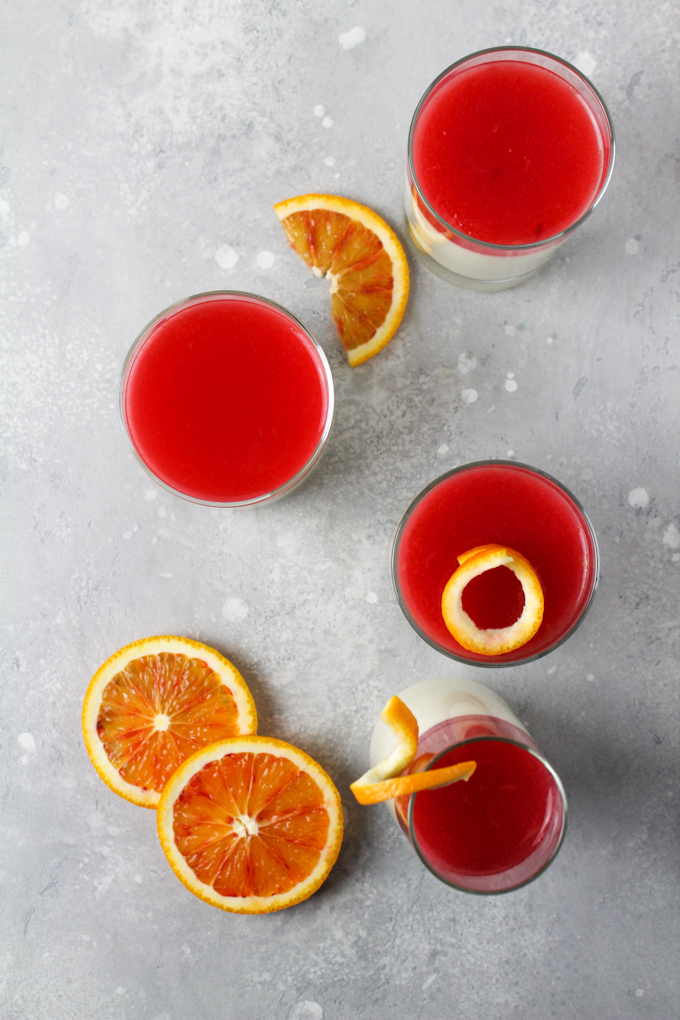 It's the New Year and at the top of many resolution lists is healthy eating!  And if not a resolution, it is a goal for many, self included, after eating rich foods and many sweets throughout the holiday season.  But I believe in eating everything in moderation.  So even as I aim to eat healthy most of the time, I do not like to completely eliminate dessert. I believe it isn't harmful to indulge in sweets occasionally, especially homemade sweets that are made from quality ingredients.
For those of you looking to keep it on the lighter side (and/or just looking to try out a new dessert recipe), I'm sharing with you a recipe for blood orange panna cotta.  Sounds fancy, right?!  It's an impressive dessert that's easy to make and delicious to boot!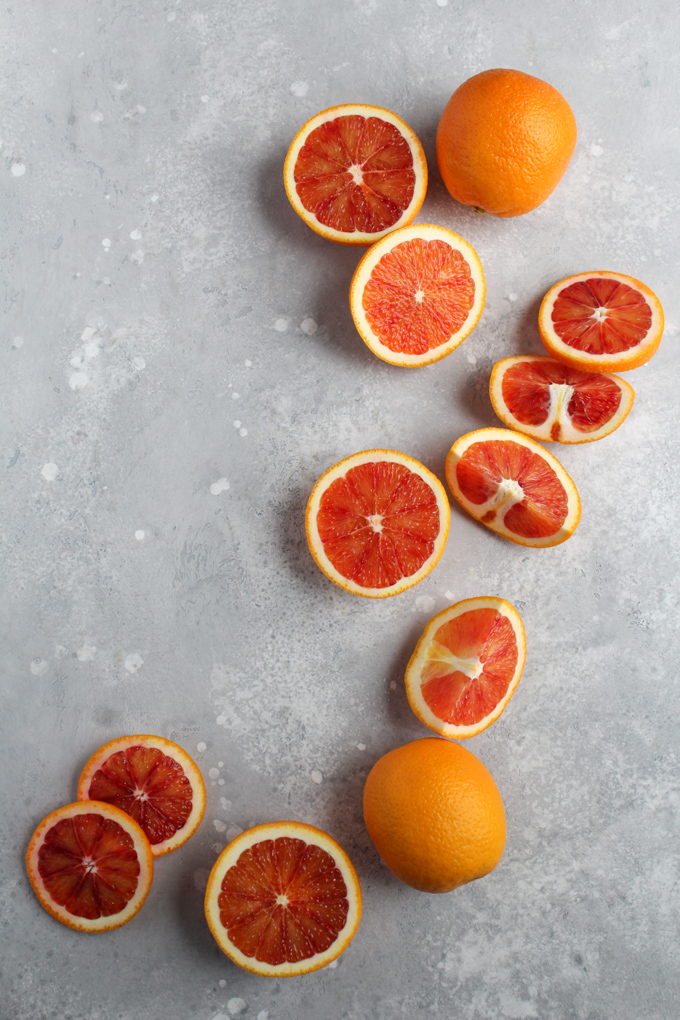 Panna cotta, Italian for "cooked cream," is an eggless custard made with gelatin.  Traditionally it is a molded, chilled dessert that can be flavored in many ways.  As we are in the midst of winter, citrus fruits are in season, and I thought blood oranges would be a great flavor for this classic Italian dessert.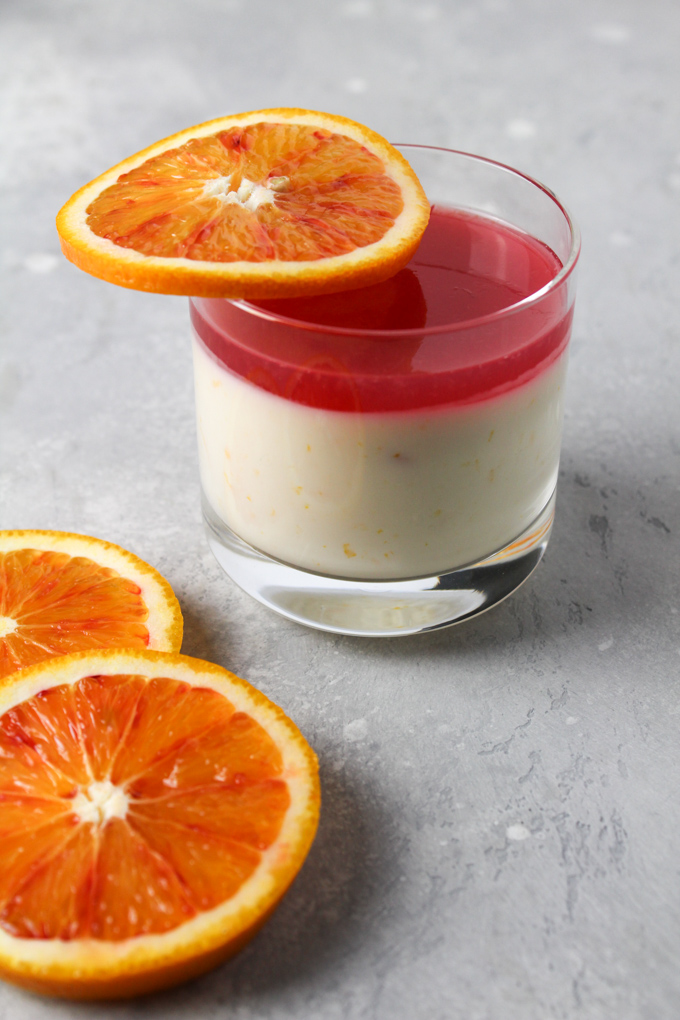 If you've never worked with unflavored gelatin before, it's really simple to use. It's easily accessible at the supermarket in the baking aisle.  Usually it comes in a small box with four 0.25 oz packets of powdered gelatin.  The first step is to allow the gelatin to soften in cold water or liquid.  In the meantime, you can heat your cream, sugar and flavoring until the mixture is hot and the sugar is dissolved.  At this stage you add the softened gelatin to the cream mixture off the heat and whisk until smooth and all the gelatin crystals are dissolved (the heat is what activates the gelatin).  If you find that they won't completely dissolve you can always return the mixture to the stove and heat gently without boiling until the mixture is completely smooth.
Once made, panna cotta must be chilled in molds or desired serveware for at least 4 hours before serving, allowing the dessert to be fully set.  It can easily be stored in the refrigerator, covered, for up to 3 days.
This panna cotta is silky smooth and a great entertaining dessert!  It can make a statement without the hassle of going through numerous steps or requiring much time to put together. Best of all it can be made ahead!
Print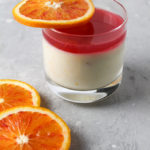 Blood Orange Panna Cotta
---
Yield:

4

-

6

individual panna cottas

1

x
For the panna cotta
1/2 cup

fresh blood orange juice

2 1/4 teaspoons

(

0.25 oz

) unflavorated powdered gelatin

2 1/2 cups

heavy cream

1/2 cup

granulated sugar

3 teaspoons

blood orange zest (about

3

blood oranges)
For the gelée
3 tablespoons

boiling water

1 teaspoon

unflavored powdered gelatin

1 teaspoon

granulated sugar

2/3 cup

fresh blood orange juice, strained of pulp
---
Instructions
For the panna cotta
Place blood orange juice in a small bowl and sprinkle gelatin over the surface.  Allow to sit for 15 minutes to soften.
Meanwhile, in a medium saucepan, heat cream, sugar and zest over medium heat and bring just to a boil until sugar dissolves.  Remove from heat and whisk in the gelatin until dissolved and mixture is smooth.  If gelatin is not fully dissolved then return saucepan to the stove and whisk mixture over low heat just until dissolved (do not bring to a boil).
Pour mixture into ramekins or glasses, leaving room for a thin layer of syrup, and refrigerate for at least 4 hours or up to 3 days.
For the gelée
When the panna cotta is fully chilled, in a medium bowl whisk the hot water and gelatin until dissolved.  Add the sugar and continue to whisk until dissolved.  Whisk in the blood orange juice until mixture is well combined.
Allow to cool for 10 minutes and then pour over the chilled panna cotta.  Chill in the refrigerator for at least 1 hour before serving.
Remove from the refrigerator 15 minutes before serving.