This post may contain affiliate links, please read my full disclosure policy.
Creamy speculoos custard on top of a thin layer of chocolate ganache and topped with a light and airy toasted meringue makes the perfect s'more crème brûlée.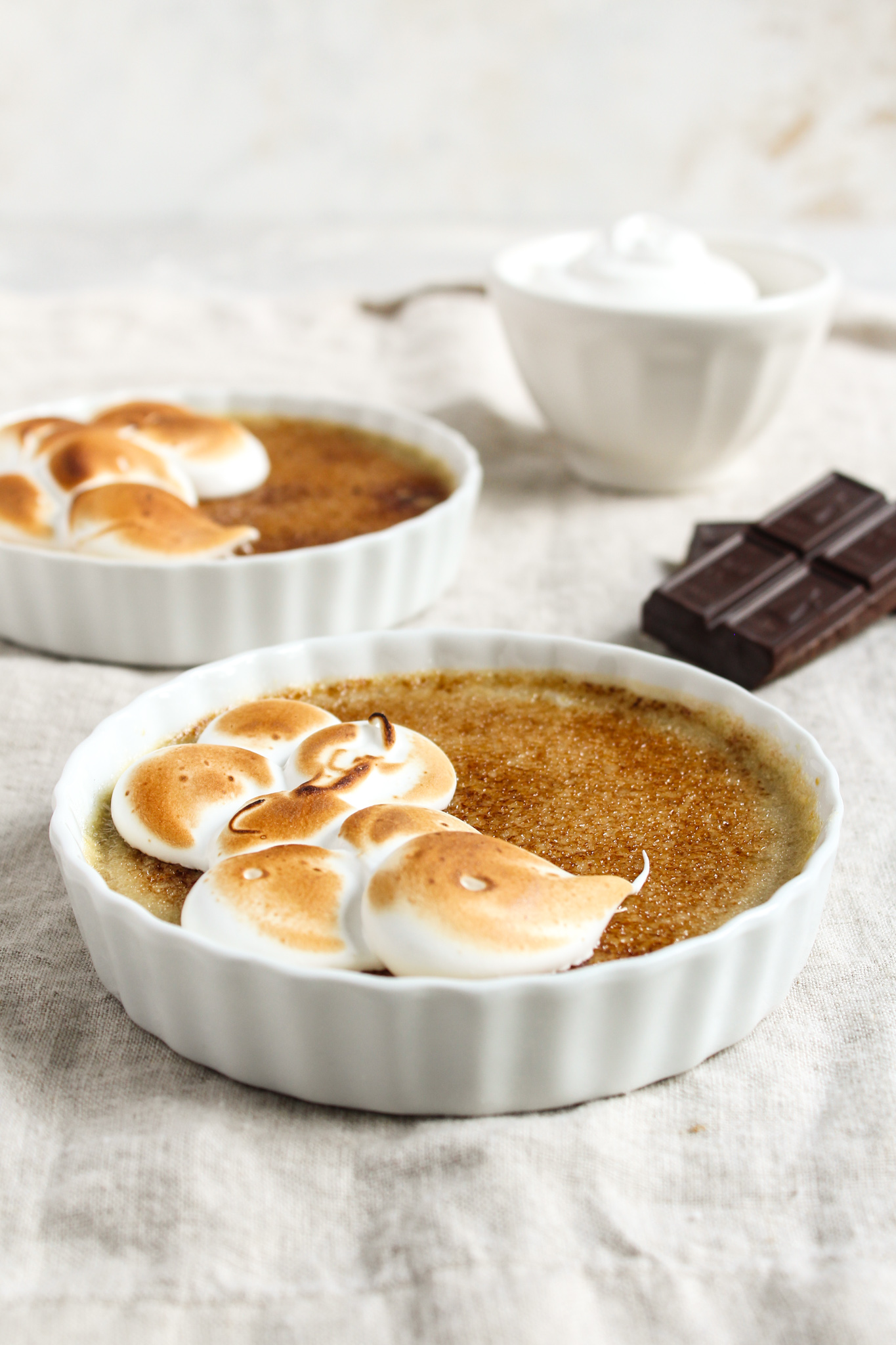 S'mores are definitely on my top 5 most favorite dessert list.  Toasted marshmallow atop melting chocolate and sandwiched between graham crackers is a brilliant flavor and texture combination.  They are the perfect summer dessert and fun for kids to make.
I always enjoy experimenting with different versions of this sweet treat.  And today I'm sharing with you my new favorite version, s'more crème brûlée.  It consists of a thin layer of chocolate ganache topped with a creamy speculoos filling and brûléed to perfection.  And if that isn't enough, a light and airy toasted meringue completes this decadent dessert.  AMAZING!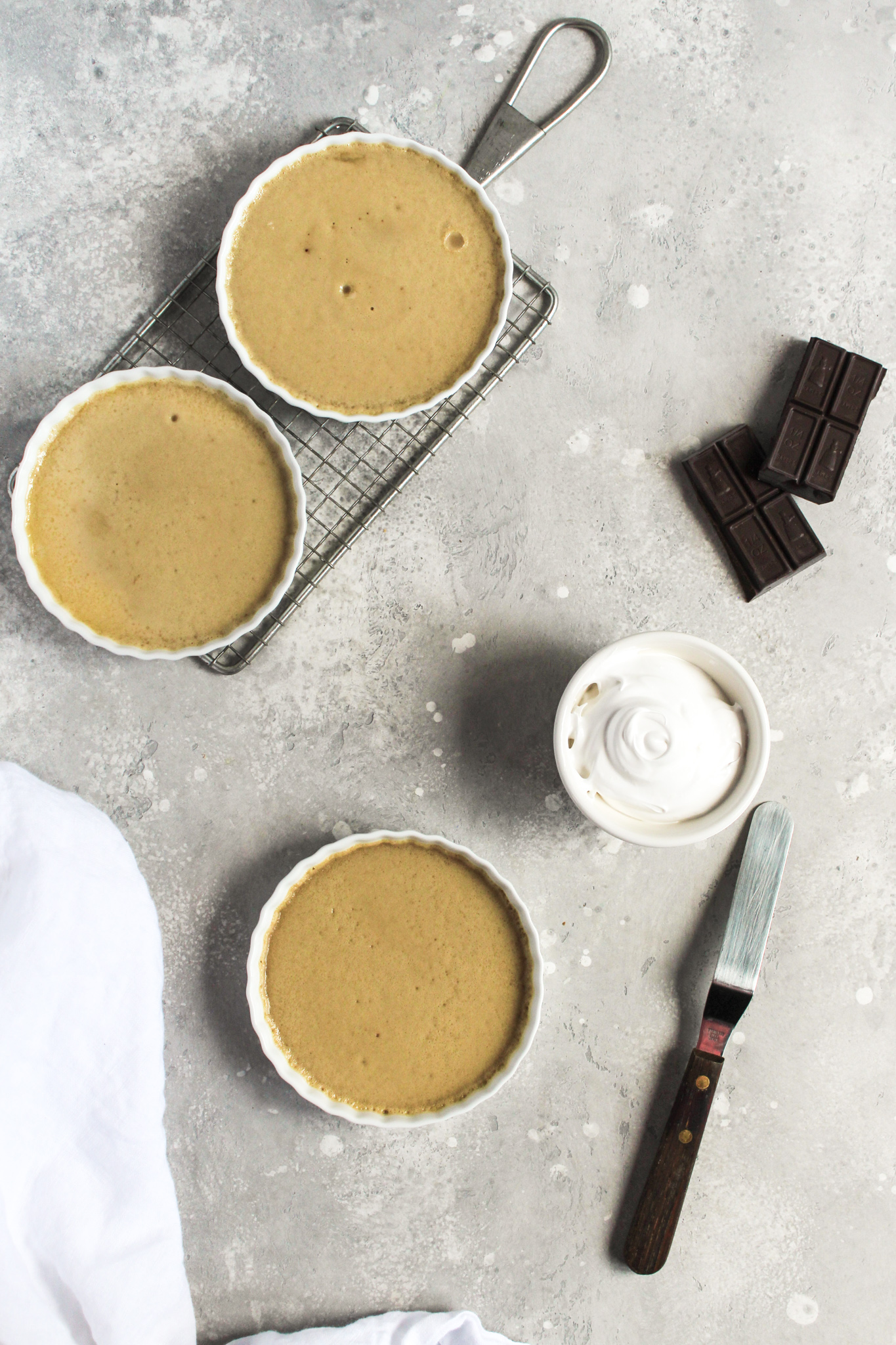 How to make chocolate ganache
Chocolate ganache goes wonderfully in this s'more crème brûlée.  It's simple to make using only two ingredients, chocolate and heavy cream.  However, the key is creating the ideal consistency.  It all comes down to ratios.  For this particular recipe, a 1:1 ratio is used.  Specifically, the recipe calls for 4 oz of semi-sweet chocolate and 4 oz heavy cream.  This produces a pudding like consistency which is also great for cake and cupcakes fillings and/or frostings.  For a thicker consistency a 2:1 ratio of chocolate to cream is used.  This is ideal for making chocolate truffles.  And for a thin glaze-like consistency that's great for dipping fruit, a 1 part chocolate to 1.5 part cream is used.
To make the ganache, place a heatproof bowl over simmering water and cook the chocolate and cream.  Whisk together until a smooth, shiny consistency is achieved.  And it's as simple as that.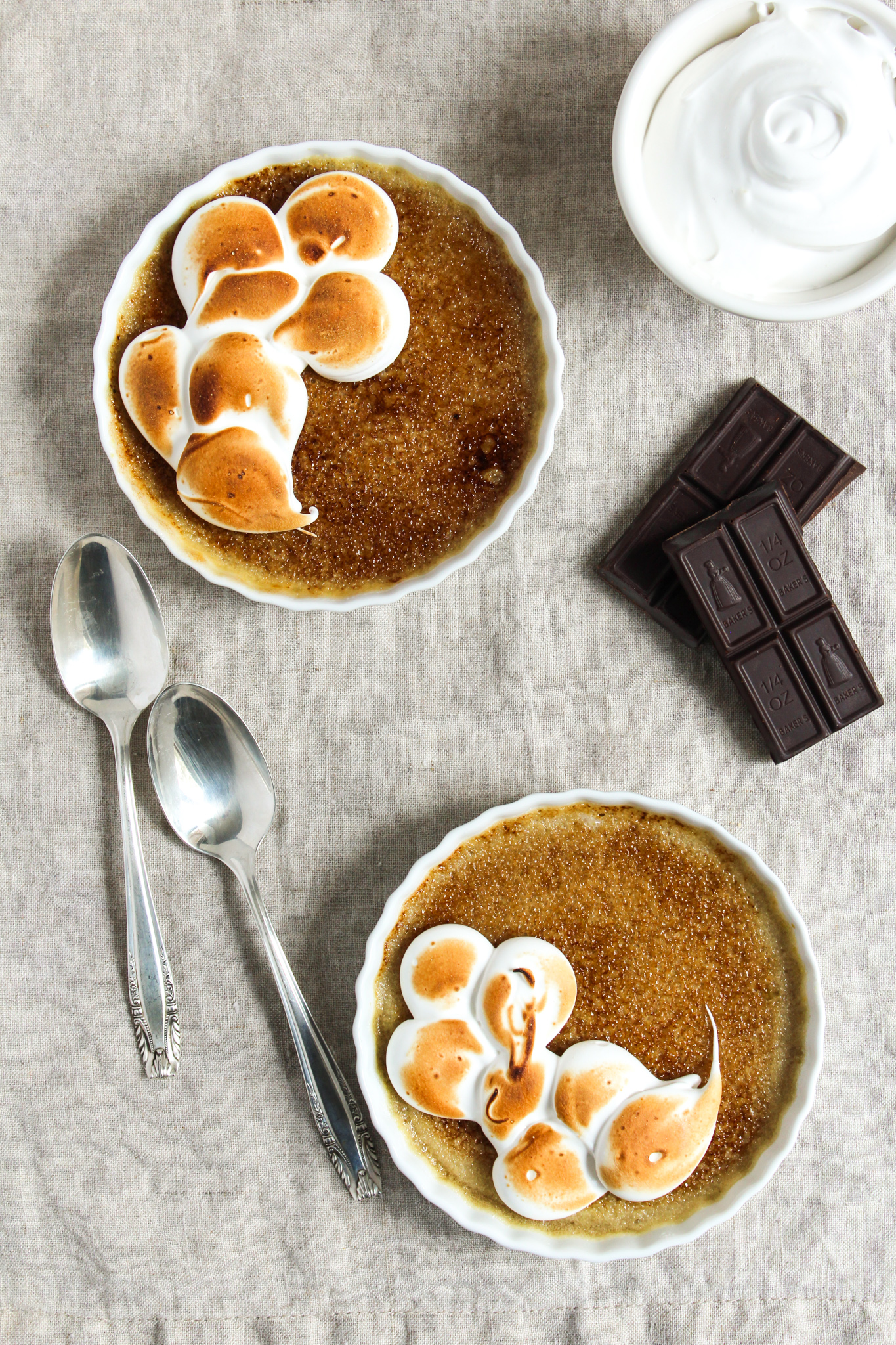 How to make the perfect Crème Brûlée
Traditional wide, shallow ramekins are ideal as oppose to deep ceramic containers (4-6 oz).  The deeper containers require a longer baking time and result in overcooked edges and under baked centers.  Additionally, the wider ramekins allow for more caramelized crust which is the highlight of a crème brûlée.
Mix the custard with strictly heavy cream to achieve the richest flavor.  Some recipes call for a combination of milk and cream which lightens the custard and is less creamy.
Use egg yolks as oppose to whole eggs.  The yolks not only produce a rich flavor, but also help keep your texture creamy (and not as firm as when using whole eggs).
Superfine granulated sugar is best for the crust.  The small granules caramelize quickly and more evenly than brown sugar or coarse sugar.
Use a kitchen torch to brûlée you custard as oppose to an oven broiler.  It's extremely difficult to perfectly caramelize your sugar in the oven.  A kitchen torch gives you the most control.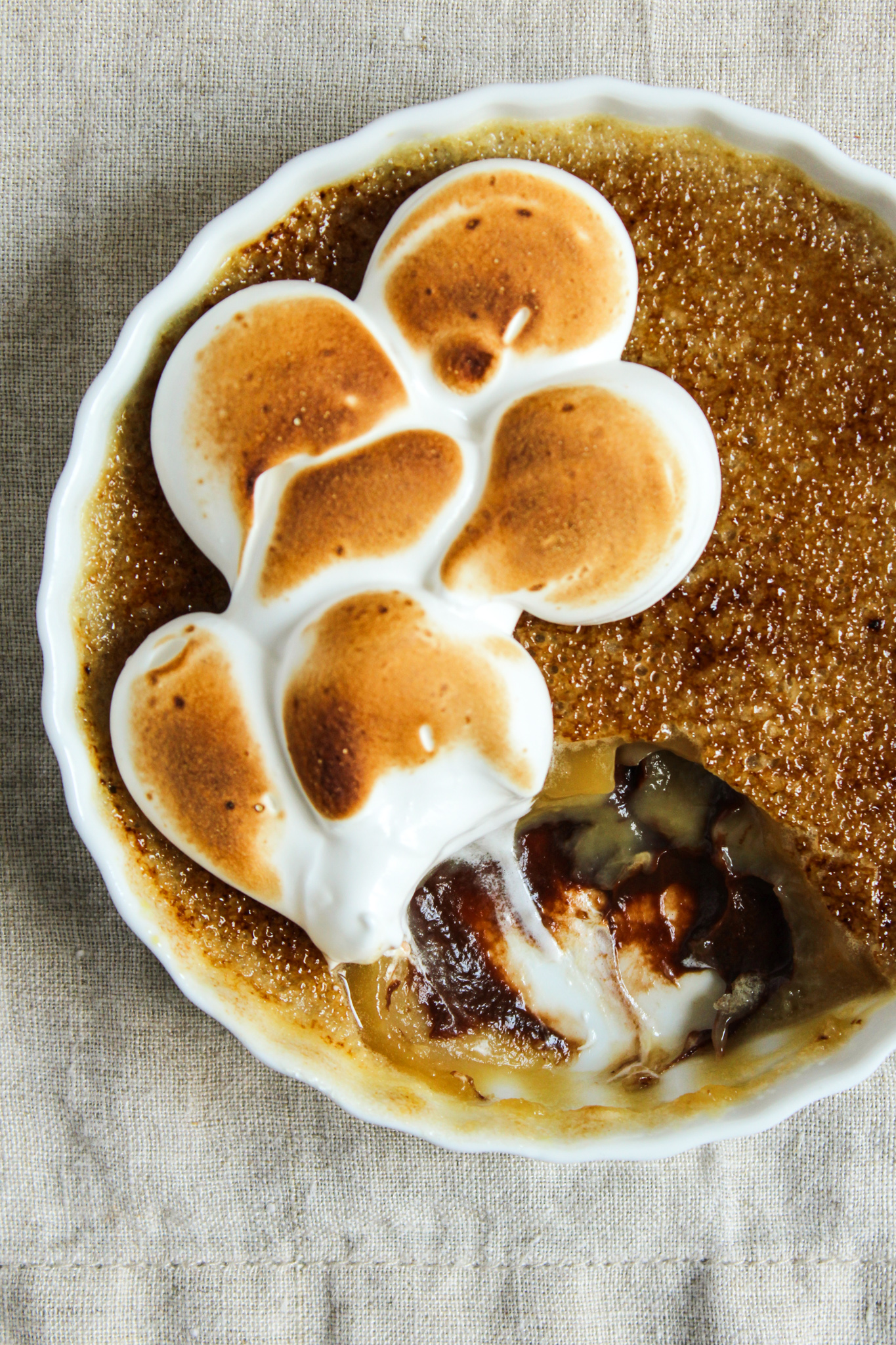 Using a hot water bath
Baking s'more crème brûlée in a hot water bath is necessary creating that perfectly baked creamy custard.  Doing so allows these delicate desserts to cook slowly and more evenly.  The water that surrounds the crème brûlée creates gentle heat which results in a more uniform baking.  Additionally, the water bath (also known as a Bain-Marie) keeps the air in the oven moist which helps prevent your custards from cracking.
To create a hot water bath for your s'more crème brûlée, place empty ramekins in a baking pan or roasting pan.  Pour hot water into the pan so that it rises halfway up your ramekins. Once you custard is prepared divide your custard equally between the ramekins and place into oven.
More custards, parfaits and pudding recipes
Print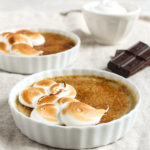 S'more Crème Brûlée
---
Author:

Maria

Yield:

6

crème brûlées

1

x
For the chocolate ganache
4 oz

bittersweet chocolate, roughly chopped

4 oz

heavy cream
For the crème brûlée
2 cups

(

480

ml) heavy cream

2 teaspoons

pure vanilla extract

1/2 cup

(

100 g

) granulated sugar

5

large egg yolks

1/3 cup

(

83 g

) smooth speculoos
Boiling water
Granulated sugar, for topping
For the meringue topping
2

 large egg whites

1/3 cup

(

67 g

) granulated sugar

1/8 teaspoon

 cream of tartar
Pinch of salt
---
Instructions
For the chocolate ganache
In a double boiler over simmering water, cook the chocolate and heavy cream until smooth stirring occasionally.
Spoon equal amounts of ganache in 6 (5oz) ceramic ramekins.  Spread with back of spoon and set aside.
For the crème brûlée
Preheat oven to 325°F/163°C.
In a medium saucepan, heat heavy cream over medium heat to a simmer, stirring occasionally.  Remove from heat and whisk in the vanilla extract.  Set aside.
In a medium bowl, whisk together sugar and yolks.  Carefully, ladle about 1/2 cup of the cream mixture into the sugar-egg mixture while constantly whisking to avoid causing the eggs to scramble.  Pour the egg mixture into the remaining hot cream mixture and whisk together.  Add the speculoos and whisk until completely dissolved and incorporated.
Divide custard evenly between prepared baking dishes.  Fill the pan with boiling water about halfway up the sides of your baking dishes.  Bake in preheated oven for 30-35 minutes or until edges of custard are set and centers are barely set (slightly jiggly).
Transfer baking dishes to wire rack and cool to room temperature.  Refrigerate covered for at least 4 hours and up to 3 days.
To serve, remove from refrigerator for 20 minutes and then sprinkle tops with a thin layer of granulated sugar.  Shake off any excess sugar.  Carefully caramelize sugar with a kitchen torch.
For the Meringue Topping
Just before serving prepare meringue topping.  Place egg whites, sugar, cream of tartar and salt in a heatproof bowl of an electric mixer.  Set bowl over a small saucepan filled with an inch of simmering water.  Whisk constantly until sugar is dissolved and egg whites are warm to the touch, about 5 minutes.  Transfer the mixing bowl to an electric mixer fitted with a whisk attachment.  Beat on medium-high speed for 10-12 minutes until stiff, glossy peaks form.
Using a small offset spatula or pastry bag fitted with a round pastry tip, spread or pipe meringue in a over top of each caramelized crème brûlée.  Using a kitchen torch, toast meringue (careful not to over torch).  Serve immediately.
Category:

Custards Parfaits & Pudding
Keywords: S'more crème brûlée, custard, s'mores