This post may contain affiliate links, please read my full disclosure policy.
Maple Crème Brûlée is creamy, flavored with pure maple syrup, and has a perfectly caramelized topping.  This simple yet impressive dessert is made with 5 basic ingredients and comes together in just 45 minutes.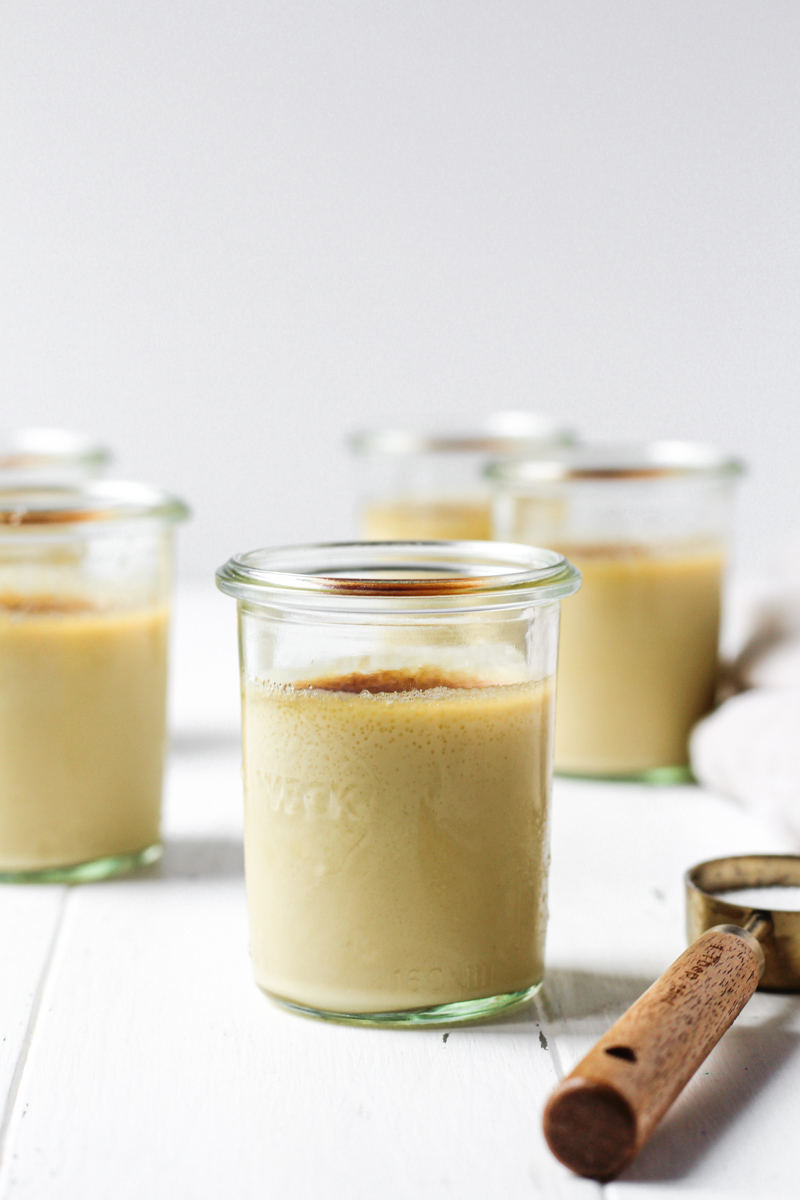 What better than a creamy dessert with a caramelized topping that cracks perfectly when you spoon a bit of custard?  Whenever we order dessert at a restaurant, if crème brûlée is on the menu, that's what we're ordering.  It has such a lovely texture and is rich without feeling overindulgent.
Crème brûlée is simple to make and can transform into so many flavors, such as this maple version.  This recipe doesn't use imitation flavor, only pure syrup for a true quality flavor.  During the fall, this maple crème brûlée is the perfect comfort dessert, but it can be enjoyed at any time of the year.
Why this recipe works
It can be prepped in 15 minutes.
Made with 5 simple ingredients.
Flavored with 100% pure maple syrup.
Has a creamy filling with a thick and sturdy caramelized topping.
Before you begin
Take out the following baking equipment.
Digital kitchen scale
6 individual ramekins
Medium saucepan
Silicon spatula
Whisk
Medium bowl
Ladle
Pitcher or 4-cup measuring cup
Deep baking pan
Wire cooling rack
Kitchen torch
Read the recipe through from start to finish.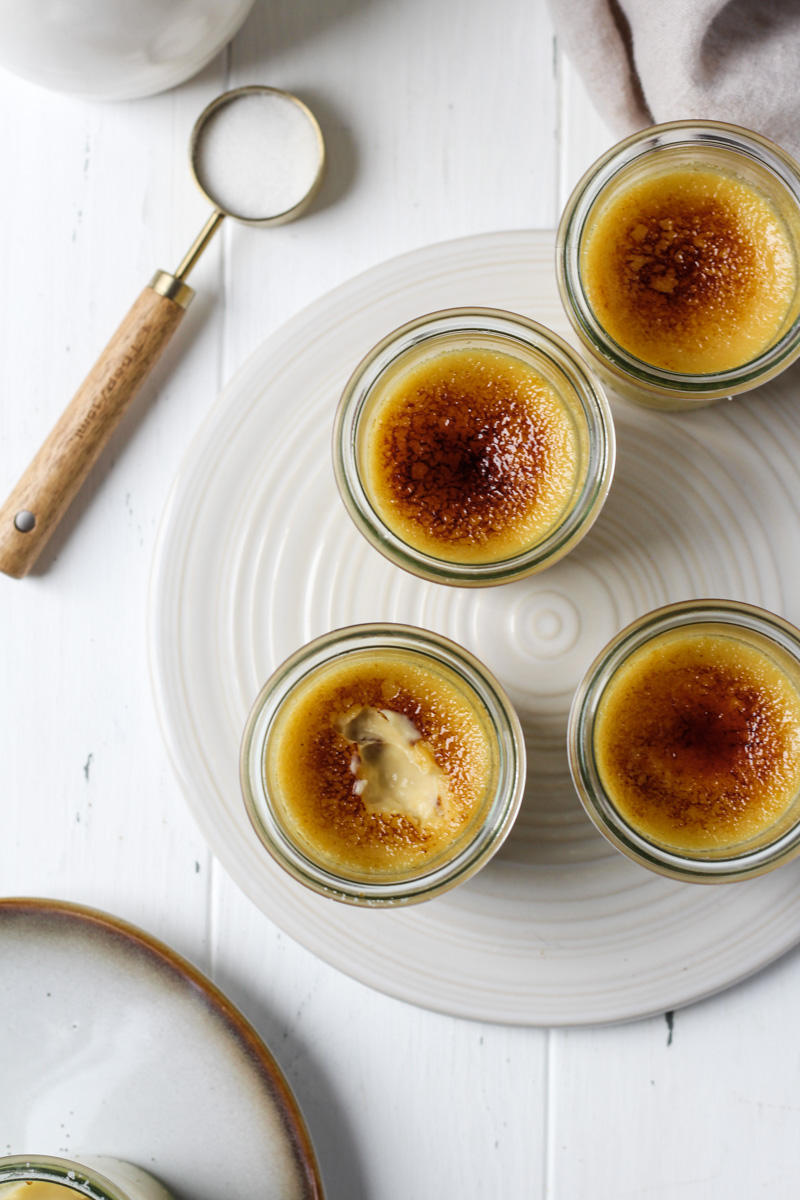 Understanding ingredients
Heavy cream or heavy whipping cream can be used interchangeably in this recipe.  It adds a delicious, rich, and creamy texture to the crème brûlée.  For a lighter dessert, you can substitute equal parts of half-and-half for the cream.
Maple syrup adds a distinct and delicious flavor while contributing to the sweetness of this recipe.  For the best flavor, always use 100% maple syrup.  There are many grades of maple syrup on the market, characterized by their color and taste.  Syrup made from sap collected early in the season has a lighter color, while syrup made later in the season is darker. For this recipe, I recommend using a darker syrup, which has a stronger flavor.
Crème brûlée is made using egg yolks.  The yolk produces a richer flavor while keeping the custard creamy.  I would not recommend making substitutions for the egg yolks in this recipe.
In addition to the maple syrup, granulated sugar adds another level of sweetness to this recipe. For the topping, use superfine granulated sugar.  The small granules caramelize quickly and more evenly than brown sugar or coarse sugar.
Tempering eggs
Tempering is the process of mixing two liquids with different temperatures together without affecting the overall texture.  For crème brûlée, tempering your eggs yolks will help prevent them from cooking and creating lumps in your custard mixture.  To temper your eggs, add at least one ladle of the hot cream to the yolks while whisking vigorously.  This will increase the temperature of the yolks without curdling the mixture.  Once the yolks are warmed, the mixture can then be added to the remaining cream while whisking without the fear of cooking the eggs.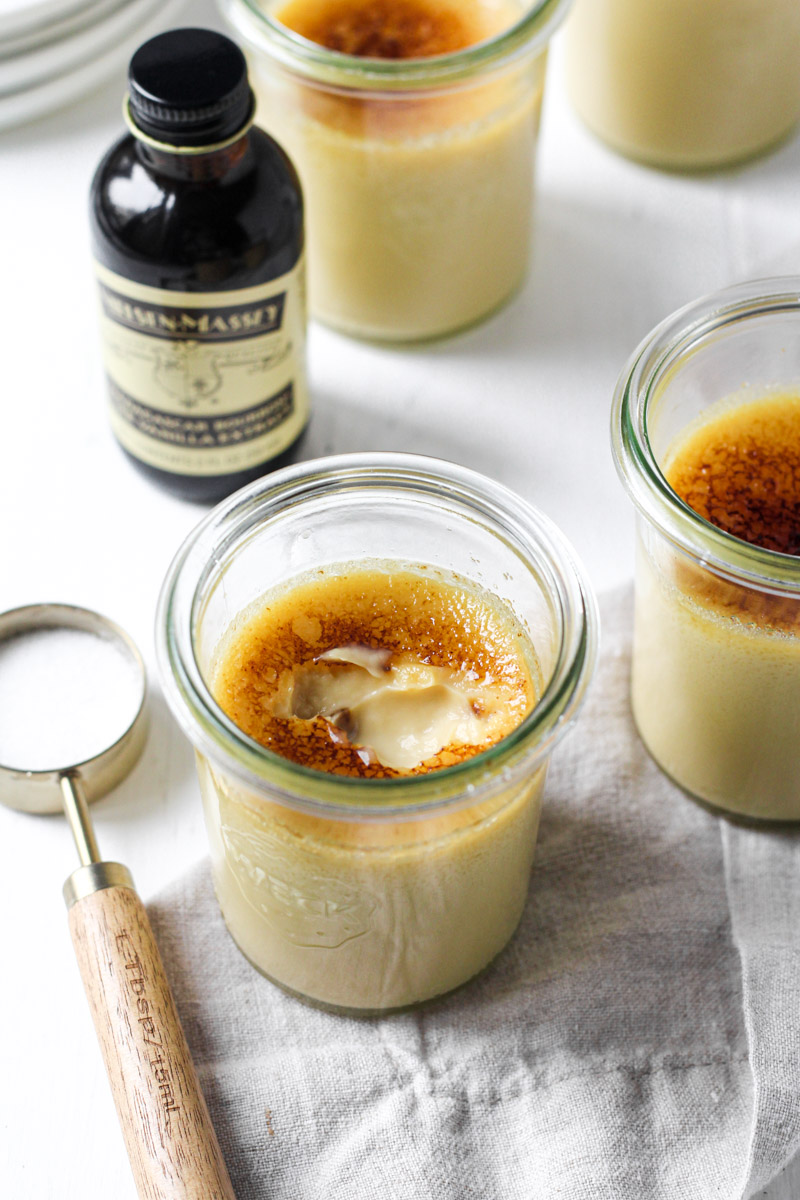 Using a hot water bath
Baking the crème brûlée in a hot water bath is necessary for creating a perfectly baked creamy custard.  This allows these delicate desserts to cook slowly and more evenly.  The water that surrounds the crème brûlée creates gentle heat, which results in uniform baking.  Additionally, the water bath (also known as a Bain-Marie) keeps the air in the oven moist, preventing the custards from cracking.
To create a hot water bath, place empty ramekins in a deep baking pan or roasting pan.  Pour hot water into the pan halfway up the sides of your ramekins. Once the custard is prepared, divide it equally between the ramekins and place them immediately into the oven.
Burnt sugar topping
In French, crème brûlée translates to burnt cream.  This refers to the caramelized (aka burnt) sugar topping that gives that perfect crack when you dig in for a bite.
Once the custards are baked, cooled, and refrigerated for at least 4 hours, you can add the distinct topping to your crème brûlée (always do this just before serving).  Cover the custard's entire surface with the sugar and shake off the excess sugar.  Carefully use a kitchen torch in an even motion to promote even caramelization.
Kitchen torch vs. oven broil
Using a kitchen torch to broil crème brûlée gives you a perfect, even caramelization.  However, if you do not own a kitchen torch, you can always use the broil setting on your oven to caramelize the sugar.  To broil in an oven, place cold, baked crème brûlée with sugar topping in a cold oven and turn on to broil setting.  Allow desserts to broil until sugar is melted and caramelized.  This method produces a more rustic look but achieves the 'burnt' sugar topping.
Although not necessary, I love having a kitchen torch for not only crème brûlée but also for recipes that call for toasted meringue such as key lime pie, lemon mascarpone cheesecake, and s'more brownies.  It's an inexpensive investment that makes all the difference.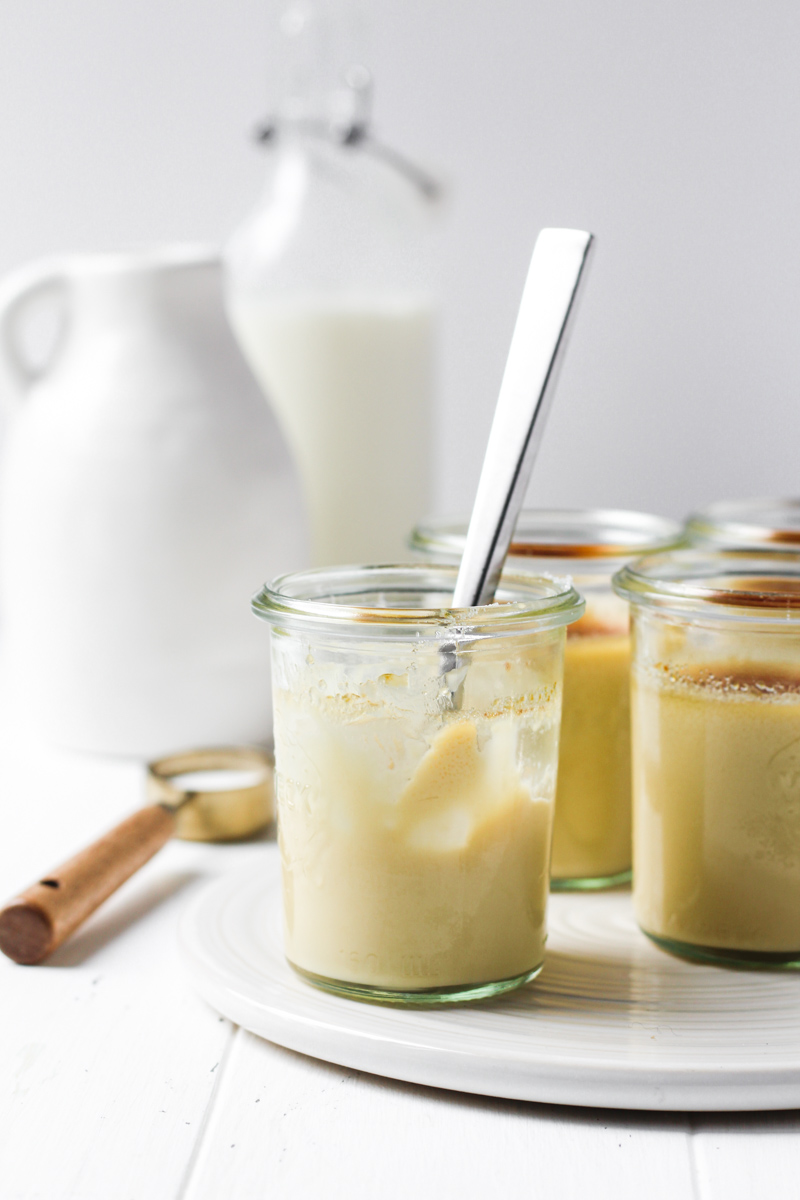 Tips and takeaways
For an extra pack of flavor, substitute the pure vanilla extract with the seeds from 1 vanilla bean. Cut and scrape the seeds of the pod and add to the cream before heating.  You can even add the scraped pod to the mixture and remove it once the cream comes to a simmer.
Allow the cream to heat to a simmer before whisking together the egg yolks with the sugar.  When eggs and sugar sit too long, the sugar will 'cook' the eggs.  Not in the same way that it would overheat, but a chemical reaction will occur between the sugar and the protein in the eggs resulting in a clumpy mixture.
Before pouring the custard mixture into the ramekins, strain the mixture through a sieve to ensure it is completely smooth and free of any cooked eggs.  This simple step can ensure a perfectly smooth custard.
Be careful not to overbake the maple crème brûlée.  The custard will be set on the edges, and the center will still jiggle.
For more custard desserts, try these recipes...
Make sure to tag me @thesweetoccasion on Instagram and leave me a review below if you make this Maple Crème Brûlée. I'd love to see your creations and read your feedback.  And if you would like to make this recipe later, be sure to pin this recipe using the button on any of these images. Let's make every occasion a sweet occasion!
Print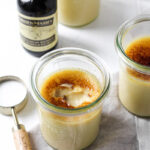 Maple Crème Brûlée
---
Author:

Maria

Total Time:

45 minutes

Yield:

6

individual desserts

1

x
Description
Maple Crème Brûlée is creamy, flavored with pure maple syrup, and has a perfectly caramelized topping.  This simple yet impressive dessert is made with 5 basic ingredients and comes together in just 45 minutes.
---
480 g

(

2 cups

) heavy cream

12 g

(

1 tablespoon

) pure vanilla extract

120 g

(

6

large) egg yolks

160 g

(

1/2 cup

) maple syrup

55 g

(

1/4 cup

) granulated sugar
Boiling water
Granulated sugar, for topping
---
Instructions
Preheat oven to 325°F/163°C.
In a medium saucepan, heat heavy cream over medium heat to a simmer, stirring occasionally.  Remove from heat and whisk in the vanilla and maple syrup.  Set aside.
In a medium bowl, whisk together the sugar and yolks.  Carefully ladle about 1/2 cup of the cream mixture into the sugar-egg mixture while constantly whisking to avoid causing the eggs to cook.  Pour in the egg mixture into the remaining hot cream mixture and whisk together.
Pour the mixture through a fine sieve into a pitcher or a 4-cup measuring cup.  Divide the custard evenly between the prepared baking dishes.  Fill the pan with boiling water about halfway up the sides of your baking dishes.  Bake in preheated oven for 30-35 minutes or until edges of custard are set, and centers are barely set (slightly jiggly).
Transfer baking containers to a wire rack and cool to room temperature.  Refrigerate covered for at least 4 hours or up to 3 days.
To serve, remove from refrigerator and sprinkle tops with a thin layer of granulated sugar.  Shake off any excess sugar.  Carefully caramelize sugar with a kitchen torch.
Notes
Make-Ahead: You can prepare the custard mixture up to 1 day before baking.  Pour into a bowl, cover tightly, and refrigerate.  You can also bake the custard up to 3 days ahead of time.  Add the sugar and caramelize just before serving.
Heavy Cream:  For a lighter texture, you can substitute 2 cups half-and-half for the heavy cream.
Vanilla: You can substitute the pure vanilla extract with the scraped seeds from 1 vanilla bean. For added flavor, add the scraped vanilla bean pod to the heavy cream and remove once the mixture comes to a simmer.
Prep Time:

15 minutes

Cook Time:

30 minutes

Category:

Custard
Keywords: crème brûlée, fall dessert, custard, individual desserts