This post may contain affiliate links, please read my full disclosure policy.
Moist Whole Wheat Blueberry Muffins are a great breakfast or snack option.  These muffins are made with fresh or frozen blueberries and whole grains for a healthier alternative.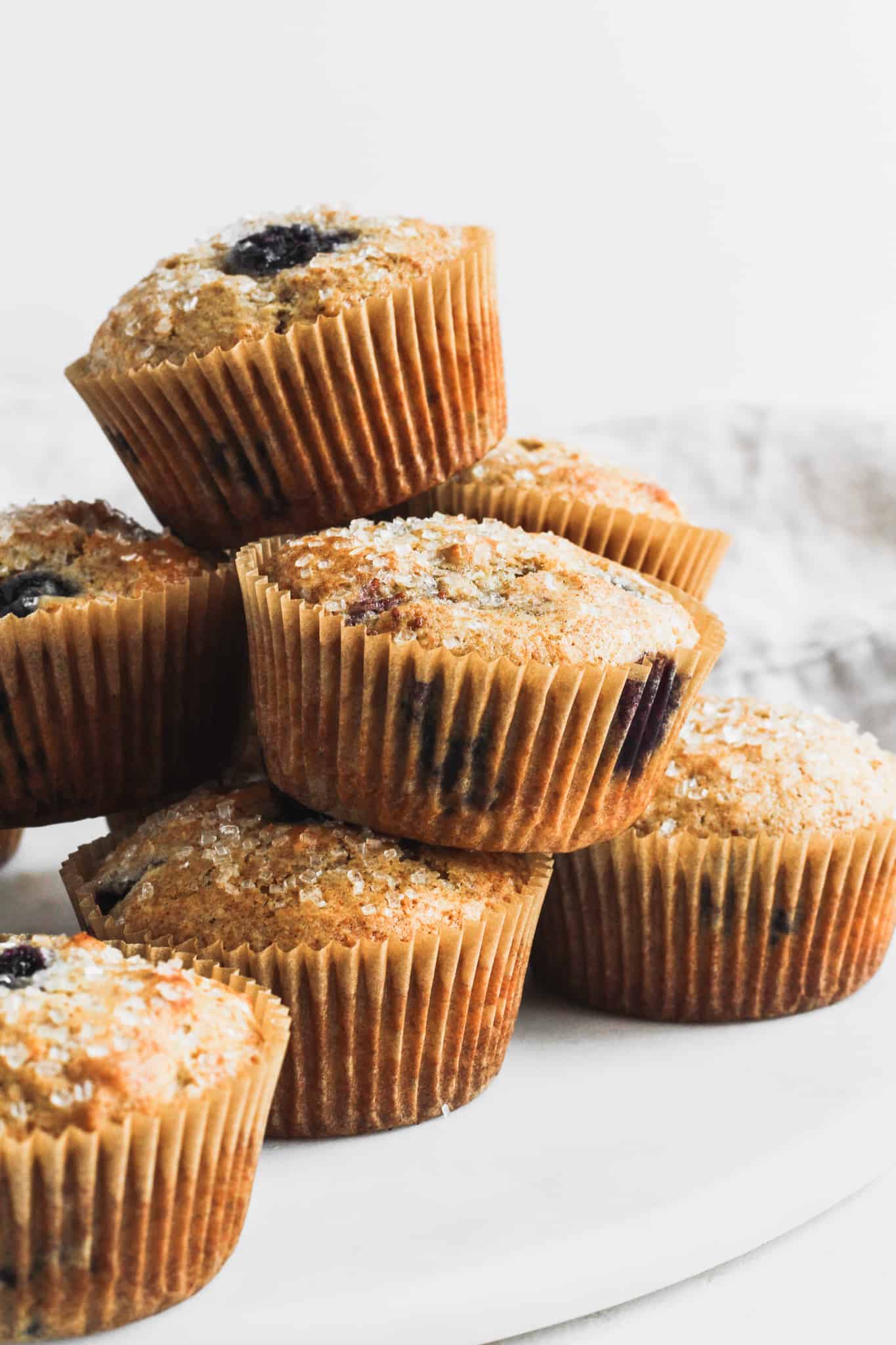 Sometimes we get so caught up in the busyness of life that it can often lead to quick unhealthy breakfast options.  To combat this, I love making whole wheat blueberry muffins as a healthier alternative.  Especially with my kids, I am always mindful of the foods I feed them.  As I always say, everything in moderation, especially when it comes to food.  So instead of selecting store-bought muffins, I love making homemade muffins and filling them with fresh blueberries and whole grains.  The kids are a fan and therefore I always have a backup in the freezer for when I am in a pinch for time.
Before you begin
Take out the following baking equipment.
Digital kitchen scale
12-cup muffin pan
Muffin liners
Large bowl
Whisk
Medium bowl
Silicone spatula
Spoon
Allow all your ingredients to come to room temperature.
Read the recipe through from start to finish.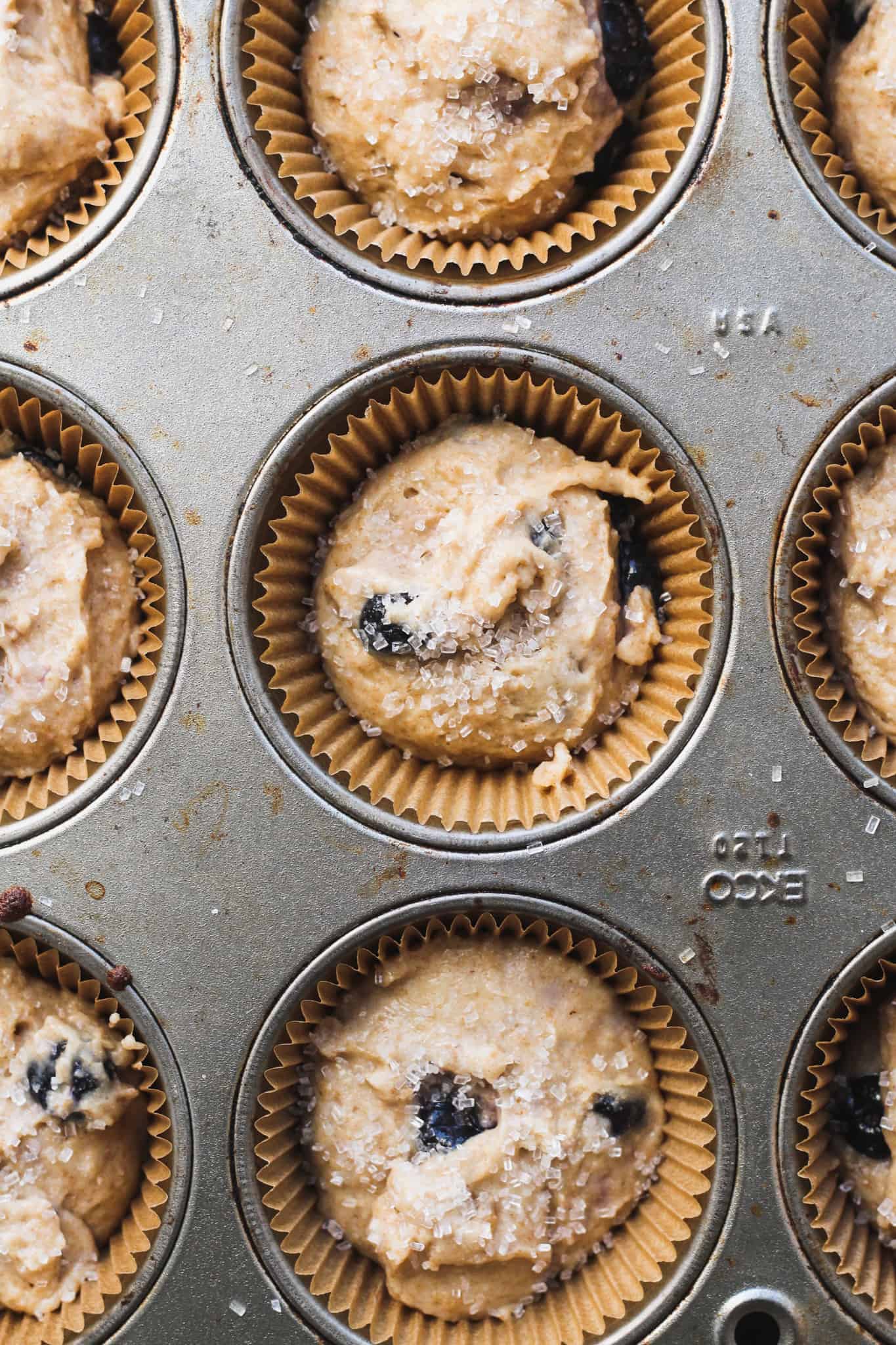 Understanding ingredients
Using only whole-wheat flour can tend to make muffins dense as the gluten takes longer to develop with this type of flour.  To make a more tender muffin, I have used a combination of whole-wheat flour and all-purpose flour. If you prefer only whole-wheat flour, substitute equal parts whole-wheat flour for the all-purpose flour and add 1 teaspoon of milk to the recipe.
Using brown sugar will add moistness to your whole wheat blueberry muffins.  It also adds a depth of flavor compared to granulated sugar.  A 50/50 ratio of brown sugar to granulated sugar adds the right amount of flavor and moistness to this recipe.
The baking powder helps make these muffins light and fluffy.  As a leavening agent, the baking powder produces the necessary gases for the muffins to rise.  Using too little will not provide the proper rise to the muffins, and using too much will cause the muffins to rise quickly and then collapse.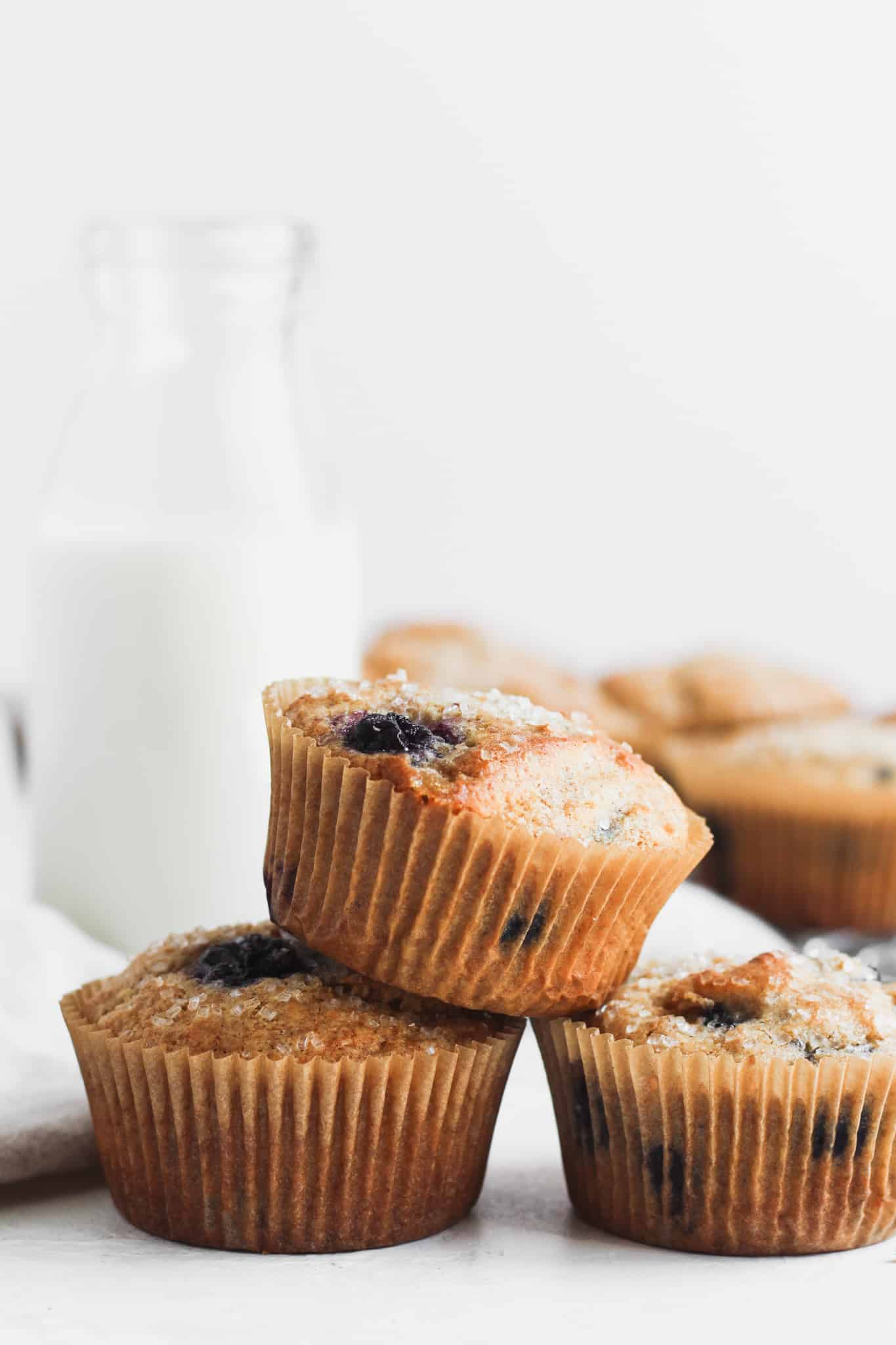 What causes dense muffins?
If your muffins come out heavy and dense, one of three common mistakes could be the culprit.
Too much leavening – A recipe that has too much leavening agent in the batter will cause muffins to rise quickly, then collapse, and it will create undesirable dense muffins.  In general, for every 2 cups of flour, use 2 1/2 teaspoons of baking powder or 1/2 teaspoon baking soda plus 1 teaspoon baking powder and 1 cup buttermilk (as an acidic ingredient to activate the baking soda).
Too much liquid – If there is too much liquid in the batter, the muffins will be very dense. It's best to use a scale to measure for accuracy.  If using measuring cups, only use liquid measuring cups for liquid ingredients.  Always make sure you use the correct type of measuring cup because there is a difference between dry and liquid measuring cups, which can affect your outcome.
Overmixing – Mixing muffin batter too much can create very dense muffins.  Plus, it'll add too much air into the mixture creating pockets in the crumb.  To help prevent overmixing, make a well in your dry ingredients.  Pour the wet ingredients into this well and gently fold everything together until just combined.  It's ok for your muffin batter to have lumps in it as these will disappear once baked.
How to store muffins
Place your muffins into an airtight plastic bag or an airtight container to store.  When properly wrapped, muffins will keep fresh for 3-4 days at room temperature.  Alternatively, you can place the wrapped muffins in the freezer for up to 3 months.  Be sure that the muffins are completely cool before freezing to prevent condensation on the muffin tops.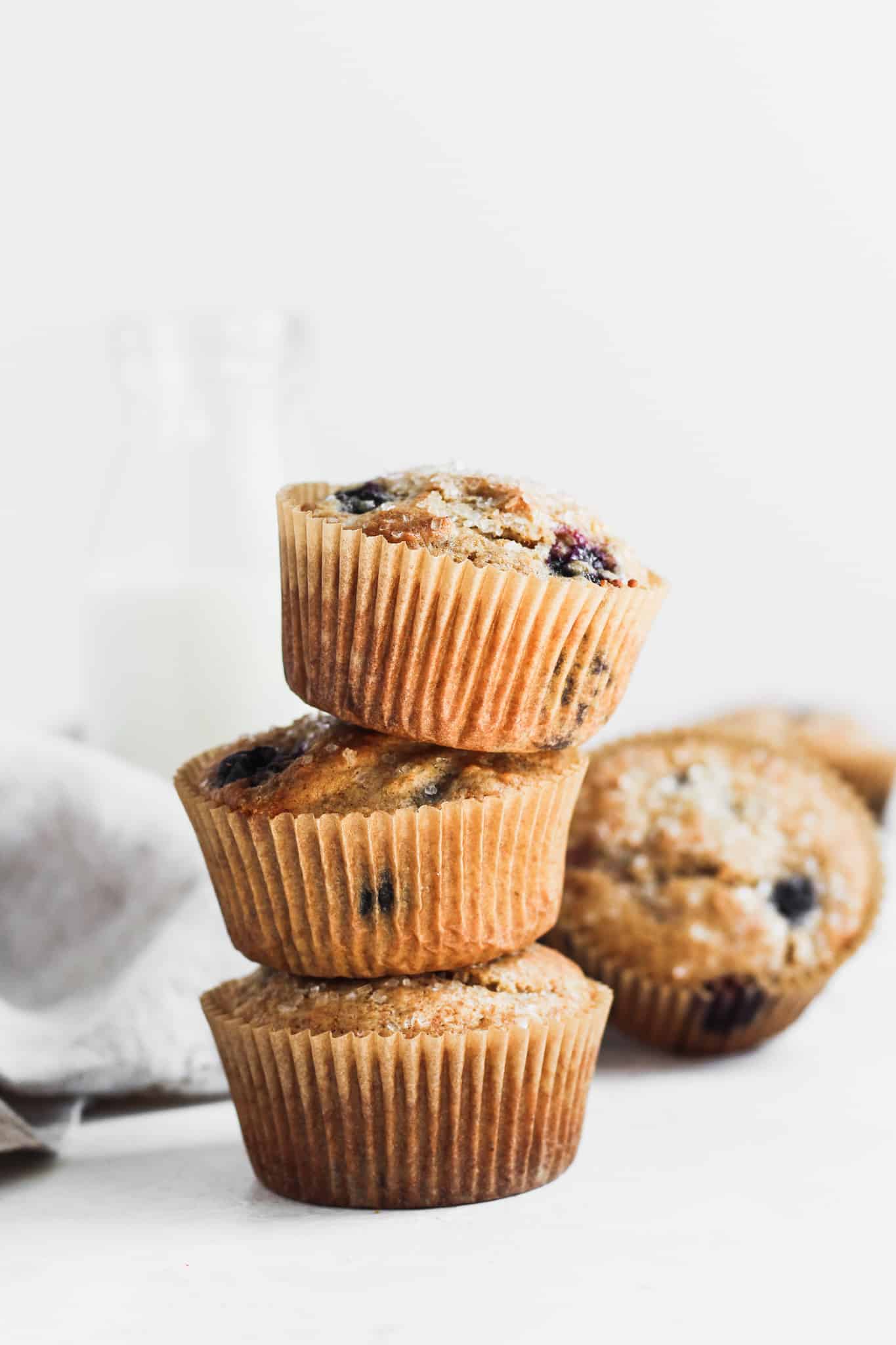 Tips and takeaways
If using frozen blueberries for this recipe, place in a strainer and run under cold water until the water runs mostly clear.
For an added flavor, you can add a glaze to these whole wheat blueberry muffins. Whisk together powdered sugar and milk until you reach the desired consistency.  And for a bit of flavor, add some pure vanilla extract.  Spoon over muffins.
Use an ice cream scoop to portion out your muffins.  If all the muffins are the same size, then they will all bake evenly.
More breakfast recipes
Make sure to tag me @thesweetoccasion on Instagram and leave me a review below if you make these Whole Wheat Blueberry Muffins. I'd love to see your creations and read your feedback.  And if you would like to make this recipe later, be sure to pin this recipe using the button on any of these images. Let's make every occasion a sweet occasion!
Print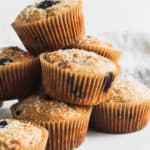 Whole Wheat Blueberry Muffins
---
Author:

Maria

Total Time:

35 minutes

Yield:

12

muffins

1

x
Description
Moist Whole Wheat Blueberry Muffins are a great breakfast or snack option.  These muffins are made with fresh or frozen blueberries and whole grains for a healthier alternative.
---
124 g

(

1 cup

) whole wheat flour

70 g

(

1/2 cup

) all-purpose flour

55 g

(

1/4 cup

) light brown sugar

55 g

(

1/4 cup

) granulated sugar

8.6 g

(

2 teaspoons

) baking powder

2.8 g

(

1/2 teaspoon

) salt

50 g

(

1

large) egg, at room temperature

120 g

(

1/2 cup

) whole milk, at room temperature

57 g

(

1/4 cup

) melted butter, cooled

3.5 g

(

1 teaspoon

) pure vanilla extract

140 g

(

1 cup

) fresh or frozen blueberries
Sparkling sugar
---
Instructions
Preheat oven to 400°F/204°C.  Grease 12 muffin cups or line with paper liners.  Set aside.
In a large bowl, whisk together both flours, sugars, baking powder, and salt.
In a medium bowl, whisk together the egg, milk, cooled butter, and vanilla until smooth and thoroughly combined.  Add mixture to dry ingredients and mix until just combined.  Gently fold in blueberries.  Spoon the batter into the prepared muffin pan, filling about 2/3 full.  Sprinkle sparkling sugar over each muffin for garnish.
Bake muffins in preheated oven for 18-20 minutes, until they rise, the tops are golden brown, and a toothpick inserted into the center of the muffins comes out clean.
Allow to cool slightly before serving.
Prep Time:

15 minutes

Cook Time:

20 minutes