Speculoos blondies mixed with chocolate chips and coconut flakes are chewy and gooey. These simple-to-make bars satisfy any sweet craving.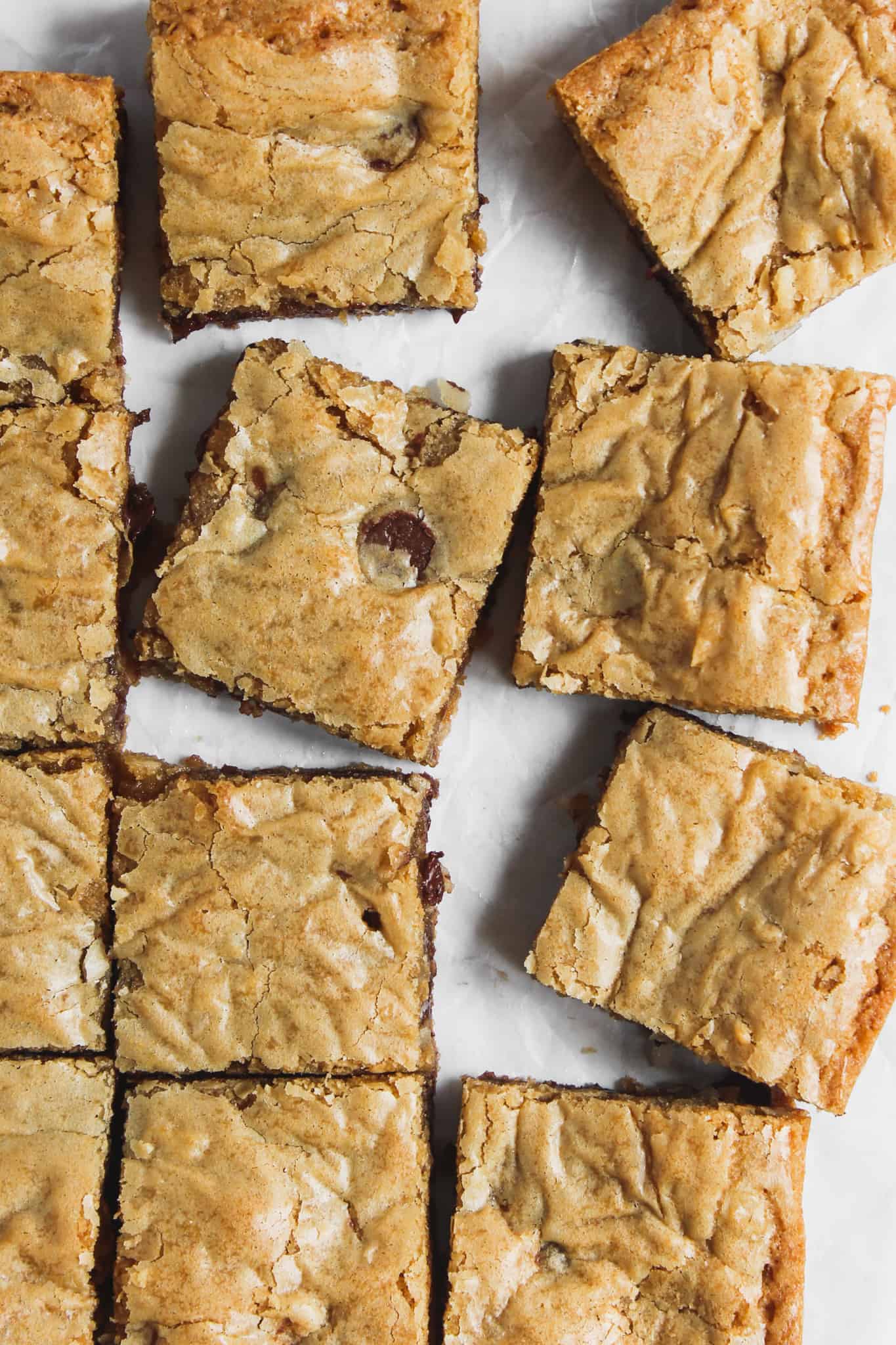 I grew up in a college town (East Lansing, Michigan) home of Michigan State University and attended the University of Michigan in Ann Arbor.  If you are familiar with either of these towns or universities, both are dedicated to their football Saturdays!  I still remember waking up early Saturday mornings as a college student to tailgate and head to the "Big House" to attend the Michigan football games.
Long gone are the days that I have the patience to attend a football game in the rain/cold/hot sun. Instead, if I watch a game, I prefer the comfort of a home where I can see the details on a high definition and snacks are within reach.
I no longer live in a college town, but rather a city (Philadelphia) dedicated to its professional sports teams (my husband included!).  In the fall, Sunday afternoons mean football.  I only understand the gist of how Fantasy Football works, but at the same time, my husband doesn't fully understand the ins and outs of the science of baking.  That is how it goes in our household, and therefore I am perfectly content with contributing to Sunday football with my baked goods rather than watching the game from start to finish.
Brownies and blondies make the perfect dessert for game days.  They are easy to make and serve and great for large crowds.  Beyond just football weekends, blondies are a delicious everyday treat.  You can make them on a whim and easily switch up the mix-in ingredients.  Speculoos cookie spread adds a unique flavor to these blondies which pairs nicely with chocolate and coconut.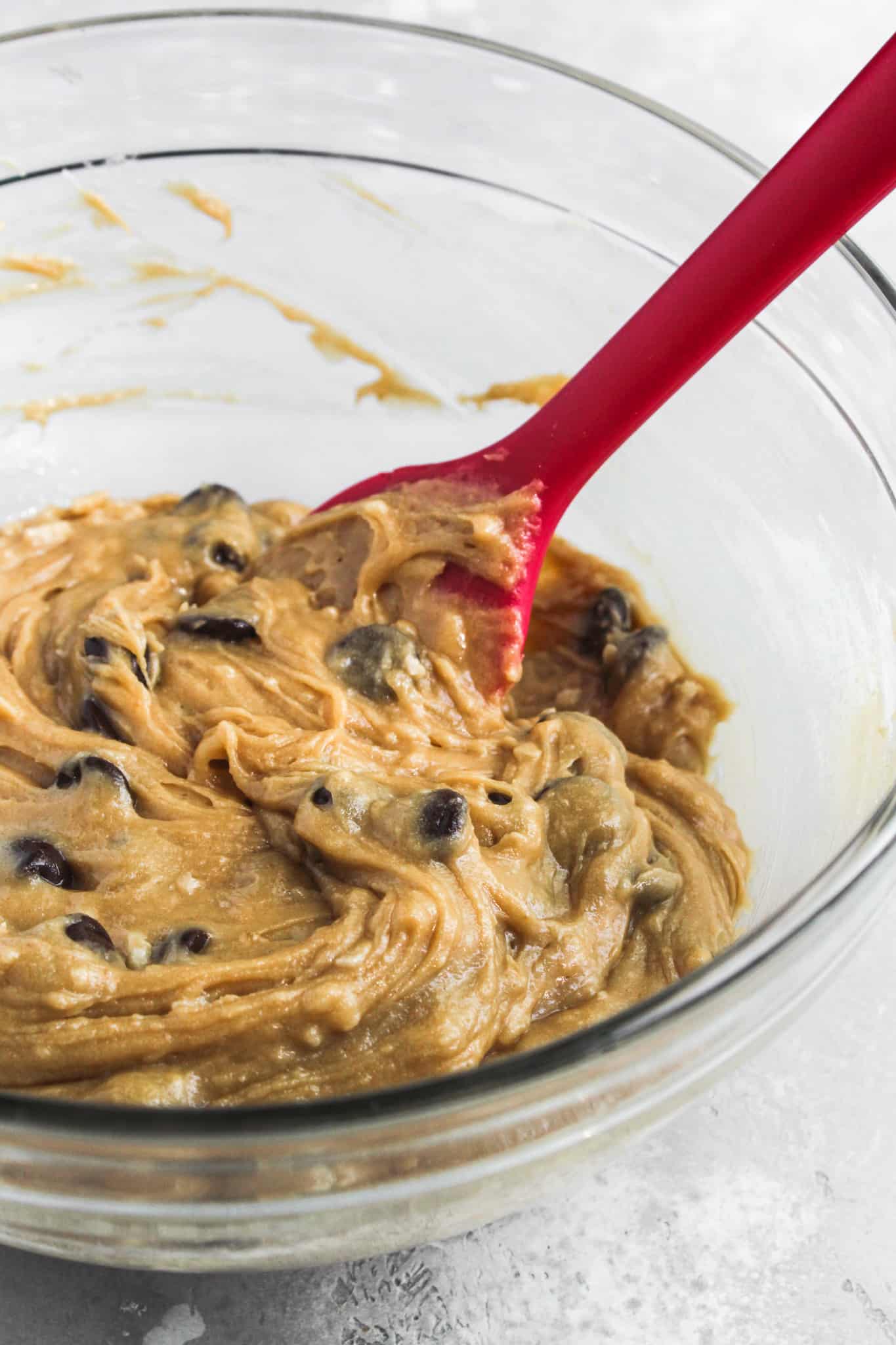 Before you begin
Take out the following baking equipment.
9 x 9-inch baking pan
Parchment paper
Whisk
Small bowl
Medium bowl
Silicone spatula
Wire cooling rack
Read the recipe through from start to finish.
Understanding ingredients
All-purpose flour provides the perfect chewy and tender crumb for these speculoos blondies.  A strong flour such as bread flour would create a more dense bar.  And a weaker flour such as cake flour would create a cakey texture.  All-purpose flour provides the right amount of protein to create a chewy crumb.
This recipe uses both baking powder and baking soda as its leavening agents. They cause the bars to rise and lighten their structure. Too much baking powder results in a bitter taste (a combination of baking powder and baking soda is used to prevent this from happening). Additionally, it can also cause the batter to rise rapidly and then collapse.
Always use unsalted butter in baking.  It allows you to control the amount of salt that goes into a recipe.  Melting the butter for these speculoos blondies adds to the gooeyness of the bars as well as helps create a shiny crust.
Brown sugar adds a lovely flavor to baked goods.  It especially goes well in blondies.  Additionally, brown sugar is an acidic ingredient, and in this particular recipe, it reacts with the baking soda so to initiate its leavening powers.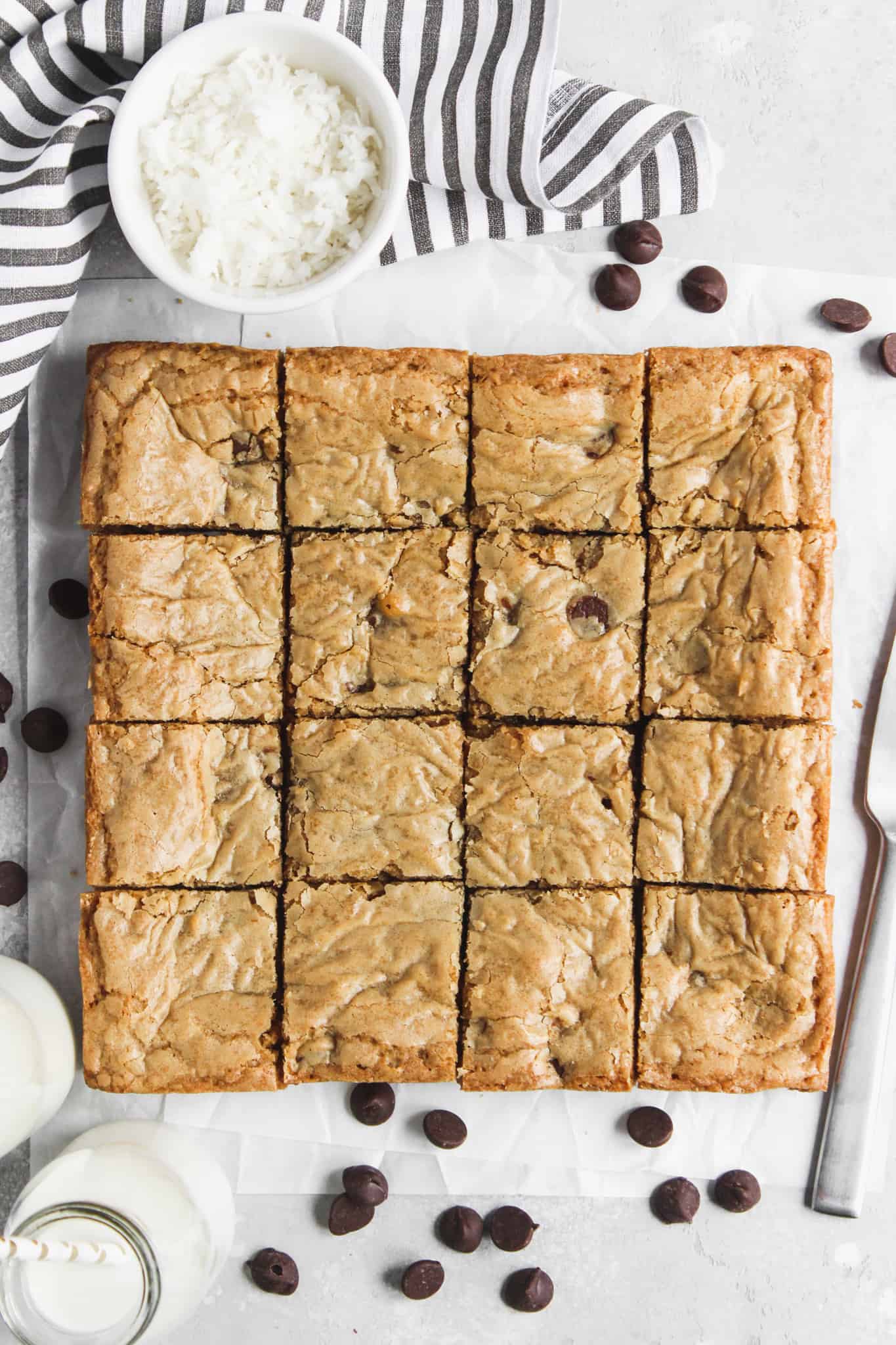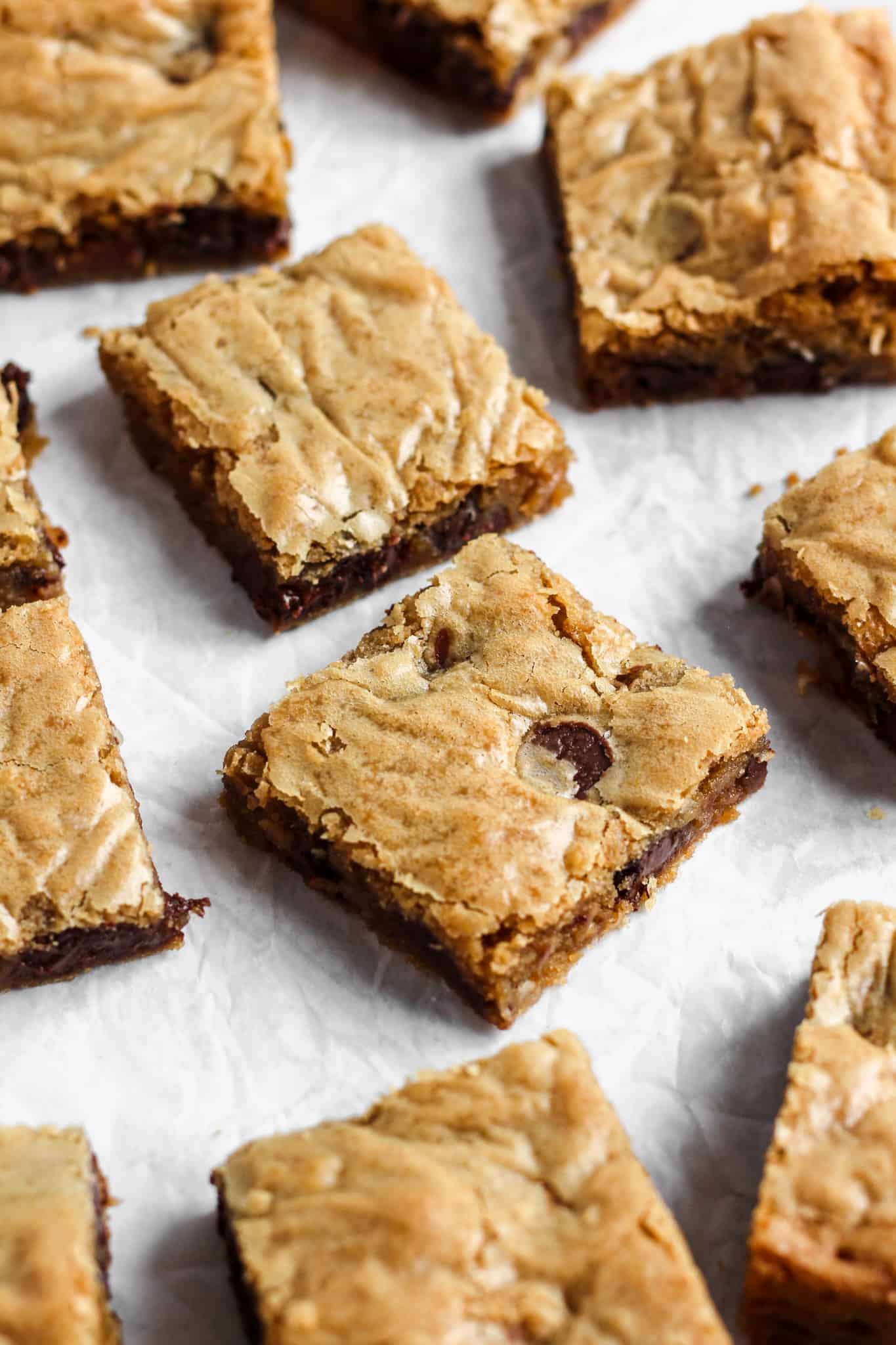 What is speculoos spread
Speculoos spread is made from Belgian cinnamon cookies.  Its flavor is caramelized and gingerbread-like and has a consistency similar to that of peanut butter.  It comes in creamy and crunchy options as well.  Typically you can find it at your local grocery store.  At Trader Joe's, speculoos is labeled as Cookie Butter, and in many other chains or online, you can find the Lotus Biscoff brand.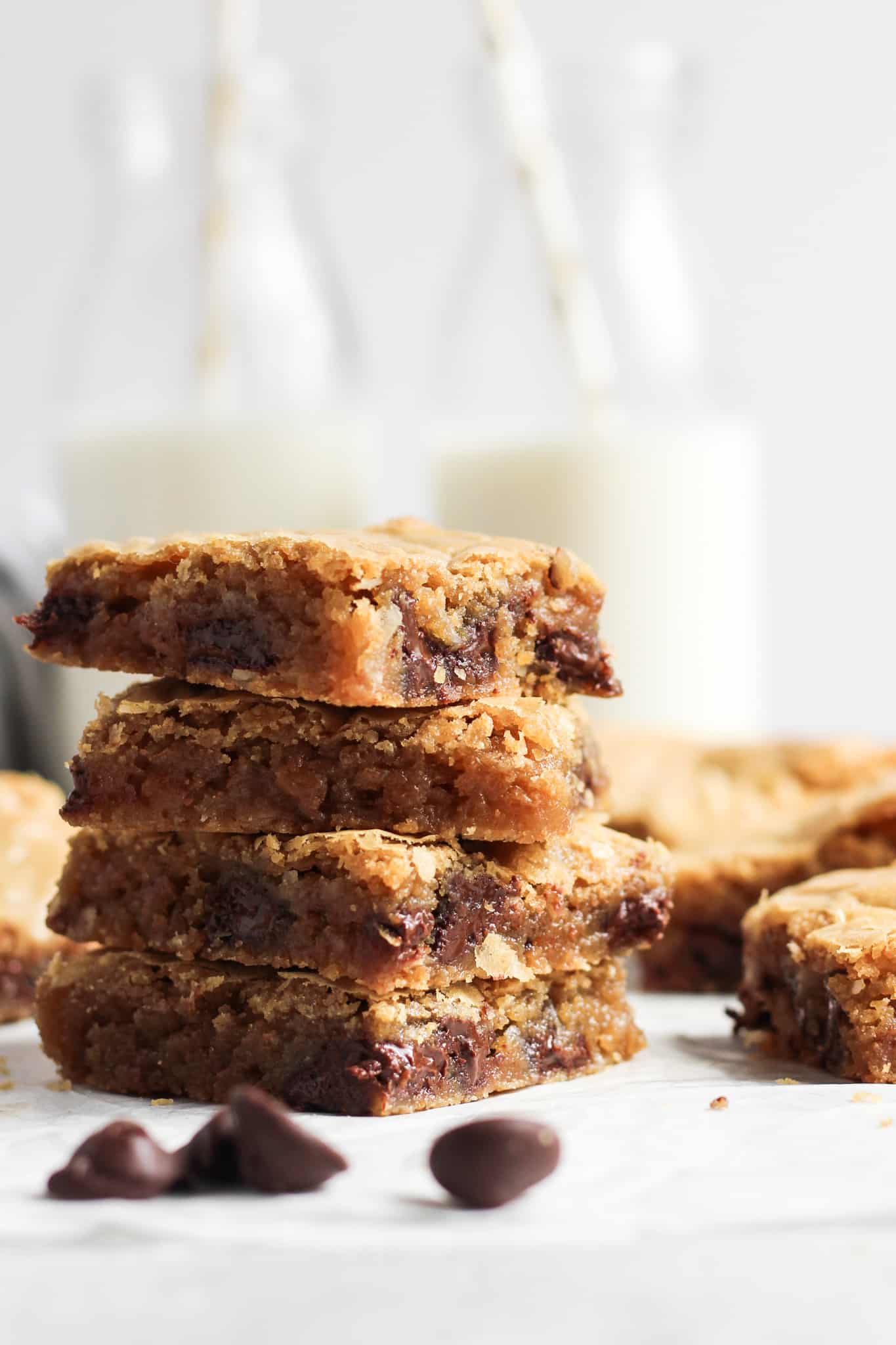 Tips and Takeaways
Use crunchy or smooth speculoos spread.  Although both work well, the crunchy adds a nice texture to the blondies.
I always mix my blondies (and brownies) by hand using a wooden spoon or rubber spatula to better control the amount of mixing. Once your wet ingredients have been thoroughly mixed, you want to add your dry ingredients and mix until just combined. Overmixing your batter will cause your blondies to be dense.
More brownie and bar recipes
Print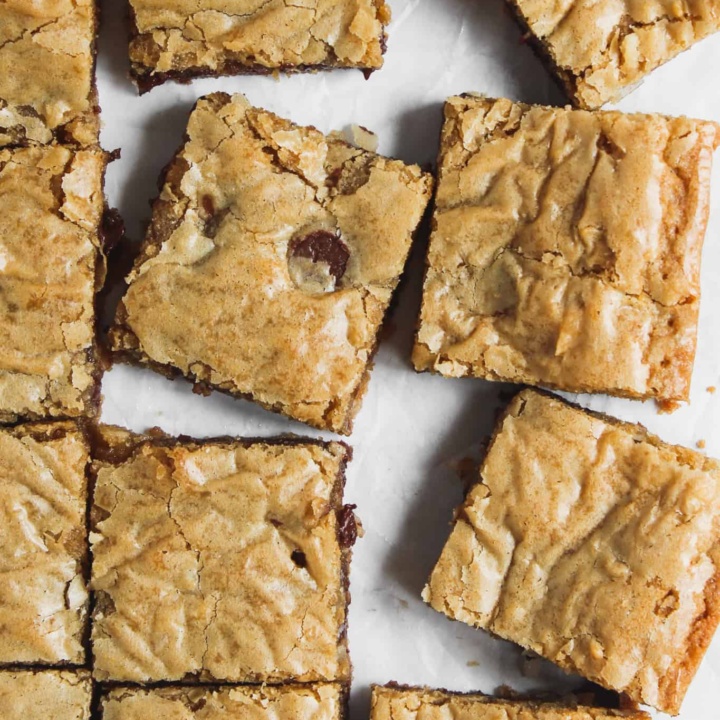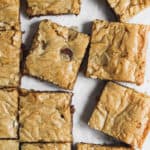 Speculoos Blondies
---
Author:

Maria

Total Time:

31 minute

Yield:

16

bars

1

x
Description
Speculoos blondies mixed with chocolate chips and coconut flakes are chewy and gooey. These simple to make bars satisfy any sweet craving.
---
140 g

(

1 cup

) all-purpose flour

2.4 g

(

1/2 teaspoon

) baking powder

1.4 g

(

1/4 teaspoon

) baking soda

1.4 g

(

1/4 teaspoon

) salt

113 g

(

1/2 cup

) unsalted butter, melted

220 g

(

1 cup

) light brown sugar

140 g

(

1/2 cup

) speculoos spread

100 g

(

2

large) eggs

6 g

(

1 1/2 teaspoons

) pure vanilla extract

150 g

(

3/4 cup

) semi-sweet chocolate chips

30 g

(

1/4 cup

) coconut flakes
---
Instructions
Preheat oven to 350°F/177°C.  Line a 9×9-inch baking pan with parchment paper so that it hangs over the sides.  Set aside.
In a small bowl, whisk together the flour, baking powder, baking soda, and salt.  Set aside.
In a medium mixing bowl, whisk together melted butter and brown sugar.  Stir in speculoos and continue to whisk until combined.  Add the eggs and vanilla and mix well.
Gently fold the dry ingredients into the wet ingredients. Be careful not to overmix!  Fold in the chocolate chips and coconut flakes.
Pour the batter into the prepared baking dish. Bake for 25-28 minutes.  Edges will be lightly browned and begin to pull away from the baking pan.
Allow blondies to cool completely in the pan set on a wire rack.
Prep Time:

15 mintues

Cook Time:

25 minutes

Category:

Brownies + Bars