Fall flavors are swirled into these family friendly pumpkin cinnamon rolls. Topped with a cream cheese frosting, these rolls are the perfect fall breakfast or treat!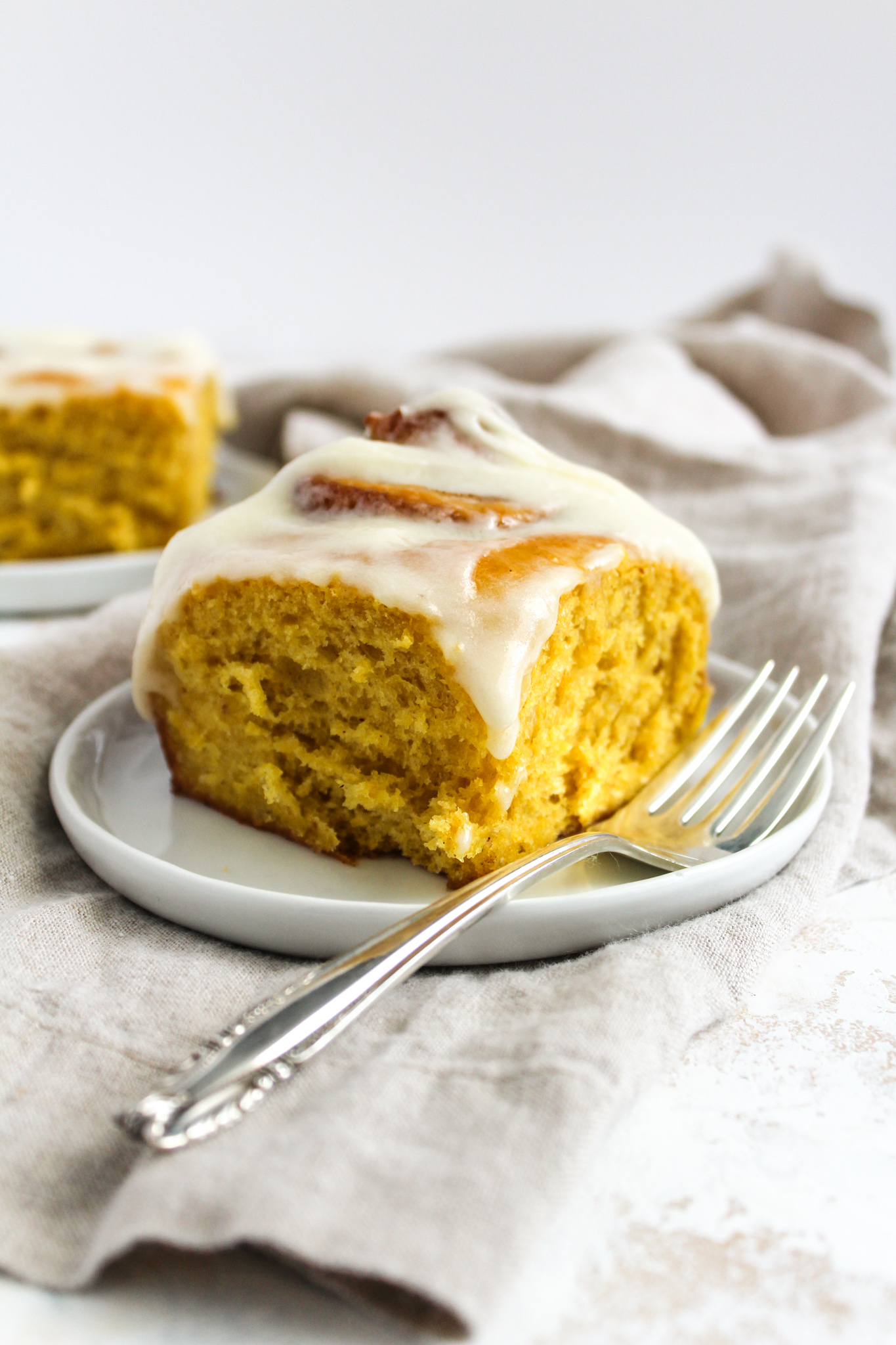 Recently I posted my homemade cinnamon rolls, which may just be my favorite breakfast treat. I have taken that recipe and altered it to turn it into a fall favorite. The flavor of pumpkin is mixed into this easy-to-make dough, and the wonderful autumn flavors of pumpkin pie spice are mixed into the filling. These sweet rolls, that warm your kitchen with the cozy scent of fall, are topped with a delicious cream cheese frosting. They are easy to make (especially if you make your dough the night before), and go perfectly with a hot cup of coffee.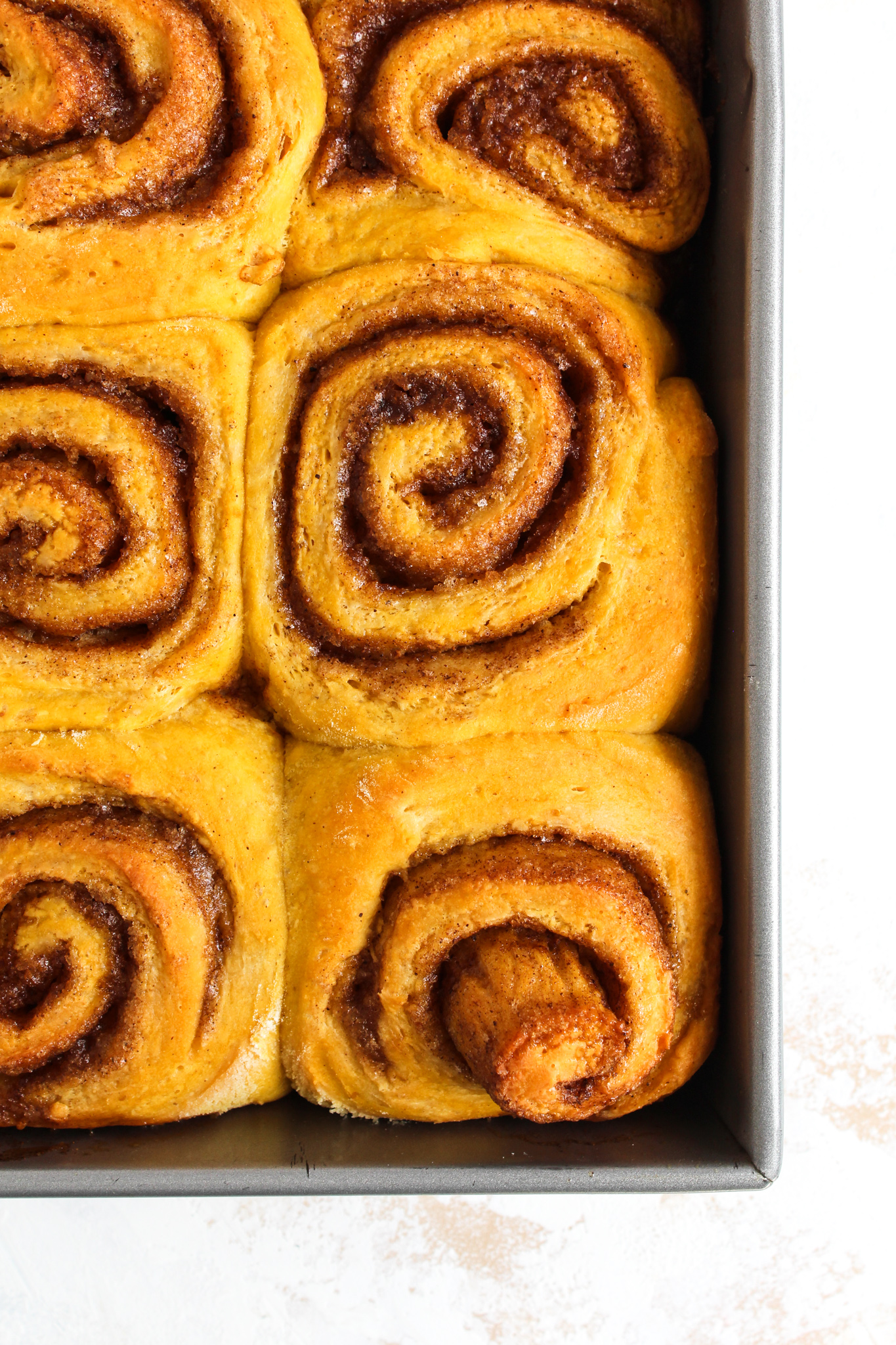 Instant yeast vs. Active Dry yeast
Two of the most common types of yeast on the market are instant yeast (also marketed as rapid-rise yeast) and active dry yeast. For this particular recipe, and all the recipes that I make, I prefer to use instant yeast. The main difference between the two is that active dry yeast needs to be activated before it is used. In other words, it is a type of dry yeast that needs to be dissolved in warm water (but not too hot or else it will kill off the living cells). On the other hand, instant yeast can be directly mixed into recipe ingredients.
Instant yeast requires one less step to compared to active dry yeast, and therefore eliminates a potential variable for altering a recipe if performed incorrectly (which is minimal unless the water is way too hot). Also, when done in a side by side test, instant yeast yields a cleaner flavor compared to its counterpart. In a dough like these pumpkin cinnamon rolls in which spices, milk and flavorings are added it's next to impossible to tell the difference. However, in breads that only use flour, water, salt and yeast, it can be noticeable!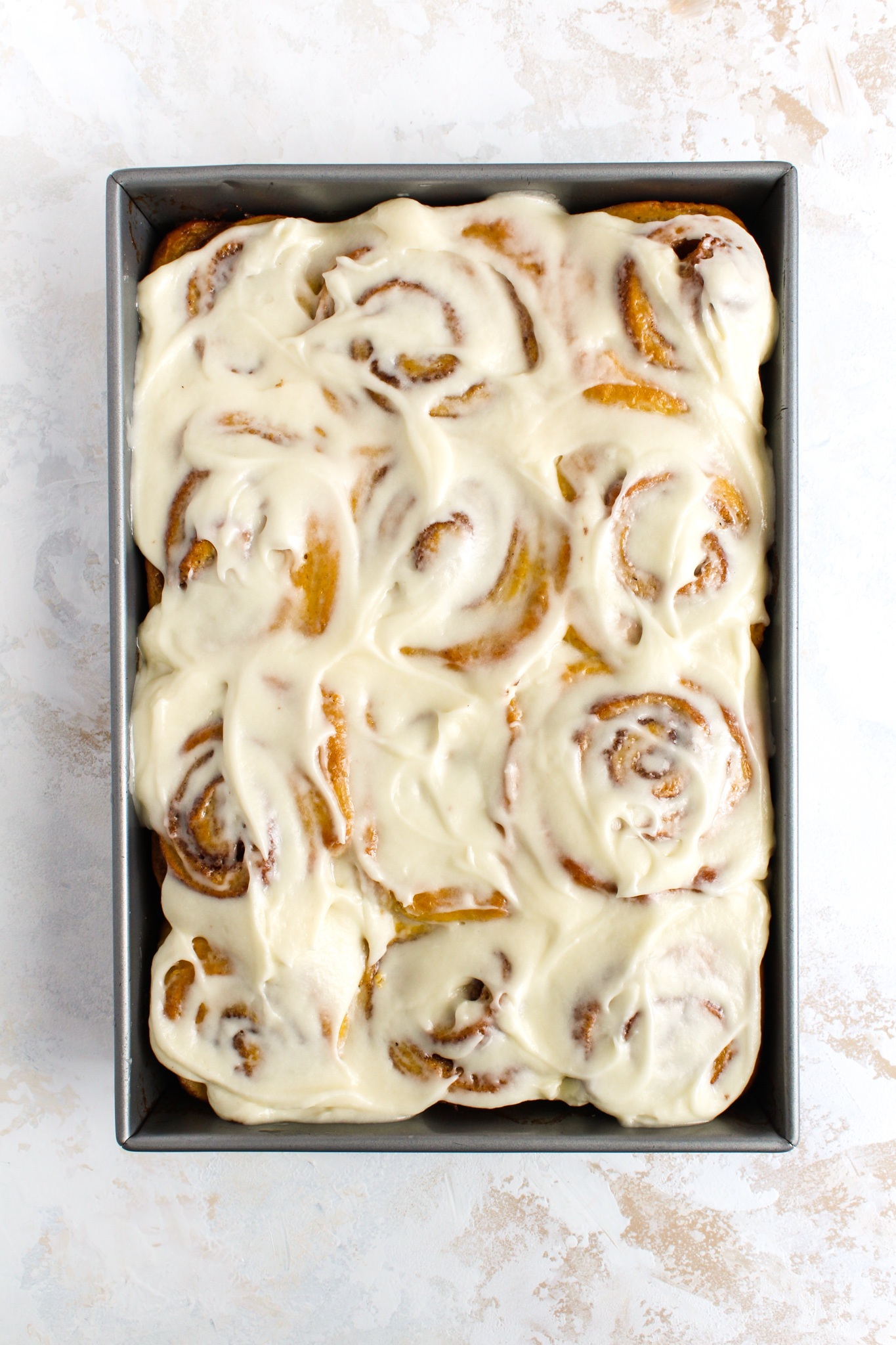 Pumpking cinnamon rolls filling
The filling for these breakfast rolls consists of 6 ingredients:
Butter
Brown sugar
Cinnamon
Nutmeg
Ginger
Cloves
These spices are the components of pumpkin pie spice. It's a simple 4:1:1:1/2 ratio of the spice ingredients. If you have pumpkin pie spice on hand feel free to substitute 3 1/4 teaspoons for the 4 spices.
Always make sure your butter is on the softer side (or at least room temperature) for your filling. This will make it easier to spread across your rolled out dough. If it isn't soft enough when you try to spread it, it can cause the dough to overstretch in spots or create holes in your dough. Always err on the softer side with the butter, instead of too firm.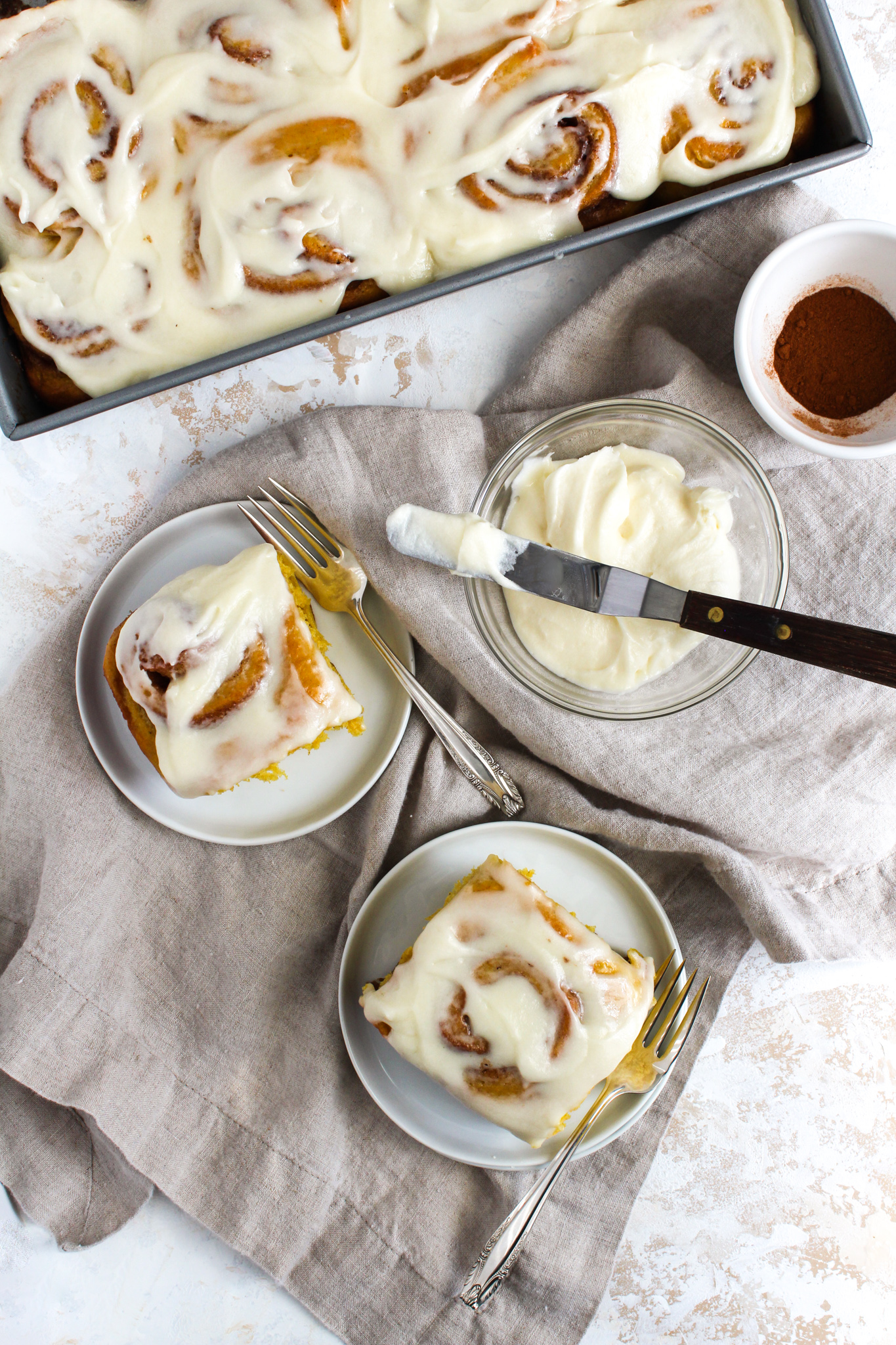 For tips to making cinnamon roll dough be sure to check out my original homemade cinnamon rolls post!
These pumpkin cinnamon rolls are sure to be a hit with family and friends! They are ideal in the fall and go perfectly with a hot cup of coffee. I always prefer to serve them slightly warmed, with the center being somewhat gooey (my favorite part!). Enjoy, and if you make the recipe be sure to tag it to #thesweetoccasion so I can see your beautiful creation!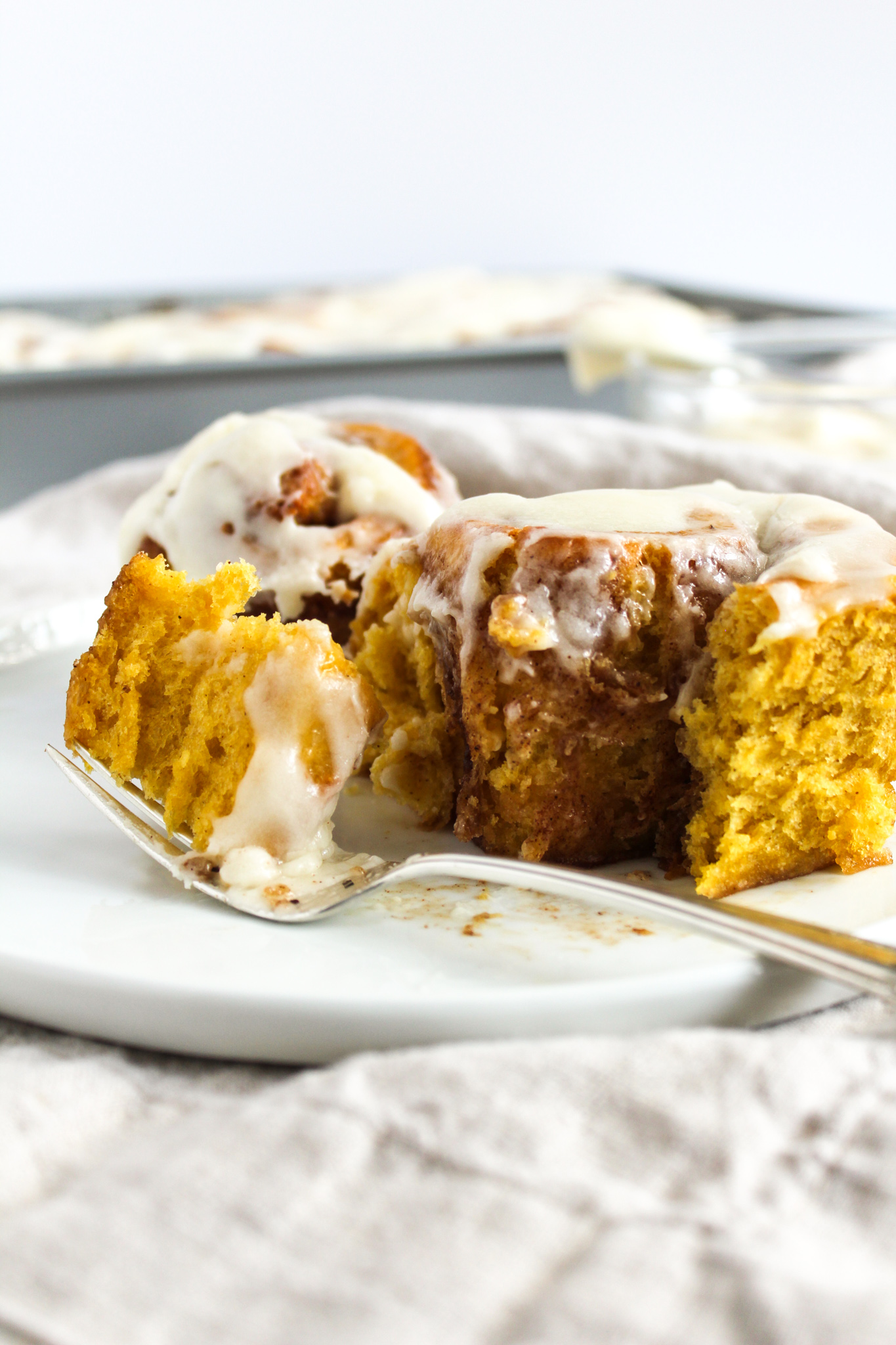 For more fall-inspired recipes, try these...
Print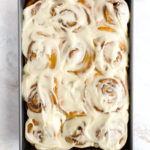 Pumpkin Cinnamon Rolls
---
Author:

Maria

Total Time:

2 hours 20 minutes

Yield:

12

cinnamon rolls

1

x
For the dough
4 1/2

-

5

cups (

540

-

600

g) all-purpose flour

2 1/4 teaspoons

(

7 g

) instant yeast

1 teaspoon

salt (

5 g

)

1/2 teaspoon

(

1 g

) ground cinnamon

1/4 teaspoon

(.

5 g

) ground ginger

1/4 teaspoon

(.

7 g

) ground nutmeg

1/3 cup

(

75 g

) unsalted butter, melted

1/3 cup

(

67 g

) granulated sugar

3/4 cup

(

195 g

) pumpkin puree

1

large egg (

50 g

) at room temperature

1 cup

(

240 g

) warm whole milk
For the filling
6 tablespoons

(

85 g

) unsalted butter, softened to room temperature

3/4 cup

(

165 g

) firmly packed light brown sugar

2 teaspoons

(

2.5 g

) ground cinnamon

1/2 teaspoon

(

1.5 g

) ground nutmeg

1/2 teaspoon

(

1 g

) ground ginger

1/4 teaspoon

(.

5 g

) ground cloves

1

large egg (

50 g

) lightly beaten
For the frosting
½ cup

cream cheese (

113 g

), softened to room temperature

1½ tablespoon

s (

20

grams) unsalted butter, softened to room temperature

1½ cup

s (

180

 grams) powdered sugar

1 tablespoon

(

14 g

) heavy cream or whole milk
---
Instructions
For the dough
In a medium bowl, whisk together 4 1/2 cups (540 g) flour, yeast, salt, cinnamon ginger and nutmeg.  Set aside.
In the bowl of a stand mixer fitted with the paddle attachment, mix melted butter, sugar, pumpkin and egg.  With the mixture on low speed, add half of the flour mixture followed by the milk and mix until combined.  Switch to the dough hook attachment and add remaining flour mixture.  Beat on medium speed for 5-7 minutes, or until dough is smooth and elastic.  Add up to additional 1/2 cup (60 g) flour if needed.
Lightly grease a large bowl with vegetable oil or cooking spray.  Place dough in the bowl.  Rotate dough so that it is greased on all sides.  Loosely cover and allow to rise in a warm place (75°F/24°C) until doubled in size, about 1 hour.
Grease a 13×9-inch baking pan with butter or cooking spray.
Turn out dough onto a generously floured* surface and lightly punch down to release some of the gases.  Lightly flour top of dough and roll into an 18×12-inch rectangle.
For the filling
Spread softened butter onto dough.  In a small bowl, mix brown sugar, cinnamon, nutmeg, ginger and cloves and sprinkle on dough allowing for a ½-inch border along one of the long edges. Brush edge without sugar with beaten egg.
Begin with the long edge that has the sugar mixture and roll dough into a log.  Pinch seam to seal, trim ends, and slice into 12 rolls. Place in prepared pan.  Allow to rise in a warm place (75°F/24°C) until rolls are puffed, about 30 minutes.
Preheat oven to 350°F/176°C.
Bake cinnamon rolls 30-35 minutes or until tops are golden brown. Allow to cool 15 minutes before frosting.
For frosting
In a large bowl using a hand-held mixer or stand mixer with the paddle attachment, beat the cream cheese and butter on medium speed until completely smooth and creamy, about 5 minutes. With mixer on low speed, add powdered sugar, beating until fluffy. Add milk and mix until combined. Spread onto warm rolls.
Notes
*Because of the pumpkin puree, this dough is softer and more delicate than the dough form my homemade cinnamon rolls.  Be sure to use enough flour on your surface so that it does not stick!
Prep Time:

1 hour 50 minutes

Cook Time:

30 minutes
Keywords: pumpkin cinnamon rolls, pumpkin spice, fall, breakfast