This post may contain affiliate links, please read my full disclosure policy.
Pineapple cinnamon rolls have a sweet, gooey pineapple filling and are topped with a pineapple cream cheese frosting. Serve these warm for a delicious breakfast treat that the whole family will love.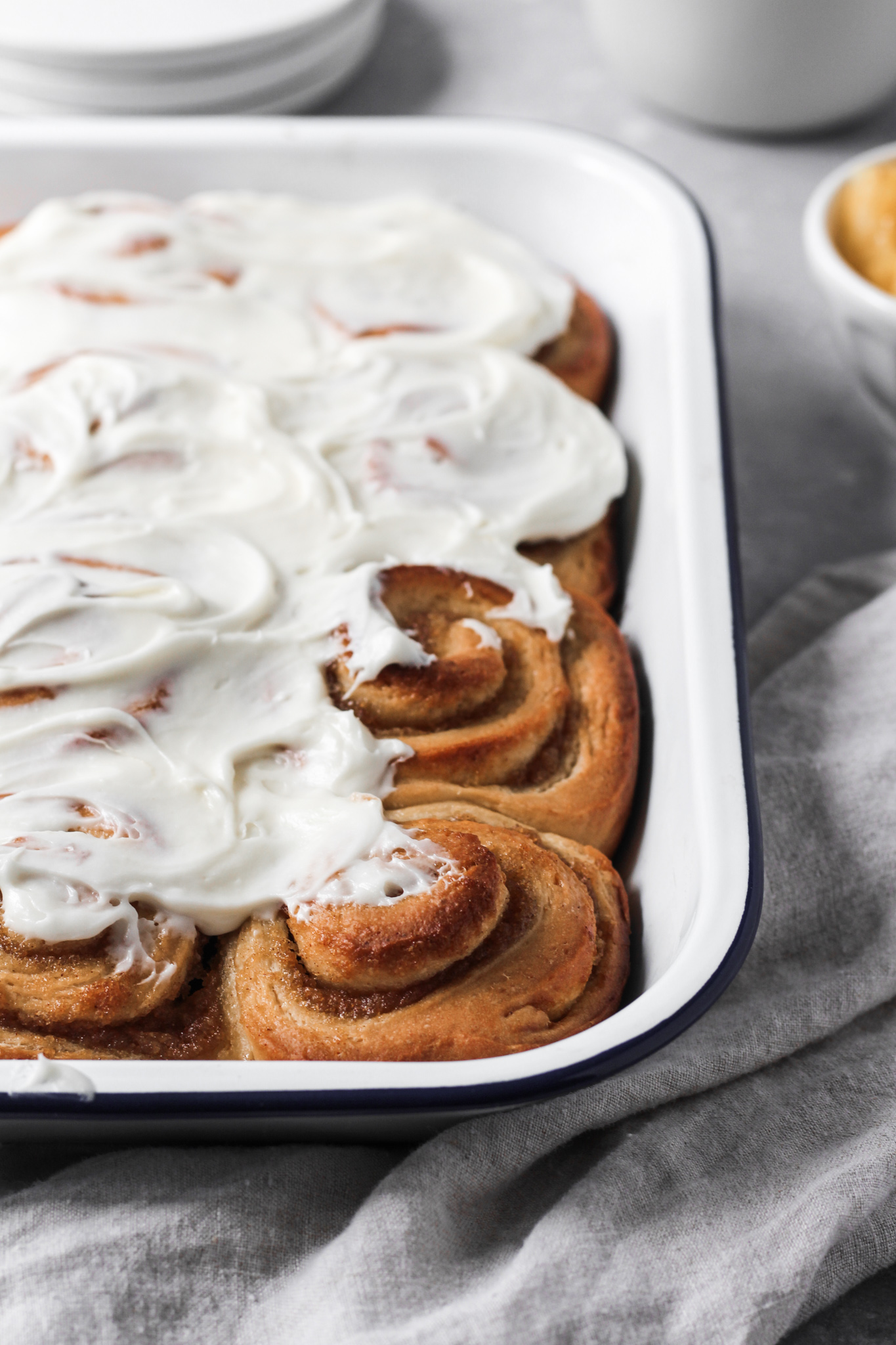 It's funny how I was inspired to make this recipe. I had a to-do list on my desk, and as I sat there looking at the list, the top two items were to create a pineapple dessert and bake cinnamon rolls. Since I hadn't yet decided on the pineapple recipe, I thought, why not combine the two!
In general, I prefer to eat fresh pineapples as opposed to cooked or baked into foods. For example, I believe a carrot cake shouldn't have pineapple or mix-ins into the cake. But of course, that is entirely my preference.
This month I was challenged to use pineapple in a recipe. I decided to go out of my comfort zone and prepare a dessert with pineapples baked inside as opposed to topping something such as a tart with fresh pineapple. Little did I know that I would surprise myself and like the baked pineapple.
These pineapple cinnamon rolls turned out to be a hit with my family. The filling consists of delicious pineapple, cinnamon, and sugar filling, making for a gooey center. And what's a cinnamon roll without a topping of cream cheese frosting. Pineapple adds the perfect sweetness and balance of flavor in the frosting.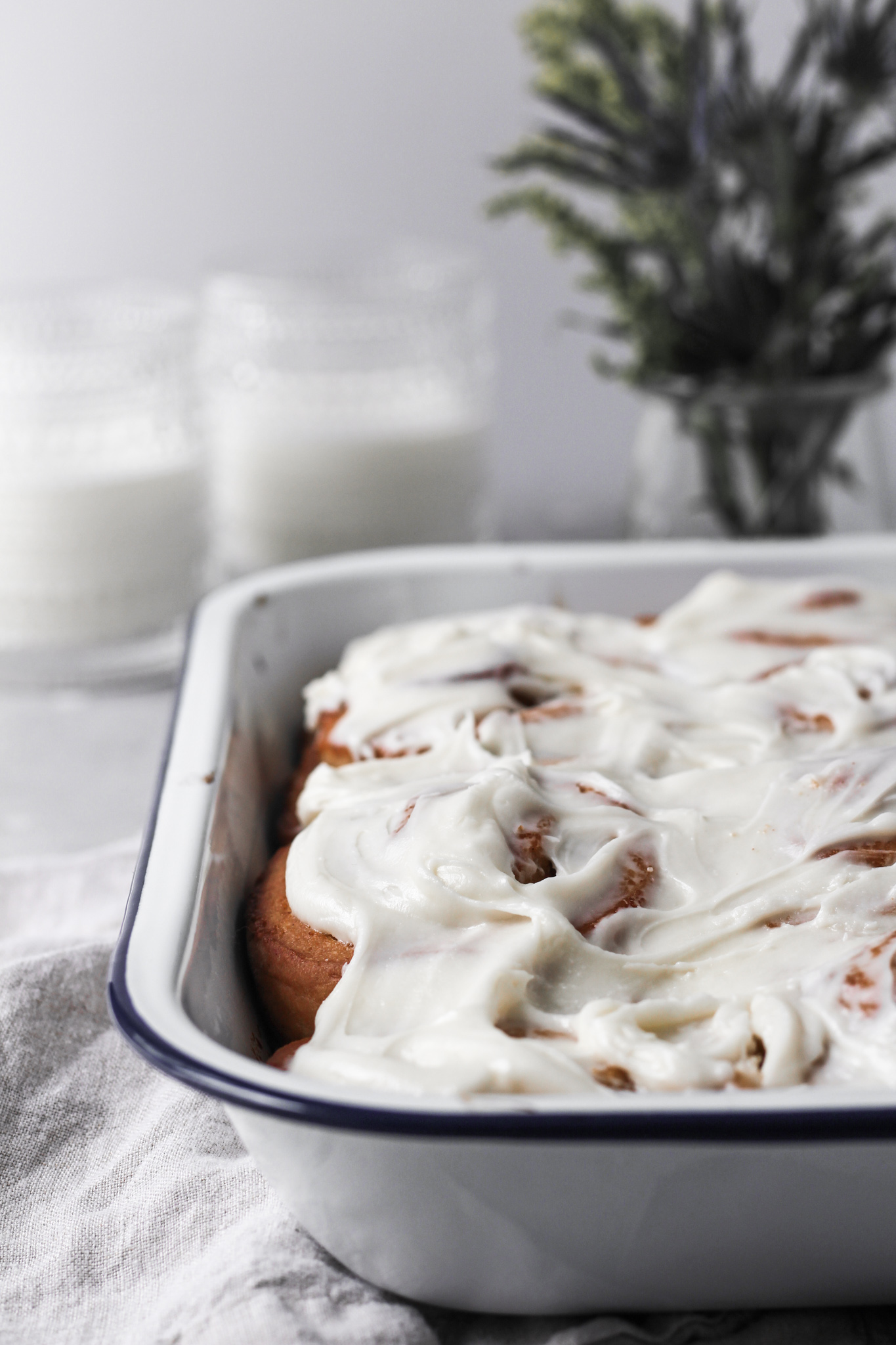 Before you begin
Take out the following baking equipment.
Digital kitchen scale
Medium saucepan
Silicone Spatula
Medium bowl
Stand mixer fitted with the paddle attachment
Dough hook attachment
2 large bowls
Small bowl
Plastic wrap
9 x 13-inch baking pan
Rolling pin
Small offset spatula
Serrated knife
Allow all your ingredients to come to room temperature.
Read the recipe through from start to finish.
Understanding Ingredients
Pineapple is the star of the show in this recipe. I highly suggest using fresh pineapple as is it will have the purest flavor. Do not use the core of the pineapple for this recipe. Instead, only use the soft flesh to puree for the filling. Cooking the pineapple in a saucepan with the other filling ingredients will concentrate the pineapple flavor and produce a delicious filling. In addition to the filling, you will also need 14–28 g (1-2 tablespoons) of pineapple juice to thin and flavor the cream cheese frosting. You can use a juicer for this, but save yourself the hassle for such a small amount and instead puree extra pineapple to use in the frosting.
Sour cream is traditionally not added to bread. However, because these cinnamon rolls are an enriched dough, I have added sour cream for a couple of reasons. The acidity and tanginess of sour cream add a more complex flavor to the dough. Additionally, the extra fat adds another layer of richness. And finally, sour cream adds moisture to the dough.
There are a variety of yeasts on the market. There is fresh yeast, instant yeast, rapid rise yeast, and active yeast. Which one to use? I know it can be confusing. To make things easier, I always use instant yeast (here is the brand I prefer). It's simple to work with compared to other yeast. All you have to do is add it straight to your mixer and mix. No initial hydrating and having to worry about how warm the water is or how long you have to let it sit. Skip all those variables with instant yeast. If a recipe does call for another yeast, make sure to convert the amount to instant yeast (if you prefer to use it). Keep any leftover yeast in the refrigerator to maximize its shelf life and ensure it maintains its leavening power.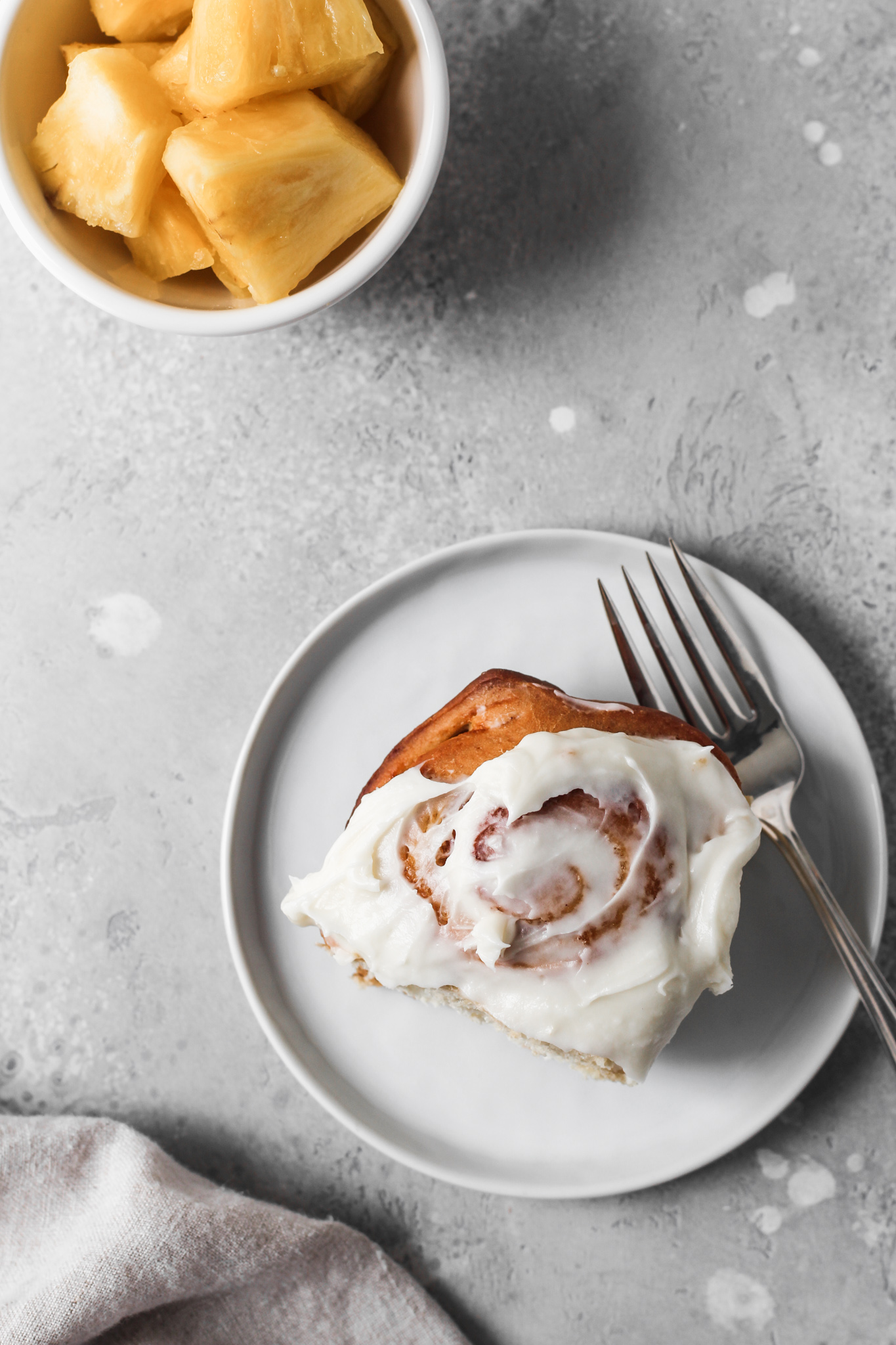 How to select a pineapple
Have you ever stood in the produce aisle of the supermarket and wondered which pineapple to select? I have. But with these tips that I have learned from being married to an owner of a produce distribution business, I no longer wonder how to pick the perfect pineapple.
First, find a pineapple that has a firm exterior but also has a small amount of "give" when you squeeze it gently. Additionally, look for a pineapple that has green leaves.
Second, take note of the smell at the base of the pineapple. It should smell sweet and have that notable pineapple smell. If you don't smell anything, then its an indication that it's not a sweet, ripe pineapple.
How to make the dough
Kneading. You can certainly knead the dough by hand. It just requires more elbow grease and more time. However, if you have a stand mixer with the dough attachment, I would suggest this option as it is much easier (less of a mess as well)! Even if you choose to knead by hand, you should mix all the dough ingredients in a bowl first to bring together before kneading it on a work surface.
Proofing. This dough will proof for about 1 hour once it is mixed. Alternatively, you can proof the dough in the refrigerator overnight. I typically like to make the dough the night before and allow it to proof overnight, so the flavors develop. Additionally, it only leaves me with having to proof once in the morning (30 minutes for the second proof), and that means extra time to sleep in!
Rolling. Be sure to roll the dough nice and tight to keep your filling from spilling out. I always prefer to roll the dough away from me. Using a technique of stretching and rolling the dough helps keep it tight.
Slicing. Once rolled, trim the ends of the dough and slice the log into 12 equal-sized pieces. Alternatively, you can slice the log into ten rolls and bake them in a round pan.
Second proof. Allow your pineapple cinnamon rolls to proof a second time once they are cut and in the pan. Loosely cover with a kitchen towel and allow them to proof for about 30 minutes, until they are puffed.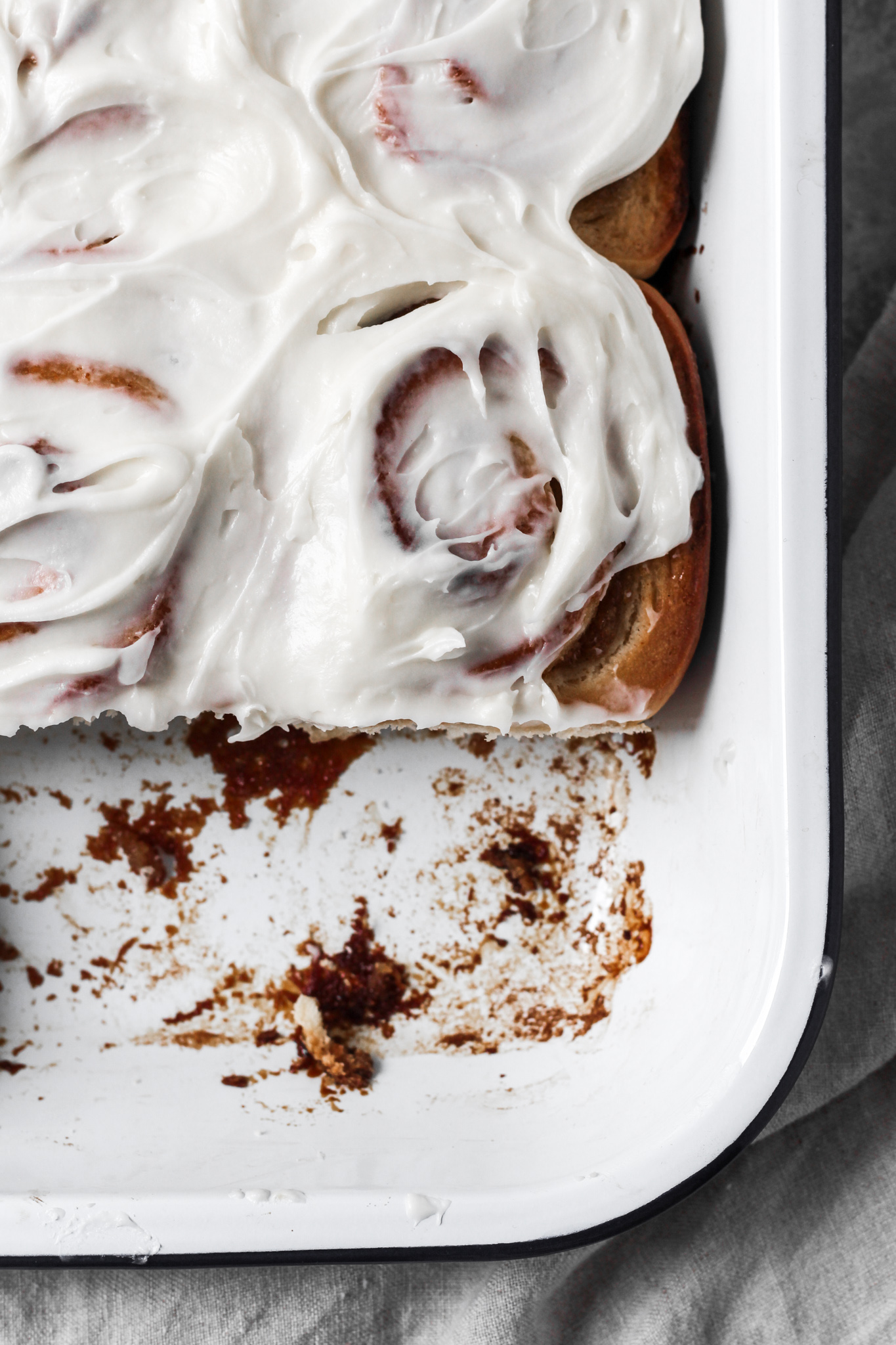 How to make the frosting
There is something so delicious about the combination of cinnamon rolls and cream cheese frosting. Especially when the cinnamon rolls are slightly warm, and the frosting is gooey. For these pineapple cinnamon rolls, I've added a cream cheese frosting with a hint of pineapple for the perfect accompaniment.
Begin by beating your cream cheese and butter on medium speed until completely smooth and creamy. Both ingredients must be at room temperature, or else you will have a lumpy frosting. Add the powdered sugar and beat until fluffy. Finally, add the pineapple juice to thin out the frosting to your desired consistency. Apply the frosting to the cinnamon rolls while they are slightly warm so that it easily spreads.
Tips and takeaways
Allow your pineapple filling to cool down and refrigerate for at least an hour before using it as it will thicken up and become easier to spread and fill your cinnamon rolls.
If you decide to proof your dough overnight, then once it's mixed, allow it to sit at room temperature for about 30 minutes before putting it into the refrigerator. Doing this will encourage the yeast to begin activating.
I highly suggest using a 9 x 13-inch baking pan for these rolls. Place your cut rolls into the pan allowing equal space between each. Crowding the rolls will not give them enough room to expand during the second proof. Providing enough room will yield cinnamon rolls that are light in texture.
If you are not a fan of cream cheese frosting, you can substitute homemade caramel sauce for a delicious topping to these pineapple cinnamon rolls. The flavor of caramel would be a lovely complement to the pineapple cinnamon filling.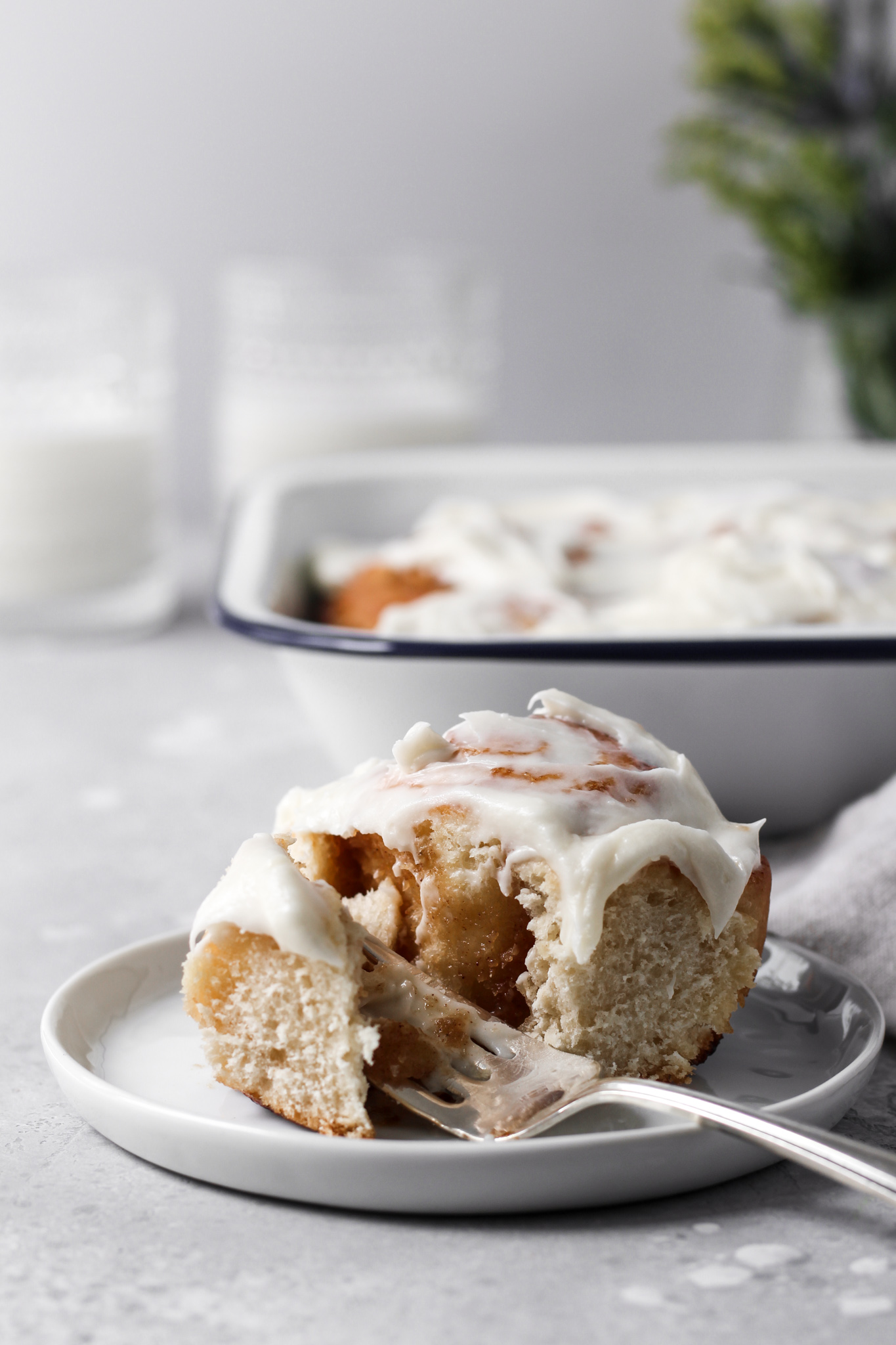 More breakfast recipes
Make sure to tag me @thesweetoccasion on Instagram and leave me a review below if you make these Pineapple Cinnamon Rolls. I'd love to see your creations and read your feedback. And if you would like to make this recipe later, be sure to pin this recipe using the button on any of these images. Let's make every occasion a sweet occasion!
Print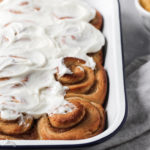 Pineapple Cinnamon Rolls
---
Total Time:

3 hours 30 minutes

Yield:

12

cinnamon rolls

1

x
Description
Pineapple cinnamon rolls have a sweet, gooey pineapple filling and are topped with a pineapple cream cheese frosting.  Serve these warm for a delicious breakfast treat that the whole family will love.
---
For the pineapple filling
660 g

(4 cups) diced pineapples

147 g

(

2/3 cup

) light brown sugar

2 g

(

1 teaspoon

) ground cinnamon

3.5 g

(

1 teaspoon

) pure vanilla extract

113 g

(1/2 cup) unsalted butter
For the dough
530 g

(4 1/4 cups) all-purpose flour

7 g

(2 1/4  teaspoons) instant yeast

5.6 g

(1 teaspoon) salt

75 g

(1/3 cup) unsalted butter, melted

65 g

(1/3 cup) granulated sugar

60 g

(1/4 cup ) sour cream

50 g

(1 large) egg

240 g

(1 cup) warm whole milk
For the frosting
225 g

(1/2 cup) cream cheese, at room temperature

20 g

(1 1/2 tablespoons) unsalted butter, at room temperature

180 g

(1 1/2 cups) powdered sugar

14

-

28

g (1-2 tablespoons) pineapple juice
---
Instructions
For the pineapple filling
In a blender, puree the pineapple until smooth.  Transfer to a medium saucepan and add the sugar, cinnamon, vanilla, and butter.  Bring to a boil over medium-high heat.  Reduce to medium and allow the mixture to cook until reduced to 1 1/4 cups, about 25-30 minutes.  Stir occasionally.  Remove from heat and allow to come to room temperature.  Refrigerate until ready to use.
For the dough
In a medium bowl, whisk together flour, yeast, and salt.  Set aside.
In the bowl of a stand mixer fitted with the paddle attachment, mix melted butter, sugar, sour cream, and the egg.  With the mixture on low speed, add half of the flour mixture followed by the milk and mix until combined.  Switch to the dough hook attachment and add remaining flour mixture.  Beat on medium speed for 5-7 minutes, or until dough is smooth and elastic.
Lightly grease a large bowl with vegetable oil or cooking spray.  Place dough in the bowl.  Rotate the dough so that it is greased on all sides.  Loosely cover and allow to rise in a warm place (75°F/24°C) until doubled in size, about 1 hour.
Grease a 9 x 13-inch baking pan with butter or cooking spray.
Turn out dough onto a lightly floured surface and lightly punch down to release some of the gases.  Roll dough into an 18×12-inch rectangle.
Using an offset spatula, spread the pineapple filling on the dough allowing for a ½-inch border along one of the long edges. Brush edge without filling with beaten egg.
Begin with the long edge that has the pineapple mixture and roll the dough into a log.  Pinch seam to seal, trim ends, and slice into 12 rolls. Place in prepared pan.  Allow dough to rise in a warm place (75°F/24°C) until rolls are puffed, about 30 minutes.
Preheat oven to 350°F/176°C.
Bake cinnamon rolls 30-35 minutes or until tops are golden brown. Allow rolls to cool 15 minutes before frosting.
For the frosting
In a large bowl using a hand-held mixer or stand mixer with the paddle attachment, beat the cream cheese and butter on medium speed until completely smooth and creamy, about 5 minutes. With the mixer on low speed, add powdered sugar, beating until fluffy. Add the pineapple juice and mix until combined. Spread onto warm rolls.
Prep Time:

45 minutes

Cook Time:

1 hour

Category:

Breakfast

Method:

Baking
Keywords: pineapple breakfast, cinnamon rolls, tropical breakfast