Fresh seasonal strawberries make for a delicious Roasted Strawberry Ice Cream.  This French-style ice cream is packed with flavor, and the perfect summer treat.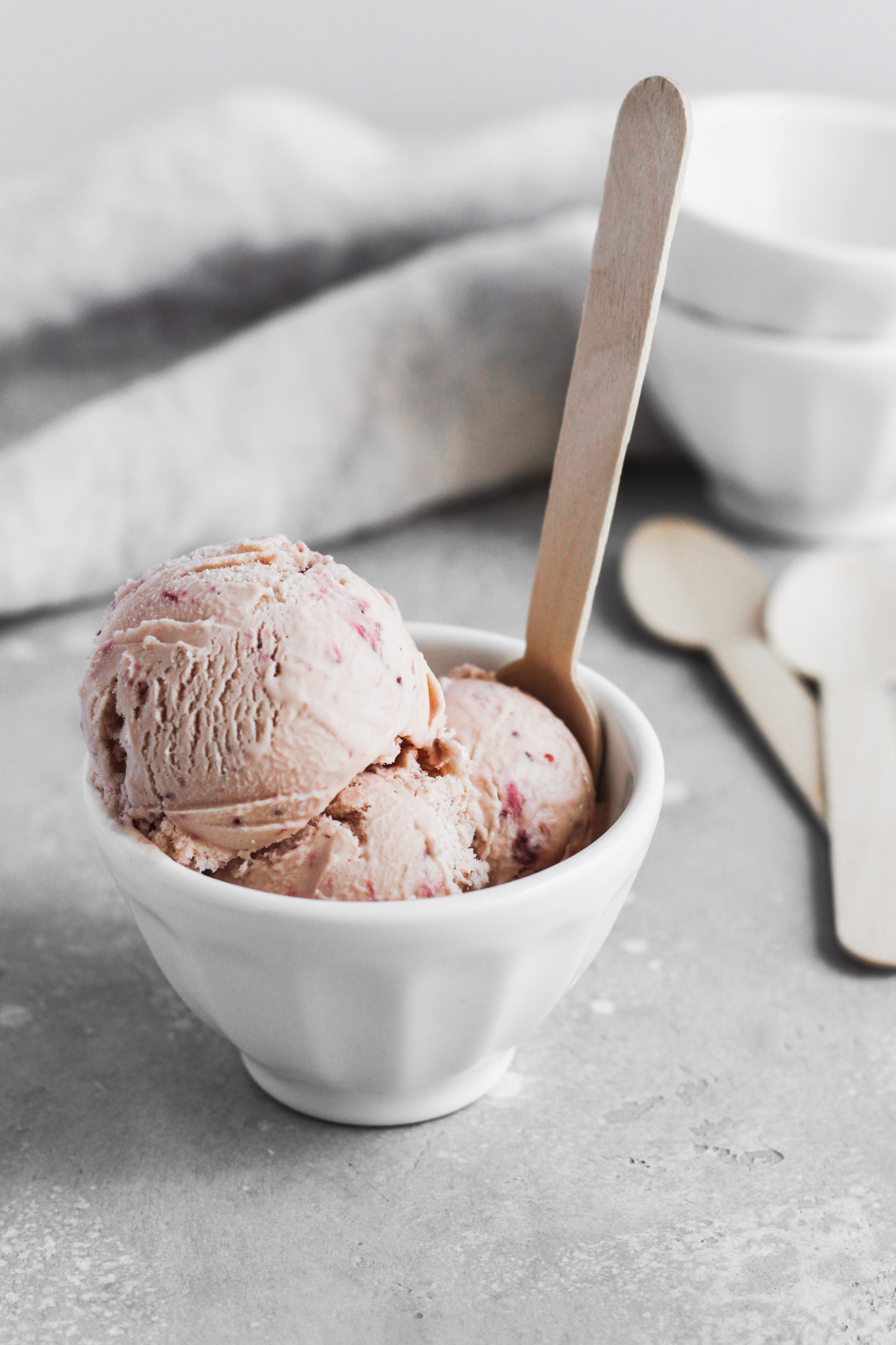 When summer hits, so do seasonal berries. They're fresh, packed with juicy flavors, and nutrient-rich.  In the summertime, my family and I love going to a local farm to pick berries. It's a fun experience, and the reward is simply delicious.  We love snacking on fresh fruit, but I also love using the berries to make homemade desserts.  And on that list of tasty treats is my roasted strawberry ice cream!
In this recipe, strawberries are roasted to bring out their flavor and thicken their juices.  They are then added to a French-style ice cream base and churned into a delicious treat.  Seasonal strawberries work best in this recipe as they yield the most flavor.  You can top this ice cream with a drizzle of chocolate sauce and your favorite toppings, but it's perfectly delicious on its own.
Before you begin
Take out the following baking equipment.
1 large baking sheet pan
Parchment paper
Medium saucepan
Whisk
2 small bowls
2 medium bowls
1 large bowl
1 wooden spoon
Fine mesh sieve
1 fork
Ice cream maker
Read the recipe through from start to finish.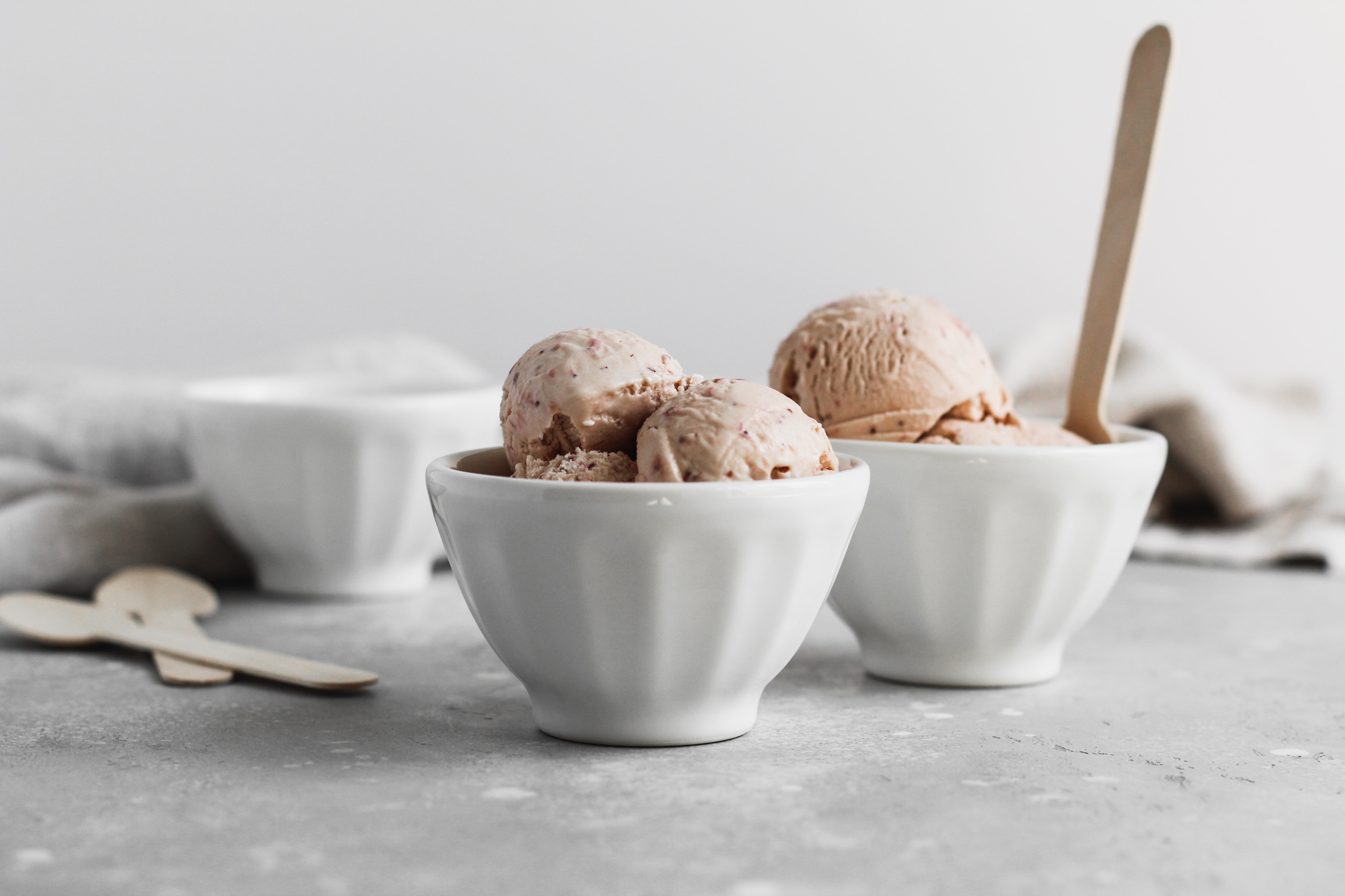 Understanding ingredients
Fresh strawberries on their own are delicious, especially at the peak of their season.  So why roast strawberries for this recipe?  Because the flavor of the berries cook down and concentrate.  This enhances the flavors of the strawberries and creates a delicious ice cream.  When roasting your berries, it should take about 30-40 minutes.  The juices will release from the strawberries and combine with the sugar to form a thick and sticky syrup.
Eggs add to the smoothness, richness, flavor, color, and fat content of ice cream.  Specifically, the lecithin in egg yolks is an emulsifier that helps keep the butterfat from separating during the freezing process.  However, not all ice cream bases call for egg yolks.  But as custard-based ice cream, this recipe calls for egg yolks, which are cooked with the cream and the sugar to produce a rich and creamy product.
Milk and cream are two important ingredients in making ice cream.  The butterfat found in these two ingredients contributes to the texture, firmness, and richness of ice cream.  Having too high of a butterfat percentage can result in a grainy texture.  Using a combination of heavy cream and milk gives the ideal balance of butterfat to create rich, smooth ice cream.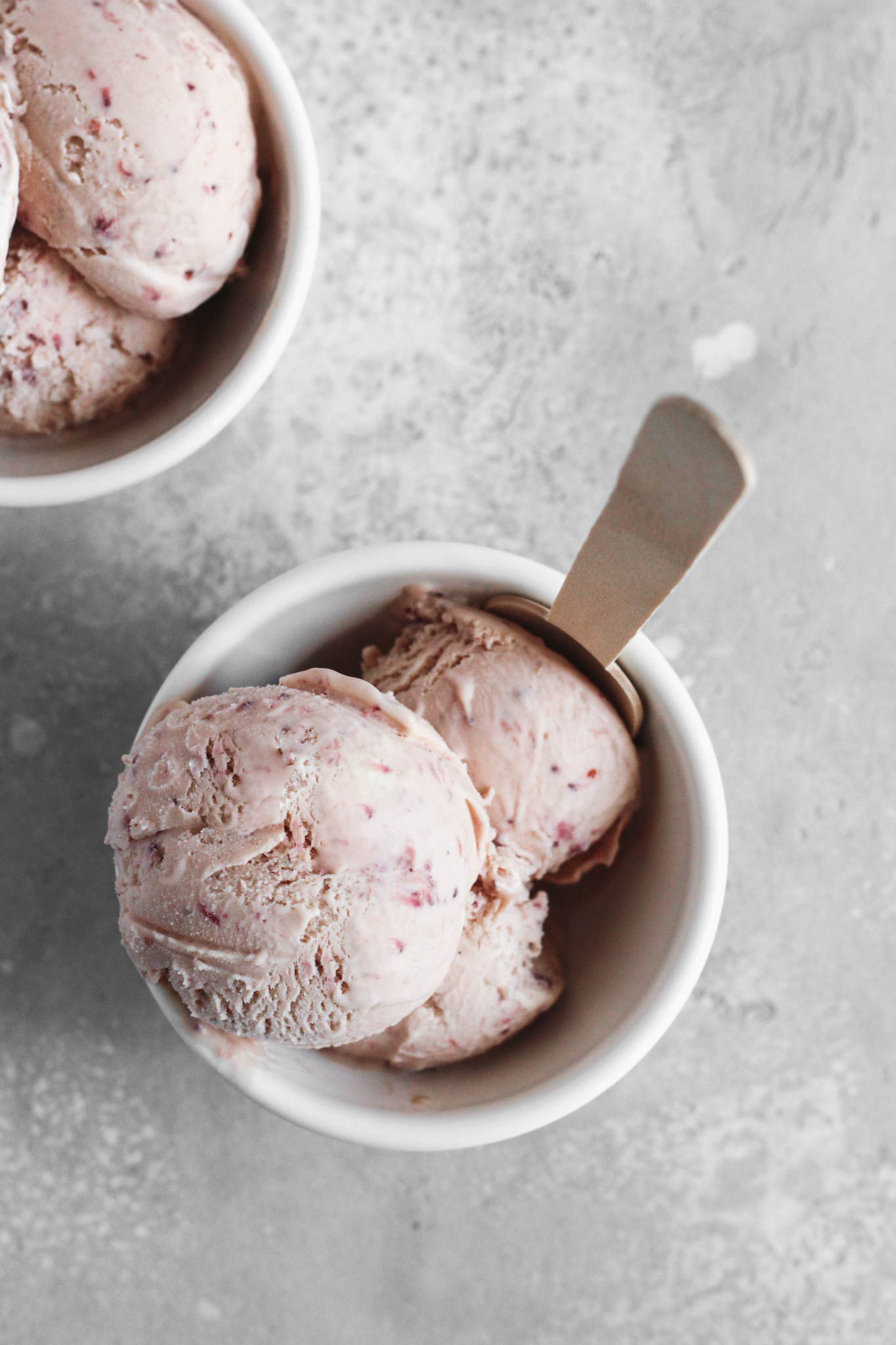 What is French-style ice cream?
There are two main types of ice cream, a custard-base ice cream that is made with egg yolks and a less rich ice cream made without eggs.  Both are delicious but differ in their texture, body, and richness.  This roasted strawberry ice cream is considered custard-based ice cream, and more specifically, French-style.
French-style ice cream is made with milk, cream, sugar, egg yolks, and flavorings.  Because it contains eggs, it must be cooked before freezing.  French-style ice cream is prepared the same way as crème anglaise using the same ingredients.  Essentially, crème anglaise can be used as a base for ice cream.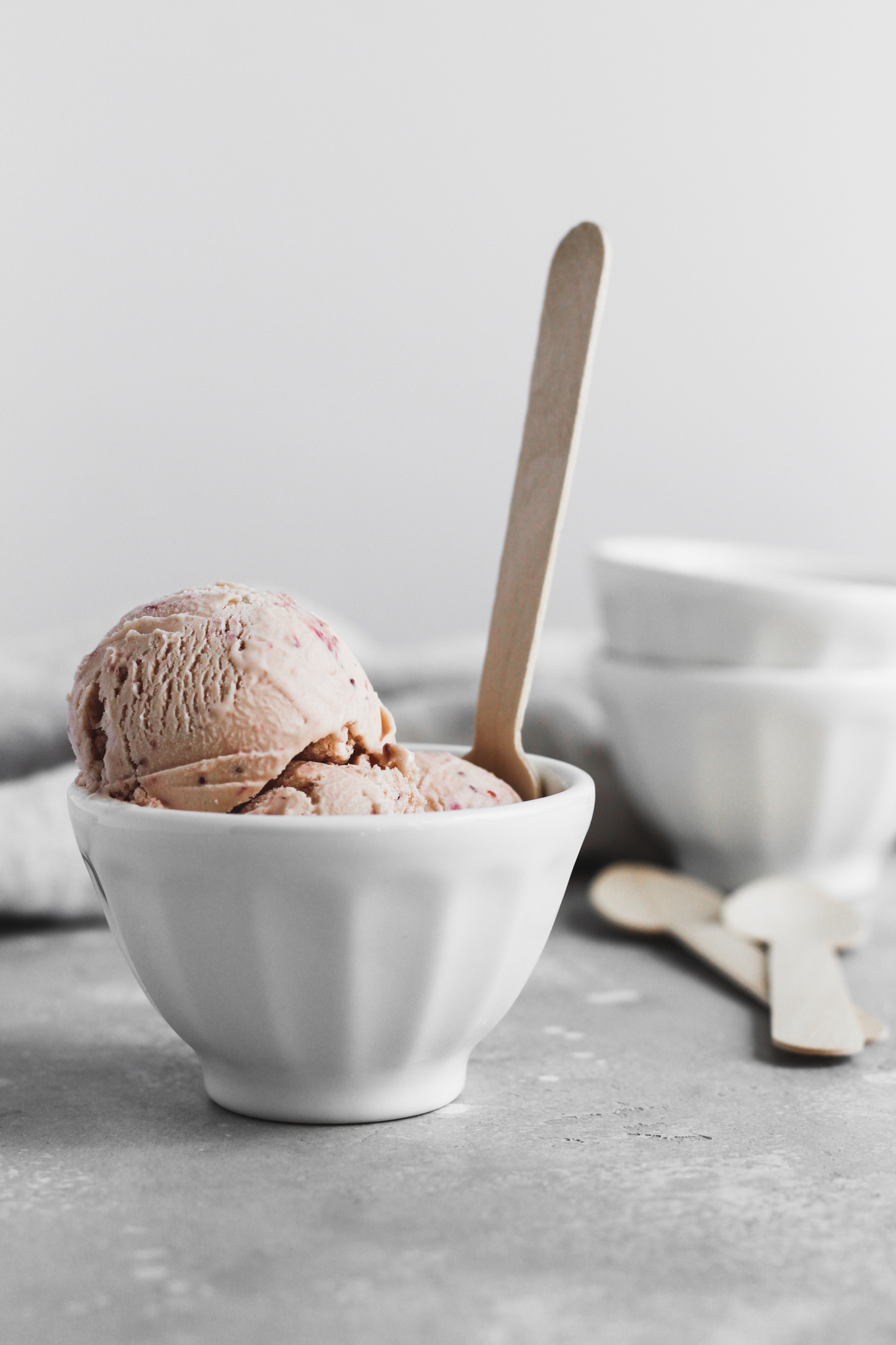 Tips and takeaways
This particular recipe uses a 50/50 ratio of heavy cream to whole milk. If you'd like to reduce the amount of heavy cream, you can certainly do so by replacing with equal amounts of whole milk.  However, this will affect the texture, firmness, and richness of the ice cream.  Alternatively, you can also substitute half and half to lighten the recipe.
After your ice cream base has cooked to the correct temperature, it's essential to cool down the mixture.  Doing this will prevent the custard from continuing to cook and thicken, and it will cool the base down safely so that you can finishing cooling it down in the refrigerator.  Use an ice water bath.  Add just enough water, but not so much that it will overflow into your ice cream base.
Do not skip the step of pouring your ice cream base through a fine-mesh sieve.  It is preferred to do this so that you remove any traces of cooked egg in your mixture.
More strawberry recipes
Make sure to tag me @thesweetoccasion on Instagram and leave me a review below if you make this Roasted Strawberry Ice Cream. I'd love to see your creations and read your feedback.  And if you would like to make this recipe later, be sure to pin this recipe using the button on any of these images. Let's make every occasion a sweet occasion!
Print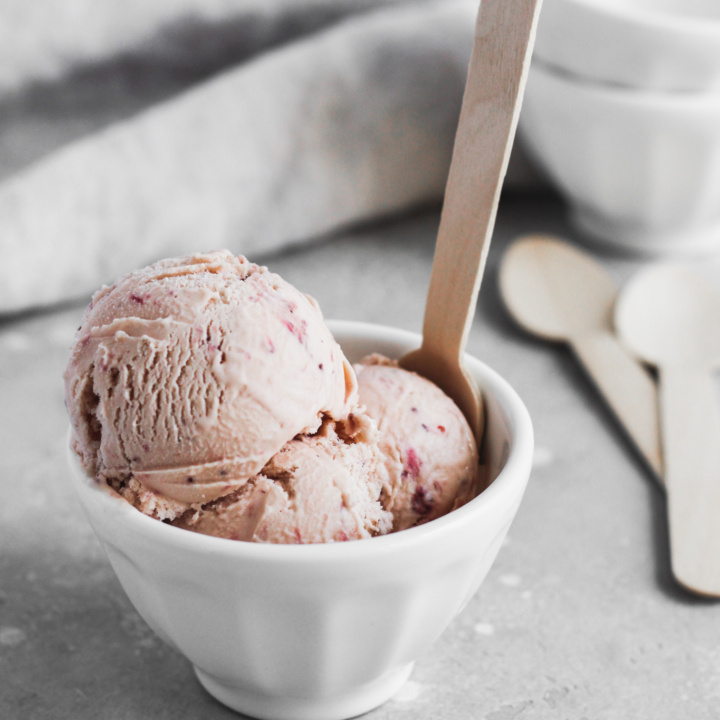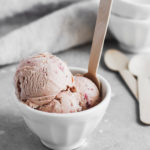 Roasted Strawberry Ice Cream
---
Author:

Maria

Total Time:

5 hours 15 minutes

Yield:

1 quart

1

x
Description
Fresh seasonal strawberries make for a delicious Roasted Strawberry Ice Cream.  This French-style ice cream is packed with flavor, and the perfect summer treat.
---
For the roasted strawberries
454 g

(

1

pound) fresh strawberries, stems removed and quartered

55 g

(

1/4 cup

) granulated sugar

3.5 g

(

1 teaspoon

) pure vanilla extract
For the ice cream
360 g

(

1 1/2 cups

) heavy cream

360 g

(

1 1/2 cups

) whole milk

147 g

(

2/3 cup

) sugar, divided

9 g

(

1 tablespoon

) pure vanilla extract
pinch of salt

120 g

(

6

large) egg yolks
---
Instructions
For the roasted strawberries
Preheat the oven to 350°F/177°C with a rack set in the middle of the oven.

Line a rimmed baking sheet with parchment paper.  Place cut strawberries on the baking sheet pan and sprinkle with the sugar and vanilla.  Gently toss to coat the berries and arrange in a single layer.

Roast for about 30-40 minutes, or until the strawberry juices have thickened.  Do not over bake, or else the juices will burn.

Allow the strawberries to cool to room temperature while you prepare the ice cream base.
For the ice cream
In a medium saucepan, bring heavy cream, milk, half of the sugar, vanilla, and salt to a simmer over medium heat.
In a medium bowl, whisk the egg yolks and the remaining sugar together.  Temper the yolk mixture by vigorously whisking half of the hot cream mixture into the eggs.  Whisk the yolk mixture back into the cream mixture and reduce heat to low.  Use a wooden spoon to stir the mixture until it reaches 175°F/80°C.
Pour the custard into a medium mixing bowl and set the bowl over an ice-water bath.  Stir until the mixture has cooled.  Pour the custard through a fine-mesh sieve into a clean bowl.  Mash the strawberries with a fork until there are no longer large pieces.  Add the mashed strawberries to the custard and mix until just combined.
Cover and refrigerate for at least 4 hours or overnight.
Churn the custard in an ice cream machine according to manufacturers' instructions. Freeze until ready to serve.
Prep Time:

10 minutes

Cook Time:

50 minutes

Category:

Ice cream