This post may contain affiliate links, please read my full disclosure policy.
Easy homemade Lemon Cream is sweet, tangy, and bright. It's delicious as a cake filling, tart filling, or served with scones and toasted bread.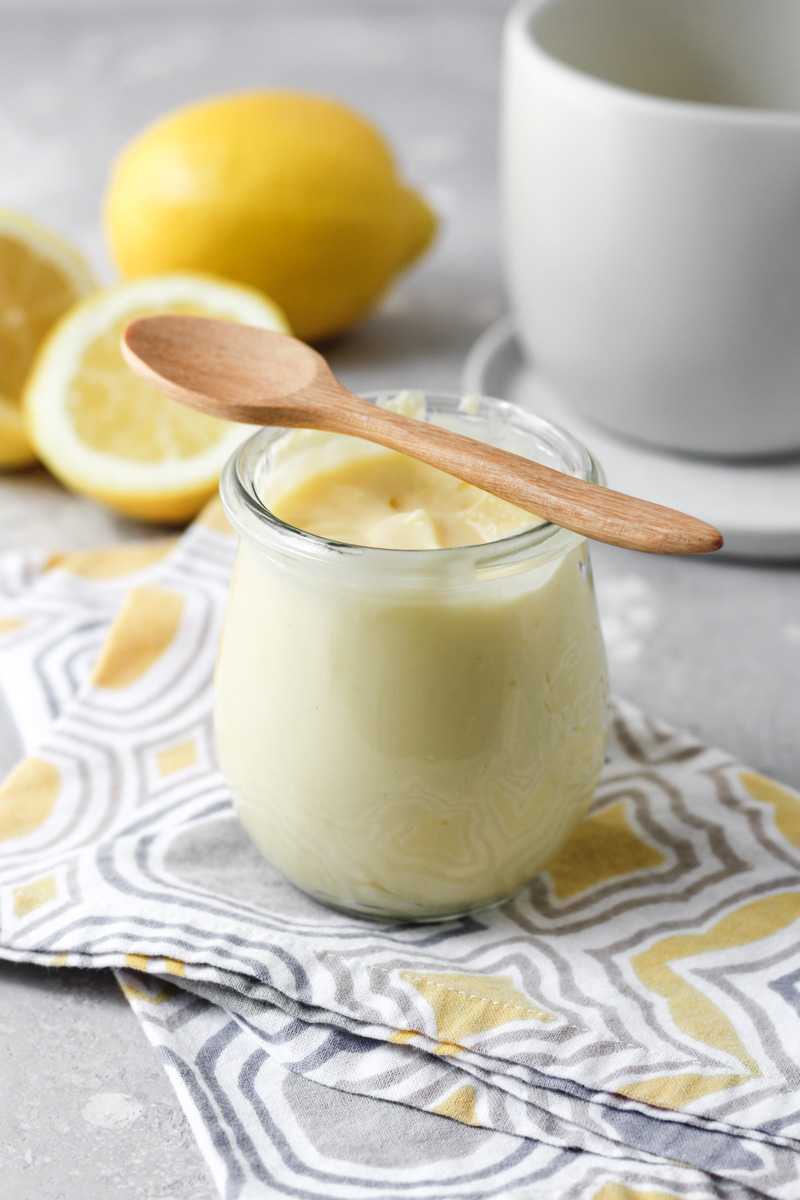 Lemon cream is an easy recipe to make from scratch.  It is also a versatile recipe that pairs well with multiple desserts.  A classic example is using lemon cream as a filling for tarts.  Additionally, it's used to fill cakes and pastries or as a complement to biscuits, scones, and bread.  With a few simple ingredients, lemons, sugar, eggs, and butter, you can easily make lemon cream.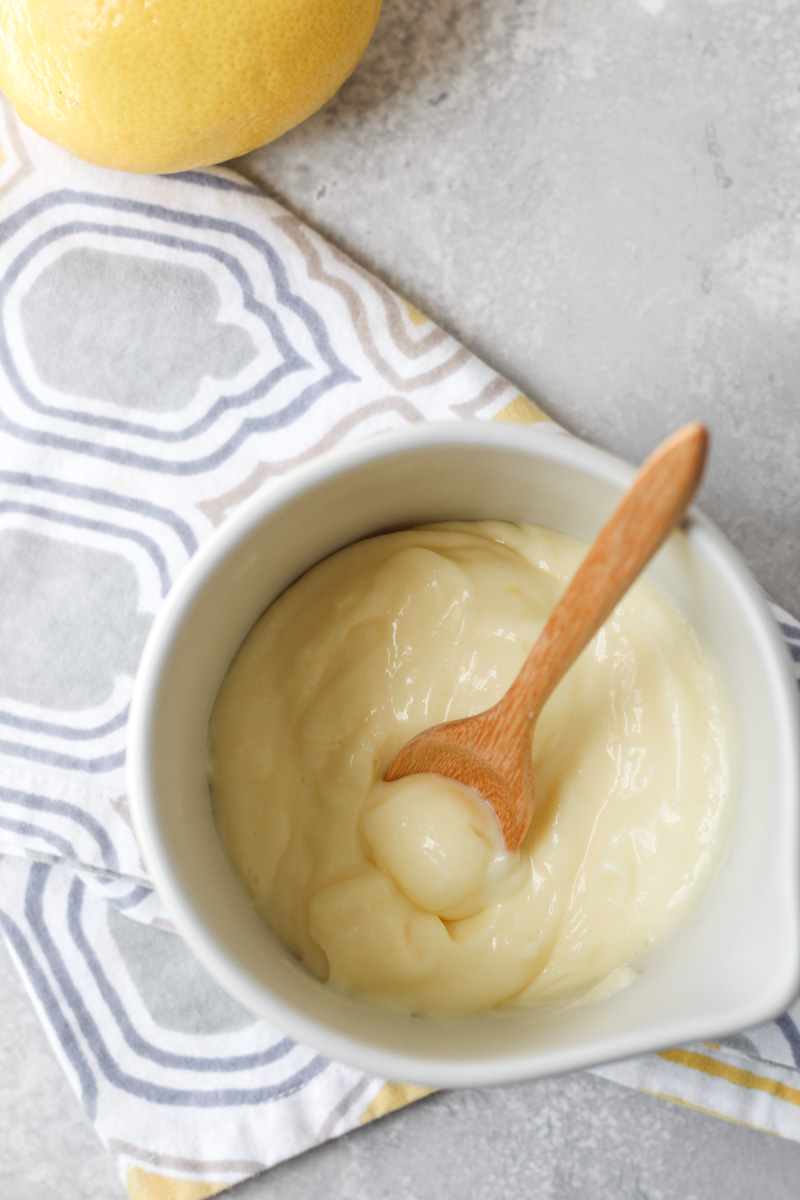 Before you begin
Take out the following baking equipment.
Digital kitchen scale
Medium bowl
Small saucepan
Thermometer
Wooden spoon
Fine sieve
Blender
Medium storage container
Plastic wrap
Read the recipe through from start to finish.
Understanding Ingredients
Lemons are the highlight of this recipe.  Using both the juice and the zest of the lemons adds a good amount of flavor.  With just a small amount, zest especially packs a tangy and bright flavor.
Eggs act as the thickening agent for this recipe, which calls for two large whole eggs and two large egg yolks.  Using only whole eggs would produce a light lemon cream.  Substituting egg yolks for whole eggs yields a richer and creamier texture.  Additionally, the egg yolks will create a more yellow cream as opposed to using the whole egg.  For substitution guidelines, use 2 egg yolks for every 1 whole egg.  If you prefer a super rich and creamy texture, you can omit the whole eggs entirely and instead use 6 egg yolks.
Granulated sugar adds a sweet balance to the tanginess of the lemon.  I prefer lemon cream that is a bit tangier than sweet.  If you prefer a sweeter flavor, you can increase the amount of sugar by a couple more tablespoons.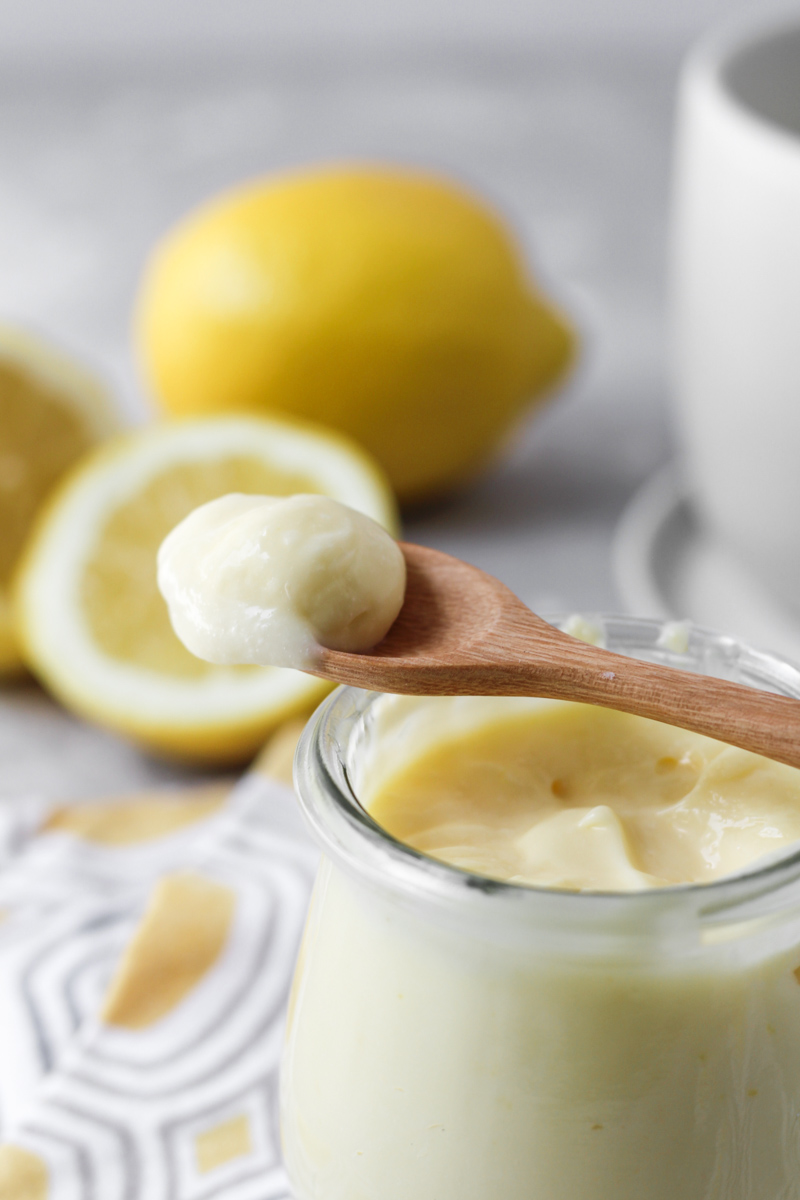 How to select lemons
Lemons are the star of the show in this recipe.  Therefore, it's essential to select flavorful lemons.
Pick lemons that have smooth, thin, and firm skin.  The juiciest lemons will offer a little give when you squeeze them.  Typically medium to large lemons are juicier than smaller lemons.  Avoid picking lemons that are soft, spongy, and wrinkly.  They will have less juice.
The difference between a microplane and a citrus zester
Like me, perhaps you didn't know there was a difference between a microplane and a citrus zester.  I always assumed it was two names for the same tool.  However, there is a difference, and it's important to use the correct tool for this recipe.
A citrus zester is a small kitchen tool that produces long, skinny strips of citrus peel that can be added to recipes for a lovely flavor, whereas a microplane has fine sharp blades that resemble a cheese grater.  You can use it for shredding cheese, citrus zest, ginger or garlic.
Either tool is used in baking.  However, for this recipe, I recommend using the microplane.  Finely shredded lemon peel is ideal.  It mixes well into the filling and will not completely strain out when you put the mixture through the fine-meshed sieve.  If you do not have a microplane, you can use a citrus zester or even a fine cheese grater.
How to zest a lemon
With the right tool, zesting a lemon is simple.  Hold your microplane at an angle and slide your lemon across the blades away from you with enough pressure to just reach the white of the rind.  Rotate your lemon, and continue to slide your lemon across the microplane until you have zested the entire lemon.  Scrape all the zest that has gathered on the backside of your microplane into your lemon mixture.
When zesting your lemon, do not zest the white pith (rind) because this part of the lemon is bitter and will affect the overall flavor of your lemon cream.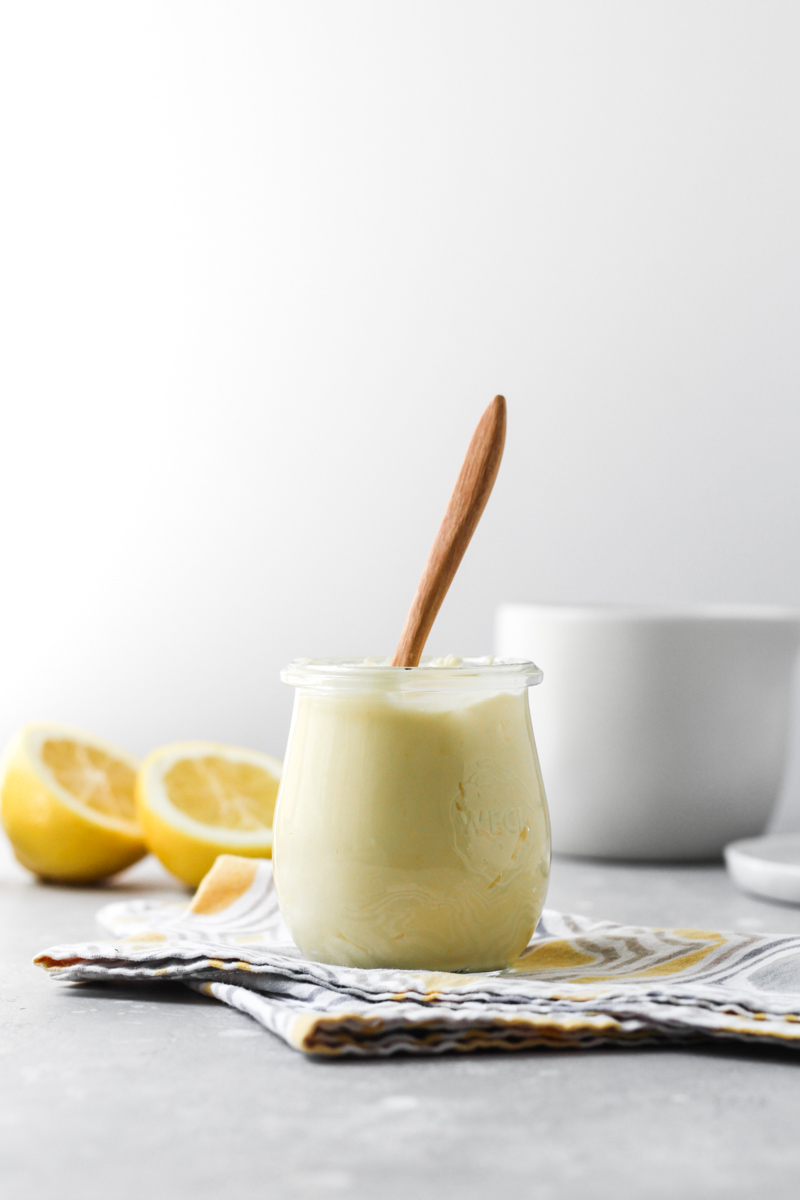 Tips and takeaways
Do not zest your lemons ahead of time.  I highly recommend zesting your lemons just before using them.  If the lemon zest sits out too long at room temperature, it will begin to dry out.
Allow the lemon cream to cook gently.  If the mixture gets too hot or boils, it will curdle.  This is why I highly recommend cooking the cream using a medium heatproof bowl set over a small saucepan filled with an inch of simmering water. Ensure that the bowl does not touch the simmering water.
Straining your mixture through a fine sieve will ensure that the lemon cream is smooth and free of any cooked egg.
Love lemon?  Try these other recipes...
Make sure to tag me @thesweetoccasion on Instagram and leave me a review below if you make this Lemon Cream. I'd love to see your creations and read your feedback.  And if you would like to make this recipe later, be sure to pin this recipe using the button on any of these images. Let's make every occasion a sweet occasion!
Print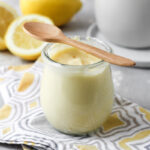 Lemon Cream
---
Author:

Maria

Total Time:

4 hours 30 minutes

Yield:

2 cups

1

x
Description
Easy homemade Lemon Cream is sweet, tangy, and bright. It's delicious as a cake filling, tart filling, or even served with scones and toasted bread.
---
155

g (2/3 cup) lemon juice
zest of 

2

 lemons

165

 g (3/4 cup) granulated sugar

100

 g (2 large) eggs

40

 g (2 large) egg yolks
pinch of salt

226

 g (8 oz) unsalted butter, diced and at room temperature
---
Instructions
Place the lemon juice, zest, sugar, eggs, egg yolks, and salt into a medium heatproof bowl set over a small saucepan filled with an inch of simmering water.  Whisk constantly until the mixture thickens, about 10 minutes.  The temperature should read 170°F/75°C, and the mixture should coat the back of a wooden spoon.
Pour through a fine sieve into a blender.  Allow the cream to cool for about 15 minutes (the temperature should be approximately 140°F/60°C).
Blend the butter into the lemon mixture, a couple of pieces at a time.  Once all the butter has been added and incorporated, pour the lemon filling into a container.  Place a sheet of plastic wrap directly onto the surface of the filling to prevent a 'skin' from forming.  Refrigerate for at least 4 hours before enjoying.
Notes
Storage:  Refrigerate in an airtight container for up to 1 week.
Freezing: For longer storage, freeze the lemon cream up to 3 months. Thaw in the refrigerator overnight before enjoying.
Lemon Juice:  Use fresh lemon juice as opposed to bottled lemon juice.
Prep Time:

20 minutes

Cook Time:

10 minutes

Category:

Fillings
Keywords: tart filling, pastry filling