This post may contain affiliate links, please read my full disclosure policy.
Fluffy Coffee Buttercream Frosting is made with 6 simple ingredients in less than 10 minutes. This creamy homemade frosting is delicious on your favorite cakes, cupcakes, brownies, and more. It tastes just like a cup of full-bodied coffee in a buttercream form.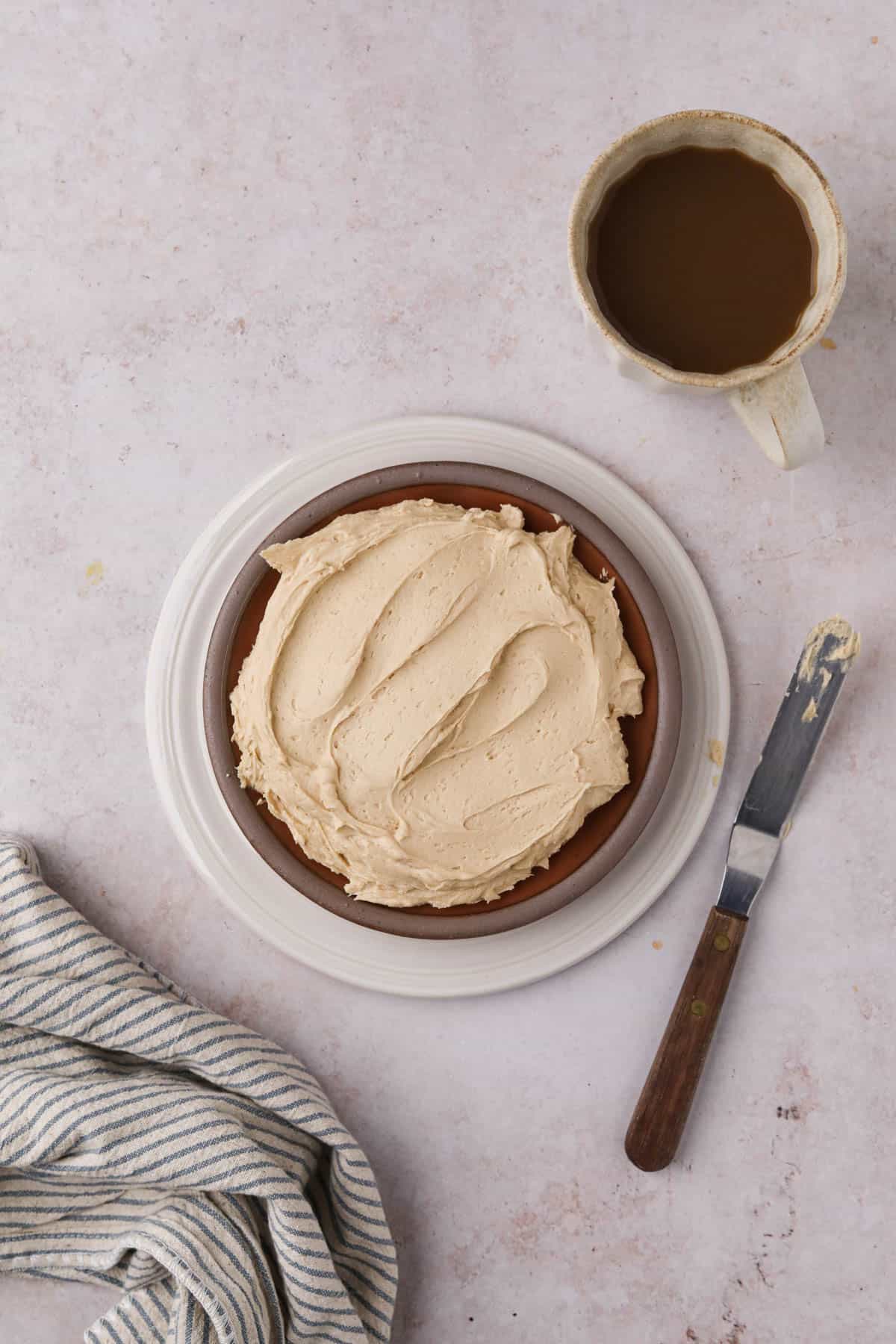 For all you coffee lovers, I'm adding this fluffy coffee buttercream frosting to my list of homemade frostings that can easily be turned into your favorite chocolate cake frosting, birthday cupcake topping, and so much more.
As a trained pastry chef, I learned early on that adding brewed coffee to chocolate recipes like fudgy cupcakes enhances the chocolate flavor. But when it comes to making buttercream, instant coffee is ideal. It adds a rich flavor without making the frosting into a thin consistency.
Coffee buttercream is a staple recipe for those who love their coffee-flavored desserts. You only need 6 basic ingredients to whip up this frosting and in less than 10 minutes. It's a recipe to fit your schedule for any busy night of the week.
Why You'll Love This Recipe
Made with six ingredients. All you need is basic ingredients for this recipe, plus instant coffee. Nothing fancy here!
Freezer-friendly. You can easily make this frosting up to 1 week in advance and refrigerate or freeze it for up to 3 months. It's an easy prep for a quick dessert topping.
Versatile. We love recipes we can use in various ways, and coffee buttercream is exactly that. Top brownies, cakes and cupcakes, and cookies with this light and airy frosting.
Everything You'll Need to Make Coffee Frosting
This buttercream recipe is made with simple ingredients (most of which you probably already have). Here's what you'll need to make it: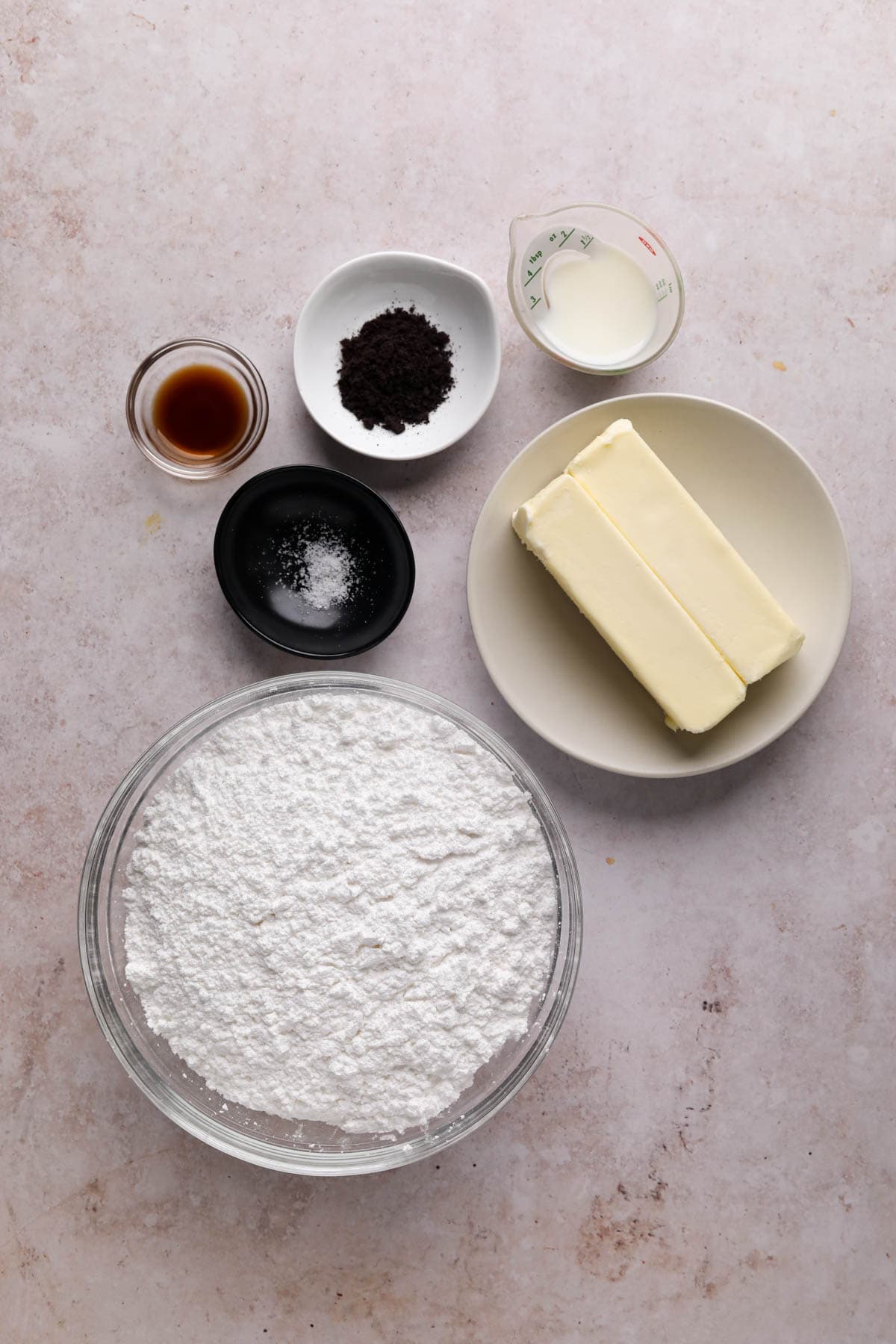 Heavy cream. You'll need a bit to dissolve the coffee granules and thin out the frosting, but feel free to use any milk.
Instant coffee. The key ingredient for the coffee flavor. You can use instant coffee or instant espresso.
Vanilla. Always use pure vanilla extract for the best flavor.
Butter. Adds a delicious flavor to the frosting. Stick with unsalted butter to control the amount of salt. Allow your butter to sit at room temperature for 30 minutes to 1 hour. It should be malleable without being greasy or melted.
Powdered sugar. Sweetens the frosting and creates a smooth and creamy consistency. Sift your sugar to remove any lumps.
Salt. Just a bit goes a long way. Salt balances out the sweetness.
What's the Difference Between Instant Coffee and Espresso Powder?
Instant coffee versus espresso powder, which one should you use? You might think they're the same, but let me explain the differences so you can choose the one that's best for you:
Instant Coffee. Instant coffee is a dehydrated version of our morning beverage and needs a liquid to transform into coffee. It's not as strong as instant espresso (just like a cup of coffee versus espresso).
Espresso Powder. Although espresso powder is also a dehydrated version of ground coffee, it is more concentrated than instant coffee for a stronger flavor. If you love coffee, then use 2 teaspoons of espresso powder. If you prefer something less strong, use 1-½ teaspoons of espresso powder.
Note: Do you prefer drinking decaf coffee? Then feel free to use instant decaf coffee or espresso decaf powder for the same flavor without the caffeine.
Helpful Tools for Making Easy Buttercream Frosting
Buttercream comes together in less than 10 minutes using minimal kitchen equipment. Here's everything you'll need:
Digital kitchen scale or measuring cups. Using a scale will give you the most accurate measurements.
Mixer. A handheld or stand mixer will work.
Small bowl. For combining the cream with the coffee.
Large bowl. A stand mixer bowl or a large mixing bowl will work.
Whisk.
Buttercream in 4 Simple Steps
Dissolve the coffee. Whisk cream and the instant coffee until dissolved, then add the vanilla.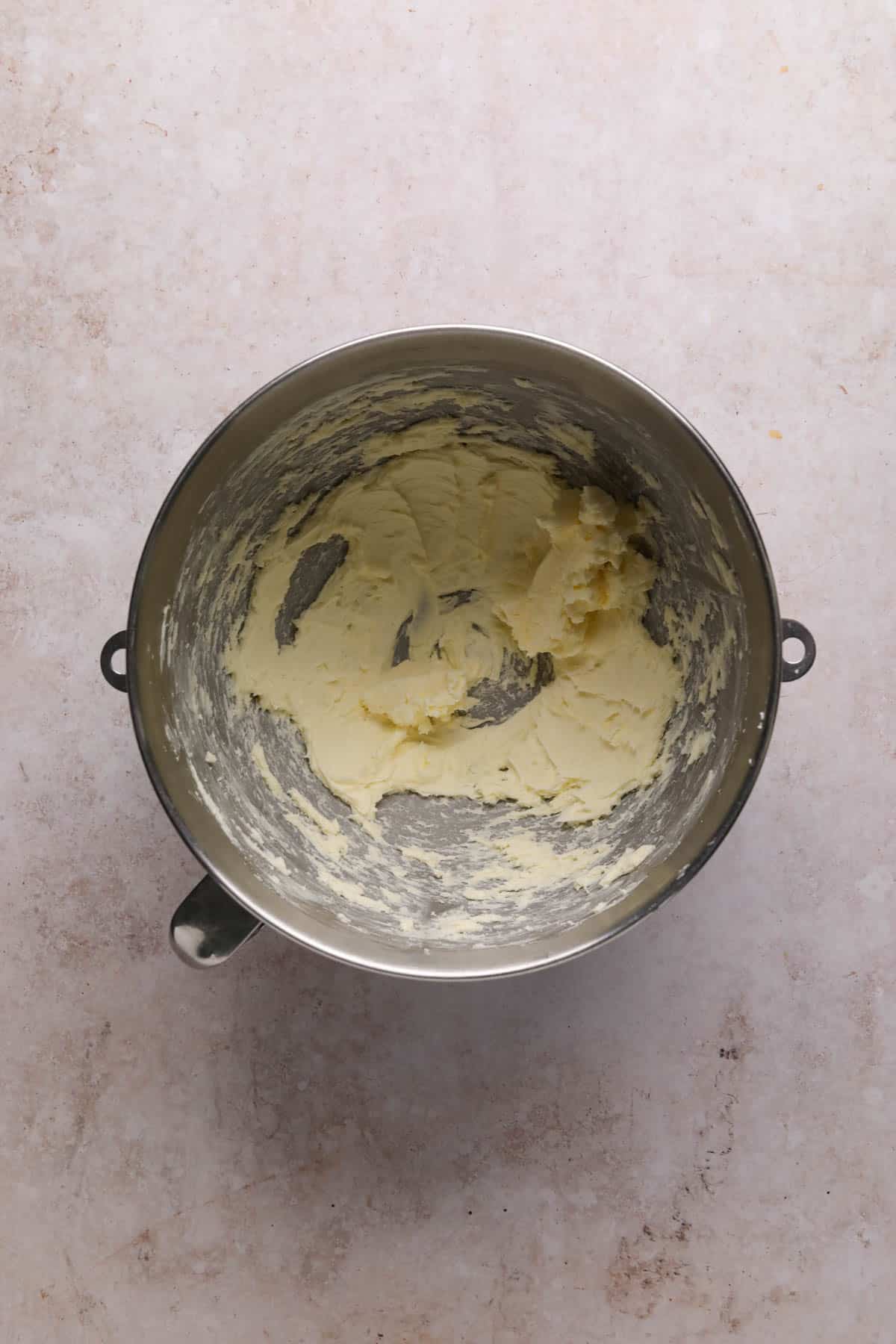 Beat the butter. Beat until smooth and creamy.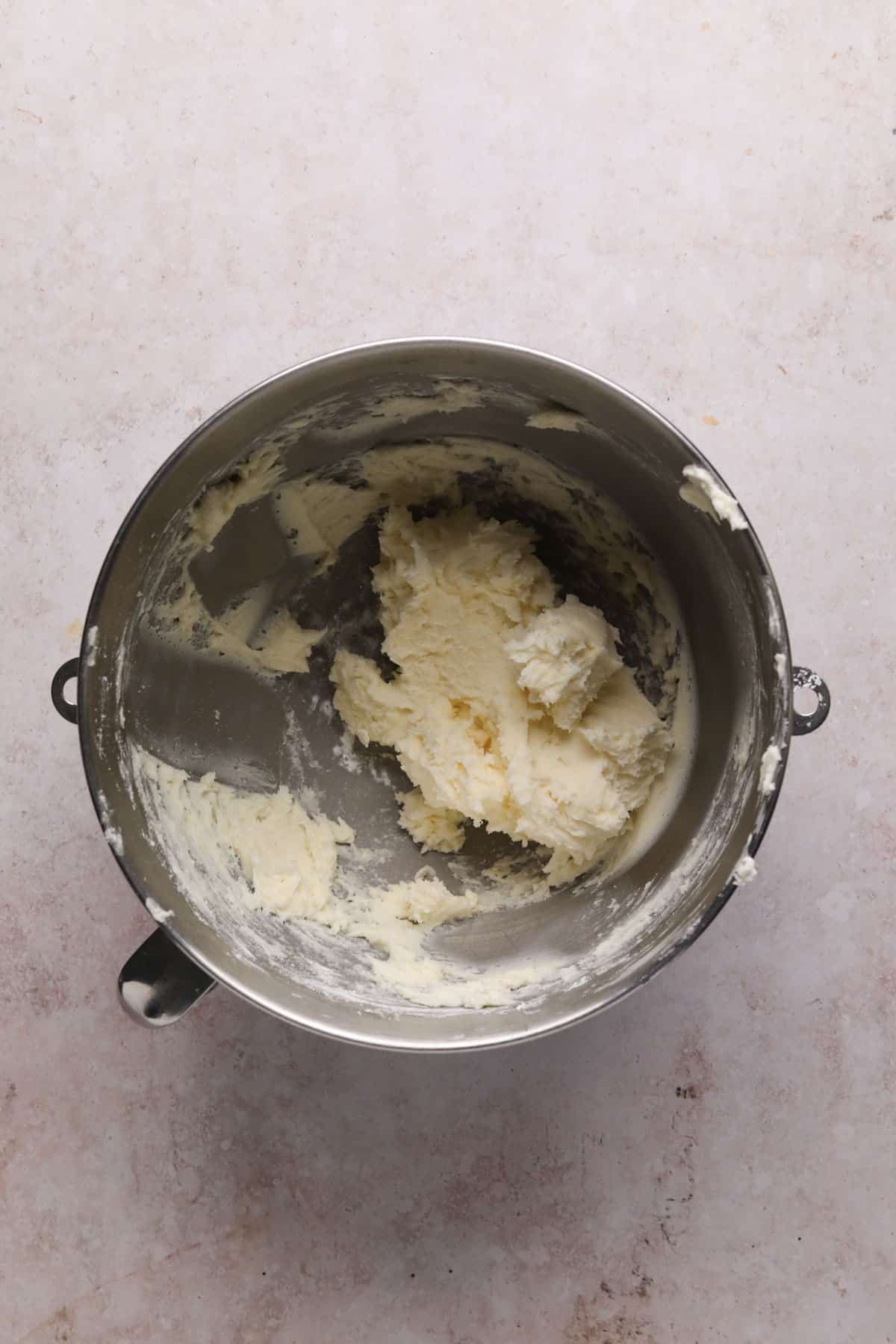 Add sugar and salt. Mix the powdered sugar and salt with the butter.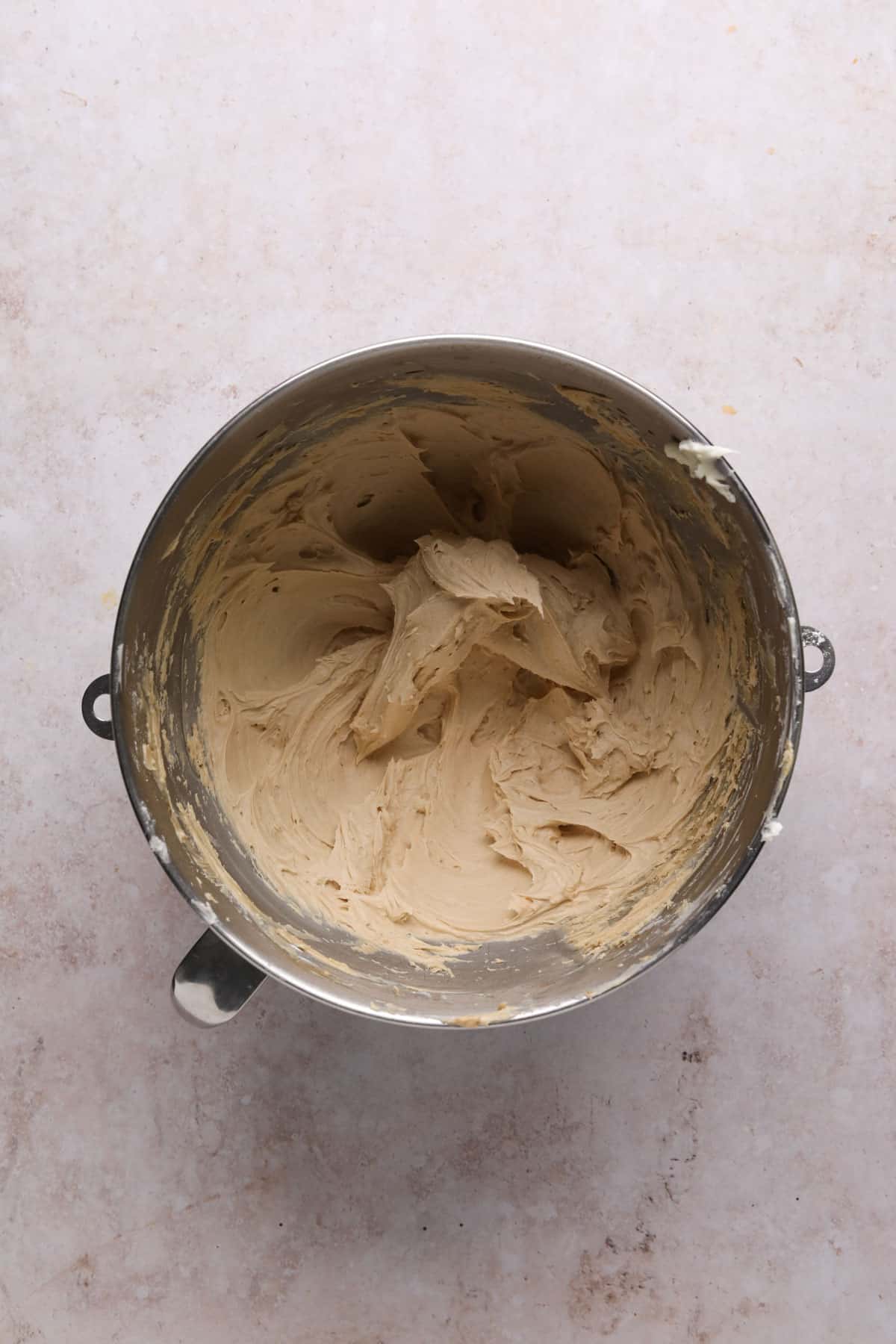 Mix in coffee. Add coffee cream mixture and beat until light and creamy, scraping down the sides of the bowl as necessary.
How Much Frosting Will This Recipe Make?
This recipe yields 2.5-3 cups of frosting which is enough to cover 18-24 cupcakes or a 9x13 inch cake.
Note: You may be wondering why the range. The longer you whip the buttercream, the more air gets whipped in, resulting in a greater volume. However, if you over whip your frosting, you will have lots of air pockets, and won't have a super smooth buttercream.
Tips for Making the Best Buttercream
Dissolve the instant coffee. Don't skip this step of dissolving the instant coffee with the cream. You'll want a creamy consistency with the coffee evenly distributed throughout the buttercream.
Sift the powdered sugar. If your powdered sugar is lumpy, sift it before adding it to the butter to have a smooth and creamy buttercream consistency.
Use the paddle attachment. The paddle attachment incorporates less air into the frosting (otherwise, you will have too many air bubbles).
Slowly mix in sugar. Once you add the powdered sugar to the butter, you'll want to turn the mixer to low speed to avoid the powdered sugar flying out of the bowl. I cover the mixer with a kitchen towel until the sugar is combined with the butter.
Mix on low speed. If there are too many air bubbles in your frosting, mix the buttercream on low to eliminate the large air pockets.
Storage & Freezing Tips
Buttercream frosting is easy to make and great for prepping ahead. Here are all the ways you can store your buttercream:
At room temperature. Store the coffee buttercream in an airtight container at room temperature for up to 2 days. If the days are too warm, transfer to the fridge to prevent your buttercream from melting.
Refrigerator. Store buttercream in the refrigerator in an airtight container for up to 1 week. Bring to room temperature and mix with the paddle attachment before using.
Freezer. Want to prep ahead? Store the frosting in a resealable freezer-safe bag in the freezer for up to 3 months. Thaw overnight in the refrigerator, then bring to room temperature and re-whip before using.
Frequently Asked Questions
Why did my coffee buttercream curdle?
If the butter is too cold, it can cause the buttercream to curdle. To fix this, use a hair dryer to blow warm air on the outer side of the bowl while mixing the buttercream until it becomes a smooth consistency.
Do you need to refrigerate the coffee frosting?
Coffee buttercream can stay at room temperature for up to 2 days (as long as it's not too warm that it melts the frosting). Anything longer than that, you should store it in the fridge.
How do I thin out buttercream?
Still too thick? Add more heavy cream or milk, start with 1 tablespoon at a time, to the buttercream until you have your desired consistency.
How do I thicken buttercream?
If your frosting is too thin, mix in additional sifted powdered sugar until desired consistency. Just note that the more you mix in, the sweeter the mixture will become.
Can I use brewed coffee instead of instant coffee?
You could substitute brewed coffee for the heavy cream and instant coffee mixture, however, it will have a more subtle flavor.
Favorite Desserts to Top This Recipe With
Please leave a starred rating and comment below if you make this Coffee Buttercream Frosting. I love reading your feedback! And if you'd like to make this recipe later, don't forget to pin it on Pinterest! Happy Baking!
Print
Easy Coffee Buttercream Frosting
---
Description
Fluffy Coffee Buttercream Frosting is made with 6 simple ingredients in less than 10 minutes. This creamy homemade frosting is delicious on your favorite cakes, cupcakes, brownies, and more. It tastes just like a cup of full-bodied coffee in a buttercream form.
---
2

-

4

tablespoons heavy cream or milk, divided

2 teaspoons

instant coffee

2 teaspoons

pure vanilla extract

226 g

(

1 cup

) unsalted butter, at room temperature

450 g

(

1

pound) powdered sugar
Pinch of salt
---
Instructions
In a small bowl, whisk together 2 tablespoons of cream and the instant coffee until dissolved. Whisk in the vanilla and set aside.
In a large bowl, using a handheld or stand mixer fitted with the paddle attachment beat the butter until smooth and creamy, 2-3 minutes.
Add the powdered sugar and salt and mix on low speed until completely incorporated.
Mix in the coffee mixture and add any additional cream for desired consistency. Increase to medium speed and beat for 4-5 minutes until light and fluffy.
Using an offset spatula or knife, frost the cooled cake.
Prep Time:

8 minutes

Category:

Frosting & Fillings
Keywords: coffee frosting, coffee icing, coffee buttercream, no bake